Protect Your Retirement Day with Prudential
(This page may contain affiliate links and we may earn fees from qualifying purchases at no additional cost to you. See our Disclosure for more info.)
This is a sponsored post for SheSpeaks/Prudential.
Recently, Amy and Vicki (the co-founders of Women Who Money) participated in Protect Your Retirement Day in New York City as a partner of Prudential. The event was sponsored by the Alliance for Lifetime Income, a nonprofit 501(c)(6) organization educating people on the importance of, and the ability to protect retirement income as part of their overall retirement plan.
In today's review, we share what we learned on Protect Your Retirement Day and how Prudential, as a founding member of the Alliance, supports Women Who Money's goal of empowering women with the knowledge, skills, and resources necessary to improve their financial health and ultimately build financially secure and independent lives.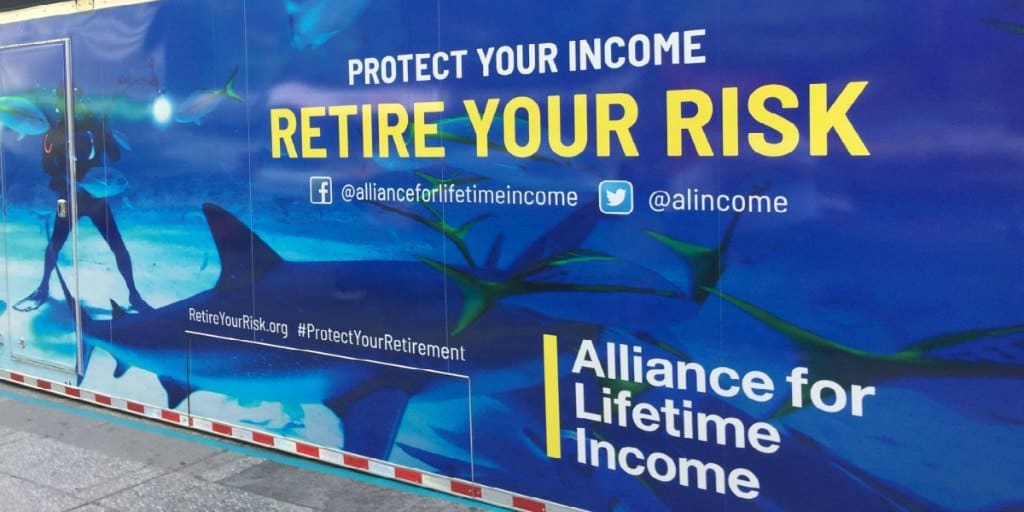 About The Alliance for Lifetime Income
The Alliance for Lifetime Income is made up of 24 member companies including many of the nation's leading financial services organizations. We were there as a partner of Prudential, a founding member of the Alliance.
The Alliance was established to educate people and raise awareness about the need for long-term retirement income planning. Although saving more for retirement has become an essential part of the planning, there are still far too many people approaching retirement without protected monthly income other than Social Security.
The purpose of the Alliance is to help Americans address the risk of outliving their retirement income. They do this by providing consumers and financial advisors with educational resources, tools, and insights they can use to build plans for protected retirement income.
Amy interviewed Prudential SVP Melissa Kivett about Prudential's role with the Alliance for Lifetime Income and why it's so important for women today to have guaranteed lifetime income. Watch the video below:
We need to broaden the conversation on the need for protected lifetime income. – Melissa Kivett, Prudential
Talking about risks in life and retirement during the @alincome #ProtectYourRetirement day with @JeanChatzky #Prudential #ad pic.twitter.com/38NPbyg9ad

— MoneyWomen (@WomenWhoMoney) October 4, 2018
Retirement Income Shifts
On Protect Your Retirement Day, Prudential reviewed with us the shift that's occurred over the last few decades from pensions and Social Security benefits making up the bulk of retirement income for many to the majority of people now needing to fund retirement with their own savings.
This shift has put much stress on the "three-legged" stool metaphor – pensions, employee savings, and Social Security – used in retirement planning. With pensions disappearing and possible reductions to Social Security benefits in the future, most employees need to save substantial amounts to keep their stool supported in retirement.
It's important to note, the presenters were very clear that everyone's situation and circumstances are unique and what may be an appropriate retirement income planning strategy for one person may not be right for another.
What is common to everyone is the need for a certain level of lifetime income to cover essential (or "must have") expenses in retirement. Even though many are entirely dependent on it, Social Security won't cover all necessary expenses for most people.
This isn't just a financial problem, it's a wellness problem because of anxiety and stress about running out of money as we age. – Melissa Kivett, Prudential
Amy interviewing @MelissaKivett outside the virtual reality experience in Times Square @alincome #ProtectYourRetirement day! #Prudential #ad pic.twitter.com/ZSaUiuhzd8

— MoneyWomen (@WomenWhoMoney) October 4, 2018
Funding Your Essential Expenses in Retirement
Many risks can derail retirement income plans including inflation, rising costs – especially health care costs, shifts in the stock market and interest rates, and individual investor behaviors. Even though employees are working to save for their futures, a retirement income gap will likely exist for many.
Figuring out how to fund the gap to pay for essential expenses in retirement (housing, utilities, food, transportation, and healthcare) is the Alliance's focus when it talks about a protected monthly income.
They aren't talking about the money you need to travel, upgrade your car, or even to dine out or give gifts.
Prudential, along with the Alliance wants to educate people on how to alleviate these risks and make a plan to ensure they don't run out of money to pay for their most important expenses in retirement.
You won't know how big the gap will be between your income in retirement and your essential or fixed expenses (or if you will have a gap) until you do some calculations.
Start by adding up your projected Social Security benefits (many use 75% of the projection to account for future cuts) and any pensions or payments from annuities you own to determine your retirement income.
Then estimate housing, transportation, food, utilities, and health care costs in retirement. The difference between your income and your expense is the gap you'll have to cover each month (or year, depending on your calculations).
Filling the Retirement Income Gap
If your retirement income doesn't meet your fixed retirement expenses, you will either have to use the money you've saved and invested or consider a financial product like an annuity to help create a consistent source of funds to fill the gap.
What is an annuity?
An annuity is an insurance contract that generates regular income payments. It helps investors create a "paycheck" in retirement. There are a number of different annuity products including variable and fixed index annuities. There are also different terms and benefits available, depending on the product.
You may have previously heard that annuities have high fees and to avoid them at all costs. While it's true annuities have fees, they are just like any insurance product. If you choose to transfer your risk to an insurance company, you will pay for that protection. You can read more about other common annuity myths in this Prudential article.
Annuities don't make sense for everyone. If your fixed expenses in retirement are covered with other protected or guaranteed funds or if your retirement account balances are large enough to allow you to safely withdraw money to fund gaps in paying for essential expenses – you likely don't need one.
An annuity is an option worth considering for those with small or no pensions, or people who are risk averse and want a steady 'paycheck' to cover their gap for fixed retirement expenses not covered by Social Security benefits. To see if an annuity might be right for you, check out this short video from Prudential.
Informing Women About Options
Our goal at Women Who Money is to empower women to take control of their financial futures. We appreciate Prudential and their support for educating people about the potential financial risks in retirement and on the importance of finding ways to alleviate those risks and fund their most important retirement expenses.
We know statistics show wage, time, and investing gaps for women1,2,3,4. And we know women are more likely than men to collect lower Social Security benefits and to live longer in retirement. Participating in the Protect Your Retirement Day opportunity was an excellent way for us to learn more about how to protect income for essential expenses in retirement and alleviate risks.
When planning for retirement it's clear, we need to think long-term and consider a variety of options to support our "three-legged" stool.
Learn more about Prudential annuities here and for a confidential and complimentary consultation with a Prudential financial professional please sign-up here.
#ProtectYourRetirement, #PrudentialPartner #ad
Experiencing virtual reality in the @alincome truck learning about risk and how to #ProtectYourRetirement #Prudential #ad pic.twitter.com/P0HA8dtRlw

— MoneyWomen (@WomenWhoMoney) October 4, 2018
1U.S. Census Bureau, Historical Income Tables Table P-40: Women's Earnings as a Percentage of Men's Earnings by Race and Hispanic Origin, 2016
2Organization for Economic Cooperation and Development, October 2016
3http://fortune.com/2016/05/11/sallie-krawcheck-ellevest-launch
4Prudential Retirement analysis; National Center for Health Statistics, Health, United States, 2015: With Special Feature on Racial and Ethnic Health Disparities. Hyattsville, MD. 2016;