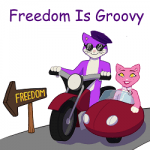 Women Who Money is generously sponsored this month, October 2018, by Freedom Is Groovy ~ Make Wealth Not Debt!
Mr. and Mrs. Groovy run Freedom Is Groovy, where they share their groovy lifestyle and explain how they de-moronified their financial lives. So if you're struggling financially, but have a sound mind and body and aren't being held captive in a basement, they will teach how to resist the lure of materialism, how to crush your housing and transportation costs, and how to avoid the landmines of Wall Street and grow your wealth. How freakin' groovy is that?!
Top posts:
10 Unusual Signs You're Kicking Butt Financially
The Hannibal Lecter Guide to Personal Finance
Egotrage: Taking a Step Back Socially to Advance Two Steps Financially
Find them on:
Thank you Mr. and Mrs. Groovy! The Women Who Money Team are big fans of yours and appreciate your support.
Learn how you can be a monthly sponsor here.