Inspiring Money Story: Creating a community matters
(This page may contain affiliate links and we may earn fees from qualifying purchases at no additional cost to you. See our Disclosure for more info.)
Today we're excited to introduce you to Kara! She shares about building her business and creating a financial community for women. We think you'll enjoy her story and find some inspiration for your own financial journey or entrepreneurial ideas! Feel free to ask her any questions in the comments or just to say hello.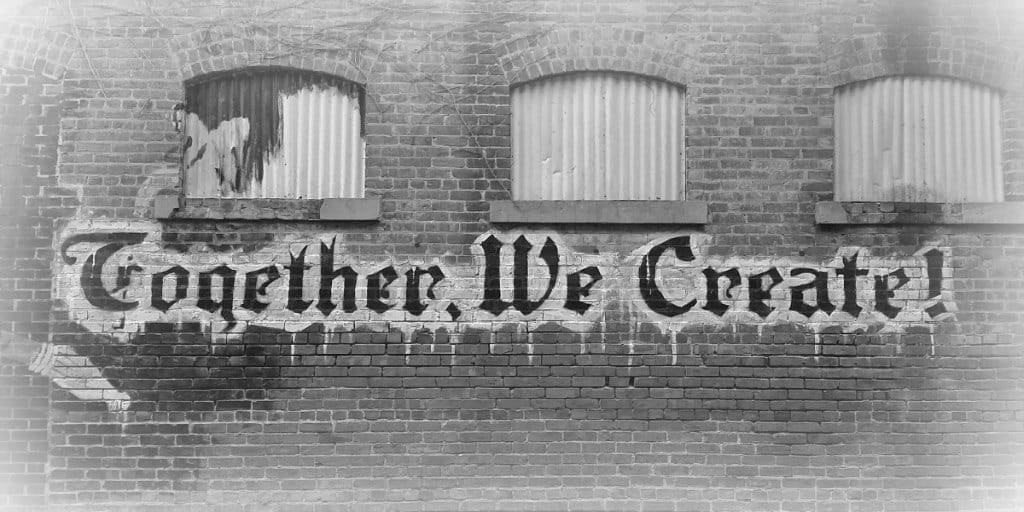 If you'd like to be considered for an interview or to share your story, send us a note.
Inspiring Money Stories: Kara
1) Introduce Yourself to The WwM Readers!
My name is Kara Perez and I'm the founder and CEO of Bravely. Bravely is a financial community for women. We host pop up events that center on different financial topics, as well as have our online platforms at www.bravelygo.co.
I founded Bravely in 2017 to help create a real sense of community around money. Of course, there are many wonderful finance blogs. But money continues to be a source of shame and embarrassment for a lot of people, and I wanted to create a literal space for women to come and learn about money. In a year and a half, we've hosted 12 events, and I've spoken at FinCon and the Lola Retreat.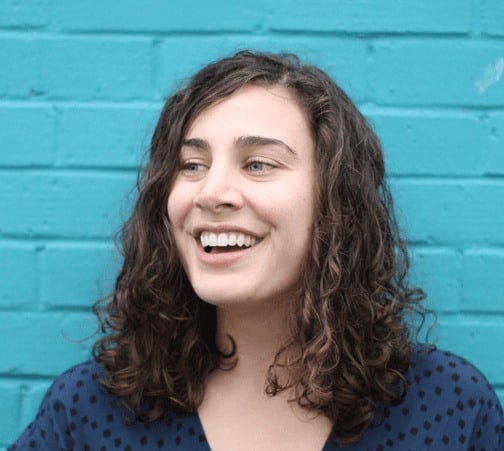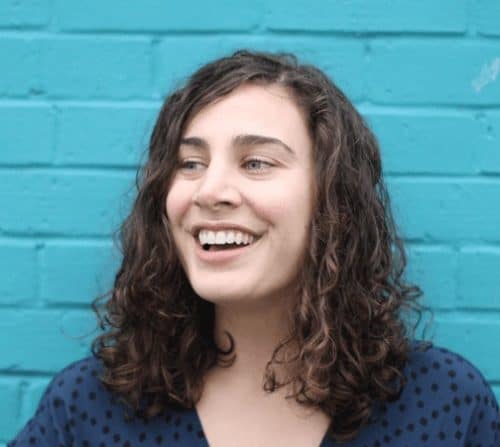 Bravely is here to help you get comfortable talking about money, learning about money, and using money to live well and do good. I love what I do, even though being a small business owner is certainly a roller coaster ride!
2) How does Bravely help people?
Like I said before, there are a lot of resources for people online when it comes to money. And that is huge. But for me, I noticed that when I talked to people outside the finance community, they felt overwhelmed by the amount of information out there and the language used in it. They couldn't see themselves in it, so they just bypassed the information altogether.
When you come to a Bravely event, you're going to be surrounded by your peers. You're going to see approachable people on stage. You're going to have the chance to ask questions and feel comfortable doing so. We strive to create spaces for people to come and walk out with advice and actions they can take the next day.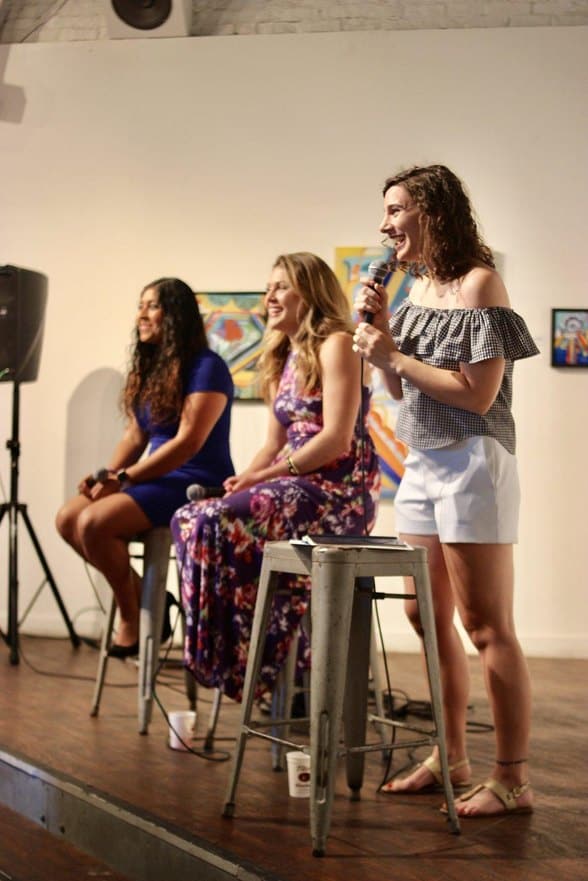 3) What do you think is one of the most difficult money or career challenges for women?
I certainly think the wage gap is the most difficult financial barrier for women, but I think gender bias in all its levels is the hardest thing we have to overcome. No challenge women face exists on its own- all the challenges are connected.
Women have a harder time getting hired for certain roles (think tech and science positions) because we have this perception that girls are bad at numbers. Women don't always negotiate because we're socialized to be nice to everyone, and we don't want to be seen as pushy. All of this comes together to create a really challenging professional environment for women.
What Bravely does, in part, is help women have a space to come and learn about money so that they can go out into the world and have not only the confidence, but the literal tools, to be better with money. At Bravely events you can expect to hear professionals talk in real numbers about their income or real tools they used to negotiate. On our website you can download things like budgets and money checklists, to help you sort through your own money and take action.
It's important to me that Bravely be more than merely 'inspirational.' Inspiration is wonderful, but people need actual steps they can take to really change their lives.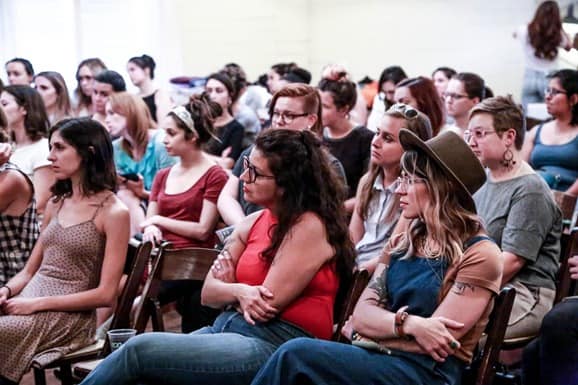 4) Did you have a big "aha" moment related to your finances? What's one money mistake have you made that others can learn from?
I definitely did. I'm an English major that never cared about numbers until I was 26 and my numbers started to scare me. I was making $18,000 a year, still in student loan debt, and had no real career path. I was headed down a road I didn't like, and I needed to get my financial life together to change everything else.
My mistakes are many, but the biggest one is thinking that ignorance will protect you. If you don't know a problem is there, can it even be real? That's the mindset a lot of us take, and it's so harmful. A problem that you're ignoring is still a problem. Pay attention and take action in whatever way you can.
5) What does your work-life balance look like? What do you do to stay healthy?
I think work-life balance comes in phases. When you're trying to create big change in your life, there is no balance. You have to reach a modicum of success before you can focus on balance. Starting Bravely a year and a half ago means that my life has been in a lot of turmoil for that time. And that's ok! I am building a dream. I still get time with friends and in nature, which is important to me. I still eat vegetables and exercise. I believe strongly in taking some time for myself each week, but it doesn't happen each day.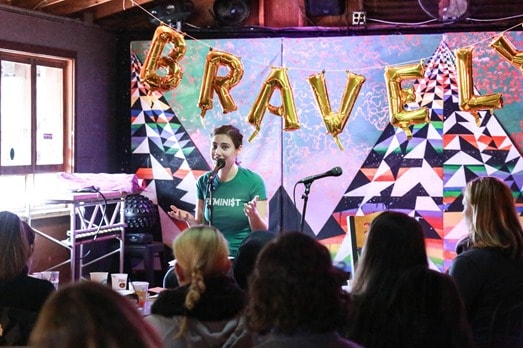 6) Is there anything else you'd like to share with our Women who Money readers?
You can find Bravely on Twitter, Facebook and Instagram. I'd love to hear from people who want to write for Bravely or have ideas on how we can help them!
The WwM Team's Key Takeaways from our Interview with Kara:
Creating community matters – online and in-person to help people move forward, learn, be able to ask questions and take action
Even though there is a ton of personal finance information online, people still have trouble processing it and having the confidence to make change
Creating a safe space for people to communicate is key to helping them follow actionable advice
Women face interconnected challenges in the workplace including the pay gap, bias, and behavioral expectations
Finding a work-life balance is a challenge when you have any big change. Find some time to do things you love. Take care of yourself through simple positive choices.
"A problem you're ignoring is still a problem" – so true!
Thanks for sharing your awesome story and business with our readers, Kara!