Have Questions About Estate Planning? Start Here
(This page may contain affiliate links and we may earn fees from qualifying purchases at no additional cost to you. See our Disclosure for more info.)
When you first consider estate planning, you might wonder if now's the time to act.
Chances are good it is. Or it's at least time to find answers to your questions about everything involved in creating an estate plan.
Putting off estate planning because you're young and healthy isn't a good excuse. It's often suggested you start estate planning in your 20's.
Delaying estate planning at any age could burden your loved ones – financially and emotionally – if something happens to you.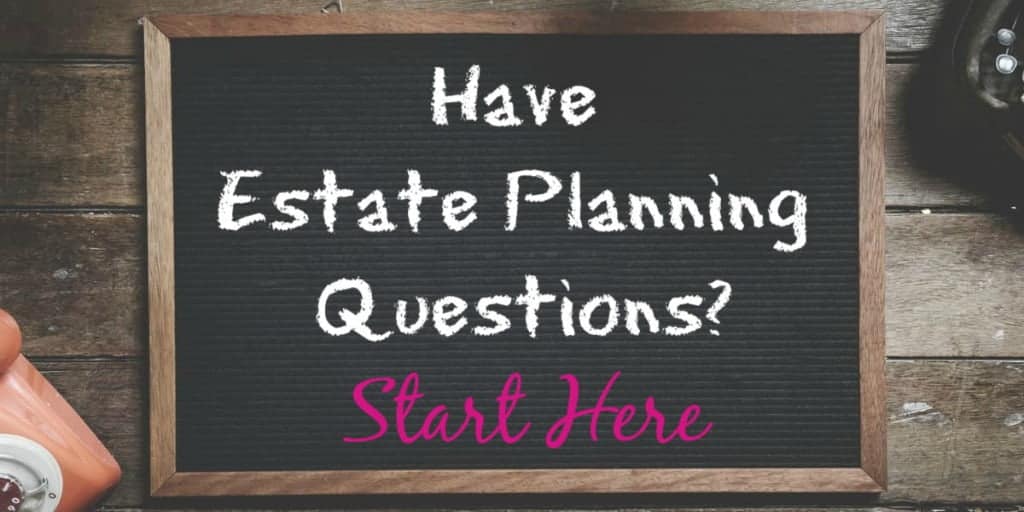 We know thinking about end-of-life decisions and having conversations about death and your finances is challenging.
But it's an important and responsible step in managing your money and caring for those you love.
You may find you only need to create a simple will and power of attorney documents, take out or increase life insurance policies, or update your beneficiaries on policies or financial accounts.
Estate Planning
The articles below will help you start the planning of your estate documents. You'll see you don't require a six-figure net worth, have to own a home, or have kids to put a plan in motion.
Creating an estate plan helps your loved ones if something happens to you, even if you hold significant debt.
1. Cost. Estate planning doesn't have to be expensive. There are free tools you can use, but keep in mind the legal system is a sophisticated web of laws that can be difficult to understand.
Hiring an attorney can help ensure there are no loopholes in your legal documents.
This article will help you understand what the fees for estate planning entail and how to save money on the costs – How Much Does Estate Planning Cost?
2. Doing It Right. When it comes to estate planning, there are several common errors people make.
These frequent mistakes include failing to name a guardian for minor children, not having an advance health care directive or powers of attorney, not titling property correctly, and missing or not updating beneficiaries on a life insurance policy, retirement plans, or other financial accounts after significant life changes.
Read: Avoiding Common Mistakes in Estate Planning [Tips & Checklist to Help You Avoid Them]
3. Wills. Don't have a will yet or know what intestacy means? Then you'll want to read the article, What Happens If I Die Without Creating a Will? It explains how the rules of intestacy could negatively affect others in your life if you fail to plan.
Our article, What Assets Go Through Probate Upon Death? can also help you understand the reasons for a will.
4. Prenups. When you're in love, thinking about your love story ending usually isn't your focus. But, if you have considerable assets or debts, or children from a previous relationship – a prenuptial agreement (or prenup) should be a consideration before saying "I do".
Prenups are losing the stigma they once had and are an essential part of an estate plan for some people. Check out – Do I Need a Prenuptial Agreement? Because you just might.
5. Postnups. Didn't create a prenup before marriage but wish you had? Then you might consider creating a postnuptial agreement now – Postnuptial Agreements: Who Needs Them And Why?
6. Life Insurance. If you have anyone who is financially dependent on you, life insurance needs to be a priority in your estate planning.
You might wonder whether a term or whole life policy makes the most sense. Term policies are simpler, cheaper, and often the best option for most people. But some may prefer whole life policies designed as a part of their estate plan.
Check out this article to learn more – What is the Best Life Insurance To Buy – Term or Whole?
7. POAs. Whether creating a will is still on your "to-do" list or not, take a few minutes to read – Why Is Having a Power of Attorney Document So Important?
You'll learn how they are used and why POAs make sense for more than just people who are aging and will need someone else to make decisions on their behalf.
When POAs are not created in advance, there may become a need for a conservatorship or guardianship, which can be more complicated, time-consuming, and stressful for your loved ones.
8. Trusts. You may think trusts are only for people who are very wealthy. But living (or revocable) trusts have important benefits you'll want to consider in your estate planning process.
Learn more about how they might be used to benefit you and your loved ones by reading, Do I Need a Living Trust?
Also, check out Our Estate Planning Experience [Why we set up a trust].
9. Donor-Advised Funds. As a way of giving back while also minimizing taxes, donor-advised funds or DAFs have become quite popular.
What they are, their benefits and drawbacks, and more can be found in Donor-Advised Funds: Are They the Best Way to Give?
Grab Our Estate Planning 101 Book
Find more of the answers you need and get started on creating your estate plan!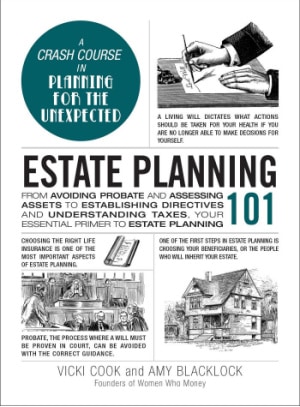 Emergencies Happen – Be Ready
We're often quick to say we'd do anything for the people we love. Getting started with an estate plan often falls into the "I'll get around to it someday soon" category instead of it becoming a priority.
Remember though, all of the work you'll do setting up your estate plan is to support the ones you love in case something bad happens to you.
As you work to create an estate plan, you'll probably have questions about all the necessary documents to keep and for how long and where you should store those documents.
The In Case of Emergency Binder is a great first step to organizing all your personal and financial information into one place. It will undoubtedly aid your family and friends should an unfortunate event occur. The ICE Binder is a 170 page downloadable PDF.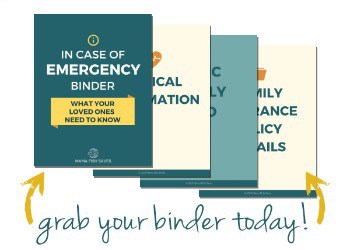 These two articles can help you learn more about document storage too:
Have additional questions? We want to answer them! Send us a note by clicking here or connecting with us on Twitter, Facebook, Instagram, or Pinterest.