Whether you're renting, selling, buying or just borrowing couches after a bad relationship – we've got information to help you make wise decisions to protect yourself and your assets.

Housing Related Questions
Rental Questions
Rent or Buy. While you might want to purchase your own home, sometimes it makes more sense to rent someone else's. In our article – When Is Renting The Best Decision For Housing Versus Buying? – we explore the times when one option is likely the better decision of the other.
Renters Insurance. When you do rent, it may be in your best interest to have renters insurance. Your landlord may even require you to have it. Other times, renters insurance may not be worth the money. Need help deciding whether to buy it or not? We'd suggest you read Renters Insurance, Do I Really Need To Spend Money On It?
Negotiate Rent. If you've been renting for some time and just received a rental rate increase letter from your landlord, check out our tips in – Should I Really Try to Negotiate My Rent Increase? – for options on how to handle the news.
Buying Questions
Selling Questions
Sell or Rent Out. Downsizing, upsizing or relocating across the country and you might be asking yourself – What Should I Do With The House, Sell Or Rent It Out? There's a lot to consider! This article has important questions to help you make a smart decision.
Selling. When you're ready to sell, specific cleaning and repairs are a must, and some specific updates a big plus. In, What are the Best Ways to Sell Your Home Fast? we'll help you pick the right areas to focus on so you can pack your things and move quickly.
Selling Your Things. Many people who move decide to sell some of their possessions. Even though you may have options like garage sales or Craigslist, there's another option if you're on Facebook. Check out our review, Something to Sell? Try Facebook Marketplace!
Other Questions
Moving On. Unfortunately, relationships end and new housing decisions need to be made. What should you consider before making your next move? Read, My Relationship's Ending, What Should I Do About Housing?
Cost of Living Areas. Currently living in a high-cost area and wondering if it would make any sense to relocate? There's a multitude of things to consider besides the financials when making this big decision. Read – Should I Move To A Lower Cost Of Living Area? – to help you figure it out.
Your Parent's House. There may come a time where you (and your siblings) have decisions to make with your parents about their home. Do you want to buy it and move in? What about keeping it and renting it out when they downsize or move into a setting with a higher level of care. Does it make the most sense for everyone to sell your parents' home? We answer many of those questions in Should I Buy My Parents' House?
Have other housing questions you'd like us to tackle, send us a note.
Interested in Real Estate Investing? Start Here.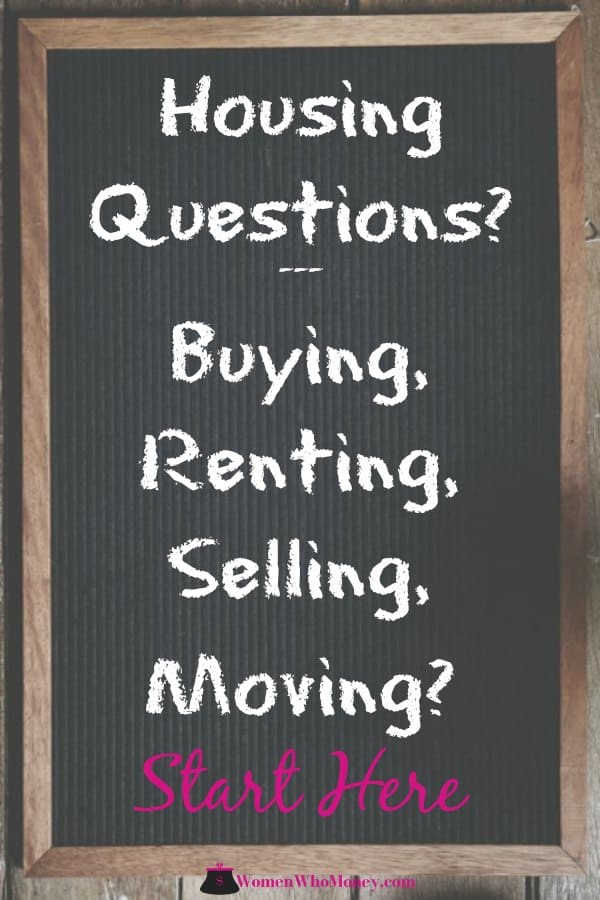 Should you buy a home now or rent for a few years instead? What type and term of mortgage should you secure? Relocating to a new city? Downsizing your parents?