Questions On Housing – Buy, Rent, Sell, Move? Start Here
Should you buy a home now or rent for a few years instead? What type and term of mortgage should you secure?
What happens if you don't pay your mortgage? Should I relocate to a new city?
How do I help my parents' downsize?
Whether you're renting, selling, buying, or just borrowing couches after a bad relationship – we've got information to help you make wise housing decisions to protect yourself and your assets.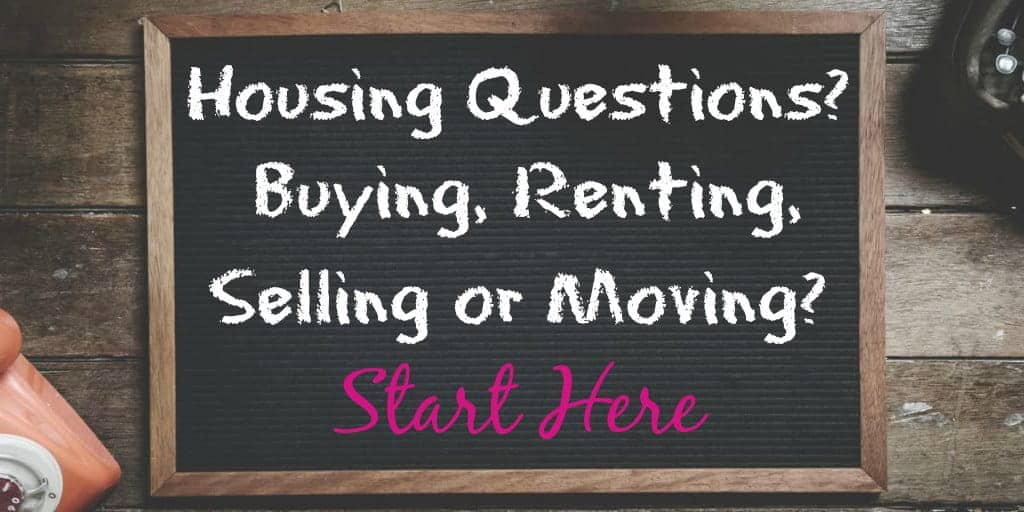 Housing Related Questions
Rental Questions
Rent or Buy. While you might want to purchase your own home, sometimes it makes more sense to rent someone else's. In our article – When Is Renting The Best Decision For Housing Versus Buying? – we explore the times when one option is likely the better decision of the other.
Renters Insurance. When you do rent, it may be in your best interest to have renters insurance. Your landlord may even require you to have it. Other times, renters insurance may not be worth the money. Need help deciding whether to buy it or not? We'd suggest you read Renters Insurance, Do I Really Need To Spend Money On It?
Negotiate Rent. If you've been renting for some time and just received a rental rate increase letter from your landlord, check out our tips in – Should I Really Try to Negotiate My Rent Increase? – for options on how to handle the news.
Roommates. Sharing the cost of rent with others may help you with that budget category, but will it cost you more in other financial or personal categories? Check out this post before signing up for a roommate: Living with Roommates: Is the savings worth It? and if your potential roommate is also your significant other, be sure to explore this post on how to split expenses – Sharing Expenses as a Couple: Making it fair
Living with Parents. Choosing where to live is a difficult and important decision. It can impact everything from job opportunities to living expenses. If you're considering a move back home with your parents, weigh these pros and cons first. Should You Move Back Home to Save Money?
Buying Questions
Check out our complete guide to buying a home or visit these articles below for specific topics.
Considerations and First Steps. Purchasing a home is one of the most significant financial decisions you'll ever make. And it can be an emotional decision too. It's wise to take the time to complete several steps to prepare for this chapter of life. Buying a House: What Do You Need To Consider and What Are the Best First Steps?
Housing Options. Will your first home be a condo? What about a townhouse? Or is your heart set on a single-family home? Read about your various housing options and the pros and cons of each before making a decision. Single-Family Home vs Condo or Townhome as Your Primary Residence (What's best for you?)
Mortgage Options. Signing on the dotted line for a mortgage can be both exciting and terrifying at the same time. The more you understand your options before finding your new home, the less scary it will be. Check out, What Are The Best Financing Options For Buying A Home? – so you're prepared.
PMI. Some mortgage options you may be considering involve putting less than a 20% down payment on the home. Small down payments may lead to the requirement of purchasing private mortgage insurance. For why that might not be the best option read, How Can I Avoid Paying PMI (Private Mortgage Insurance)? It will help you decide whether a more significant down payment is worth it or not.
Buying When Not Married. Whether it's a romantic partner, family member, or close friend you're considering buying a home with, read this popular article before you decide – Should We Buy A House Together When Not Married?
Timing. Spring is often considered the peak real estate season, but when it comes to buying you may obtain a better deal offseason. In – Are There Advantages to Buying a House in the Winter? – we explore what to look out for when shopping in winter months, and how to prepare to buy no matter what season you find your next home in.
Major House Expenses. Houses are expensive. You'll find yourself laying out a good amount of money – not only for the downpayment but other significant expenses through the years. This article will help you prepare your budget and timeline for those costs – What Is The Best Way To Budget For Major House Expenses?
Insurance. Your home's insurance policy might not be what you'd consider fun to read, but it's a really good idea to read it. Find out what you need to know, in – How Much Homeowners Insurance Do I Need And What Will It Cover?
Avoiding Foreclosure. Perhaps you're going through a situation causing financial turmoil in your life, find out what occurs if you're unable to pay your mortgage, as well as options you can take to prevent a foreclosure from happening in – What Happens When You Cannot Pay Your Mortgage?
Refinancing. There are a number of reasons people refinance their original home mortgage. Whether you want to lower your interest rate, cut the length of your loan down, or take cash out, check out – When Is The Right Time To Refinance My Mortgage? – to help you think it through.
Buying Parents' Home. There may come a time when you (and your siblings) have decisions to make with your parents about their home. Do you want to buy it and move in? What about keeping it and renting it out when they downsize or move into a setting with a higher level of care. Does it make the most sense for everyone to sell your parents' home? We answer many of those questions in Should I Buy My Parents' House?
Selling Questions
Sell or Rent Out. Downsizing, upsizing or relocating across the country and you might be asking yourself – What Should I Do With The House, Sell Or Rent It Out? There's a lot to consider! This article has important questions to help you make a smart decision.
Selling. When you're ready to sell, specific cleaning and repairs are a must, and some specific updates a big plus. In, What are the Best Ways to Sell Your Home Fast? we'll help you pick the right areas to focus on so you can pack your things and move quickly.
Selling to Someone You Know. You've decided to sell your home and a friend or family member has expressed an interest in buying it. Even though it seems like a much simpler way to sell your house – remember that easier isn't always better. Is Selling a Home to Someone You Know a Good Idea?
Selling Your Things. Many people who move decide to sell some of their possessions. Even though you may have options like garage sales or Craigslist, there's another option if you're on Facebook. Check out our review, Something to Sell? Try Facebook Marketplace!
Other Questions
Home Renovations. No house is perfect and you'll likely want to make some changes to yours. But which home improvement projects will pay off the most for you now and when you go to sell? Before you sink any more money into the house check out, Which Home Renovations Return Value and How Do I Pay For Them?
Moving On. Unfortunately, relationships end, and new housing decisions need to be made. What should you consider before making your next move? Read, My Relationship's Ending, What Should I Do About Housing?
Cost of Living Areas. Currently living in a high-cost area and wondering if it would make any sense to relocate? There's a multitude of things to consider besides the financials when making this big decision. Read – Should I Move To A Lower Cost Of Living Area? – to help you figure it out.
Moving Expenses. You want to keep your moving costs low but you also don't want to save as much time and aggravation as you can too. Check out this post for all the considerations and ways you can save when moving from home to home, whether it's just down the block or across the country – How Can You Save Money When You Move?
Reverse Mortgage. In this article, we explain what a reverse mortgage is, how you qualify for one, and the things to consider before deciding if it's a good option for you – What Is A Reverse Mortgage And Should I Get One?
Have other housing questions you'd like us to tackle, send us a note.
Interested in Real Estate Investing?

Start Here

.