How to Save Money on Moving Expenses
(This page may contain affiliate links and we may earn fees from qualifying purchases at no additional cost to you. See our Disclosure for more info.)
Moving to a new house or apartment can be exciting. It can also be stressful, especially if you're on a budget. Between the phone calls, paperwork, and heavy lifting, the time and money it takes to move adds up.
But with a little planning, you can reduce stress and save money when you move.
Research the Costs of Moving Options
While packing and moving your belongings yourself seems like the most cost-effective option, it pays to compare your moving options and their prices.
DIYing Your Move to Save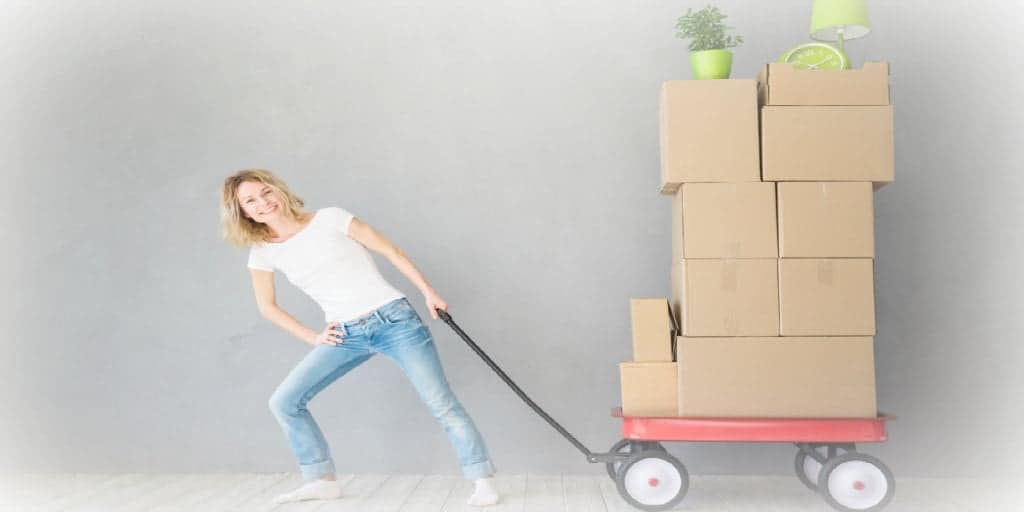 Moving yourself can save you money – under the right circumstances. Before deciding to DIY, consider your budget, how far you're moving, how much stuff you have, how much help you need, and your time.
Here are some things to ask if you are thinking about DIYing your move:
How much is it to rent a moving truck?
Who will drive the moving truck?
Who will move the heavy items?
How much will gas cost? (Will you need to make several trips?)
How much time will it take?
Will you need to buy food or pay your helpers?
Where will you get boxes?
Pros
You're in control of the move. You choose your truck, your help, and your supplies.
You have more flexibility. You can be more flexible with your timeline, decide when and how to pack the boxes, and how to load your belongings into the truck.
You can save money. Even if you rent a moving truck, it's possible to save a ton of money if you're willing to take the time and energy to plan your move.
Cons
It takes more time. Planning, organizing, coordinating, and actually doing the work of the move all take a ton of time.
You have to deal with the problems. If the weather is terrible, the couch won't fit through the door, or the help doesn't show up, you have to deal with it. You could also get hurt moving heavy items which could really end up creating even more stress.
Hiring Movers
It never hurts to consider hiring the pros, even if you think you will save money with a DIY move. Compare the time and money it will cost you to do it yourself versus hiring movers.
If you're thinking about hiring movers:
Pros
You save time and energy. When you hire movers, you won't have to do as much planning or work. The pros can do the same job in less than half the time it takes you.
You have fewer worries and less stress. If you hire a reputable moving company, they will take care of problems that arise. They will be there on the day and time scheduled. And the movers will have to figure out how to get that couch through the doorway.
Cons
It's not as flexible. Unless you've made arrangements ahead of time, movers won't be flexible with the moving date and time. So if the weather is bad, or you've had delays for one reason or another, it could be hard to reschedule.
You will pay. Hiring movers can be expensive. Of course, it depends on the services provided, distance, and moving company rates. But you can expect to pay movers at least $25/hour+ per mover. You might have weight, transportation, and storage costs too.
You have less control. You won't be able to dictate how the truck is loaded. If you have movers do the packing, you won't be able to control how carefully your belongings are handled and packed.
Using Portable Storage Containers
Portable storage containers fall somewhere in the middle of DIYing and hiring movers, and may save you some money on your move.
A mobile storage unit is delivered to you, you pack it up yourself, and then the company transports it to your new place for you to unload. (PODS or UPack might be the most well-known companies that do this.)
Pros
They're convenient and flexible. Containers are delivered to you (moving trucks are not). You can load them and unload them whenever it's convenient for you.
They provide built-in storage. If you can't go directly from your old home to your new home, a storage container keeps your belongings secure. Most units seal and lock.
Cons
They take up space. You need to have the space for a storage unit. If you don't have a driveway or other area to place the container, it could be a problem.
They are more expensive than a moving truck. Portable storage units are often cheaper than a full-service moving company. But they're more costly than renting a moving truck.
Limited access to your belongings. Once the container company picks up the unit, you will not have access to your stuff until it arrives at your new location.
There is some risk of loss. Storage containers lock, but if they sit unattended, there is always a risk of theft. Also, they are not climate controlled, so if your belongings are in extreme weather, some items could be damaged.
Do You Need Moving Insurance?
Moving companies cannot offer moving insurance, but they are required by law to provide valuation. Valuation is the level of liability a moving company offers its customers. The level of liability you choose determines how much the moving company reimburses you for damage to your items.
There are two types of valuation:
Full-value protection is when the moving company repairs, replaces or reimburses you in full for damaged items. Movers often charge a fee for full-value protection.
Released value protection means the moving company is liable for no more than 60 cents per pound for each item. There is no fee charged for this level of liability, but you must sign to agree to it. If you accept released value, you will only be reimbursed for the weight of a damaged item, not its replacement value.
Always ask your moving company for details before you sign a contract.
You can buy separate moving insurance from a third-party provider if you don't think the valuation is enough to cover damage to your belongings.
Check your existing homeowner's or renter's insurance policy. Most policies cover your belongings while they are in your home, but some will not cover the items while they are in transit.
You might consider buying additional moving insurance if:
you own valuable items
inclement weather threatens to put your belongings at risk while in transit
your moving company's valuation is inadequate
More Ways to Save Money When You Move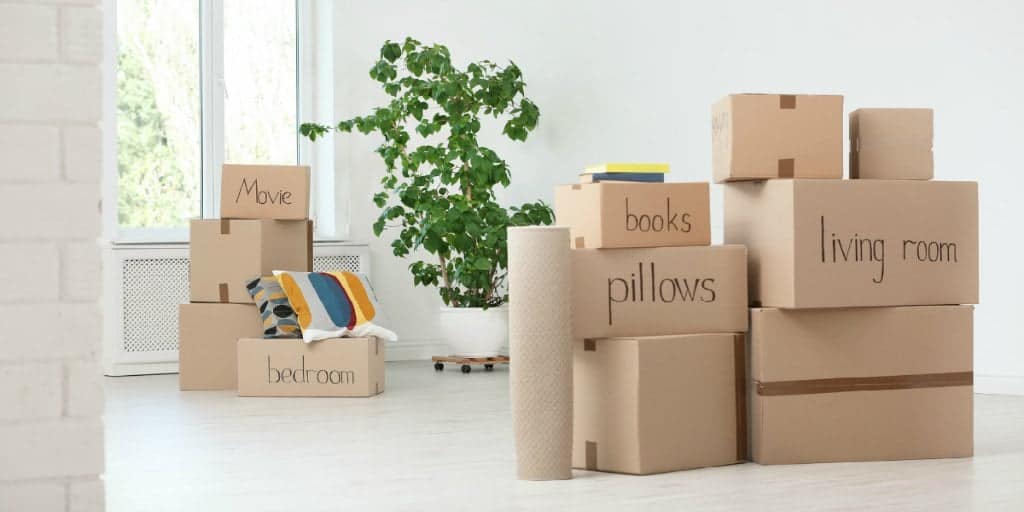 Save on Boxes
Boxes are an absolute necessity when you're moving. And new boxes are super expensive. But you can find boxes for free if you know where to look.
Where to find free boxes
Ask friends who have recently moved.
Find them at work – ask coworkers to save boxes for you or check out the dumpster.
Check Freecycle, Craigslist, Facebook Marketplace, and OfferUp
Ask stores for their boxes (or check their dumpsters).
Ask office buildings what they do with their extras (paper boxes are great!
Check UHaul's Customer Connect site to see if there are any free boxes available in your area.
Save money on packing supplies too. Instead of packing paper, use newspapers and magazines, coffee filters, or even towels and clothing, napkins, and sheets.
Rent boxes
Uhaul, Bungobox, and a handful of other companies now offer plastic moving boxes for rent. These are better for the environment and save you money over buying new cardboard boxes.
Get Rid of Your Unwanted, Unneeded Stuff
If you haven't decluttered recently, before moving is the time to do it. When you have fewer things to move, you save time and money.
You could even make a little money selling some of your belongings, such as furniture and tools. And don't forget the items you donate to your local charity may be tax-deductible (save your receipts!)
Save Money on Utilities
Shop ahead for the best rates on utilities in your new location (if you have several options). Set them up ahead of time so you won't have to make last-minute decisions on providers and service.
Another way to save on utilities and monthly expenses is to do without cable or other unnecessary services for a couple of weeks before and after your move. Who knows, maybe you'll decide you don't even need them!
Planning Your Move
Allow Plenty of Time
When you move, everything takes 10x longer than you thought it would. The sooner you can start planning your move, the less stressful – and costly – your move will be.
Organize
Keep a moving folder to organize your move, so everything you need is in one place. Include the following:
A list of what you need to do (and when)
Quotes and contact information for your moving options
Your timeline (or calendar)
Meal plan for moving days
All necessary moving-related documents (moving contracts, closing docs, lease information)
If You're DIYing, Ask for Help
If you need help moving, but don't want to hire movers, ask family, friends, or others for help.
Find help moving by:
Putting a message out on social media
Asking your local church
Bartering or trading for moving help
Asking community organizations
Youth groups at schools, colleges, and community organizations are good places to ask. You can sweeten the deal by offering food and drinks on moving day.
If you're a veteran, check with your local veteran's office to see if help is available in your area.
Anyone who has moved can tell you it's a stressful time and it always seems to cost a lot more than you think.
There are ways to save money when you move, but you also need to consider your time and the stress involved with moving.
Think through your move and compare the value of DIY'ing your move to the cost of hiring movers. Hiring someone may be a smarter decision than doing the work yourself.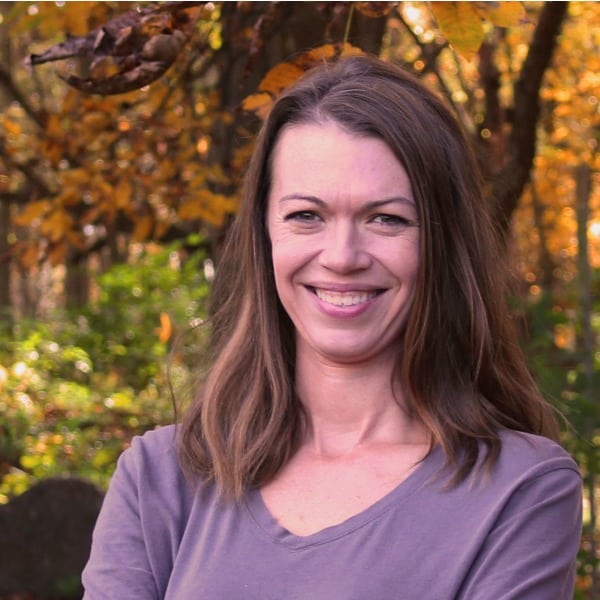 Article written by Amanda
Amanda is a team member of Women Who Money and the founder and blogger behind Why We Money. She enjoys writing about happiness, values, money, and real estate.