Is Landscaping a Good Investment? [+ improving curb appeal on a budget]
(This page may contain affiliate links and we may earn fees from qualifying purchases at no additional cost to you. See our Disclosure for more info.)
When it comes to return on investment (ROI) for home projects, kitchen and bathroom renovations often come to mind. But, more than ever, people value landscaping and curb appeal over other home features.
And according to the National Association of Realtors (NAR), landscaping projects are one of the best ways to increase home value (and add enjoyment).
So, you may consider a landscaping project if you plan to sell your home or improve your outdoor space.
But is landscaping worth the investment? And which outdoor projects add the most value?
This article covers all that and more. Read on to find the landscaping projects with the most ROI. And discover excellent ways to improve your home's curb appeal on a budget.
What is landscaping?
Before discussing yard projects, let's define what landscaping means.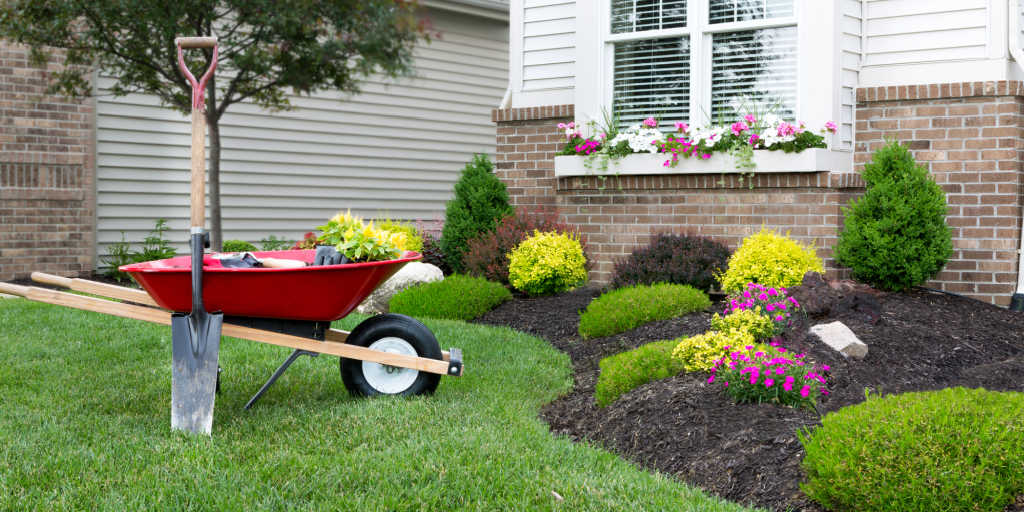 Landscaping is the design and features of the area outside a home, including softscape and hardscape elements.
Softscape features include plants, flowers, trees, grass, and mulch. And hardscapes are things like concrete, pavers, and stone for projects like a pool, patio, or retaining wall.
Is landscaping a good investment?
The short answer is yes. Improving or adding to a home's landscaping is among the top home renovations for return on value.
Why? A home's exterior is the first impression of your property. It conveys the look of a clean, beautiful, well-maintained home (or not!).
But before starting a home landscaping project, consider the ROI. Some landscaping projects have an ROI of 100% or more, while others offer much less.
Which landscaping projects have the best ROI?
According to the NAR, the landscaping projects below had the best ROI:
Lawn care (fertilizer and weed control)
Maintenance (mulching, pruning, and adding plants)
Outdoor kitchen (built-in grill, ice chest, sink, countertop, etc.)
Upgrading landscape (flagstone walkway, planters, adding shrubs)
New patio
New wood deck
The top project for ROI was lawn care, at a return in value of 217%.
In other words, keeping your lawn healthy and weed-free offers the best return on your money! Other projects return 100% or less.
Which landscaping projects have the worst ROI?
Most landscaping projects will add to your home's value. But you won't recoup the cost with some projects.
These landscaping projects have the lowest ROI (according to the NAR):
In-ground pools
Fire features (like stone gas fire kits)
Lighting
Irrigation systems
Interestingly, some projects with the worst ROI are the ones that bring homeowners the most satisfaction! That's why it's essential to consider your reasons for doing a project.
Consider your reasons
Now that you know which projects have the best ROI, consider the cost and reasons for doing it.
Investing in lawn care and maintenance makes sense if you plan to sell your home. Not only will it increase value, but it will help you sell your home faster.
You can even DIY lawn projects and save money to boot.
But if you plan to live in a home for years, more significant landscape projects could add to your enjoyment.
For example, you may add a patio, pool, or fire pit so you enjoy your outdoor space even more.
Related: Which Home Renovations Return the Most Value?
Improving curb appeal on a budget
The good news is, improving your home's landscaping and curb appeal doesn't have to cost much. And many include DIY projects you can tackle.
The key to curb appeal is keeping things simple, clean, and generally pleasing. Avoid trendy or expensive personal projects.
Also, if you plan to sell your home soon, steer clear of big projects that need ongoing maintenance, like pools and water features.
Inexpensive ways to improve curb appeal
Maintenance and cleanup
An excellent way to improve curb appeal is to take what you already have and make it look clean and healthy. You can even do it yourself (DIY) on a limited budget.
Here are some suggestions:
Get rid of weeds
Fertilize the lawn
Trim overgrown trees and bushes
Remove unwieldy bushes
Rake leaves and brush
Add or refresh mulch
Power wash decks, patios, and siding
Clean gutters
Clean up your home garden
Add trees and plants
Planting new trees and plants adds substantially to curb appeal. Below are some things to consider.
Mature trees are one of the top ways to maximize your home's value. If you don't have mature trees, planting them now is better than not planting them at all.
Use plants appropriate for your climate, so there's little need to irrigate. Not only does it save money on the water bill, but it's eco-friendly.
Plant perennials to save time and money. Perennials return year after year and take little maintenance.
Add large planters with colorful flowers near your home's entrance for more curb appeal.
Paint the front door
This isn't necessarily a landscaping project, per se. But if your front door is drab and boring, painting it can add to your home's curb appeal.
Here are some front door color ideas:
Paint your door a bright color that pops (but coordinates with your house color).
Paint it brown for a "wood" look.
Paint it black or dark gray. Houses with black or charcoal gray front doors can sell for $6,000 more than similar houses.
Provide privacy
Private outdoor living space is a desirable feature for any home! Create screening with plants, shrubs, or trees for natural privacy.
You can also build a pergola or install a trellis or freestanding screen to increase solitude.
While privacy is valuable, it's important not to let it detract from curb appeal.
Layered plantings, grasses, and screening offer privacy without making a home feel unwelcoming.
Add or update outdoor lighting
Outdoor lighting improves security, gives outdoor spaces a desirable nighttime ambiance, and adds to curb appeal.
Update your current exterior lighting fixtures to match your home's style and brighten your entrance.
Also, consider adding lights in landscaping. For example, highlight plants or trees, line a walkway or stairway, or light up an outdoor living area.
Solar or low-voltage lights around the house are relatively low-cost options, and solar lights are easy to DIY. Also, low-voltage lighting kits have what you need to install a basic lighting system.
Closing thoughts
Landscaping can be an excellent investment! But you can only recoup your money on some landscape projects, especially larger ones.
It's essential to consider why you want to improve your landscaping and how far to go with your project.
Then think about how to work with what's already there to maximize curb appeal without breaking the bank.
Next: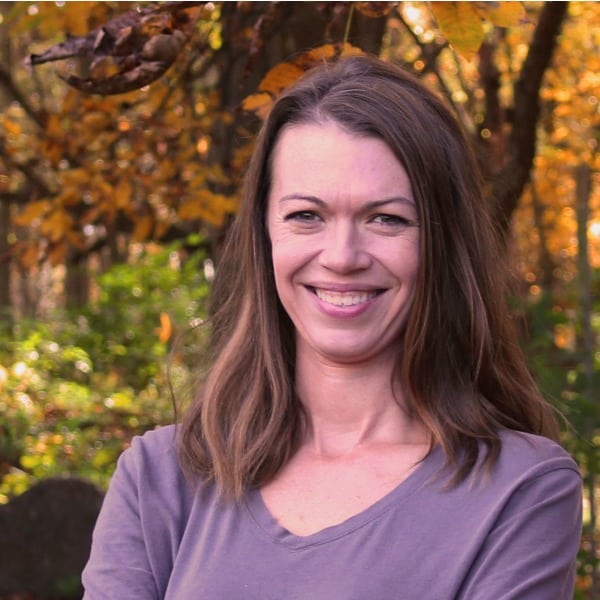 Article written by Amanda
Amanda is a team member of Women Who Money and the founder and blogger behind Why We Money. She enjoys writing about happiness, values, money, and real estate.