How Do I Start an Affordable Home Garden?
(This page may contain affiliate links and we may earn fees from qualifying purchases at no additional cost to you. See our Disclosure for more info.)
Spring is in the air. For many people, that means spring cleaning. Hopefully, springtime is also the perfect excuse to spend more time in the great outdoors or at least out into a garden.
Perhaps you've had a not-so-successful garden in the past. Maybe you simply aren't sure where to start.
This spring, gardening is for everybody on every budget. No matter where you live, you can start an affordable home garden.
These tips combined with some of the best online resources will have you sporting a green thumb and a budget-friendly garden at home in no time.
10 Ways to Start An Affordable Home Garden
No matter the size of your yard or the type of home you live in, you can create a home garden affordably.
Even if you have a complicated HOA or a stickler of a landlord, this list will have your garden up and growing in no time.
1. Do Your Research
Before you attempt any kind of gardening, you want to know what you're allowed to do.
Even as a homeowner with a sprawling yard, you might face limitations on where you can plant. That means you need to spend some time doing due diligence.
Consider your homeowners' association, review your lease, or explore restrictions on where you can dig.
After you've gotten the green light to plant a garden or take advantage of container gardening, you need to do a bit more research.
If you plan to grow plants in a shared space, make sure you understand a bit about companion planting. You don't want plants to be fighting each other for space or nutrients.
2. Keep It Simple
If you've spent any amount of time researching gardening, chances are you've seen all sorts of beautiful setups.
The reality is that if you want to make gardening affordable, you want to keep it simple.
Don't underestimate the productivity of an herb garden, a windowsill garden, or a container garden.
It might be tempting to tackle gigantic raised beds right away. But even the smallest set up can be surprisingly productive.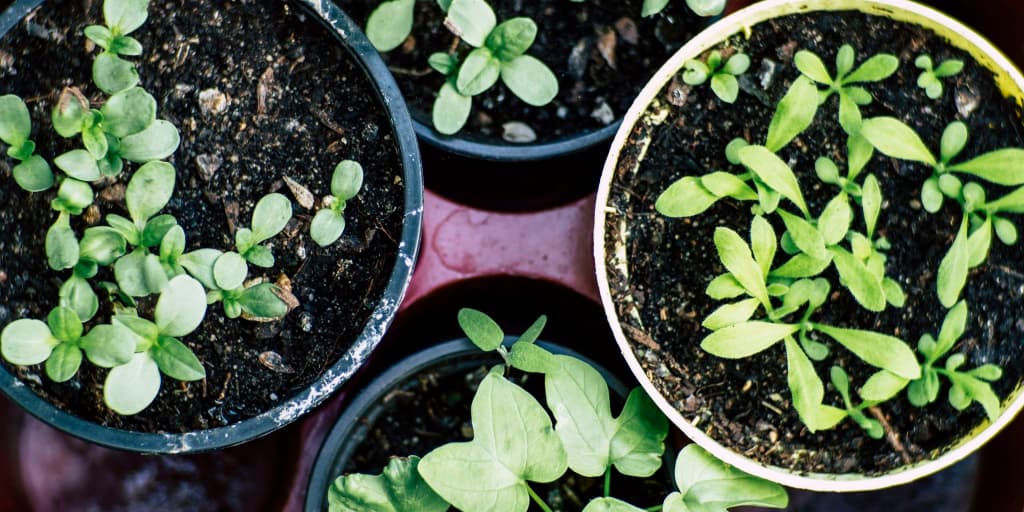 By keeping it simple, you can save time and still score delicious herbs, vegetables, and fruits.
3. Eat & Regrow Your Veggies
Another excellent way to make gardening affordable is to regrow what you're already eating.
From bok choy and celery to green onion and lettuce, scraps can regrow into ready-to-eat vegetables.
All it takes is a container, water, sunlight, vegetable scraps, and a bit of trial and error.
Getting the cut right can take a bit of practice, so check out this resource for a helping hand. Scan your refrigerator for options to start experimenting with today.
4. Know Your Address
This seems like overstating the obvious, but it is crucial to keep in mind where you live when you plan your garden.
Not only does your location impact what grows well, but it also influences when things grow well.
The United States Department of Agriculture features an easy-to-use plant hardiness map tool to help you determine exactly when you should start planting.
Understanding your specific grow zone can prevent you from having to restart your garden in the event of a frost.
It can also help you determine when your plants will be most productive.
5. Swap Seeds and More
Seed exchanges and 'Buy Nothing' groups are two terrific ways to start and maintain affordable home gardens.
Some libraries host seed swaps either at the end of the season or early on.
If your library or community center doesn't host a seed swap, it's likely other gardeners in your area would be willing to exchange seeds.
Use social media such as Nextdoor or gardening-specific Facebook groups to float the suggestion to other gardeners.
You can also check out your local Buy Nothing Facebook group to borrow tools and anything else you might need to set up your garden.
6. Get A Simple Start
You don't have to spend a small fortune at a big-box home maintenance store or your local garden center.
Instead, a quick trip to your local grocery store or dollar store likely offers everything you need to begin.
Pick up a packet of seeds, some potting soil, and a pot or two. This is also a fantastic way to have children and teens learn about gardening with very minimal cost and set up involved.
Start your seedlings indoors and transplant them when the weather allows.
7. Use What You Have
It's easy to think you need to shell out hundreds of dollars to start gardening. The truth is you don't need new raised beds and a rain barrel right away.
Instead, start with what you have. You can repurpose containers or even get crafty with eggshells to start your seeds.
You might also be able to build some small raised beds or other garden configuration with materials you already own.
Odds and ends of lumber from other projects is one option, but that's certainly not your only option.
You can use anything from old jeans and straw hats to wheel barrels and old pallets.
8. Get To Know Your Neighbors
Though you may frequently dream of fruit trees, you might not be up to the task at this particular season of life.
But perhaps your empty-nest neighbors, on the other hand, are experts when it comes to growing delicious apples.
You could happily share any excess from your summer garden with them, knowing that apples await you later in the fall.
That way, you can grow what you love (and what you're good at growing!) and still enjoy many other homegrown options.
9. Think Beyond Your Backyard
There are plenty of reasons to set up a garden in your backyard. But there are also many reasons people won't or can't set up a backyard garden.
Community gardens are a fantastic and affordable option.
This is a great way to save on space and materials, as many community garden plots are expertly designed.
An added bonus of community garden plots is the expertise of other gardeners.
From casual conversations to deliberate meet-ups to problem-solving or sharing of your gardening haul with others, there's plenty of collective wisdom to be found in a community garden.
Contact your local park district, community center, or schools to see if garden plots are available in your area.
You can also Google search for the keyphrase "community garden plots near me" to see if there is any information posted online about your city.
10. Consider Other Options
Don't let nice weather or Instagram fool you. You're not required to have a garden.
It's true nothing beats the taste of homegrown food. It is also true that not everyone has the bandwidth to garden.
Luckily, it's easier than ever to enjoy garden-fresh fruits and vegetables. Local Harvest allows you to search in your immediate area for farmers' markets, CSAs, and even local farms.
Even if you can't make the visit in person, more and more local agriculture businesses are setting up subscription and delivery services.
Final Thoughts on Starting An Affordable Home Garden
Gardening is a fun hobby perfect for individuals or entire families. While Pinterest might make you think otherwise, it is possible to have a lovely, plentiful, and affordable garden at home.
If this isn't the year for you to test out your gardening know-how, that's OK, too. There are plenty of local agriculture options, including farmer's markets and CSAs, that offer delicious, healthy, and inexpensive garden-fresh produce as well.
No matter which path you choose, let your springtime planning turn into a summer full of delicious and affordable homegrown food.
Article written by Penny