How Can Public Libraries Save You Money?
(This page may contain affiliate links and we may earn fees from qualifying purchases at no additional cost to you. See our Disclosure for more info.)
"When in doubt, go to the library." This quote from Harry Potter isn't just good advice for someone who's learning to live as a wizard.
The truth is everyone should spend more time at the library, especially if you're looking to save some money.
Read on to explore several ways public libraries can save you money.
What Can You Do At The Library?
If you haven't been to your library in a while, you will likely be surprised at what libraries have to offer.
Imagine a children's museum, a cafe, a co-working space, a classroom, and so much more. Oh, and of course, it's also like a bookstore but better (free is our favorite price!).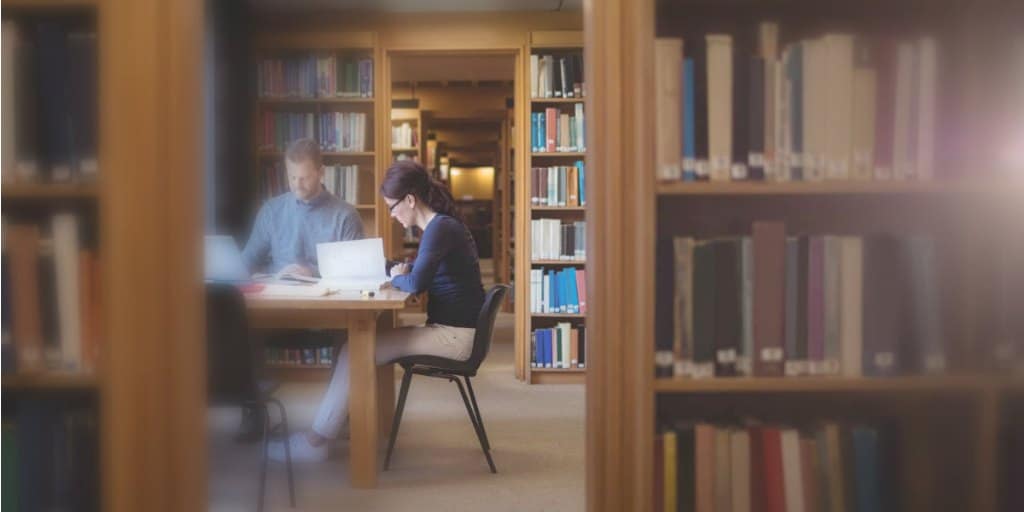 Check Out The Typical (and Not So Typical!) Items
When you think of checking out items from a library, there's no doubt you think of books.
You probably also know that you can check out CDs, DVDs, and audiobooks. But many public libraries are adding all sorts of fun and unexpected items to their circulation inventories.
Some other items you may be able to borrow from your library to save you money include:
Puppets
Puzzles
Board games
Wifi hotspots
E-readers
Cookware
Tote bags
Swing by the circulation desk at your library to ask for insight into what's available.
Use Databases and Online Resources
In addition to checking out physical items from the library, your card also grants you access to a host of digital tools.
With so many different newspapers, databases, and streaming services charging monthly or yearly subscriptions, the costs can add up. Using the library's tools can save you a healthy chunk of change.
Consider this: a membership to Consumer Reports can cost up to $10 a month. However, many libraries provide access to Consumer Reports for free as a perk for being a library cardholder.
Other databases and online resources your library might offer include:
Ancestry.com – Access over 4,000 databases to learn more about your family history
Bookflix – Pair fictional stories and nonfiction books help unlock learning
Brainfuse Help Now – Find online tutoring, collaboration spaces, and more
Family Search – Explore the largest genealogy database in the world
Find My Past – Unlock over 2 billion historical records dating back to 1790
Freegal – Grab access to over 9 million songs and tens of thousands of music videos
Hoonit – Get training on how to use various devices and software, including Adobe
Hoopla – Take movies, TV shows, music, audiobooks, and more wherever you go on your phone or another device
Mango Languages – Practice over 70 languages, including American Sign Language
Morning Star – Examine real-time data and analyses to make informed investing decisions
Overdrive – Borrow new releases and long-time favorites in ebook and audiobook form
Scholastic Go – Get homework help with nonfiction resources for elementary, middle, and high school students
Wall Street Journal – Access the world's leading financial newspaper and its archives
World Book – Research with one of the most comprehensive reference databases
It is also worth noting that library patrons have a lot of sway when it comes to what resources libraries offer. If there's a database or online resource you think would be beneficial, make sure you contact your local library.
Learn New Skills at the Library
Libraries are places of learning, and we're not talking about independent study. Between Makerspaces and workshops, libraries are interactive, hands-on classrooms.
What's a Makerspace? Makerspaces are popping up all over.
They are dedicated spaces designed to help creativity flourish. Some are high tech, some are no tech, and some are in between. Depending on the space, you might find everything from sewing machines to 3D printers.
In addition to offering dedicated Makerspaces and supplying them with the necessary equipment, some libraries also have Maker Kits that can be checked out.
That means you might be able to check out kits that include film equipment, bakeware, magnetic blocks, origami, and more.
In addition to Makerspaces, libraries offer all sorts of programming. Experts from various fields might run one-time seminars. Other libraries host book clubs, workouts, concerts, and more on a weekly basis.
This information is usually housed in print form, online, and posted on bulletin boards in libraries. Check out all those sources to save yourself money learning valuable (or just fun) new skills!
Share Your Expertise
In addition to attending classes and workshops at your local library, you can also offer to host events.
This is a fantastic way to give back to your community (helping others save money!), and it's also a terrific way to build a resume.
You may also be able to volunteer your time as a guest reader, event host, or even as a librarian's assistant.
Some libraries also allow and even encourage tutoring, so it's possible that you could use your library as a springboard for a side hustle.
Get and Give Support
Libraries have a pulse on the community. Because they are in a unique position to see not only a community's interests, but their needs as well, libraries can offer unique support.
Some libraries partner with area school districts and organizations like No Hungry Kid to offer free lunches to kids during the summer months. Other libraries have community pantries where you can pick up items you need or donate to other families.
Your library might also run different initiatives like mitten trees or pajamas drives throughout the year.
Have Fun While Saving Money
If you think of a library as a stuffy place where someone runs around shushing people, you probably haven't been to a library lately.
Of course, there are still reading rooms and quiet areas. But libraries are working hard to shed that stuffy image.
Libraries are planning all sorts of fun programming, from Oscar viewing parties to contests for summer reading.
Some libraries also have dedicated space for toddlers, kids, and teens. That means you might see everything from play kitchens and train tables to video game systems and board games…and crowds around them, of course!
How Can My Library Help Me Save Money?
Now that you have a better understanding of what you might find at your public library, let's talk about all the ways your library can help you save money.
Borrow, Don't Buy
There is a huge savings benefit to borrowing instead of buying. If you consider the fact that most books cost between $5-$20, some quick mental math reveals you can easily save hundreds of dollars a year.
Couple that with access to all sorts of other media and online tools, and families could easily access hundreds, if not thousands, of dollars worth of value for free.
In addition to putting some breathing room back into your budget, borrowing items comes with an added benefit: less clutter!
Of course, if you know your bookshelf won't be complete without owning a copy of your new favorite read, buy it. But checking items out from libraries first are low-commitment ways to save money and reduce household clutter.
Reciprocal Library Cards
Libraries throughout the country often participate in reciprocal borrowing programs.
That means that although your primary residence determines your main library, you may also be able to get a reciprocal card to use at neighboring libraries.
Though reciprocal borrowers may not have the same privileges (it varies by the library!), it's still one more way to gain access to lots of other resources at no cost.
Additionally, it's important to remember that public libraries are open to everyone. So, even if you don't have a library card, you are still welcome to come in, browse, read, study, work, and more.
Special Discounts
September is National Library Card Sign-Up Month. To celebrate, area businesses often run promotions. Instead of clipping coupons, you can show your library card to score percent-off or dollar-off deals.
You might also land some buy-one, get-one deals or even snag a few freebies!
To find out more, check the signage at your local library or visit their website in the weeks leading up to September.
As an added bonus, you might discover that businesses in your area run these promotions several times a year or year-round.
Final Thoughts on Public Libraries and Saving Money
There's no doubt about it. You should go to the library.
From rainy day fun for the whole family and connecting your kids with others in the community to learning new skills and testing out new technology, your library is a world of adventure waiting to be explored.
The fact that your public library can save you money is just icing on the cake.
Article written by Penny