Giving on a Local Level to Impact Your Community
(This page may contain affiliate links and we may earn fees from qualifying purchases at no additional cost to you. See our Disclosure for more info.)
One reason people are sometimes reluctant to give is that they can't always see or feel the effects of their generosity. Another obstacle is that some people don't know if it's better to donate time or money.
This list of ways to give on a local level has something for everyone, regardless of your budget or your schedule. By donating your time and your money on a local level, you can see your community grow and thrive with your own eyes.
Each year, Giving Tuesday is celebrated on the first Tuesday in December, after Black Friday and Cyber Monday. It kicks off the charitable giving season when many focus on their holiday and end-of-year donating. This article is the second of four (here's the first, third, & fourth) to share a variety of ways you can give this year on #GivingTuesday.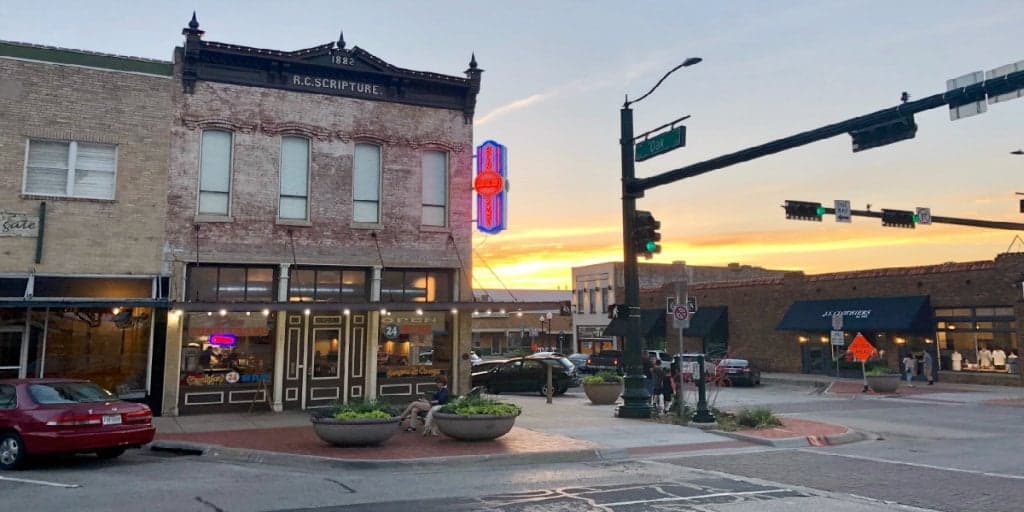 Promoting Education and Literacy Locally
There's a reason why the saying "knowledge is power" still rings true today. Education unlocks so many doors. No matter one's age, there's always something new to learn. That's why supporting education and literacy at a local level can be so rewarding.
Here are some of the ways you can start giving locally.
Local Schools
Most schools could benefit from community support. In addition to the various fundraiser events schools hold each year, there's another significant way you can make an impact.
Volunteering your time to read, tutor or coach can all make a huge difference in the lives of kids and the school staff. Even if your local school district doesn't have a formal volunteer program, you can reach out and offer your time.
Maybe school wasn't your thing, or maybe the idea of spending time with kids and teens isn't for you. That doesn't mean you can't get involved. In fact, many schools will gladly accept administrative assistant support with data entry, photocopying, and more.
If your school has a library or a resource center, you might also be able to help with book shelving or to provide assistance with technology.
Local Libraries
In addition to school libraries, your local public library could also benefit from your support. If you have a talent or skill you'd like to offer your community, you can work with your library programming staff to host a seminar or a workshop.
You can also offer to tutor both children and adults. There are, of course, fundraisers to help your library financially, too.
Another important opportunity to explore would be to see if your library has a Friends of Libraries program. This group of individuals comes together to host book and media sales and other programs to keep libraries funded all year.
Another way to foster literacy in your community is to support an existing Little Free Library or create one of your own. These freestanding library boxes are more than just charming additions to the community. They are an exciting way to circulate books throughout your neighborhood–no library card and no library hours required.
As an added bonus, you get to do some decluttering and might even come across a new book to read yourself.
Mentoring Programs
Many communities have mentoring programs through school districts, libraries, park districts, or community centers. Some may be local chapters of the Boys and Girls Club of America, and others might be through different organizations.
Participating in a mentoring program by giving your time and talents, provides a child or teen in your neighborhood the opportunity to gain support from another adult.
Just knowing someone is willing to share knowledge and skills with them makes a world of difference in someone's outlook.
Depending on the structure of the program, you may be able to volunteer weekly, monthly, or at occasion events.
Helping Neighbors Meet Their Needs
Having your basic needs met is something that's all too easy to take for granted, especially in today's busy world. For many of us, it's hard to imagine going without food, clothing, or shelter. Yet, that is a reality some of our neighbors face.
Thankfully, most communities already have initiatives set up to help citizens meet their needs, and those initiatives need our support. Getting involved will give you the opportunity to practice gratitude for what you have while also sharing with others.
These are some of the organizations in your local community that could benefit from donations of your money or your time.
Shelters
Homeless shelters and domestic violence shelters provide critical care for some of our most vulnerable neighbors. You may be able to assist on a one-time basis or a regular basis by serving meals in your local shelters.
Many shelters also operate in conjunction with shops that collect clothing and goods and resell them to the community at large or to individuals in need. These shops rely on volunteers to help sort items, stock shelves, ring up purchases, so they can put more money back into the shelters.
In addition to giving your time, you can also make a financial gift. You may even be able to donate food, toiletries, hygiene products, clothing, and household items.
The best course of action is to review the information posted online or to contact a local shelter directly to ask what is most needed. To get started, consult the Homeless Shelter Directory or do a Google search for homeless/domestic violence shelters and the name of your town or city.
Community Pantries & Kitchens
Support from a single individual or family can have a lasting impact on a neighbor in need. Imagine what a whole neighborhood or community could do. In addition to collecting goods to donate yourself, you might consider either supporting an existing drive or creating one of your own.
With a name like "food pantry," it's easy to focus on consumables. However, it's also important to remember that many of these pantries gladly accept cleaning supplies, toilet paper, paper towels, baby wipes, diapers, and more.
Recently, more and more neighborhoods are creating food pantries and "blessing boxes" in the same vein as Little Free Libraries. One organization called Little Free Pantry has a directory that will allow you to find pantries you can support. Plus, it also includes information on how to get one started in your neighborhood.
Another way that communities can mobilize efforts to get everyone fed is through programs like Meals on Wheels. In addition to making a financial gift, you can also volunteer your time to deliver meals and a smile.
Assisted Living Centers
There are so many opportunities to bring entertainment, comfort, and joy into the lives of elderly people.
You can play an instrument, host a game night, start a sing-a-long, file and polish nails, bring in a pet, and so much more. Many of these seniors are simply looking for companionship and reassurance that they haven't been forgotten.
If you find yourself short on time, you can also support nursing homes and assisted living centers in your community financially. Especially in the colder months, they might do clothing drives for their residents.
More and more facilities are also doing giving trees to ensure that their residents are thought of over the holidays. Be A Santa to a Senior is one program you can explore.
Animals Shelters
No one wants to overlook a neighbor, which is why animal shelters are included on this list. Of course, supporting the people in our community matters. As does supporting our furry friends.
If you'd like to make a financial gift, local shelters would be happy to accept the funding to help cover the costs of food, supplies, medicine, vaccinations, and medical procedures and surgeries. You can also donate supplies directly. The best way to do this is to reach out to a local shelter and ask what is most in demand.
Additionally, you can volunteer your time or even make it an event with family and friends. Many shelters rely on volunteers to walk animals, clean kennels, and run adoption events in the community. Sometimes, you might even be able to support a shelter by fostering a pet until it finds its forever home.
Supporting Local Causes You Care About
One of the most enriching parts of volunteering and charitable giving is when those acts of kindness reflect those things that matter most to you.
Volunteering gives you the opportunity to practice a skill or share a hobby you love with others. Donations allow you to support local causes important to you.
There are virtually limitless ways to do this within your own community. Below are just some of the groups and organizations you might connect with to get started.
Religious Organizations
If faith and religion play a role in your life, looking to your own religious center can be a fulfilling way to give back to others.
To extend their reach, many religious organizations offer support to entire communities, regardless of individuals' specific affiliations. That means your money and time can strengthen your religious organization and your entire community.
Veterans Support Groups
Our country would not be what it is today without the dedication and selflessness of our veterans. Most communities have multiple organizations supporting veterans. From ensuring that they have proper housing and food to providing proper medical care and camaraderie, these organizations play a vital role in veterans' lives.
To connect with your local VFW Post, visit the Veterans of Foreign Wars site or do a Google search for other veterans support groups in your area.
Runs, Walks, and Socials
Neighborhoods and communities often host events that give back to causes. Events might include Run/Walk events or even relays and marathons.
Depending on how the local event is set up, the participants raise funds for myriad causes by having friends and family pledge money in flat amounts or based on other parameters, like time, miles, and more.
While many of these causes offer support at the national or the international level, communities can also host events to support local causes, like community hunger or medical care for a sick neighbor.
Maybe athletics isn't your thing. Neighborhoods and communities can also host fundraisers to support causes with ticketed dinners, potluck events, silent auctions, raffles, and more.
If you're someone who is creative and loves interacting with neighbors, this is a great opportunity to do what you love and support those in need. The best part is you probably already have a sense of the type of event that would best fit the personality of your neighborhood.
Final Thoughts on Donating Locally
We've all heard it said that we're only as strong as our weakest link. Giving on a local level is the most impactful way to strengthen neighborhoods and communities.
Not only does it do a world of good for others, but it also provides the additional benefit of making the places we call home even more enjoyable for us, too.
Consider your own situation–what are your financial obligations and what do your time commitments look like?
Once you've determined how you can support your community, choose any of these areas that best align with your interests or with causes you care about and start donating today.
To give it even more of a communal feel, consider recruiting a friend, family member, or entire neighborhood.
Keep the giving spirit going, and check out ways you can give on a personal level with little to no money required.
Article written by Penny