Have Questions About Your Kids and Money? Start Here
(This page may contain affiliate links and we may earn fees from qualifying purchases at no additional cost to you. See our Disclosure for more info.)
As a parent, you have plenty of questions about your kids. And you work hard to get answers to your questions, so you raise healthy, responsible, and productive young adults.
One of the topics you'll surely address as your kids get older is money.
You'll want to teach them about earning money, spending money, and the importance of saving money. As teenagers, you'll likely want to discuss loans, credit, budgets, and possibly about how to pay for college.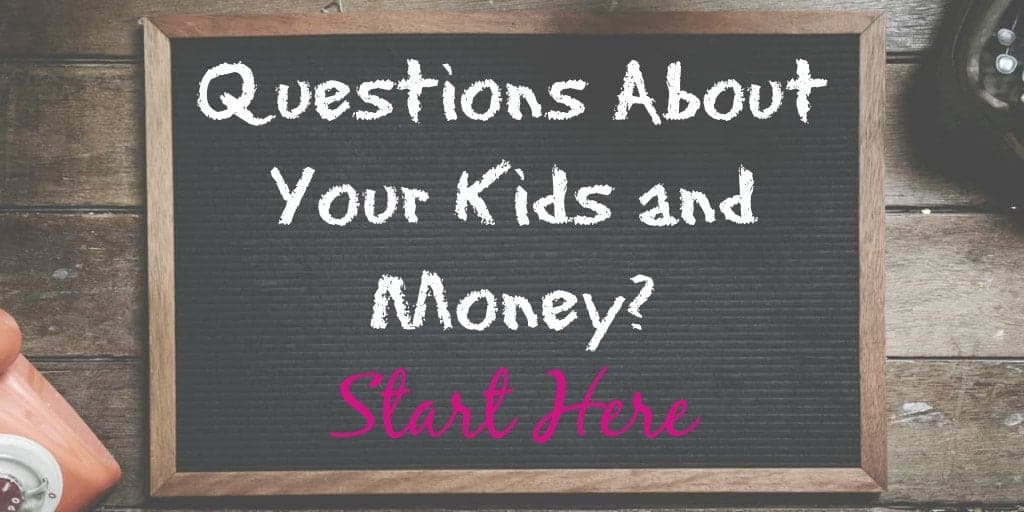 It sounds easy enough – but you might find yourself looking for answers to some common questions about kids and money. These popular articles below can help.
Kids and Money
Teach. If you are looking for successful ways to talk to your kids about money or if you didn't have good financial role models when you were a child, check out – How Can I Teach My Kids About Money? We also have articles with specific recommendations on:
Financial Confidence. You play a huge role in shaping your children's positive or negative financial habits. Even though many schools are adopting a financial literacy curriculum, you're your child's first teacher. For help on teaching critical financial concepts to your kids to grow their ability to understand and use money, check out MoneyConfidentKids.com. More about them here – How Can Parents Raise Money Savvy Kids?
Rewards? Now that you have ideas on how to teach your children about money, you might question if you should pay them for learning? And not just for learning about money. As your kids move from grade to grade, you might think about paying them for doing well at school. Is it a good idea or is it an incentive you should skip? If you aren't sure, check out the article – Should I Be Paying For Grades? Helping Kids With School?
Activities. As much as you love your kids and want them to participate in a variety of activities, they can get also get expensive. How do you decide what to let them do and where to cut back? If you want some ideas, read the article – How Can I Control the Cost of My Kids' Activities? It suggests ways to let your kids be involved in clubs and sports while limiting the impact on your budget.
Loans. As your kids get older, their activities might not seem cheap compared to the car they want or the college they hope to attend. You may hear them say a used car is only $10K or a college is just $30K a year. They likely understand they'll have to pay loans back, but they may not have any idea how interest works or how long those payments will last. To help your teen with the math, read How Can I Help My Teen Understand Big Loans?
Family $ Problems. One of the most difficult challenges a parent can face is talking to kids about family money problems. Being embarrassed about money struggles or not wanting to burden kids with financial issues is tough. You might even wonder – Should We Hide Our Money Problems From the Kids? It's a tough topic. Read the article for ideas, if you aren't sure what to do.
Societal Poverty. Another difficult challenge is helping our children understand different social classes and the struggles of those in poverty. To aid you with age-appropriate discussions with your kids, check out – How Can I Help My Children Understand Poverty?
These are just a sample of the Kids and Money articles on Women Who Money. We've done the work and answered hundreds of money questions. Our leveled content (100 – novice, 200– intermediate, 300– advanced) provides information on many different money topics.
If you have questions, we want to answer them! Send us a note by clicking here or connect with us on Twitter, Pinterest, Instagram or on Facebook!