11 Best Money Apps for Teens and Kids
(This page may contain affiliate links and we may earn fees from qualifying purchases at no additional cost to you. See our Disclosure for more info.)
Financial education is essential and should start as early in life as possible.
While the number of schools adding personal finance to their curricula continues to grow, many kids don't get taught about managing money at school or at home.
What's one way to help teach financial skills to a kid who can't get their nose out of their phone or tablet?
You put the education right on their screen!
11 Money Apps for Teens, Kids, and Parents
Take a look at the following money and allowance apps, including debit cards, to help your children, age 3 and up, become financially savvy in no time.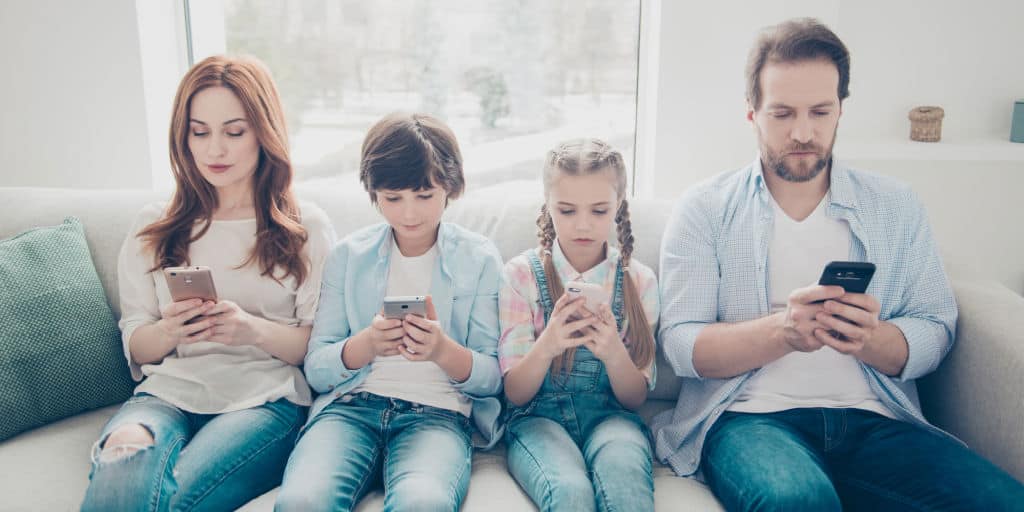 1. Step
Step is a banking app system designed for your teen. Accounts are FDIC federally insured, just like an actual bank account, with debit card access only. There's no risk of your teen over-drafting their account and the debit card is protected by Visa's Fraud Protection and Zero liability guarantee.
Parents can instantly send money from an external bank right to their teen's Step account by linking their account or debit card. Teens can also set up direct deposit of a paycheck. There are no monthly or ATM fees, and no minimum deposit or minimum balance is required.
The most significant benefit of Step is that the debit card also helps build your teen's credit history like a credit card would, without the risk of them going into debt.
You can also set up their allowance as automatic payment and help them learn to budget and save money to meet financial goals and gain financial responsibility.
From a parent, "This has been so much fun for my youngest to learn the value of money. She knows what she has and what she can spend. I love how easy it is for me to send her money in a pinch if she needs it."
Anyone 13 and over can create an account to use this money management app; they'll just need an adult over 18 to be a sponsor.
Available through the Apple App Store and on Google Play
There is no monthly fee, no overdraft fees, no ATM fees (though the ATM operator may still charge a fee), and no minimum balance is required for the account.
2. Kiddie Kredit
In 2021 Kiddie Credit updated its interface and ease of use and launched Kiddie Kredit Academy.
Parents can customize tasks, choose their priority level, and even choose rewards for hitting a certain level. The app will also send out child and real-time notifications about expiring tasks that can affect your child's Kredit score and overall rating.
The best part is, your child does not need their own device to make this system work for your family!
From a parent, "This was a fun, easy way for our family to organize house duties and teach our kids about responsibility. I recommend it to anyone who wants to get an early start on their children's financial education."
While starting your children's financial education as early as possible with this app is recommended, it is targeted for children 9-11 years old.
Available through the Apple App Store and on Google Play
The app is currently free to download and use. Once the update launches in early 2021, it will transition to a premium app with a monthly subscription. Those prices have not yet been announced.
3. Greenlight
Greenlight is a prepaid debit card that comes with parental spending controls. Both parents and kids have individual accounts and you can each monitor your child's account. There's no minimum balance or age requirement.
There are also no overdraft fees since the card will decline if a sufficient money balance is not available.
You can create an in-app chore list and automate allowances to reward kids for chore completion.
The kid's app (optional, kids without smartphones can still use the card) lets kids track virtual balances and learn how to earn and manage their money.
Parents can also receive real-time notifications and turn off the card right from the app, as needed.
Read our in-depth Greenlight review here.
From a parent, "My daughter is 11 and loves having her own debit card! The app is easy to use and functions well. I love that it reduces the likelihood of her using cash."
There is no minimum or maximum age. Greenlight is targeted at kids 8-22.
Available through the Apple App Store and on Google Play
$4.99/month (with the first month free), which includes up to five kids. Some upfront fees: Custom debit card (optional) $9.99. Card Replacement (first replacement is free) $3.50 ($24.99 if you would like it express mailed). Several additional features, including investing through a custodial account, identity theft monitoring, and cell phone protection, are also available.
4. Counting Coins
This game, aimed at younger children, will help them learn to count coins and understand their values. This is a basic app with four modes; matching the value, make the total, how many cents, and show their values.
The app was created by K12 Inc., a leader in online education, focusing on putting quality educational programs into students' homes.
From a parent, "I was pleased with how easy it was for young children. It allows for different combinations of coins for the child to arrive at the correct answer. It has an easy check system for immediate feedback."
While this app was made for kids in the age range of 6-8, kids as young as 4 would enjoy it and learn from it.
Available through Apple App Store, Google Play, and Amazon Appstore.
There is no cost to download and use the app.
5. FamZoo Family Finance
This personal finance app will help you and your family develop good financial habits with pre-paid debit cards for your family. The cards are linked together through the app, and it's filled with different features to help everyone enforce good money habits.
If you have kids too young for debit cards, you can use FamZoo's IOU accounts to track money elsewhere. You can access the program from a smartphone or through a browser, so a smart device is not mandatory.
From a parent, "What could be more empowering for a kid than having their own real debit card? What could be more effective for a parent than teaching kids about money by supervising them actually manage it? Famzoo is a powerful platform that allows parents to configure a wide range of options…If you are working to raise responsible, financially literate kids, this app is a great tool."
Targeting kids ages 13 and up, yet FamZoo Debit Cards for kids and teens, can be used for preschoolers through adults.
Available through the Apple App Store and on Google Play but can also be used through a web browser.
When signing up for FamZoo, they offer a monthly plan ($5.99/month) or pay-in-advance options that can save you up to 58%.

6. Bankaroo
Bankaroo is a virtual bank for kids created by an 11-year-old student who wanted a way to manage her weekly allowance and "pocket money" better. This easy-to-use app will help you or your kids manage their money.
Parents can give their kids recurring allowance or add funds to the accounts manually and even use Bankaroo as a point system to encourage helpful and good behavior.
Kids get to record every expense, so they know what balance they have left. There's a saving feature that allows kids to save up for more expensive items and get a cool badge when they reach their goal. Kids can also set up recurring charges if they pay for any online memberships.
Bankaroo is even used in schools nationwide to educate kids about money and its value.
From a parent, "I've been using Bankaroo for years now to keep track of how much my kids have in the Bank of Mom. (Way easier seeing something they want to buy and having them try to remember how much money they have at home.)."
For ages 4 and up but targeted for ages 6-8.
Available through Apple App Store, Google Play, and Amazon Appstore.
You can download and use Bankaroo for free.
7. BusyKid
BusyKid is a 2020 National Parenting Product Award Winner for Best Apps for Kids! BusyKid is extremely easy to set up and teaches more where NOT to spend money.
Parents can set up/manage accounts, prepaid cards, and chore schedules. They can be set to daily, weekly, or monthly, or onetime, and customize the amounts for each chore for each child's age.
It also has a feature where you can match anything the child has designated to save, and lock money movement between the save, share, and spend areas.
Children and teens will have an easy-to-follow schedule for chores, and they can manage money in saving, sharing, and spending areas. From the app, they will be able to donate to over 30 charities. And they can pick a design for their spend pre-paid Visa card.
The most crucial difference between this app and others is that it teaches kids to invest by purchasing real stock in popular companies, and parents can help their kids manage their investments.
From a parent, "We have been using this app for two weeks now, and the excitement of getting a card with HER name on it that she can use, ticking chores off as she completes them, payday, and choosing how to spend what she earns has not yet worn off, and I don't think it will any time soon. It's nice that I can add as many different chores as we want on whatever days we want them done and edit/add them at any time from my phone. We can also determine the amount each chore is worth and how many times a week to do them."
BusyKid Jr is ideal for ages 3-5 and uses no real money. BusyKid is suitable for ages 6-16 and is available through the Apple App Store and Google Play.
The app is free to download, is $19.99 annually, and includes one pre-paid Via spend card (each additional card will add $7.99/year)
8. RoosterMoney Allowance Manager
RoosterMoney is an all-in-one app that combines an allowance manager, chore chart, virtual piggy bank, and savings tracker.
Parents can decide whether to use real currency or "stars" for the younger kids. Parents can also view statements and your children's virtual balances so you can help them keep track. Kids create their own savings goals and control their money to help them learn the value of money.
From a parent, "Whether you do a monthly allowance, want to pay by the job, or both, this App takes care of it. I LOVE the "regulars" for their monthly bills. (That's right, the kids have bills too! allowance is not just play money, they have expenses also!) The way we use it, our kids have regular jobs they "must do" to get their monthly allowance, say $20. They also have monthly bills, like their X-box Live, Netflix, and Apple Music subscriptions. They're all divided between our kids each month, which comes out of their "allowance." It also allows flexibility in if/how they get paid that monthly "allowance." They only do 50% of the jobs? They only get 50% of the pay. Won't have enough to pay "regulars"? I guess you'd better make up the difference with some "extra earners" like vacuuming out the van, etc.…Ahh, putting the decision back in their court is so satisfying."
For ages 4-14
Available through Apple App Store, Google Play, and Amazon Appstore.
Rooster Money Virtual Allowance Tracker (for only star systems or simple allowance routines, no real money) is free to download and use. Rooster Plus with chore tracker is $18.99/year for the whole family after a 1-month free trial (or $2.99/month)
9. gohenry
gohenry offers a mobile app, a website, and a debit card that parents have control over. Parents can set a spending limit, establish rules, schedule automatic allowances, or tasks and chores for their children to earn extra.
You can even have access to your child's transactions in real-time and monitor their spending habits and savings goals as well.
Kids can customize their gohenry card to make them unique, track all their spending and savings in an easy-to-read format, and even block their gohenry card if they misplace it (and unblock it when they find it in the laundry)!
From a parent, "Today I saw the beauty of this app in action. I took my nearly 14-year-old to a store and told her she could use her new card, goHenry. She knew what the limit was that she could spend on a transaction, so she used the calculator on her phone to add up the items in her hand. She said to me, "You don't know how hard it is to stick to that dollar amount!" She was nervous using the card for the first time but smiled when all went well with the transaction."
gohenry is appropriate for ages 3-13
Available through Apple App Store and Google Play.
The app is free to download and is $3.99/month per child.
10. Allowance and Chores Bot
Allowance and Chores Bot is an easy and fun way for kids to earn money through chore completion. Keep track of your family's allowances, savings and money goals, and chores. You can create and manage as many children, allowances, allowance, spending, saving, and tasks as you want.
Parents can set up daily, weekly, or monthly allowances and assign chores to multiple children. Allowances can be sent automatically or only after parental approval.
Features included with a premium subscription are: create up-for-grabs tasks you can assign to multiple children but only one kid can do, rotate chores between children automatically, advanced reminders with alarms, the option to approve only partial allowance payments based on the difficulty of the tasks, and many more.
From a parent, "I've been using this app for a week, and it has already made a difference in my child's motivation to get her chores finished. With the ability to include additional chores for extra money (outside of her every day, weekly chores), she's been finishing work without even being asked, just to see her account $$ increase! This is so much better than an old fashioned list."
Suitable for any kids able to do chores from 2-20 years old!
Available through Apple App Store and Google Play.
Allowance and Chores Bot is free to download and will cost $3.99 monthly (or $19.99 annually)
11. Savings Spree
Unlike the other money and budgeting apps mentioned on this list, this app is more of a game to help children learn about money. This app is excellent to use in conjunction with any of the other apps above. Savings Spree is the winner of a Parent's Choice Gold Award and winner of an Editor's Choice Award for children's technology.
The game teaches kids how the choices they make each day can add up to significant savings or big expenses. They'll decide how to spend (or not spend) their money in the game.
It introduces the concept of earning money for the available work and guides children by making choices with the money accumulated throughout the game. Presented in a game show format it takes kids through six rounds that test their financial know-how.
From a parent, "If your kid has a tablet or begs for your phone to play games, ADD THIS ONE to your collection. While playing and having fun, your child will learn concepts such as their ability to make choices with their money – as well as how to think about making those choices. The game also inspires kids to think about earning money and teaches them common ways people lose money by wasting unwise choices. Through it, all the game keeps "score" in the form of a running account balance, so the player feels in control and learns how to improve. Understanding that our CHOICES influence our financial future teaches our kids a real sense of control and empowerment over money in their lives."
Savings spree is designed for kids 7 and up, but with help from a sibling or parent, younger kids can play too.
Available only on the Apple App Store.
The app has a one time cost of $5.99.
Final Thoughts on Money Apps for Families
Each of these apps will help your family initiate conversations about money. They'll get your child excited and motivated to learn how to spend, save, and share correctly.
It's never too early or too late to teach your kids how to handle their money, a skill that will serve them well through the rest of their lives.
Next:
Article written by guest contributor Jessica Strull, a freelance writer who works with leaders looking to drive employee engagement and increase customer satisfaction. Jessica holds a bachelor's degree in Human Resource Management. When she's not writing you can find her binging bad movies, reading great books, or hanging out at Walt Disney World. Find Jessica on jessicastrullwrites.com.