Greenlight Debit Card for Kids vs FamZoo + GoHenry Review
(This page may contain affiliate links and we may earn fees from qualifying purchases at no additional cost to you. See our Disclosure for more info.)
Have you wanted to set up an allowance system for your kids but struggle with consistency?
It's so easy to forget to take out cash or to miss a weekly allowance. Or even mix up those money jars.
Cash allowances can also be problematic when you're at the store, and your kids want to buy something but have no idea how much money they have saved up at home. Or "forget" they spent their $20 already on a Lego set.
Enter Allowance Apps and Debit Cards for Kids
There are several money apps and financial tools for families to help track chores and allowances, teach our kids about money, and how to budget.
In this article, we'll take a look at three that also provide a debit card option for kids, each with a high rating from customers.
First up is an in-depth Greenlight review, followed by a look at FamZoo and gohenry.
The Greenlight Debit Card
Greenlight is an app that helps parents automate allowance-paying in the digital age with a prepaid debit card for kids, and it's fairly seamless.
With Greenlight, you, the parent, become the bank. And you control funding onto prepaid debit cards your kids can spend anywhere.
The Greenlight allowance app is your online bank interface. The Greenlight card is issued by Community Federal Savings Bank, an FDIC-insured institution.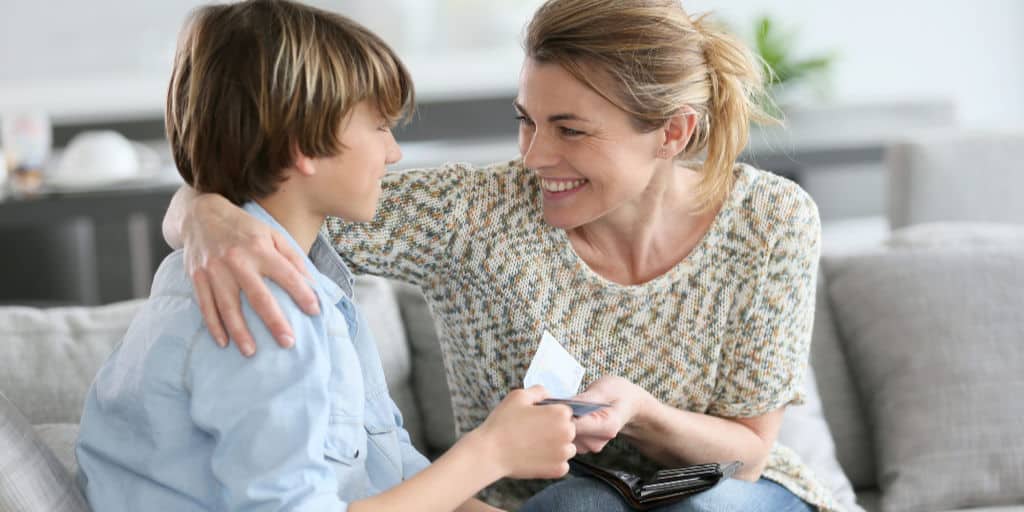 Greenlight was founded in 2017 with the mission to "help parents raise financially smart kids."
Through the Greenlight app and prepaid debit cards (MasterCard), kids can get real-world experience in managing their money.
And with plenty of parental controls, you can automate and oversee kids' spending with security features built-in.
Greenlight allows each customer to set up "accounts" for the entire family, up to five children (no minimum age requirement), which you can control from the app.
You can divide their allowance up into Spending, Saving, and Giving categories by percentages.
You can even set up parent-paid interest in the Savings category, so your kids earn rewards from you for saving their money.
Plus, kids will earn 1% on their savings account balances, teaching them a valuable lesson on compound interest.
Your kids download the same app on their phones (if they don't have phones yet, they can check on your app). They can view how much money they have in each category, their approved list of stores, and their spending history.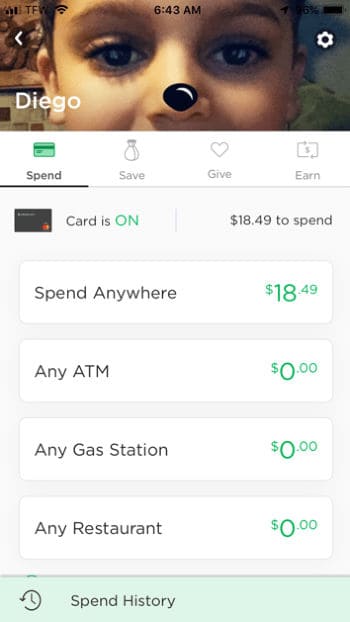 Worried about handing over a debit card to a young child?
There are benefits to teaching your kids about debit cards and using them responsibly while they're young since we live in an age of digital money.
While giving kids cash definitely teaches them what money is, giving them a prepaid card requires them to keep track of their spending and learn about money management.
It teaches them the importance of setting a budget and provides real-life experiences like making sure they have enough money in their account to pay for their purchase (if not, the card will be declined because it isn't a credit card).
Using a debit card gives you several security features real money doesn't provide.
The Greenlight Card can be used wherever Mastercard is accepted (and parents approve), online and in-store, with the exception of:
Wire transfers or money orders
Security brokers or deals
Dating or escort services
Massage parlors
Lotteries
Online casinos or gambling
Horse and dog racing
Non-sport internet gaming
Point of sale cashback
Should the physical card be lost or stolen, you can deactivate it with the click of a button on the app. If your kids are out with friends and run into an emergency, you can make an instant transfer of funds to their accounts.
Plus, you get real-time spending notifications whenever your kid shops so that you can follow up with them.
Your kids can add their Greenlight card details to Apple Pay or Google Pay (if they meet the platform age requirements) to tap and pay in an instant.
How to Use Greenlight
1. Get the App
To start using Greenlight, you'll download the app. You'll need to link your bank account, and this is where you'll pull from to set up your Parent Wallet. The company uses the same encryption technology as banking institutions do, so it's secure.
You'll need to provide your name, address, and SSN, plus your date of birth (that's because of the US Patriot Act which requires financial institutions to verify account holders' identities).
2. Set Up Your Parent Wallet
Your Parent Wallet displays your current balance and allows you to set up AutoFunding. It also records your funding history (including exactly how much money you've given to each child each week).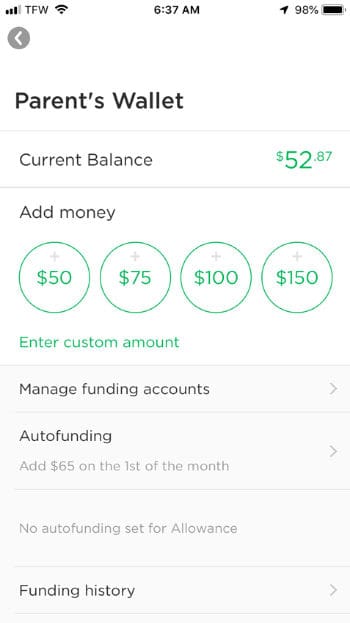 Transfer a starter amount of money to your Greenlight Parent Wallet, using a debit card or bank account. Greenlight then pulls from the Parent Wallet to distribute weekly allowance.
Transferring money from your bank to the app is free, and takes a day or two. You can also set up an AutoFunding option to have the app fund a certain amount, say $50 or $75, per month, into the wallet.
You can also reload your child Direct deposit, card transfer, Google Pay, Apple Pay, Samsung Pay
3. Set Up a Weekly Allowance
Then, set up an automatic payment of their allowance amount per week, and decide what percentages of the allowance go to which category.
For example, if you decide to give each child $5 per week, and would like them to save 25% and give 10% of the total, then Greenlight will automatically send $1.25 to Savings and $.50 to Giving.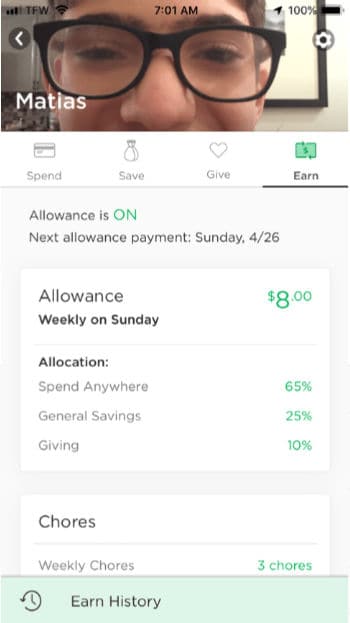 4. "Greenlight" Where Your Kids Can Spend
Greenlight allows you to pick the stores where your child can spend. So, if you'd like them to be able to buy a toy at Target, but you definitely don't want to allow spending online at Amazon, then you can "green light" the stores you want.
You designate how much of their spending money your kiddos get to spend at each store. Kids can also pull money from ATMs with the app.
Check Out Security. If your child loses his card, you can deactivate it instantaneously on the app. This makes it easy if you worry about them misplacing or losing the cards because you can go on the app anytime and check balances.
5. Upgrade Your Kids' Cards, Or Don't
Greenlight pushes its upgraded debit cards, which have personalized photos of your kids on them, for $10 each.
But their non-descript green cards, which they send at no additional cost, work just fine.
6. Have Your Kids Download the App
Your kids, if they have phones, will download the same Greenlight App but will have a different interface than you.
They can see their weekly allowance and balances in the Spending, Saving, and Giving categories.
They'll see where they can spend their money–if you've allowed them to spend anywhere or if you've designated a portion or limit for specific stores, like the movie theater or the gas station.
7. Set Up Chores
The app's biggest weakness is its Chore Feature. You can set weekly chores for your kids to do and decide if they are daily or weekly chores. But the Greenlight app will not automatically withhold allowance if your kids indicate they haven't completed their chore list.
You have to manually check whether they've ticked off the chore boxes, then withhold allowance if chores aren't done.
Then, you have to remember to turn the allowance payment back on once they complete chores.
Also, doing chores isn't tied to earning more money, as the app indicates. There's no way to have your child earn a specific amount of money for doing a certain chore, a feature that the app should remedy.
While you can manually transfer money once your child completes a chore, it would be nice to have an automated feature.
8. Pay for It
Greenlight is $4.99 per month, which is taken directly out of your Parent Wallet.
That monthly fee covers up to 5 kids, so the app would cost you $1-$5 per child, per month, depending on how many you have. Bank transfers to the card are free.
If your child should lose their debit card, the first replacement card is free, but each additional card replacement will cost $3.50.
An optional custom card is available for $9.99.
Additional Options with Greenlight
When you're teen is ready to make more financial decisions, learn about the stock market and jump into investing, they can explore, research, learn, and trade stocks for as little as $1 with the Greenlight + Invest option.
All with parental approval on every trade. The fee for this plan is $7.98 per month.
The additional option of Greenlight Max at $9.98 per month makes this a card for teens. In addition to the investing feature, users will receive the Greenlight black card, can earn additional savings rewards, and get up to 1% cash back on purchases.
Other benefits include:
Priority customer support
Identity theft protection
Cell phone protection
Purchase protection
Greenlight vs Other Debit Card Allowance Apps
While Greenlight is one solution, there are many other allowance apps on the market. Here's a quick look at two popular options, also with high ratings and help to improve your child's financial literacy.
FamZoo vs Greenlight
If you're wary of giving your child a debit card, FamZoo might be the solution for you. The company gives you a choice for setting up allowance spending, either a prepaid debit card or an "IOU" system.
The FamZoo debit card works a lot like Greenlight's.
The IOU system, though, allows you to track the money you're holding for your kiddos in another bank account, so they can spend the money you're holding for them.
You need to input your transactions manually with this version of the app, however.
You can also set up debit cards in FamZoo, similar to Greenlight, where your kids can also receive funding from other sources, like an employer direct deposit. If your child has a job, this is a great option.
FamZoo allows you to give extra funds if your kids complete certain chores. They also allow you to set up a matching percentage in Savings as an incentive for your kids to save more.
If your child wants to take a "loan" out of their savings, they can do so, as long as they pay interest and pay it back within a certain time frame.
FamZoo is one of the oldest apps on the market. It was founded in 2006 by Bill Dwight, a father who wanted a hands-on way to teach kids the concepts of personal finance and good spending habits.
It allows for scheduled transfers, instant money transfers, real-time spending alerts, budgeting, card locking, and more.
Pricing for FamZoo is $6 monthly per family for up to four kids. Or as low as $2.50 per month if you prepay the year.
Additional cards after 4 are $3.00 each, and a card replacement fee of $3.00 is charged after 2 free replacements.
gohenry vs Greenlight vs FamZoo
Gohenry is similar to Greenlight and FamZoo, but it allows kids to earn money for the completion of chores. It lets you choose whether the card can be used in-store, online, or at the ATM. You can also set daily and weekly spending limits plus ATM spending limits.
Like the other options, gohenry is all about teaching your kids about money through doing, safely and securely.
You get to set spending rules and receive real-time notifications when they do.
You load the debit card with money, so their account can't become overdrawn. And cards can be instantly locked if damaged, lost, or stolen.
With gohenry, you can set a weekly allowance amount if chores are not completed and a different amount if they are.
You can also set up an option where your child gets paid for completing a specific chore.
Your kids can set up savings goals in the Savings category to see how much more they need for a specific item and check savings balances.
The company has partnered with the Boys & Girls Club of America, and your child can decide to give a small amount of money to charity each week to them or another company.
Gohenry costs $3.99 per month per child, custom card upgrades are available for an additional $4.99. If you have a larger family, this may not be the solution for you.
Greenlight, FamZoo or gohenry?
If you've never considered using a banking product like these debit card service providers for kids to manage your children's allowance, give FamZoo, gohenry, or Greenlight a try.
They all provide opportunities for your kids to build good financial habits, allow you to set spending controls, and keep you involved with real-time alerts sure to give you plenty of teachable moments.
Your family will have access to all the savings tools, educational tools, and customer service support each provides. And none charge an inactivity fee nor a foreign transaction fee when traveling.
Greenlight is a cheaper option for large families vs gohenry or FamZoo.
Greenlight + Invest or Greenlight Max can be a better card for teenagers when investing tools are important.
Starting any plan is easy, and reloading cards is simple.
Both Greenlight and FamZoo offer several funding options, such as bank transfer, direct deposit, Google Pay, Apple Pay, Samsung Pay, and Mastercard rePower, while gohenry is limited to a debit card.
All offer a free trial, and you can cancel any plan anytime if you're not satisfied. Yet chances are you'll be thrilled, and your kids will be equally delighted you tried it out.