Basement Remodel: Is the value worth the cost?
(This page may contain affiliate links and we may earn fees from qualifying purchases at no additional cost to you. See our Disclosure for more info.)
If you have an outdated or unfinished basement, you probably think about its possibilities.
Maybe you dream of using it as an extra living space for your family. Or perhaps you think it could add value to your home.
Whatever the reason, you might wonder if it's worth it to remodel a basement.
Will it pay off in enjoyment and/or when selling your home?
How will it affect resale value?
Should you hire contractors or DIY?
And what else do you need to consider?
There's a lot to think about! But this article will help you answer your questions. Below, we cover what you need to know to decide if it's worth updating or finishing your basement.
Does updating a basement add value?
The short answer is yes. Not only does it make a home more functional, but adding finished square footage boosts a home's value.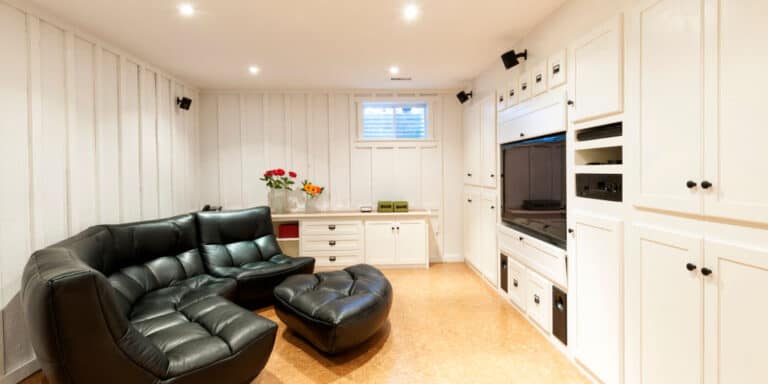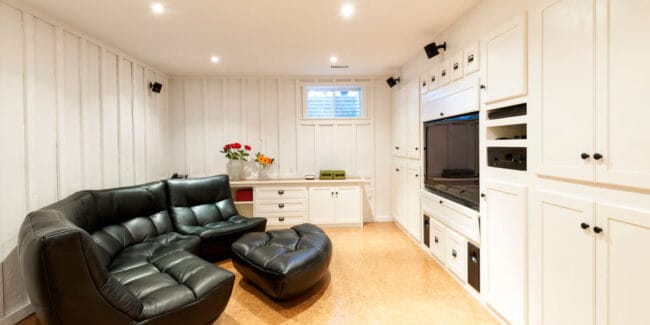 Extra bedrooms, bathrooms, and entertainment spaces can also help with resale. If you're selling your home soon, an updated basement can give your home an advantage over other homes.
But use caution. You probably won't recoup the money you spend on it.
Though a basement remodel adds value, the money invested doesn't add equal value to the home.
National data from Remodeling Magazine show basement remodels return about 70% in value. In this case, if you spend $10,000 on a basement update, your home's value may increase by around $7000.
Why? The value of basement square footage isn't equal to what's above grade. And the further underground it is, the less value it has. (Basements with walkouts and egress windows add more financial benefit than those without.)
When you're considering a basement update, it's essential to weigh the cost vs. value.
If you want to make your home more functional:
consider what you need
how much it will cost
future resale
But, if you're only doing it for resale, be careful the costs don't outweigh any potential benefit.
How much does it cost to update a basement?
Before you can decide if it's worth it to remodel the space below your main living area, you have to know what it could cost.
With many factors to consider, financial outlay can range from a few thousand to tens of thousands of dollars.
It depends on:
where you live
if you hire contractors
the condition of your basement
level of finish
Looking at average costs can help.
HomeGuide estimates the average price at $32-47 per square foot. For an entire basement finish, they estimate it will cost between $22,000 and $46,000.
HomeAdvisor gives a range of $30-75 per square foot, with an average price of $20,257. They list a range from about $11,000 to $29,000.
Averages can help determine if it's worth looking into, but the actual cost depends on your project and where you live.
When doing a minor basement update, like paint and flooring, you're looking at a few thousand dollars. But finishing an entire basement will cost much more.
Related: Is a Kitchen Remodel a Good Investment?
Deciding the cost vs. benefit
As you can see, each situation is unique. Below are some things to consider when you're deciding whether to update your space.
Your why
Are you updating your basement for you and your family to enjoy?
Are you doing it to increase the value of your home?
Do you want to rent the space for extra income?
These questions play a big part in your decision.
For you and your family. If you need the extra living space, a basement remodel is a fraction of the cost of a home addition. If you plan to stay in your home and need extra space, updating your basement can make financial sense.
For added value or resale. Be cautious about doing too much work to increase property value or resale potential.
Consider this: a National Association of Realtors report shows that only 2% of Realtors® thought a basement remodel helped close a sale. And, as we saw earlier, the value increase is only about 70% of the cost.
For investment income. If you have a separate entrance to your basement, you might want to use it as an Airbnb unit or long-term rental space.
In this case, the expenses and values will be different. You'll likely need to get a rental certificate, which can also mean extra work and costs.
The comps (comparable homes)
Take a look at recently sold homes in and around your neighborhood that are like your home.
After looking at photos and sale prices, you should get an idea of the value of a finished basement in your area. (Hint: You can find listings of recently sold homes websites including Zillow, Trulia, or Realtor.com)
Do buyers in your neighborhood expect a finished basement? If so, how are the comps updated?
Here are some things to look at:
Level of finish. Basic finishes or high-end?
Is it simply a clean area for doing laundry or an extended living and entertaining space?
Do they have bedrooms, and if so, how are they finished?
Do they have full or partial bathrooms? Are the bathrooms updated?
Do most include kitchenettes or bar areas?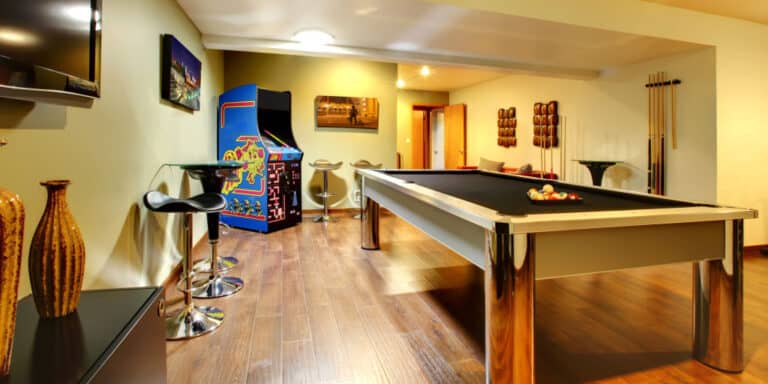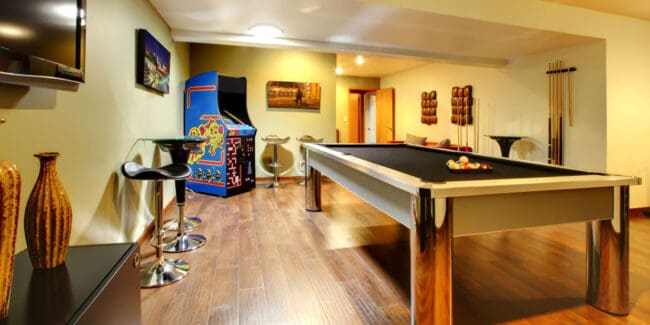 Your basement specs
The value of a remodel depends on the specs of your basement. Below are some things to consider:
Does basement square footage count where you live? Find out if your state counts basement square footage on real estate listings and appraisals.
The more underground your basement is, the lower the value of the finished square footage.
Does your basement have a walkout and egress windows? These add more value.
The level of finish
Basement space isn't worth as much as above-grade, so basic finishes are fine. In most cases, you don't need to spend more on high-end flooring and fixtures.
Unless you live in a luxury home, it doesn't make sense to have top-notch finishes.
Resale potential
Even if you update the basement for your needs, it's wise to think about resale. Remember, the money invested in a lower level only returns about 70% (or less, depending on the real estate market!).
If you're planning to sell right away, you might stick to painting and cleaning. In this case, an extensive remodel doesn't usually pay off.
If you plan to stay and use the basement as an extension of your living space, more updates can make sense.
Balance your wants and needs with resale value by doing quality work with basic finishes.
Clean, general use rooms with plenty of natural light appeal to most buyers. While keeping costs in check is wise, don't skimp on essentials.
Future buyers will be the first to spot cheap or shoddy work!
If you're not sure how to plan for resale, speak with an experienced real estate agent where you live.
How to plan your basement update
1. Decide what you want. If you decide it's worthwhile, determine how to do it. Does your basement just need a refresh? Or are you renovating the entire thing?
2. Make a plan.
Make a prioritized list of what needs to get done.
Design a layout that makes sense (and ensure there's access to all mechanicals!).
What needs to get done before work begins?*
What materials will you need to buy?
Will you hire contractors? Make a list of who to hire.
If you plan to DIY, do your research and understand the full scope of the work.
Determine if you need to apply for permits (plumbing, electrical, or structural).
3. Estimate the costs. Once you have a number, add some to your estimate. Things always cost more than you think.
Call contractors for bids (get them in writing!).
Include the costs of getting your basement ready.*
Calculate the cost of materials. Look up the cost of items online.
Your time can be a cost, especially if you DIY! Can you afford it?
*Don't forget to include getting your basement ready to update! Here are some things to think about:
Waterproofing
Radon testing and mitigation
Inspecting, repairing, or adding egress windows
Installing a new sump pump
HVAC
Eradicating mold
Maintaining proper humidity levels (dehumidifier)
Should you DIY it or hire contractors?
That depends. For electrical, plumbing, or structural jobs, you should hire contractors. There's a reason most municipalities require permits for this type of work!
But, if you have some DIY experience and extra time on your hands, you can save money by DIYing.
Paint and flooring are two jobs that most homeowners can tackle with no problem. And most can handle insulation, drywall, and trim work too.
Final thoughts on updating a basement
We've determined that the return of a basement update depends on your reason, where you live, and how you go about it.
Your needs and wants, resale value, and the basement itself will be deciding factors.
After weighing it all, you can determine if it's worth the time and money to you now—and in the future.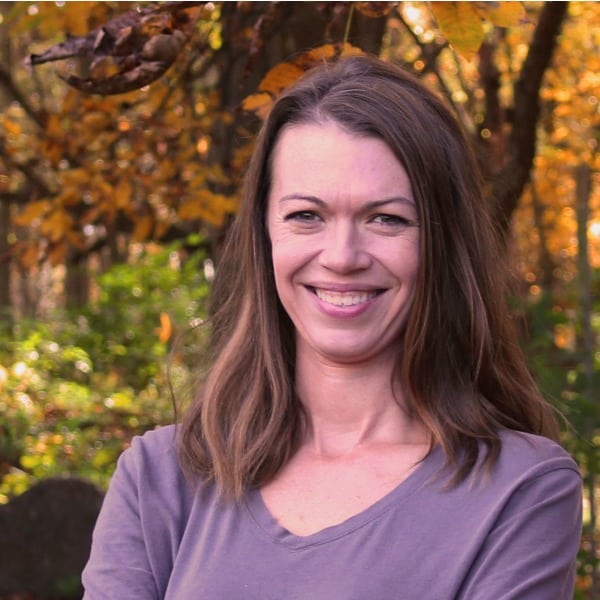 Article written by Amanda, a team member of Women Who Money and the founder and blogger behind Why We Money where she enjoys writing about happiness, values, and personal finances.