Is a Bathroom Remodel Worth It?
(This page may contain affiliate links and we may earn fees from qualifying purchases at no additional cost to you. See our Disclosure for more info.)
With many of us spending more time than ever in our homes and less money on travel and eating out, home renovations are all the rage.
According to Harvard's Joint Center for Housing Studies, fully 80% of homeowners engaged in some sort of renovation project in June of 2020.
Bathroom renovations rank high on the list, at #5 of top home upgrades, according to the National Association of Realtors' 2019 Remodeling Impact Report.
Updating a bathroom ranks in popularity after kitchen renos and upgrades, HVAC, and floor replacements.
The most common reason for remodeling a bathroom is upgrading worn-out finishes and materials.
According to Angi, the cost of an average bathroom remodel in the US is between $9,600 and $11,000. Keep in mind this is an average cost, though.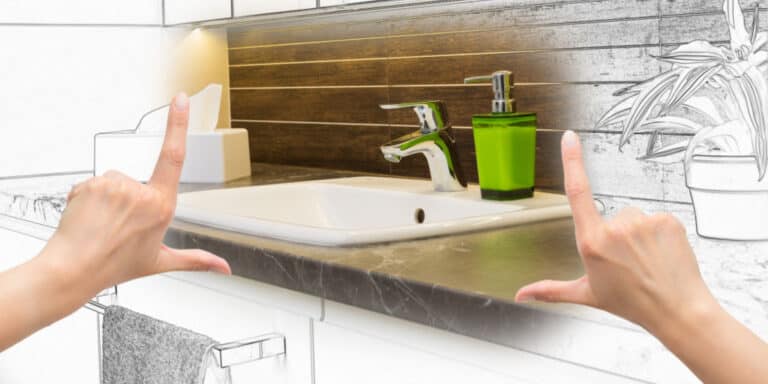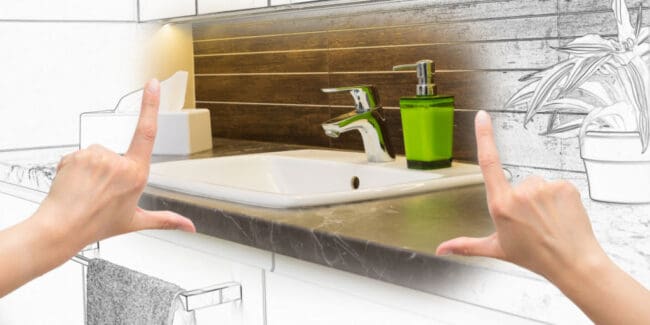 Your cost for a bathroom renovation can vary widely depending on your bathroom size, the extent of the upgrades, and whether or not you DIY or use a contractor.
Is remodeling a bathroom a smart money move?
If you're thinking about renovating or remodeling a bathroom, there's some prep work to do ahead of time.
Before beginning your home renovation project think through your reasons for undertaking a reno.
Why are you remodeling?
Is it to get more enjoyment out of your bathroom?
Is it to repair plumbing or electrical issues?
Improve the resale value of your home?
If it's the latter, keep in mind that you will recoup only about 60% of the cost of your remodel when you sell, according to the Remodeling Impact Report.
You'll also need to consider the size of your bathroom (Is it a full or half-bath?), the type of remodeling you'll do (Is it a refresh or a tear-down-to-the-studs job?), and, of course, your budget.
Adding Value?
If you're considering a remodel or renovation solely to increase the resale value of your home, keep in mind that while 33% of Realtors recommended a renovation to their sellers, only 4% of homeowners reported that it helped them close a sale.
If you're considering adding an additional bathroom to your home, know that only 1% of homeowners report it impacting the sale of their house.
You can expect to recoup around 60% of the cost of a bathroom renovation or remodel when you sell your home and about 50% of the cost of adding a new bathroom.
With these percentages in mind, if you're renovating solely for resale reasons, make careful decisions about the types of finishing and fixtures you use.
You may decide to use lower- or mid-grade fixtures instead of high-end products.
You may also choose to do more of the work yourself, to save money.
DIY vs a Contractor
About half of people remodeling a bathroom (50% according to the Remodeling Impact Report) either completed the entire project themselves or oversaw the project and purchased the materials.
This level has increased since the pandemic started, given the surge in free time for many homeowners and their desire to avoid having contractors in their homes, but long term, DIY seems to be on the decline.
If you're contemplating a relatively straight-forward bathroom upgrade, however, DIY is easier than ever.
With new products like peel-and-stick wallpaper and resources like Youtube, you can quickly and easily learn how to install a new bathroom faucet.
On the other hand, a contractor can provide a more professional finish, take on more complex renovations, and complete your project faster than you may be able to yourself.
If you're hiring a contractor, keep in mind that a contractor's labor costs can add 20% or more to your budget, according to Homeguide.
Your most time-consuming step may be hiring your contractor.
To make sure you're working with a competent professional, get several bids.
Having multiple contractors quote the project will also provide you with different perspectives on how you can have the project done.
Each contractor is likely to point out potential snafus and give you a more complete idea for a timeline.
Ask friends or neighbors for referrals, or visit the National Kitchen and Bath Association (NKBA).
If one contractor quotes a very low price, beware. Make sure the estimates you receive are in writing and make sure to call references.;
You might also consider whether your contractor is a member of the BBB, whether or not they have a dedicated office, and whether or not a friend or neighbor has had a good experience working with this individual.
Does your contractor return an estimate when he says he will? If not, that may be an indicator of the timeline of work.
Do you like the contractor? Keep in mind they'll be in your home for weeks or months, so it's essential to choose someone you like.
Planning for a Bathroom Remodel
After deciding who will handle the labor, you'll need to determine the scope of your project.
Will you be upgrading only, that is, changing out existing fixtures and decorations, but leaving sinks, tubs, and toilets in place?
Will you be leaving your bathroom layout intact but taking out tubs and sinks, mirrors and tile, and replacing them with upgraded fixtures?
Or do you plan to change the layout or even size of your bathroom, which will involve rewiring plumbing and electrical fixtures or moving walls?
Budget
Along with determining the scope of your project, you'll need to think through your budget. If you're using a contractor, you'll need to decide which quote to accept.
Should you plan to DIY the project, you'll need to begin listing and pricing out materials you'll need to complete the renovation, such as:
sinks
vanity
tub/shower
faucets
mirrors
tile
paint or wallpaper
wood
drywall
hardware
towel bars/hooks
decor/finishing touches
If you plan to DIY, don't forget to include permits if needed in your timeline and budget.
How to Pay for Your Remodel
The smartest way to pay for a remodel is to save up for the project before you begin.
Since a remodel typically increases your house price only by about 60% of the project's cost, it doesn't make sense to go into debt to complete a renovation project, even if you're planning to move right away.
Still, if you don't have the cash on hand or think it will take a while to save up, there are other ways to finance your renovation.
Work in Stages: You might decide there is some work you can complete now on a project while saving other parts of the project for later. For example, you might upgrade a sink or tub, leaving floors or tile work for a later time.
Tap Your Home Equity: If you plan to stay in your home for at least a few years and already have some equity accumulated, you might be able to tap into it through a fixed-term loan or a line of credit. Given the low rates of mortgages these days, you could also consider refinancing your home for a lower-rate or shorter pay-off period, and at the same time, use some of the equity in your home to finance your remodel. Make sure to account for closing costs in your refinance decision, though, as they can add up to thousands of dollars.
Use a 0% Promotional Credit Card: If you know you'll be able to save for your project within 12-18 months, you could open a 0% promotional credit card to pay for your purchases. You can buy the supplies you'll need now, and as long as you have your balance paid off by the end of the promo period, you'll avoid interest charges.
Be careful if you decide to use a loan or credit card to complete your project because it makes it easier to go over budget when you're using anything other than cold, hard cash.
Setting a budget and sticking to it might mean you'll have to forgo some items on your wishlist or get creative with materials, but in the end, chances are you'll barely notice those swap-outs.
During Your Renovation
After deciding on your project's scope and your budget, you'll need to decide on the materials you'll use for the remodel.
It's a good idea to pick out all of your materials, from fixtures to flooring, before you begin the project, to have a clear picture of costs and ensure you stay on budget.
Visit big box stores and specialty retailers to get a wide view of available options.
While it's possible to pick all of your materials online, it will be harder to gauge nuances in the finishes (is the faucet the same shade of brushed gold as the towel holder?).
Design showrooms can give you ideas about new trends and also how different finishes will look together.
If you're DIYing the project, be sure to research how to approach your renovation. What should you tackle first, floors, shower, toilet? Come up with a plan.
When using a contractor understand the remodeling stages so you're always aware of where you are in the overall timeline.
This can help alleviate frustration if the project takes longer than you expect.
Before your project begins take "before" pictures.
Find a dedicated spot to store your materials, and make a plan for avoiding construction debris and dust.
Undertaking a major home renovation can be stressful and cost money, but it seems to pay off.
According to the 2019 Remodeling Impact Survey, 70% of homeowners want to be home more after completing their remodel, and 80% feel proud of their project results.
While a bathroom renovation may not necessarily mean big bucks when you sell your home, it can provide more enjoyment while you're living there.
So, if you can afford it and have been thinking about a renovation for a while, go for it!