How Much Does Estate Planning Cost?
If you don't have a will, you're probably wondering how much estate planning costs.
Looking for legal help isn't like shopping for new shoes where prices are published and you can compare easily.
Estate planning doesn't have to be expensive.
Michigan, for instance, provides a free will planning tool you can do yourself online.
Though, keep in mind, the legal system is a sophisticated web of laws that can be difficult to understand.
An attorney can make sure there are no loopholes in your legal documents.
Hiring a lawyer might cost you a little upfront, but it can save you and your heirs a lot of money – and a lot of heartaches – down the road.
How much does estate planning cost? Let's find out.
What is Estate Planning?
Estate planning isn't reserved for the rich and famous. Creating an estate plan is necessary even if you don't have a six-figure net worth, have your own home, or have kids depending on you.
At its most basic, estate planning is a set of legal documents that spell out precisely what happens if you become incapacitated, and eventually when you pass away.
If something bad happens to you, it's best to prepare ahead of time. You can't assume your belongings will automatically go to your spouse, partner, or kids when you die.
Laws vary by state, and the probate court will decide who gets your stuff if you die without a will.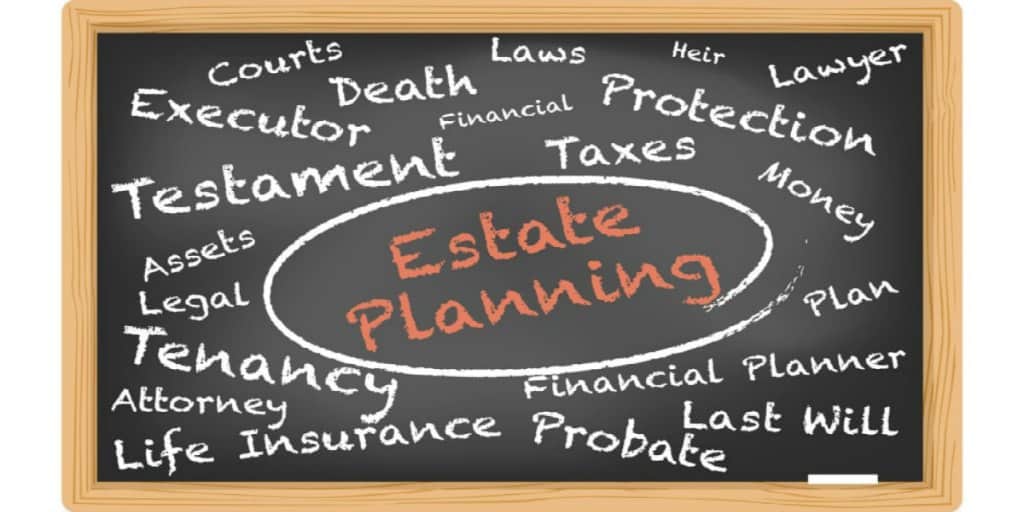 Essential Estate Planning Documents
You've likely heard of a will. Most people think of a will when they think about estate planning.
While it is the most common legal document in an estate plan, a will might not be enough to make sure your possessions get into the right hands when you can't manage them yourself.
Here are essential estate planning documents you might need:
Last Will and Testament – A will is a written document that lists how you'd like your belongings distributed after you're gone. If you want your cousin to have your antique lamp, you can put that in your will.
Trust – You can put your assets into a living trust for your benefit while you're still living. Upon your death, your belongings go to the person you designated in the trust, without the need for probate court.
Durable Power of Attorney – If you become incapacitated and can't make decisions for yourself, a durable power of attorney can appoint someone to make decisions for you.
Healthcare Power of Attorney – Commonly referred to as an advanced care directive, a healthcare power of attorney gives someone else the authority to make decisions about your healthcare due to your incapacity.
Beneficiary Designations – Some assets, such as life insurance and 401(k) plans, can bypass a will or trust altogether if you designate a beneficiary. Otherwise, the court may decide who inherits all those funds.
The Cost of Estate Planning
Your total costs will depend on how simple or complex your situation is. If a simple will is all you need, you might pay $150 to $300. For estate planning, you might see price tags closer to $1,000 or more.
How you'll pay is as important as what you'll pay. While retainer fees and contingency fees are typical for criminal cases, you won't see them for estate planning.
The cost of estate planning is usually calculated through one of three fee types: consultation fee, flat fee, and an hourly rate.
Consultation Fee
Most lawyers won't ask you to fork over any cash for an initial consultation. This first meeting might be in-person or over the telephone.
During a consultation, the attorney will get insight into your situation to help them determine your estate planning needs.
Don't expect much information from this phone call. Estate planning is complex and can't be handled in a single 30 to 60-minute encounter.
Flat Fee
A flat fee is the most common type that lawyers charge for estate planning. With a flat fee, you'll pay the same amount no matter how many times you call or email with a question.
The attorney can explain things to you without worrying about running out the clock, and you'll be more relaxed knowing you won't get a surprise bill in the mail.
Hourly Rate
Some attorneys will charge you by the hour to prepare an estate plan. Hourly rates can vary. You might find lawyers who bill anywhere from $150 an hour to $300 or more.
Shopping around before you hire an attorney is a smart move. You might be surprised how different lawyer fees can be, even in the same town.
How to Save on Estate Planning Costs
The cost of estate planning can be all over the board. Generally, the larger your estate or the more complex your situation, the higher your fee will be.
There are steps you can take to understand the costs involved and to save money on estate planning.
1. Hire the Right Attorney
Before hiring a lawyer to do your estate plan, a good rule of thumb is to interview three different firms.
Take advantage of the free consultation to get a feel for the lawyer's personality and find out how much they might charge to set up your legal documents.
2. Know What You Need (And What You Don't)
There's no such thing as a "one size fits all" estate plan. The legal documents you end up with are a personal decision based on what you need for you and your family.
Most people need a will, an advanced directive for healthcare, and a durable power of attorney at a minimum. But not everyone wants or requires a trust.
3. Discuss Money First
Don't be shy about asking how much an estate planning attorney will charge to create your legal documents.
Call around to potential firms to ask what type of fees they charge before you make an appointment for an initial consultation.
If an attorney bills by the hour, ask how long estate planning usually takes to get an idea of what your total bill might be.
Estate Planning 101 launches on Aug. 3rd - Preorder today to nab these valuable Early-Bird Bonuses – details here!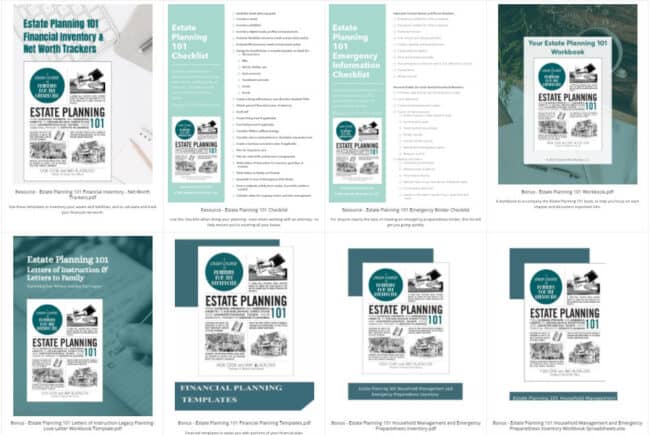 For flat fees, make sure you understand what the price includes and what might not be covered.
For instance, a flat fee might only apply if the estate plan is completed within a specific amount of time or might include a limited number of meetings or changes to the documents once they're drafted.
4. Get it in Writing
After you've interviewed attorneys, decided which legal documents you need, and talked about costs, you're ready to move ahead with getting your estate plan in order.
Make sure you have a written agreement that outlines the work the lawyer will do for you and how much they'll charge.
The contract should include any extra fees you may encounter, such as filing fees, and should be signed by you and your attorney.
Don't Wait to Start Your Estate Plan
The worst can happen when you least expect it. You're putting yourself and your family at risk every day you wait to create your estate plan.
Start by making a few phone calls to local firms and asking your friends and family to recommend a good estate planning attorney.
Don't hire the first attorney you meet. Instead, interview several attorneys to compare prices and personalities.
You'll be discussing intimate details about your personal life, so you should be comfortable with the lawyer you hire.
Remember that you're in charge of your estate plan. A lawyer can give you legal advice and suggest the documents you might need, but no rule says you have to take their advice.
If you don't want a trust or power of attorney, you can say no.
However, lawyers – especially ones who specialize in estate planning – have seen their fair share of family conflicts after a loved one passes.
Taking the lawyer's advice can save you and your family a lot of trouble by making sure you have the right legal documents.
The price you pay for estate planning depends on your situation. While it can seem expensive, planning your estate now can avoid legal battles and family conflicts in the future.
Article written by guest contributor Amy Beardsley
Amy Beardsley is a Freelance Writer and Professional Ghostwriter, whose work has appeared in dozens of financial planning and real estate blogs and magazines. Amy has also ghostwritten content for hundreds of social media profiles. With a background in the legal field, she transforms complex ideas and information into engaging easy-to-understand stories.