Need a Great Video Conferencing Service? Try ZOOM!
(This page may contain affiliate links and we may earn fees from qualifying purchases at no additional cost to you. See our Disclosure for more info.)
The Women Who Money team likes to save time and money by using technology that makes our work and lives easier!
This review of the video conferencing tool Zoom was written by Vicki, one of the co-founders of Women Who Money. She's used Zoom for over five years.
Vicki began using Zoom for office hours when she taught online college courses. She uses it now as a communication tool in her online businesses.
She also used Zoom to host a virtual meeting with family members to discuss plans for a big family reunion.
What is Zoom?
You may be a frequent user of FaceTime or Skype to video chat with your friends or family.
But with so many people working from home and with employees in different parts of the country, video conferencing is also a significant part of how many people communicate at work or in their own business.
If you search for online video conferencing services, you'll find dozens of companies to choose from.
Zoom is one ranking high in many searches with thousands of online reviews. There's a reason for that.
Zoom offers users a wide variety of tools including a free version allowing meetings up to 40 minutes in length! Zoom also has more features than many of its competitor's online video conferencing or webinar services.
Let's take a look at the features Zoom has as we bet it's something you'll want to try for conferencing or webinars at work or to hang out online with your family and friends!
Zoom's Free Video Conferencing Plan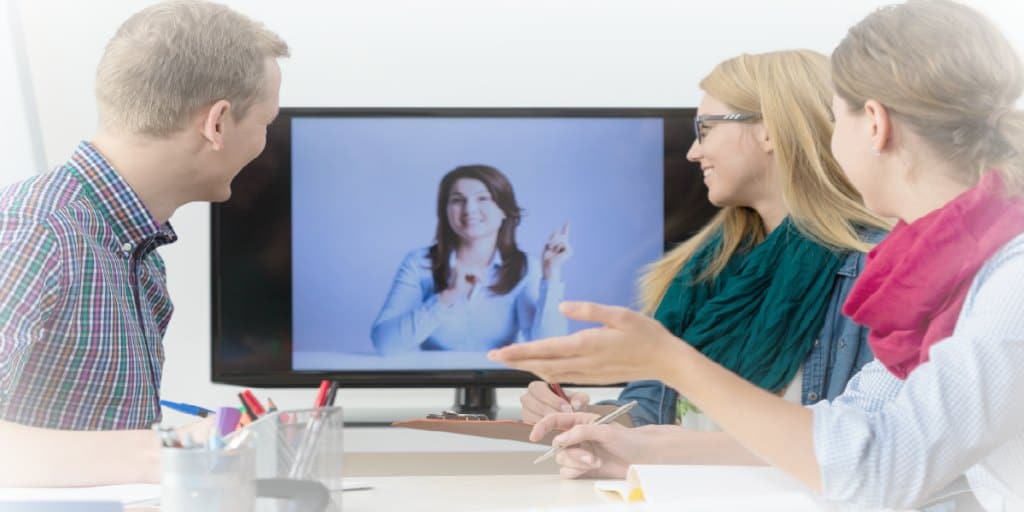 You can host groups of up to 100 people on Zoom's free plan. You get an unlimited number of group Zoom meetings (3 or more people), and sessions can last up to 40 minutes. If you host a 1:1 meeting there's no time limit.
Video conferencing features include: HD video and voice, active speaker view (the video feed shifts to the current speaker), full screen and gallery view, simultaneous screen sharing, and participants can join by telephone call-in too.
Web conferencing features include:
desktop and app sharing
Chrome and Outlook plug-ins to integrate with calendars
permanent online meeting rooms
video, audio, and text recordings of meetings
private and group chats
host control of participant's audio, video, and screen sharing options
raise hand feature
separate breakout rooms can be used for group collaboration
co-annotation can be done on a shared screen
whiteboard options
Security features include SSL encryption and AES 256 bits encryption.
If you aren't hosting long group meetings, the free version of Zoom can be an excellent option to meet with colleagues, clients, or your family or friends.
This is the version I used when I taught online college classes. I would host a 30 minute "open" office hours where students could join in and ask questions.
Then I offered a 30-minute tutorial reviewing the week's assignments which I video recorded and posted in our course for students to view. I'd share my screen and review each assignment. It was great for them, and it saved me a lot of time answering questions!
Zoom's Pro Plan
We currently use Zoom's Pro Plan for Women Who Money. We were using the free version for quite a while but we wanted the option to host longer meetings to collaborate with team members and with clients.
Our Pro Plan includes all of the features of the free plan plus unlimited meeting duration for any size meeting.
As account owners, we can also change permissions for users and allow them to take on different roles in a meeting. We also get 1 GB of cloud recording space.
What was most important to us was the ability to host meetings of longer duration without having to abruptly end meetings.
At $14.99/month, we think the Zoom Pro Plan is a great option for people looking for an excellent video conferencing or webinar service.
An Easy Way to Meet and Take Care of Business
I was happy the college I worked for introduced me to video conferencing with Zoom. It was a great way for me to meet students who lived 1500 miles away in an online group setting.
I've never had trouble with the connections on Zoom and setting up meetings is very easy.
Participants in the meetings don't need to download anything. They can just click on the link you send about the conference to join in.
We do advise you to password protect each meeting and provide participants with the password to access the meetings. They can join by audio or video, and they also have the option to dial into the meeting you are hosting by phone.
The video below is an example of me using Zoom and sharing my screen to explain how the credit monitoring service Moneytips works.
In this case, I wasn't really hosting a meeting. I was merely using the Zoom service to share my screen and record myself talking. I recorded the session to share with readers.
If you have any questions about Zoom, check out their website or feel free to ask us questions here below!