Inspiring Money Story: Save yourself, then focus on money
(This page may contain affiliate links and we may earn fees from qualifying purchases at no additional cost to you. See our Disclosure for more info.)
We're excited to introduce you to Deanna today! She has a lot to share about how she's faced addiction and bankruptcy.
And now has plans to reach financial independence after getting clean and gaining control of her finances.
If you've ever thought it's too late to fix your problems, Deanna will tell you, you're wrong. Her advice? Ask for help. Now.
If you'd like to be considered for an interview or to share your story, send us a note.
Inspiring Money Stories: Deanna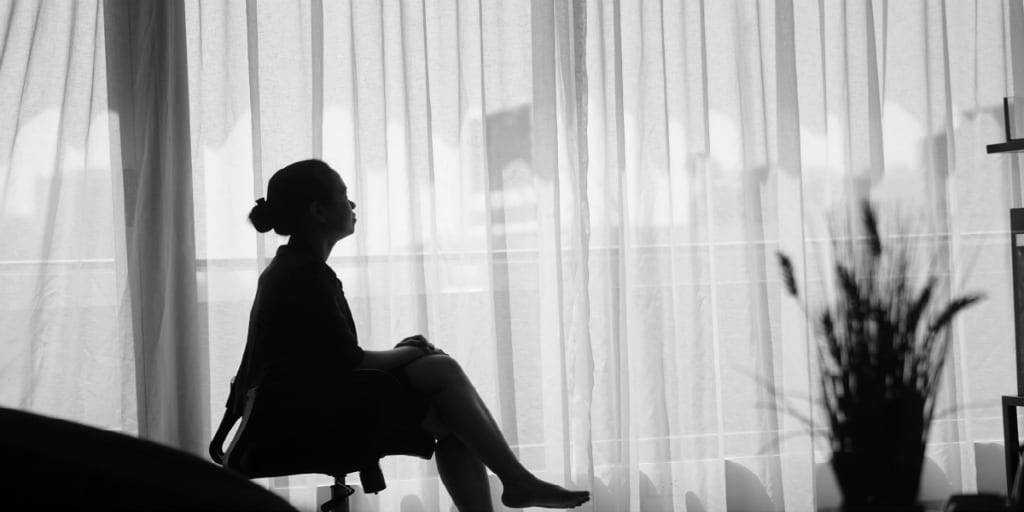 1) Introduce Yourself to The WwM Readers!
Hello! My name is Deanna and I'm a single 45-year-old woman living in Ohio just southeast of Cleveland. I have a messy but redemptive story that can pretty much be summed up in one word – transformative.
My living arrangements have been in a state of flux over the last 4 years but I'm happy to report that I just moved into a 1-bedroom apartment within walking distance of my job. #1mileradius is part of my intentional game plan on a path to achieving financial independence.
Prior to my current digs, I lived with my folks for 19 months. Yes, I moved in with my parents at the prime age of 44! But it was with the intention to pay off the remainder of my student loan debt. On December 29, 2017, I made my final payment and became debt-free for the first time in 23 years!
All in all, I paid off a total of $46,763 of debt which included student loans, a car note, credit card debt, and medical bills. Yep, I was formerly bad with money but the story doesn't start nor end there.
Before moving in with my folks, I lived in a ministry home (a form of house hacking with people of a common faith) for 18 months. And prior to that, I lost a home to foreclosure.
I'm open and honest about my past struggles in hopes of inspiring/helping others. I was married at 25, divorced at 27, bankrupt, and then built myself back up only to find myself in the throes of addiction/alcoholism in my mid-30s.
Fortunately, things got bad enough that I hit a hard bottom, leading to me getting sober and returning to faith.
Since that dark day in August of 2009 when I almost ended my own life, nothing has ever been the same. God has completely redeemed my life – body, mind, and spirit. All I had to do was surrender.
I don't have any children of my own but I get to be a fun, sober aunt. My niece was born shortly after I got sober and they have only known me as such.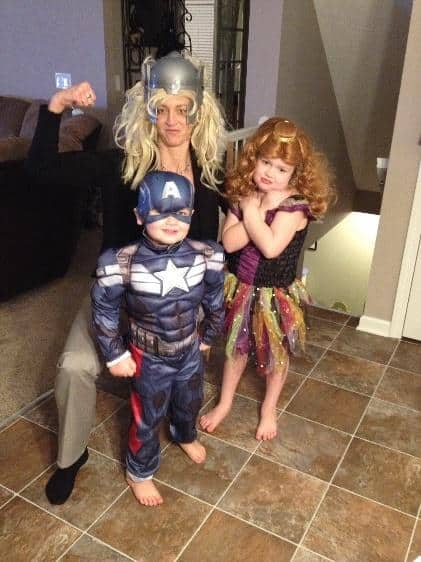 2) Did your parents teach you about money as a child?
The lessons my parents taught me about money were by example. My parents have always saved and paid cash for their cars, paid off their credit cards in full each month, and only carried mortgage debt when I was growing up. I lacked for nothing as a child.
I desperately wanted freedom and recognized at a young age that money was a key to obtaining it so I started working at the age of 15 and have never stopped. This sounds like I should have been good with money, right?
Wrong! I was also a rebellious kid and pretty determined to do things my own way. Which meant I scoffed at how my parents did it.
While it was freedom I chased, my former lifestyle choices ironically shackled me to being a slave to debt, alcohol, drugs, people-pleasing, and whatever else filled the void. And while it's not all been bad, I can honestly say I've only started to experience true freedom in my late 30's.
It seems the more I peel the onion back and uncover the reasons why I turned to things outside myself to feel complete, the more I learn to let go.
The best lesson I learned from my parents, my Mom in particular, is that it's never too late to start over. When I was little my Mother was a stay at home Mom and cared for my older brother and me.
>My Dad sold medical equipment and did well enough financially to support us comfortably. We took family vacations every year and had a good life.
When I was in elementary school, my Mom went to college and became a Licensed Practical Nurse. She started working at a nursing home and found her calling in caring for other people.
My little brother graced us with his surprising presence when I was 10 years old, so our family dynamic changed. Once he was in elementary school (and me high school) my Mom went back to college and became a Registered Nurse.
I remember the dining room table always to be covered in a slew of textbooks with my Mom dedicatedly buried in them. She may not have known it then but she was teaching me that I can achieve my dreams and goals, despite my life circumstances, if I'm willing to put forth some hard work and persevere.
My Mom worked as a nurse third shift so that she could be with her family during the day. I'm not really sure when she slept. Mind you I always had breakfast prepared for me, my lunches made, and dinner when I got home from school.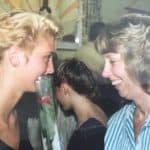 She is a real-life superwoman. Even when my Dad first went into business for himself and was making no money, she was the breadwinner in the family.
Watching her transform into this new role was influential on my non-traditional educational life as well as the transformation that has occurred in my recent life.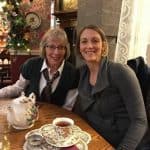 The mindset that "It's never too late" was embedded in me. At times along my journey, I've entertained the thought of giving up – but I've always chosen the better path of starting over. I have my Mom to thank for this. BTW, she is probably the biggest fan of my blog.
3) Describe your post-secondary education.
I often joke that it took me 10 years to get my undergrad degree and 1 year to get my graduate degree and that is essentially true. I rarely take a traditional path! After high school, I went to a community college before transferring to a state college.
After 1 year at the state school, I decided I wanted to travel the world and so I sold my car and hopped on a Greyhound bus to Boulder, Colorado. I lived like a hippie and actually made some sound financial decisions. I didn't own a car, I rode my bike everywhere and lived on my earnings. How ingenious!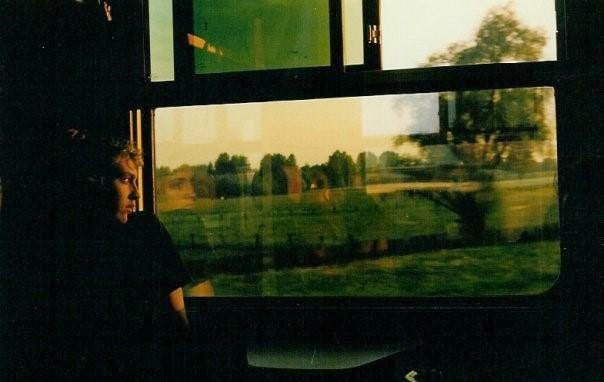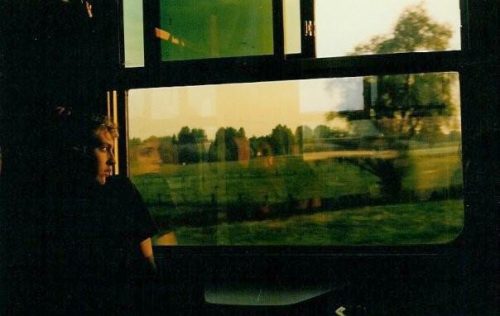 I ended up settling in Denver and became a resident of Colorado where I continued my undergrad studies at a state school. I switched from being a Philosophy major to an Economics major but after 3 years in Colorado, I ended up moving back to Ohio, paused school, and got married only to be divorced two years later.
At that point, I was determined to build myself back up and went to Cleveland State University and finished my BA in Economics.
Several years after getting my BA, I realized I had a passion to teach and loved mathematics so I did some post-baccalaureate studies to prepare for graduate school.
I was accepted to Kent State University's Masters of Teaching Curriculum program in 2006 and graduated in 2007. I am a certified 7-12 mathematics teacher and while I taught high school for several years, I'm not currently teaching in the traditional sense.
I'm an account manager for an innovative broker/third party administrator making ~$65k annually with room for growth. In 2010 I was introduced to my boss, who is a former educator, by a mutual friend. We hit it off immediately and I knew I wanted to join his team. When the offer came in 2011, I jumped.
My boss is a genius and started his own company with a unique model to supply small businesses with a semi self-funded form of health insurance. We are continually growing and it has been fun to be with him from fairly early on. I have an awesome team of colleagues and I find my career challenging/rewarding.
I think side hustles are great! I've discovered that I love to paint and have thoughts of selling some of my paintings on Etsy but I need to build up an inventory first. However, much of my focus lately has been on growing my blog, Ms. Fiology, which has been oh so fun!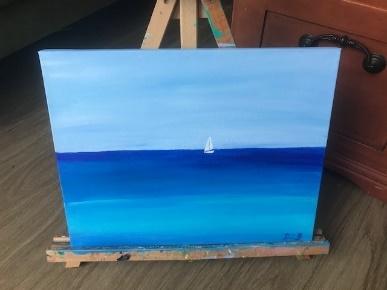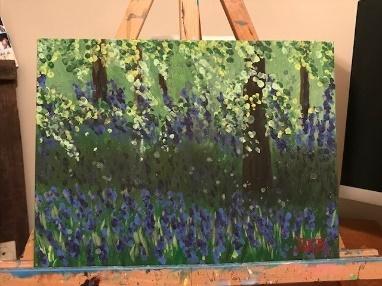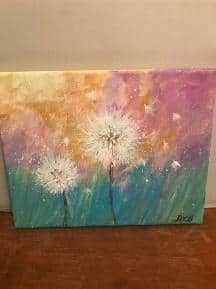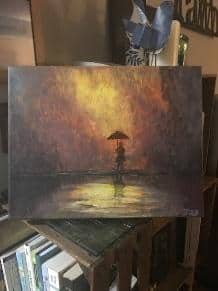 4) Tell us about your income performance over time.
When I read Mrs. Groovy's interview it dawned on me that I've never negotiated for a salary in my life. I've always accepted what was offered which is indicative of a "below the line" mindset.
I started my current job 7 years ago making $40k and have increased it by 62.5% During the last 7 years, a lot of financial transformation has occurred personally. Namely getting out of debt, securing a 6-month emergency fund, and starting to invest.
When I was paying off debt, I considered getting a part-time job but ultimately, I settled in on working really hard in my main career.
My boss recognized it as I helped grow revenue and win more clients. It ended up being a wise decision and I was rewarded for it with raises and bonuses. Recently my boss and I had a conversation about my future financial goals with the company and I'm happy to say we are on the same page with future projections.
With the financial shift of going above the line, I naturally took on a new mindset. Something changed in me during the process and I know my worth as a professional. I anticipate my salary only going up from here.
7) What tools, apps, or programs do you use to keep track of your finances?
I use google sheets which is Google's version of Microsoft Excel to track my spending and to budget. I've met a lot of people in the FI community who don't budget but rather hit their savings goals then use the rest for discretionary spending.
I like budgeting and found it to be revolutionary in my life when I was first gaining control of my finances, so I keep doing it. I also use Empower to track my net worth.
Recently, I got my first big girl credit card, Chase Sapphire, to build up some travel reward miles. This was my first experience in budgeting while using a credit card for my expenses. I always pay off the balance in full every month, but it's certainly not as simple as budgeting with cash.
Anyways, I am quite fond of the reward points I built up but I also discovered I was spending more on things like groceries with using a credit card versus paying cash.
Since I'm coming to the game late, my biggest FIRE power is a high savings rate. I've made the decision to only use travel rewards credit cards when I know I have some big-ticket items to buy and can meet the minimum spend easily and the rest of the time, I'll budget with cash.
8) What does your work-life balance look like?
Yeah, this is a tough one being a hard-working single woman with no kids. With these factors, it's very easy to dedicate my life to work. The blog has been a nice diversion but some would argue it's still work. I find it quite cathartic to write but yeah, it's kinda like work at times.
I find balance by starting off my day, every day, with a little bible study/prayer time. Exercise is crucial not only to my physical health but also to my mental health. I typically either work out after work or in the am depending on the fitness classes offered at my gym.
I work out harder with other people so I prefer the classes. Recently I've begun to play volleyball which is a great way to feed my extrovert personality, stay fit, and be challenged.
9) How would you help a good friend who struggles with money?
I believe my story resonates with people who think it's too late. I'm here to say, it's never, never too late to start over. It's all a basic math problem.
You don't have to know how to do complicated Calculus formulas to gain control over your financial life. It's kind of funny that I could do the hard stuff but had no idea how to apply practical mathematical principles to my situation. Fortunately, I got back to the simple stuff and you can too.
The biggest key for me, in the beginning, was having people to walk the journey with and help keep me accountable.
Get some financial cheerleaders and/or sit down with an accountability partner to go over your budget. Others could see how I could tighten up my budget more easily and objectively than I could. At least that was the case when I started out.
Lastly, we are who we hang out with. Jim Rohn said we are the average of the five people we spend the most time with. That fact will cause you to think long and hard about who is in your inner circle.
What are your goals? Dreams? Yes, you need to dream before you will have the motivation to start gaining control over your money because if there isn't a reason to build wealth, then you'll lose steam.
Maybe you want to be a missionary or maybe you want to have more time to volunteer at an animal shelter. Whatever your passion is, figure that out! Find your purpose and you'll naturally want to square up your money problems so that more of your focus can be poured into your calling in life.
Who knows, maybe you'll even find a way to earn money with your passion. This is the ultimate goal! I'll tell you one thing, I've got more mental capacity to pursue my passions now since I'm not constantly stressing over my finances. I'm excited about life, my future and have an actual plan to retire peacefully.
If you do nothing else, reach out to someone who you know is financially savvy and ask for help. That's how I got started.
The WwM Team's Key Takeaways from our Interview with Deanna:
It's never too late to start over.
Knowing your professional worth and taking on a new mindset can jumpstart your career and finances.
Skipping side gigs to concentrate on your main career can pay off with raises and bonuses.
Budgeting is key in gaining control over finances.
Using rewards credit cards can lead to overspending sparingly now.
Working out with other people can make you work out harder and meet your social needs.
You don't know have to know how to do complicated calculus formulas to gain control over your financial life.
Ask for help when you need it.
Save yourself first, then you can focus on money
Thanks for sharing your story of hope, persistence, and sobriety, Deanna!
If you'd like to be considered for an interview or to share your story, send us a note.