How to Organize Google Drive (Easy Steps!)
(This page may contain affiliate links and we may earn fees from qualifying purchases at no additional cost to you. See our Disclosure for more info.)
Google Drive is an awesome tool for managing home, money or business tasks. It's a great resource for Women Who Money! 🙂
It's free (up to 15GB), convenient and syncs with all of your devices. Did I mention free?
It's a place to upload, create, organize, share, and store all of your electronic files. It's your own virtual filing cabinet compliments of Google.
The only issue with Google Drive is that it can also quickly become the digital version of a mountain of papers on a countertop!
The good news is that organizing your Google Drive can be accomplished with a few clicks, tips and tricks!
Organizing Your Google Drive in 7 Simple Steps
Let's walk through 7 simple steps you can take to make it easy to find files and folders in Drive.
Digitally declutter, save time, find files fast to increase productivity!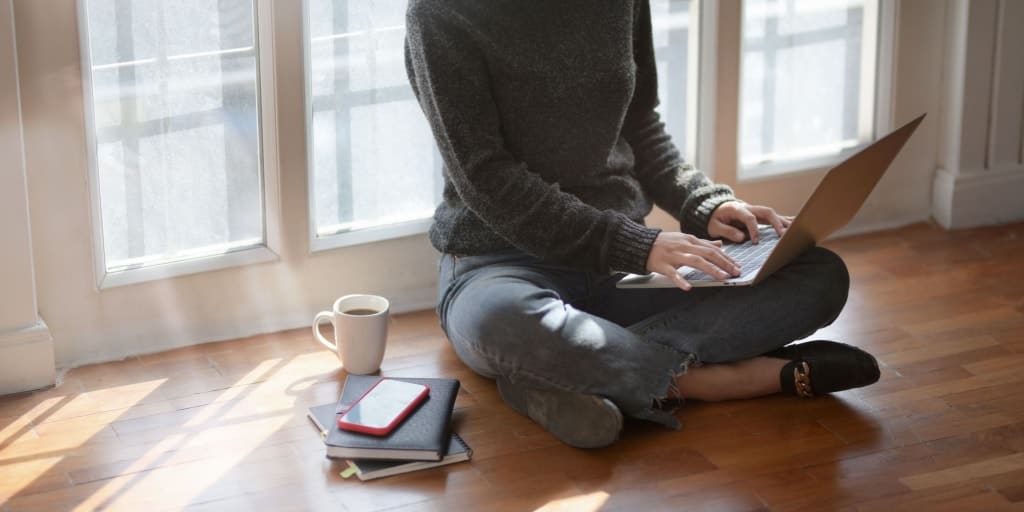 1. Rename Your Files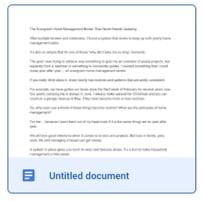 In the file above, you have no idea what it is unless you preview it (click letter p for a shortcut) or open it. That doesn't help with searching or finding the right files quickly.
Easily rename files by clicking on the file (the bottom section will turn blue) and clicking the letter 'n' on the keyboard.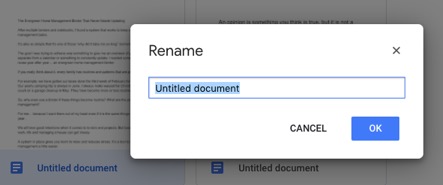 A few tips about naming your files.
Choose names that make sense for you!
If you have files in categories, consider using a consistent naming system.
For example, if you have several budget spreadsheets, you could name them:
Budget- January [Year]
Budget- February [Year]
Budget- March [Year]
Then it will be easy to find them all at once and place them in folders (more on folders in steps 3-4).
Look for unnamed files to assign a name as well as files needing a more descriptive name that makes sense to you.
2. Choose View and Add Descriptions
In the top right of your drive are two icons easily overlooked but holding great features for organizing.

The icon that looks like a Lego block gives you the choice of a grid or list view. You may find that one is more helpful than the other for organizing and then simply click it to switch back to the view that works best for you.
The circle with the i inside it holds a little known, but very helpful feature for sorting and finding documents.
When you select a file in your Drive and click on this icon, you have the option to add a description. This could be used for assigning a keyword or tag to find similar files or folders.
For example, if I have several documents related to budgeting, I might give all of those a tag of #budget. Then I can quickly find all those files by searching with that tag.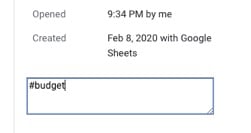 You could use any kind of keywords in this description or use a type of labeling system that works for your home or work purposes.
3. Organize Folders and Subfolders
Folders and subfolders are managed easily in Google Drive with drag and drop.
First, create some folders you know will work to hold some of your files. You can always create new ones after you get started.
Keep in mind the same naming tips as you used with files. Choose folder names you'll remember while keeping a consistent pattern.
Click the (+ New) button in the top left and click on folder.(Hint: just click the letter 'c' for a shortcut to creating folders!)
After you have made some folders they will all appear under My Drive by clicking on the drop-down small triangle.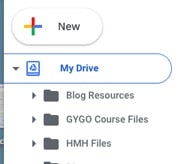 Now you can easily drag files over into folders. You can also drag folders into other folders, which will create a hierarchy of folders and sub-folders.
4. Color Code Folders
For those who need more visual cues for finding folders in Google Drive, you can easily color-code the folders.
Just right-click on the folder, click change color and pick a color from the palette.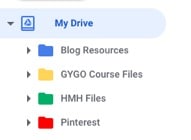 This is most helpful when you only use a few colors and assign those colors to categories; otherwise, the colors may look neat but not serve a functional purpose.
5. Delete
As you clean up your Google Drive, there will be documents that you no longer need or are not sure why or how they ended up in your Drive in the first place.
If you are not certain a file should be deleted, you could create a miscellaneous folder and periodically go through it to permanently delete files.
Deleting is almost too simple!
To delete a file, just click on it and then click the trash can symbol in the top right. It's that easy!

The original file may still be accessible elsewhere (your desktop files, an email attachment, etc.) and it will not delete it from those locations.
Files will stay in the trash for 30 days before they are permanently deleted. You can find them by clicking on the trash can icon on the left side of your Drive.
6. Starred Files and Folders
You will notice a "starred" category on the left side of your Drive. This is a great organizational tool for your most important files or folders.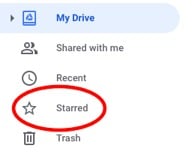 To give a file or folder a star, click on the actual file or folder and then press the letter 's' on your keyboard. If you want to remove it from this category, simply click on the file or folder and press the letter 's' again.
Then you can find the folders and files you have given priority by clicking on the star.
7. Use Search Features
Search is probably my most favorite feature of Google Drive!
Drive comes with a search box to find files and folders easily. Clicking on the arrow to the right of the search box will apply advanced search filters.
You can filter by keywords, date modified, owner and more!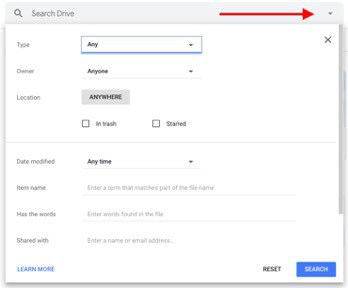 A note about working in your Drive from a phone or other device
Use the Google Drive app to access and work on files from your phone or another device.
If you want to make a file available offline, then find your file, click on the three dots to the right side of it and select "make available offline."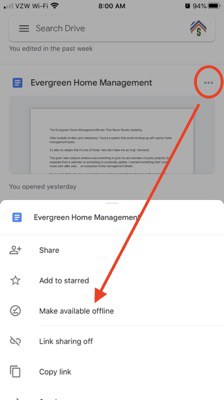 This is great for situations when you may not have access to wi-fi but will have some time on your hands!
Begin Organizing Your Google Drive Today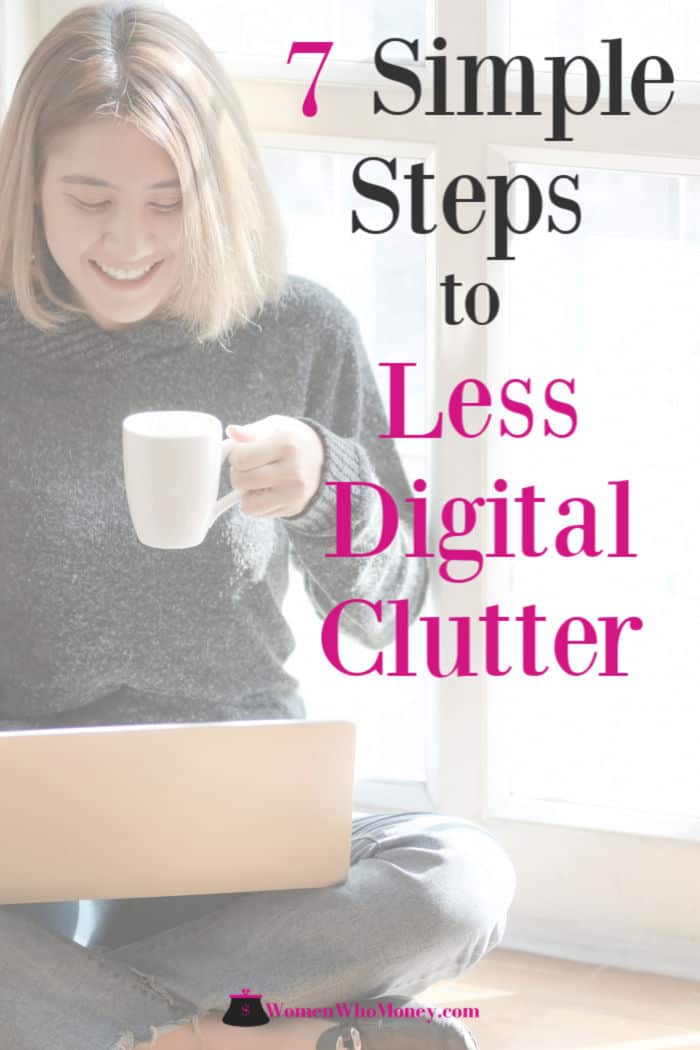 These easy steps and tips can organize your Google Drive in no time!
They can help you with managing your home, finances, business, and overall productivity. Try them out today!
Article written by:
Misty, a Women Who Money Guest Contributor, and the writer behind Home Money Habits where she shares simple systems and solutions to help manage home and finances.