Financial Gaps Women Face [How to overcome them]
(This page may contain affiliate links and we may earn fees from qualifying purchases at no additional cost to you. See our Disclosure for more info.)
You work really hard. Yet somehow, you still make less than your male counterparts, impacting your retirement fund, among other things. What gives?
Many women are noticing many unfair disadvantages involved in making money and expanding wealth.
If you're consumed with fear of doing everything right and still falling prey to economic exploitation, you're not irrational.
Financial gender gaps cost women thousands of dollars each year.
What are the Financial Gaps Women Face?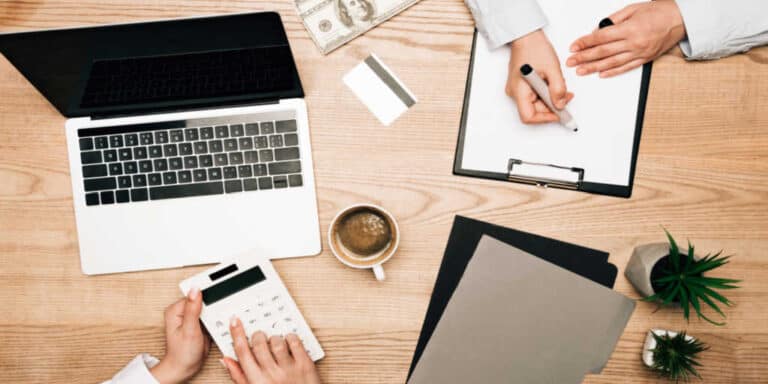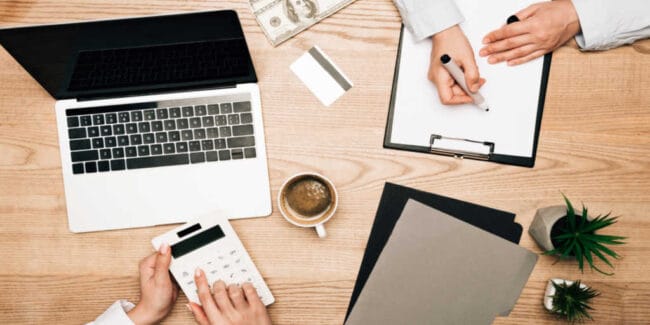 People have been tirelessly fighting for gender equality through the decades.
While there's been progress in most areas, women's pockets aren't one of them. Men still make more for the same work, land higher-paying jobs, and have more access to wealth-building practices, like investing.
These disparities we call "gaps," give men the upper hand in the workplace and the economy.
Here are the most well-known ones to date:
The Wage Gap
You've probably heard this term a hundred times. Here, the "wage gap" refers to the average difference in income between men and women.
According to PayScale, women make about $900,000 less than men throughout a 40-year career. It doesn't stop there, though.
The gender wage gap is even wider for Women of Color, and it only grows as women progress in their careers.
In other words, women in higher positions make significantly less than their male counterparts, and Women of Color make less than anyone in the workforce.
Some notable contributions to the gender wage gap are:
Limited work experience
Discrepancies in work hours
Blatant discrimination
Financial Literacy Gap
After many years of being kept out of financial decisions and conversations, most women lack an understanding of basic financial concepts.
Men, however, have been making financial decisions and hoarding economic knowledge for centuries.
An American College of Financial Services literacy survey found that only 33% of women are incredibly knowledgeable about retirement income planning.
The same survey reports Millenial women have less financial knowledge than their male counterparts and are therefore more likely to:
Have large amounts of credit card debt
Default on student loans
Improperly manage income and taxes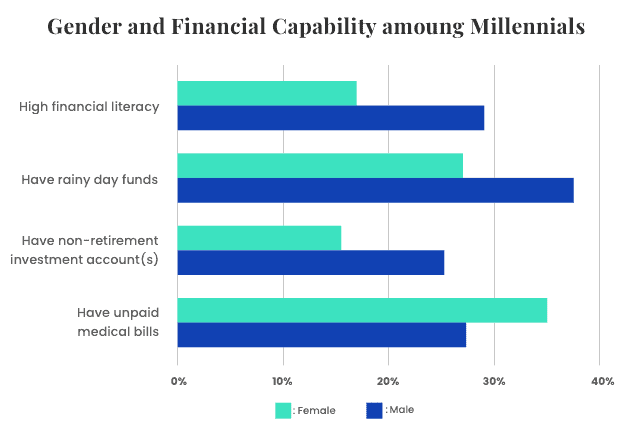 So, why are women underperforming when it comes to financial literacy? Researchers attribute this phenomenon to three leading causes:
Men and women have different socio-demographic characteristics which affect how they navigate finances
Men have historically excluded their wives and daughters from household financial decisions
Cultural factors have played an enormous role in financial accessibility for women
Investing Gap
If the gender pay gap wasn't enough, women also have to deal with a smaller return on their investments.
The primary catalyst for this rift is the gender pay gap, but more in-depth explanations exist.
For one, women are more risk-averse than men and opt to take fewer chances with their money.
While men typically invest their surplus income, women tend to feel more comfortable storing their money— preferably in an FDIC-insured savings account.
Another reason for the investing gap is that investment firms apply a one-size-fits-all strategy to their clients. Since men are their typical clients, financial firms cater services to male investors and expect women to adjust.
As a result, investing becomes an overwhelming and intimidating experience for women.
According to this survey, a whopping 59% of women leave investing in their male partners' hands. This further perpetuates men's cycle of holding all the family's wealth, financial literacy, and power.
Retirement Income Gap
Did you know that you're likely to receive a significantly smaller retirement income than your male coworkers? Why is that?
Well, you already know that women earn less than men across the board— about eighty cents to the man's dollar. In addition to that, women live longer, but often have shorter tenures at work.
Oh, and don't forget that women are more likely to be tasked with the role of caretaker at home. In most cases, this means fewer opportunities to earn an income or invest in a quality retirement plan.
After all these financial gut punches, women are left at a considerable disadvantage as men receive an average of $9,900 more in retirement income.
Related: What Is Your Retirement Number?
Housing Returns Gap
The housing returns gap refers to the disparity in property investment returns between men and women, which usually leads to women losing out on money.
For a little perspective, this recent study found that women buy the same property for around 2% more and sell for about 2% less.
It's also worth noting that discrepancies in the housing market can explain around 30% of the gender gap in wealth accumulation. In other words, the housing returns gap has a massive impact on women's long-term income projection.
Financial illiteracy also holds part of the blame. Women don't often have access to information to help them make smart property investments.
Purchasing homes for higher list prices and selling for much lower is a perfect example of this fact.
Another explanation for the housing returns gap is that men are three times more likely to succeed at negotiating lower prices, and decision-makers are more inclined to provide them.
Finally, men invest in equities more than women. The simple truth is that men are often in it for the profit, while most women are just looking for a home. Are you sensing a theme here? Women tend to make decisions that will establish financial security and comfort.
Cost Gap
The gender cost gap, or "pink tax," refers to the upcharge applied to women's products.
For example, birth control can cost women upwards of $2,000 annually, yet men only spend $150 per year on condoms on average.
Personal care products like razors, hair products, lotion, and deodorant cost about 11% more when marketed towards women.
Clothing, health care, and insurance are all also included in the pink tax since women tend to pay more for them.
If that isn't infuriating enough, feminine hygiene products, which men don't have to purchase at all, cost women about an additional $84 per year.
Additionally, for anyone who uses medicine to relieve PMS symptoms, that cost is increased by almost $100 each year.
How Can Women Overcome Gender-based Financial Gaps?
Now that you know what obstacles hinder your financial growth, it's time to learn what you can do about them. Although society has economically oppressed women for centuries, you don't have to feel powerless.
Here are some steps that'll get you closer to your financial goals.
Build Negotiation Skills
A common talking point around the financial gender gaps is that women lack the confidence to ask for what they want and, therefore, don't receive it.
While this is usually an attempt to ignore the real issue, there's still a little truth there.
If you feel you deserve a raise or that your wages aren't equal to those of male coworkers, don't be afraid to speak up.
Someone has to throw the first brick if the wall of pay discrimination is ever to come down.
You may also have to start nurturing professional relationships with workplace superiors.
Seek out the decision-makers you will need on your side when it's time to ask for that promotion you're more than qualified for.
You'll benefit from cultivating healthy, meaningful connections and strong negotiation skills when:
Investing
Seeking promotions
Purchasing property,
Choosing retirement and insurance plans
Related reading: How Should I Negotiate My Next Raise or Starting Salary?
Be Active on Social Media
Yes, you read that correctly! Many women feel like they're the only ones experiencing career hardships, but you'll quickly notice that most problems aren't unique.
Women all over the globe are navigating the same financial obstacles as you are. Tackling them together with a refined purpose can make a massive difference in the impact of your combined efforts.
Solidarity leads to solutions, after all.
A loyal and engaged social media following can also come in handy if you encounter blatant workplace discrimination and need external support to get justice.
Social networks — and the sisterhoods that women are forming there — are effectively reshaping modern feminism.
Improve Financial Literacy
Women generally lack knowledge about financial products, concepts, and services. Although this results from centuries of exclusion from financial decisions, there are things we can do today to recover and overcome.
A great place to start is personal finance blogs that specifically cater to women. You'll find gender-specific financial information that'll empower you to take control of your financial future.
If you find yourself feeling overwhelmed by the sheer weight of information, remember to take things one step at a time.
You've had a centuries-long disadvantage, and for every step you take forward, you catapult womankind further into gender equality.
Open Up to Investing
According to a Fidelity survey, 71% of women don't even view themselves as "investors." This is quite boggling, considering that women who do invest are better at it than men.
Yes, women have relatively smaller incomes than men, but there's also fear at play here.
Men are more likely to invest and are known to take considerable risks when trading stocks and bonds.
On the other hand, women often choose the comfort of financial security over the uncertainty of potential profit.
When you want to defeat the investment gender gap, you'll have to get comfortable taking some financial risk. Women need to invest and not just save their money.
Buy Male Products
Short and sweet— products for men cost less. Look for alternatives to personal care items, clothing, services, etc., that brands market towards men, and track how much money you save.
Some states in the U.S. are taking the initiative by moving to "ax the pink tax".
Since 2016, Politicians have been introducing legislation to eliminate taxes in states like Ohio, Nevada, and New York.
As far as feminine hygiene goes, legislators are pushing to get rid of the tax on menstruation products, which are— as we all know— a necessity and therefore have tax exemption status.
This so-called "tampon tax" no longer exists in 17 states, including Florida, Maryland, and New York.
Final Thoughts on Financial Gaps Women Face
There isn't a quick fix for financial gender gaps, but you can take small steps toward overcoming them.
Read: Financial Planning: what, why, and how to create a financial plan
Remember that you aren't alone, and you're not crazy about pursuing the same financial milestones your male counterparts reach.
While it's irresponsible to suggest that women are 100% in control of their financial paths, the parts you can control have a significant impact on your future.
With strong negotiation skills, smart money management, and knowledge of financial concepts, you'll have the tools you need to close those gaps once and for all.
Next: 11 Ways to Increase Self Confidence
Article written by Lyric