Safe Deposit Boxes: Are they worth the cost?
(This page may contain affiliate links and we may earn fees from qualifying purchases at no additional cost to you. See our Disclosure for more info.)
How are you storing your valuable items and important documents?
Everyone has something of value that needs safeguarding, such as passports, birth certificates, marriage licenses, and family heirlooms.
You can keep your valuables at home in a shoebox hidden under a loose floorboard, but that storage method usually only works in the movies and often not very well.
One idea to consider is a safe deposit box. You can think of a safe deposit box, sometimes called a safety deposit box, as your personal bank vault.
They probably sound old school; A dated method your parents or grandparents swore by to protect their valuables or most precious items from theft, fire, and natural disasters. Yet, federally insured banks and credit unions across America continue to rent out boxes to their customers every day.
Since we both snowbird, a safe deposit box makes sense for us. We don't take all of our important paperwork or valuable items back and forth when we travel between homes. And we don't want to leave it in one house while we're at the other or somewhere on the road for months at a time.
Let's dive into the benefits of these boxes and their associated expenses to evaluate their worth.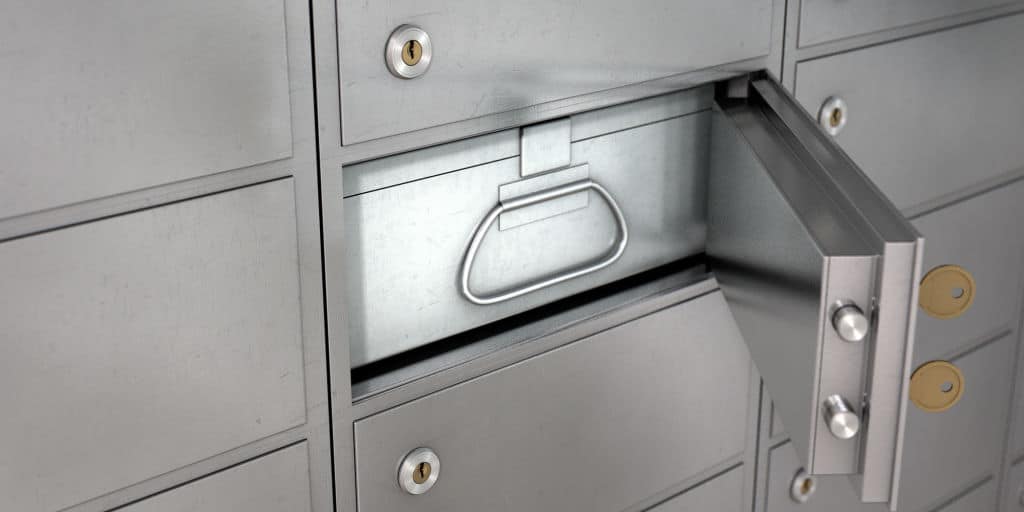 What Do Safe Deposit Boxes Contain?
Safe deposit boxes can contain anything imaginable. Most people use them to store personal papers and documents like property deeds, vehicle titles, marriage licenses, social security cards, birth and adoption certificates.
Others use them to secure business papers, keep sentimental family keepsakes and jewelry safe, high-value baseball cards and gold coins protected, a stash of cash, and much more.
These boxes come in various sizes, making it possible to store small to sizable items. The largest boxes can be as much as two feet deep.
Items to consider storing in your personal bank safe are:
Military records and discharge papers
Copies of power of attorney paperwork and wills
Citizenship papers
Marriage certificates
Birth certificates
Divorce decrees
Adoption certificates
Educational transcripts
Diplomas
House deeds
Car titles
Paper stock and bond certificates
Home inventory list for insurance purposes
Computer data such as hard drives, SD cards, jump drives
Anything that's impossible to replace and isn't used regularly
Read: Prevent Identity Theft and Keep Your Family Safe
Who Can Access the Box?
In addition to security, people also rent safe deposit boxes to safeguard their private matters.
Obviously, when you're storing important paperwork such as copies of wills and trusts or expensive jewelry, gold bars, or other keepsakes, you don't want anyone and everyone to have access to the box.
The good news is financial institutions, from major banks to your local bank branch, take your privacy as seriously as you do. They have security measures to ensure only authorized people have access to the boxes in their bank vault.
Banks do this in one of two ways. The most common way to access a safe deposit box is with keyed access. When you rent the box, you're given a key. Your secure deposit box key will only open when used with a guard key.
The financial institution holds the guard key, but don't worry. No one, including you, can gain entry into the box without using both keys. Of course, this means you have to keep careful track of your safe deposit box key to avoid a fee for a new lock installation on the box.
Another way to access the box is with a keyless system. Many modern banks are moving to this system because it's easier and more convenient.
These boxes open when you scan your finger or hand over the security sensor with a keyless system. This means no worry about keeping track of another key. 
Credit unions and banks require customers to sign their names on a log and present a valid form of identification each time they access their bank box. This allows them to keep track of who's accessing the safe deposit box contents.
Only those individuals on the safe deposit box rental agreement are granted access. Although in some cases, a person can name another family member as a co-lessor to ensure the box contents are accessible in case of illness, accidents, or untimely death.
Read: What Others Should Know if Something Bad Happens to You
Small Price to Pay for Security
Safe deposit boxes are inarguably one of the most secure ways to store valuables, but the service isn't free.
When renting one of these boxes, you can expect to pay anywhere from $40-$300 annually – with an average cost of $60 among surveyed national banks. Your price will depend on the box size and possibly even your location.
Many times, bank or credit union customers receive discounts or introductory offers on standard rental fees. It pays to rent the safe deposit box where you bank.
What Shouldn't Go in a Safe Deposit Box?
Safe deposit boxes are built to withstand water, fire, and any other natural disaster. It's what makes them so secure – and yet – there are items you shouldn't store in safe deposit boxes.
Many people think they're doing the right thing when they put their passports in a safe deposit box. But this is one example of items better off being stored securely in your house.
Suppose you want to take advantage of a last-minute travel deal or need to leave the country quickly for an emergency. In that case, you could find yourself grounded because the bank isn't open. You'd have to wait until regular business hours to grab your passport.
Other items that you wouldn't want to or can't be stored in a safe deposit box include:
Also, reconsider storing any cash in these boxes. Yes, people do it in the movies all the time, but that's not real life. In reality, cash in the safe deposit box isn't protected like the cash in your bank account.
People should place their money in a savings account or money market account where it might even earn interest. However, if you have a valid reason for putting cash in your safe deposit, ensure you're well informed of the risks.
It should go without saying, but storing firearms or hazardous material in the safe deposit box is a no-no too. Some financial institutions might make exceptions, an antique pistol, for example. Still, you want to contact them first to find out their policies. It's never a good idea to walk into a bank with a gun on you, concealed or not.
Are There Better Options?
A safe deposit box makes sense if you want a secure place to store items not used every day.
For people with firearms to store, a home gun safe is a more convenient and reasonable option.
A small safe or metal firebox you can keep in your home can do the trick to hold the same valuables you'd keep in a safe deposit box. These options are fire-resistant, secured using keys or a keypad system, and are accessible at all times.
What's the Verdict? Are Safe Deposit Boxes Worth It?
Financial institutions have been renting safe deposit boxes for over 150 years, but their popularity has definitely wanned.
While safe deposit boxes are helpful, it really comes down to personal preference and circumstances. Neither of us keeps as much in our boxes as our parents did, but it does make sense for some items due to our lifestyles.
You'll want to consider some of these questions to decide if one would benefit you.
What are you storing?
Is it paperwork or valuables you don't access frequently?
Or, do you need safe keeping for documents or items you use daily or often throughout the week?
Will anyone else need access?
At the very least, it's worth speaking to a bank employee to learn more about the safe deposit boxes your bank offers, then weighing the pros and cons. Safeguarding valuable information and items isn't something to decide on a whim.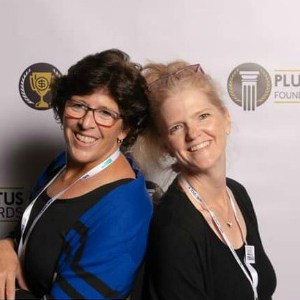 Amy and Vicki are the coauthors of Estate Planning 101, From Avoiding Probate and Assessing Assets to Establishing Directives and Understanding Taxes, Your Essential Primer to Estate Planning, from Adams Media.