The Feminist Financial Handbook [Book Review]
(This page may contain affiliate links and we may earn fees from qualifying purchases at no additional cost to you. See our Disclosure for more info.)
Brynne Conroy has written a personal finance book like no other.
The Feminist Financial Handbook doesn't tell you how to get rich quick or put you down for your money choices.
Her handbook provides valuable information, action steps, and resources to help you make changes in your personal and financial life.
More importantly, the personal stories and concepts she shares in the book will help you better understand the experience of others – and that's priceless.
This review of Brynne Conroy's book, The Feminist Financial Handbook was written by Vicki, one of the co-founders of Women Who Money and Women's Money Talk.
The Feminist Financial Handbook Review
As I sat down to read The Feminist Financial Handbook: A Modern Guide to a Wealthy Life, I wasn't really sure what to expect – but I knew I had plenty to learn.
I've read a number of posts on Brynne's site, Femme Frugality. I've always appreciated the depth of her explanations, connections to personal stories, and the use of research to back up her claims.
Her book didn't disappoint. And it isn't just for women.
Whether you've already mastered money or if you're just realizing you need a plan to conquer your debt, The Feminist Financial Handbook has something for you.
You can deepen your understanding of the history of income inequality. Or use the book's resources to figure out how to go back to college.
Using personal stories from women who have faced adversity, Brynne teaches us all something – from the history of why women face financial challenges to learning to focus on what we can control.
The Feminist Financial Handbook has Four Main Parts:
Defining Wealth, Earn More, Save More, and When One Thing Affects Everything.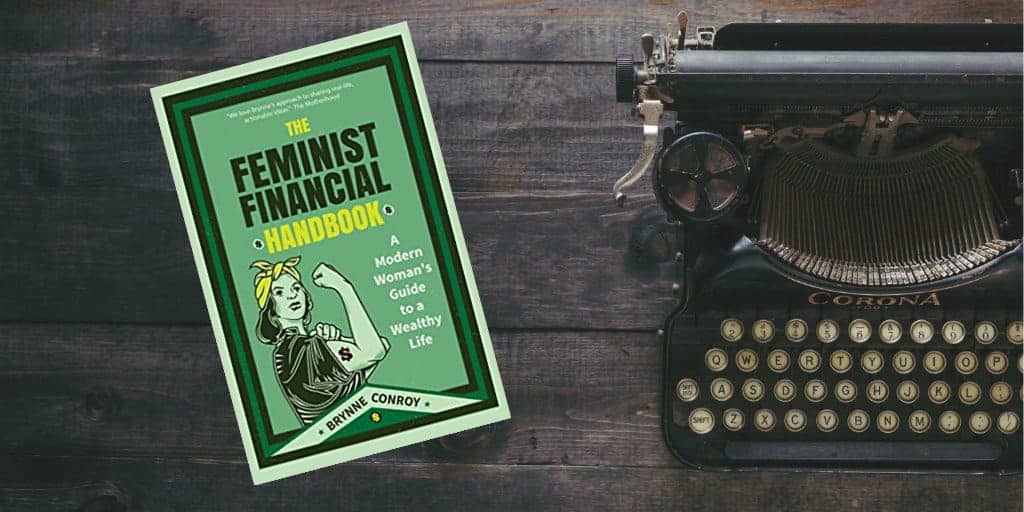 One of my takeaways from the chapters on Defining Wealth was the optimistic outlook Brynne provides readers even when they may have deep struggles with money.
It isn't the same "money isn't the key to happiness" message you might read in other books though. She acknowledges how difficult life is when you don't have enough money but gives a positive message reminding people that hard work pays off, to take the help offered to you, and to look for hope each day.
I knew that the chapters on Earn More would again offer a new perspective on some topics I've already read a lot about.
Brynne discusses the importance of a college education and devotes a whole chapter on ways to fund it. Female entrepreneurship, the impact of women failing to negotiate salaries, and how family structures impact a woman's earning power are also explained.
And very new to me was the discussion on disablism and cisnormativity and heteronormativity discrimination and how they impact women's finances.
(Note to personal finance writers – if these topics are not familiar to you, reading this book will help broaden your perspective and help you realize biases in your writing.)
The Save More chapters shared a family's struggle to become debt-free and thrive in a place many of us wouldn't choose.
A chapter devoted to insuring yourself by keeping your finances (at least somewhat) separate from your partner was the best discussion I've ever read about money and why "mine vs. ours" matters.
Other Save More topics included financial infidelity, the power of emergency funds in pursuing fulfilling work, risk tolerance, and the importance of women investing their money and talking about it.
Read Brynne's Guest Post on Women Who Money: What Are The Best Robo Advisors For Socially Responsible Investing?
When One Thing Affects Everything focuses heavily on topics rarely discussed – mental health issues and how they affect our ability to earn and manage money.
Brynne includes an explanation of how domestic and economic abuse threatens a woman's financial future; Along with the challenges of women (and families) raising special needs children.
If it sounds like my review is giving away a lot of the book, believe me, I'm not! There is so much information available in a way that is accessible to people at any stage of their money journey that I wanted you to see all the different ways you might connect.
If you are looking for ways to improve your financial literacy, gain more financial security, and have more options – the handbook will help guide you to a wealthy life.
Additionally, if terms like intersectional feminism and the kyriarchy aren't part of your vocabulary, take time to read the Feminist Financial Handbook. You'll then understand those concepts and more.
You can find all of our book and other reviews here.