Tipping: When and How Much?
(This page may contain affiliate links and we may earn fees from qualifying purchases at no additional cost to you. See our Disclosure for more info.)
When it comes to tipping, there are no hard and fast rules. And everyone does it differently.
As a customer, you're left wondering – when should you tip? Who should you tip? How much? And what if you don't have any cash?
Below is a general reference for when and how much to tip to help guide you.
This guide will be useful, but if you're ever unsure of whether to tip, remember – you tip to express your gratitude.
Keep in mind why you tip in the first place and let that be your guide.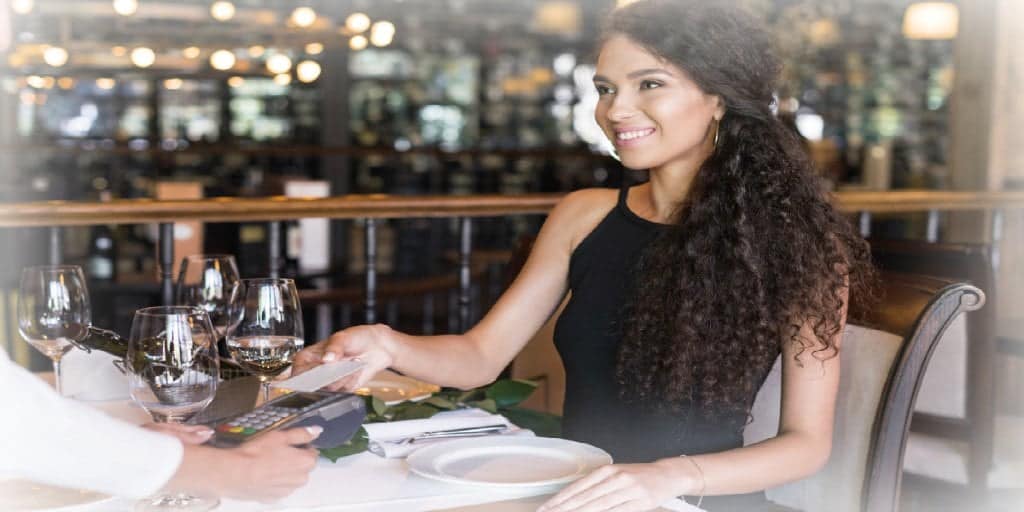 A Short History on Tipping
It's thought the idea of tipping originated in England in the 17th century when guests of a home would leave a "vail" for the servants before they left.
Money was left to express the guests' gratitude for the service they were provided while visiting.
Tipping came to America from Europe in the mid-1800s. And by the early 1900s, it was a widespread, expected behavior.
Some disagreed with the idea, thinking it an "un-American" and oppressive act used to counter poor working conditions.
But tipping to show appreciation stood the test of time.
In the 1960s, workers in service industries receiving part of their wages from tips had their minimum wage slashed. Tips then became an actual part of wages, especially for restaurant servers.
When to Tip (and how much)
Some workers rely on tips as a significant part of their wages. Others don't. So how do you know when to tip?
While there are no definitive rules on tipping, you can use the list below as a guide for acceptable tipping practices.
Tipping to Show Gratitude to:
Restaurant servers. Tip 15-20% of your pretax bill. Keep in mind, servers often have to split their tips with bussers and other staff at the restaurant.
What about buffets? Servers are cleaning up the tables and bringing drinks. Though 15% isn't necessary, leave at least $1 per person at your table.
What about carry-out? Though not full-service, a 10% tip is a good rule of thumb.
Bartenders. Tip a minimum of $1 if you have one drink. Leave more if you're sitting there for a while (or if they've given you a free drink).
Baristas. Use your judgment, based on your order and the service provided. If there's a tip jar, your change is usually enough.
Delivery drivers. Tip a minimum of $5. For larger orders, 15-20% of the pretax bill is acceptable (unless 15% is less than $5). The delivery fees charged on your order usually do not go to drivers.
Parking attendants. Tip a minimum of $2 when your car is brought to you.
Bathroom attendants. It depends. Are they there to monitor the bathroom? Or are they there to hand you a towel?
If they are providing you with a towel or other necessities, $1 is acceptable. If they are monitoring the bathroom, no tip is necessary.
Hairstylists, spa workers, manicurists. Tip a minimum of 15% of your pretax bill.
Tattoo artists. Tip a minimum of 15% of your pretax bill.
Hotel workers. Tip shuttle drivers, bellhops, the concierge, door staff and, yes, housekeepers too.
For shuttles, bellhops, and door staff a dollar or two is okay, depending on the extent of the service.
For the concierge and housekeepers, base the tip on the service you receive. If they brought you something you requested or made your restaurant reservations for you, $5-10 is probably appropriate. If they gave you directions, no tip is necessary.
Housekeepers may receive a nightly tip of $1-$5.
Taxi, Uber, or Lyft drivers. Tip a minimum of 15-20% (more if they carried your bags).
Calculating a Tip
When you're tipping based on the total bill, you have a couple of options for figuring your tip (that don't necessarily require a calculator).
Tipping method for a 20% tip
Look at the pretax total and move the decimal point one place to the left.
Double that amount.
For example, let's say your pre-tax bill is 43.53. By moving the decimal point to the left, we get $4.35. If we double that amount, we get $8.70 (which is about 20% of the pretax bill).
Tipping method for a 15% tip
Look at the pretax total and move the decimal point one place to the left.
Divide that number by half.
Add both numbers together. (You're essentially adding 10% and 5%).
For example, your pretax bill is $43.53. Moving the decimal point to the left, we get $4.35. Half of $4.35 is $2.17. Add them together for a 15% tip: $4.35 + $2.17 = $6.52.
Tipping method based on sales tax
If you know the percentage of sales tax on your bill (check your receipt), you can use that to quickly and easily figure a tip.
For instance, if the sales tax is 8%, and you want to leave a 16% tip, you'll double the sales tax amount on your receipt.
For example, your bill is $43.53 with 8% sales tax. The receipt says your sales tax is $3.48. Take that x2 to get a 16% tip. $3.48 x 2 = $6.96 (16% tip).
What if you've received a discount (coupon or promotion)? Tip based on the original amount before the discount.
What if you don't have cash for a tip?
If you're paying with a credit card, like at a restaurant or salon, it's easy to add the tip right onto the bill. No worries if you don't have enough cash.
But there are circumstances when you want to leave a tip to express your gratitude, but don't have a bill to pay – which means you can't add the tip onto a credit card.
What if you don't have any cash on you and you need to tip the bellhop or parking attendant?
If you're at a restaurant, bar, or hotel, ask if they can provide "cash back" to allow you to tip. You can also find an ATM nearby.
If that's not an option, there's an app for that (of course!).
The thing is, the person you're tipping needs to have the same app to be able to receive the tip – and you'll need his/her name too.
You might be able to use Square or Venmo. There are also several tipping apps such as Bravo, Tip Genie, and Gratuity, to name a few.
What if you have to skip the tip?
You should still express your thankfulness for someone's service. Tell them they're doing a great job (and explain that you would tip if you could). This way, they aren't left wondering if it was something they did (or didn't) do.
Holiday Tipping
During the winter holidays, many Americans express appreciation for those who've provided a service for them year round.
Cash or gift cards work for most holiday tipping, but if you know the person well, or want to give them a token of your appreciation, a small gift is fine too.
Who might you want to "tip" or thank during the holidays? Ultimately it's up to you, but below is a list to consider:
Babysitter
Daycare provider
Housekeeper
Home health workers (that come to the home)
Personal trainer
Hairdresser
Dog Walker
Newspaper delivery person
Mail carrier
Building Superintendent
Doorman
Handyman
Trash collector(s)
Lawn care provider
Keep in mind some businesses discourage or prohibit employees from accepting gifts. For instance, U.S. Postal workers aren't allowed to accept cash or gift cards or gifts valuing more than $20
How much should you give during the holiday season?
Let your budget be your guide. If you can afford to give, by all means, do so. But if you have a tight budget, a small "thank you" or a gift such as some home-baked cookies is more than enough.
When your budget allows for holiday tipping, consider giving a day's or week's pay for those providing ongoing care for members of your family (such as daycare or home health).
For the other services, a gift of $20-50 is appropriate (but use your judgment).
Tip to Express Your Gratefulness
Yes, tipping can be confusing. With no rules, no system, and differing opinions, ultimately, it's up to you to decide.
The most important thing to remember is why you tip. You tip to show your gratitude for a service you receive. It helps to make an experience that would otherwise be a monetary exchange more personal.
So give thanks where thanks are due. As long as you make the "why" of tipping your priority when deciding when and how much to give, you're doing the right thing.
Article written by Amanda