Benefits of Meal Prepping and How to Start
(This page may contain affiliate links and we may earn fees from qualifying purchases at no additional cost to you. See our Disclosure for more info.)
Meal prepping is a big food trend these days, especially on sites like Instagram, where influencers layout beautiful pictures of perfectly portioned meals for the week.
And there's a reason preparing your meals in advance has become such a big trend; it can save you big in time, calories, and money.
There are several different ways you can meal prep.
The Basics of Meal Prepping
Traditionally, meal prepping is preparing a large amount of a meal or multiple meals. You might prepare a large portion of 1-2 family meals to eat over the next three to seven days, stored separately for each day.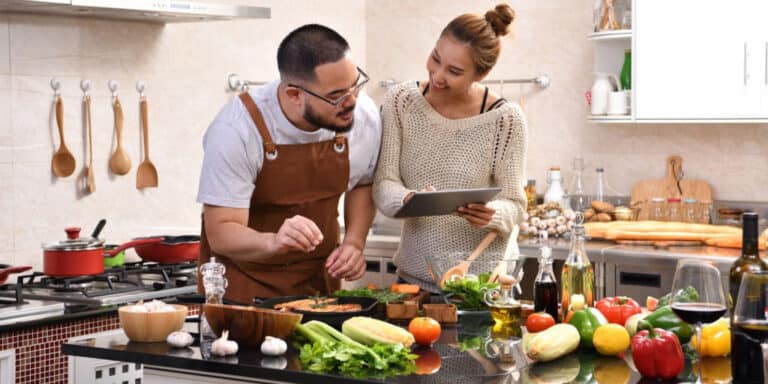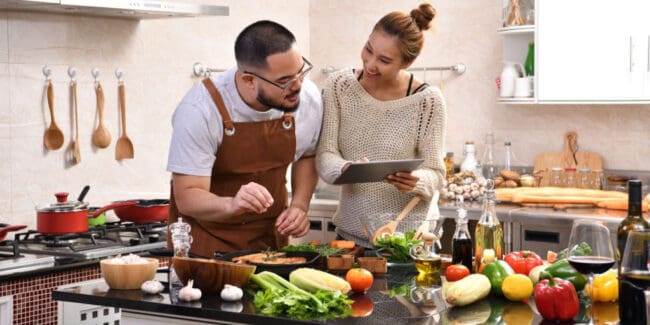 Or you could portion food into single-serve containers for individual lunches or dinners and store them in your refrigerator to be reheated each day.
So you might cook one large meal of broccoli, chicken, and rice and portion it out into individual containers to eat each evening. Or you could put together daily Mason jars full of salad to grab for your daily lunch at work.
This type of meal prepping works well if you're not afraid to eat the same thing multiple days. And when you're cooking for one or two people.
There's another type of meal prepping that's popular, especially for families. This is the idea of batch cooking one or two sides, pre-cooking meat or soups, and prepping all other ingredients so that it's easier to pull together an entire meal each night of the week.
With this type of meal prepping, you won't cook your food at the beginning of the week. Instead, you'll prepare the ingredients so that dinners are easy to pull together each night.
For example, you might prepare a big batch of rice or quinoa, marinate meat, and chop peppers, onions, and carrots. Then, you can easily pull together a stir fry when you get home from work one night and tacos the next.
Or you might set up the ingredients for your morning smoothies, then quickly whip up breakfast each morning.
The type of meal prepping that works for you will depend on your circumstances. Since there's no right or wrong way to meal prep, you can decide how you'd like to do it in a way that works best for you.
Why Meal Prep?
Common reasons for meal prepping are that it's a great way to keep your grocery costs down and prevent you from eating out as often, especially while you're at work.
Additionally, it's easier to portion control and manage the ingredients you're eating. Meal prepping is beneficial for those following special diets or wanting to lose weight.
Finally, meal prep is a way to make your life easier.
By spending a chunk of time early or mid-week prepping your meals or ingredients, you're making cooking and eating easier on yourself later when you're tired or hungry.
You can think of meal prep as a type of self-care.
By taking the time to prepare healthy, cost-cutting ingredients at the beginning of the week, you're setting yourself up to eat more healthily and at less cost than grabbing fast food or take out when you're too tired to decide what to eat or to cook a meal from scratch.
Keeping Costs Down
By planning your menu out each week, you make it much more likely you'll eat at home every night of the week.
You can also take advantage of in-season produce to keep your costs down. Eating seasonal fruits and veggies will be fresher and cheaper at the store or farmer's market.
Often, the cheapest ingredients (dried beans, grains, flour, rice) take longer to prepare. So if you set aside a few hours early in the week to cook, you can buy cheaper raw ingredients and cook them up once to enjoy all week.
Another cost-saving benefit of meal prep is that you'll be eating the same or similar ingredients all week.
Instead of buying specialty ingredients for seven different dinners, you can create two or three varied meals using the same base ingredients. This equates to less spending at the grocery store and less food waste.
Keeping it Healthy
Meal prepping can help you eat more healthily, especially if you're not eating out as much (restaurant meals are usually prepared with more salt, fat, and sugar).
You can make sure to prepare meals with a filling carbohydrate, lots of hearty vegetables, and a protein.
When you're counting calories or avoiding certain ingredients, meal prep makes it easy to portion control and know exactly what you're consuming each day.
How to Start Meal Prepping
First off, decide on a weekly time or times to meal prep. Sunday afternoons are popular times for this so that you'll be ready for the upcoming work week.
Wednesdays are also popular since food can begin to spoil or wilt after about four days, even in the fridge.
Decide what meals you'd like to prep–breakfasts, lunches, or dinners.
Will you cook a big batch of oatmeal and reheat it each morning?
WIll you create single-portion lunches you can grab for work?
Does it work better for you to make lunchbox packs for your kids, so it's easy to assembly their lunches each morning?
Or, will you prep ingredients for each evening's meals?
After you've decided which mealtime you'll be tackling (and it's a good idea to start small and see how it goes with one meal choice), you'll need to decide on a menu. This is more important if you're prepping for several dinners over a week.
You don't necessarily have to decide on a hard and fast menu (burgers on Monday night, spaghetti on Tuesday). Just have a general idea of what you'll be serving: steak and baked potatoes, soup, stir fry, wraps with leftover steak, etc.
Preparing to Prep
Before you begin cooking, you'll need your ingredients on hand and containers to store your food. It's wise to grocery shop (or have your groceries delivered) a day or two before you begin cooking, so all your ingredients are as fresh as possible.
You'll want to clean your kitchen, empty your dishwasher, and otherwise prepare your space before you start cooking. Then, you don't have to stop what you're doing to clean up in the middle of your prep time.
Pull out all of the ingredients that you need and any tools like knives, cutting boards, and pots and pans.
If you're batch-cooking grains, start cooking them first, as they'll take the longest. If your recipe includes dried beans, you'll need to begin soaking them the night before for the best results.
Think through your meals to know how many veggies you should prep and how you'll store them in the fridge.
Once you've prepared your meal or ingredients, make sure to cool everything before putting it in the fridge or freezer, especially if you're using plastic containers or bags to store food.
Don't Forget Your Freezer
One way to take advantage of meal prep is to make huge batches of a favorite dinner and freeze your extras. This works particularly well with soups, stews, lasagna, and other baked pasta dishes that hold up well in the freezer.
You can stock up on freezer-safe storage containers in a convenient size for your household. Ensure you note the date you made the meal and what it is, so it's easy to identify later.
You can also use your freezer to create "meal kits," freezer bags full of prepped ingredients you can defrost and cook in a slow cooker on a busy night.
The internet is full of sites with ideas for freezer-ready meals that you can prep in one or two marathon meal prep days to pull out and eat for several weeks or months.
Save Time, Calories, and Money!
Meal prepping is a great way to make your life easier, save yourself money, and create less food waste in your kitchen.
There's no right or wrong way to meal prep. So make a decision about what to prep, go shopping, and give it a try. If the first week doesn't go so well, make some adjustments and try again.
Like any new skill, it will take some time to get really good at meal prepping. But once you do, it's a practice that can make a significant impact on the way you eat – and on your wallet.
Next: Ways to Cut Monthly Expenses and Reduce Spending