What is the Best Way to Budget for a New Pet?
(This page may contain affiliate links and we may earn fees from qualifying purchases at no additional cost to you. See our Disclosure for more info.)
Furry friends bring so much love to your house, but just like new human babies, they also carry additional expenses.
Before you bring one home, you need to know how to prepare your budget for a new pet.
Let's dive into some of the costs you're likely to encounter and how you can save on them.
Most of the costs you'll assume with your new pet will happen in their first 1-3 months in your home.
They include:
vet visits & vaccines
the cost to spay/neuter
food
crate/litter box
obedience classes, leashes, and collars
toys and treats
If you're rescuing your pet from a shelter, your initial costs will be much lower.
Many shelters have already given pets their first round of vaccinations. Some shelters also provide spay or neuter surgery at no cost or a minimal cost.
You'll still need to budget for supplies, high-quality food, and, if applicable, obedience classes. Here are some rough estimates of costs and ideas for keeping your pet costs as low as possible.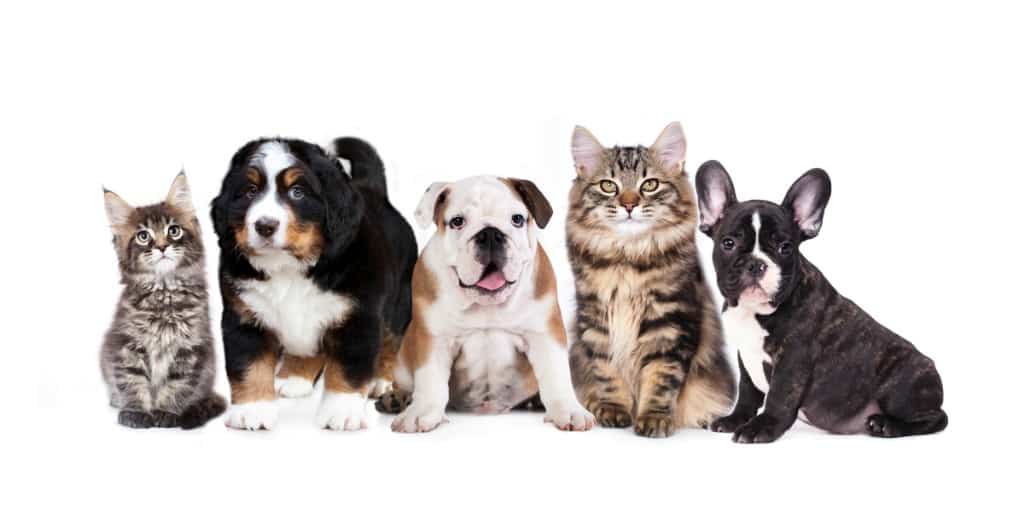 Vet Visits & Spay/Neuter Surgery
Your new pet must see the vet for an initial checkup and vaccinations if he's a new puppy or kitty. Dogs and cats will need a round of shots at eight weeks, 12 weeks, and 16 weeks.
While these vaccines can run $30-$50 each at a veterinarian clinic, there are less expensive options.
Many humane societies offer New Puppy/Kitten Packages that bundle these vaccines with spay/neuter surgery, saving you hundreds of dollars.
Dogs can receive all initial vaccines (distemper/parvo, rabies, and deworming) plus spay or neuter surgery (to be performed within six months) for around $120.
A cat package (including FVRCP and FELV series, rabies vaccines, and deworming) plus spay or neuter surgery costs around $110.
Many clinics offer microchip services for another $25.
It pays to do your homework when you're picking a vet. While humane society visits may be less convenient and harder to get than your neighborhood vet, you'll save hundreds of dollars in the long run.
A spay or neuter surgery for a larger dog can cost up to $450 at a traditional veterinary clinic, while you'll pay only $80 or so at your local humane society.
That's another added benefit of a rescue pet. If you're rescuing a pet from a shelter, the shelter may have already spayed or neutered your pet. Or they may provide the service for free or very little cost when your pet is older.
Once your new pet is established, you'll need to visit the vet once a year for checkups or if your pet has any health problems. If you've already created a relationship with a humane society, you'll continue to save on these visits, too.
Pet Food
If there's one area where you don't want to skimp, it's your pet's food. Good quality food will save you money in the long run because your pet will enjoy better health over her entire life when she eats better food.
For dogs, look for pet foods with high protein sources (where a protein like salmon, turkey, or chicken is the first ingredient listed) because dogs are primarily carnivorous. Consider grain-free foods like Taste of the Wild, American Journey, or Blue Buffalo.
For cats, you'll need to consider if you're using a wet or dry food. Top brands include Nature's Variety, Wellness, and Taste of the Wild.
Many foods can be bought online from suppliers like Petflow, Target, Wag, or 1800PetSupplies. Also consider local chains, many of which offer incentives like a "Buy 10 Get 1 Free" deal on bags of food. Buying locally also lets you pick employees' brains about their recommendations, tips, and what to look for or avoid in food.
Crates & Litter
If you have a dog, you may find a crate one of the easier ways to train him. In fact, the Humane Society recommends crate training as one of the best ways to housebreak a new puppy.
While a brand new crate can run $50-$250, online sites like Facebook Marketplace offer used crates at a fraction of that price, usually $20-$60 for a collapsible wire crate.
Also, check pet retailers as well. Chewy.com offers a new 24-inch collapsible crate for less than $25.
Sometimes, dogs outgrow their crates, so check in with a friend or family member to see if they have one they could lend or give you.
If you have a new cat, you'll need to think about a litter box and kitty litter. The cost of litter can vary, but most cat experts recommend non-scented clay clumping litter so you can scoop out clumps each day without having to change the entire box of litter.
Obedience Classes
While obedience classes aren't a strict necessity, if you have a puppy or a young dog, they're a great way to teach your pet – and you – ways to make walks, housetraining, and playtime more enjoyable.
Big stores like PetCo or PetSmart offer group obedience classes for roughly $125 for six classes (costs vary by location).
Many humane societies provide free or low-cost dog training classes as a community resource. If you'd like a trainer to come to you, you'll pay more.
Leashes and Collars
If you have a new puppy, you'll probably end up buying at least two rounds of collars and leashes.
Check out a discount store like Dollar General, where you can purchase collars for a couple of dollars.
Avoid the fancy designs, as you'll inevitably replace the collar with a larger one in a few months. Get a sturdy, six-foot leash from the get-go, as it should last for a while.
Most trainers prefer a loose leash rather than a retractable one. But you may want to try both to see which one works the best for your dog.
Toys and Treats
Be careful—one of the easiest ways to break your budget is by picking up a new squeaky toy, scratching post, or bag of treats each time you're in Target.
While many vets recommend having a variety of toys for your new cat or puppy in order to keep their brains stimulated, you don't have to spend a fortune.
First, make a stop at a shop like Dollar General. They sell high-quality toys and treats for $1, $2, and $3. You can also get bowls, leashes, and other supplies for less.
Also, consider thrift stores or buying non-traditional pet toys. Old tennis balls, repurposed lengths of rope, or carpet squares will work just fine for dog and cat toys.
The Bottom Line on Budgeting for a Pet
If you're bringing home a new pet, prepare to spend more in the first few months of owning your pet.
Budget at least $200 for the pet's first month. While you might spend less, buying supplies, establishing a vet, getting vaccines, and getting your pet spayed or neutered will quickly eat up most of it.
For dog obedience classes, prepare to budget an additional $150 in your second or third month.
For cats, budget around $10-$20 for kitty litter each month.
Finally, budget an additional $20-$50 per month for food, depending on how much your pet eats.
Once you've gotten your pet established at home, you'll probably pay roughly $20-$40 per month (or less) for cats, and an average of $40-$70, for dogs, including annual vet visits.
When thinking about costly veterinary visits, you may consider buying pet insurance, but read this first.
While you'll be spending more once you have a pet, especially in the first few months, it's hard to put a price on the special joy they bring to your home.