Common Financial Scams + How To Avoid Them
(This page may contain affiliate links and we may earn fees from qualifying purchases at no additional cost to you. See our Disclosure for more info.)
Financial scams are everywhere. From bogus investment schemes to gift card scams, there are plenty of ways for fraudsters to separate you from your hard-earned cash.
While you may be familiar with some of the common scams that result in people becoming victims of financial fraud, criminals are devising new ways to steal your money and Personal Identifiable Information (PII) daily.
Maybe you think you'd never fall for an online scam and that you'd always recognize a fraudulent email or text. But we'd urge you to think again.
Billions of dollars are stolen from people in financial scams and identity theft fraud each year. And scam artists aren't just targeting older adults and their Social Security checks.
In reports to the Federal Trade Commission in 2020, people in the 20-29 age group reported losing money to fraud (44%) at more than double the rate (20%) of 70-79 year-olds.
The bottom line…people of all ages can fall for a fraudulent financial scheme, no matter how much they know about money or technology or how hard they try to prevent becoming a victim.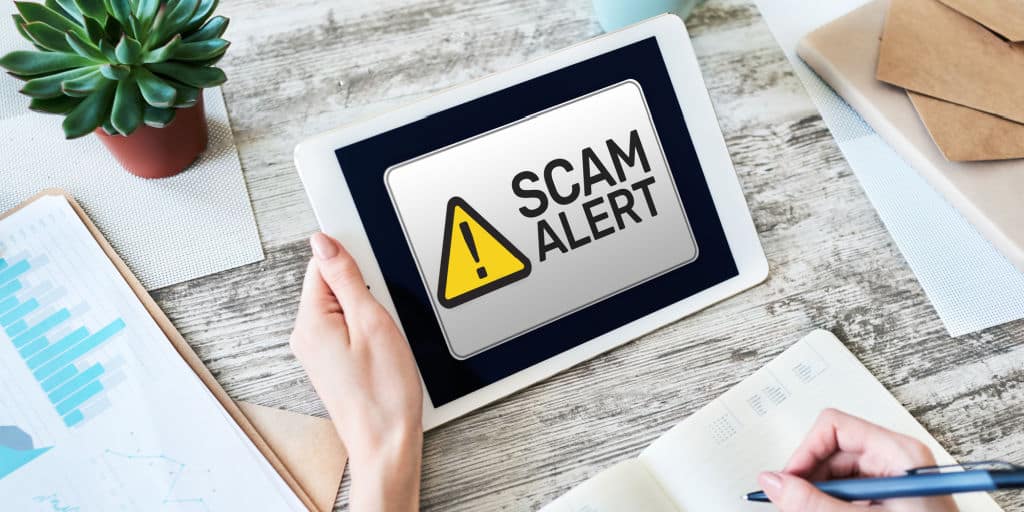 Identity Theft
Many of the scams listed below can result in identity theft. You're a victim of it if someone steals your personal information with the intent to commit fraud.
It's such a pervasive problem that the Federal government (FTC) has a website for reporting identity theft and creating a recovery plan – IdentityTheft.gov.
Dealing with the fallout from a stolen identity can be incredibly stressful and time-consuming.
Your financial health is also in jeopardy if thieves file your tax return and steal your refund, open credit cards or loans in your name, or take other actions that can potentially ruin your credit.
It's essential to monitor your (free) credit report and financial accounts regularly and set up fraud alert notifications to help keep your family safe and quickly take action on any suspicious activity. 
Common Financial Scams and How To Protect Yourself
You may become a victim of identity thieves through a data breach or no other fault of your own.
Still, learning about different types of financial fraud can increase your awareness and minimize your chances of clicking on a phishing link, revealing sensitive personal details, or donating hard-earned money to a sham charity.
The more you know about scams, the more likely you are to act in a way that limits your financial losses.
Let's look at some common financial scams and what to do to avoid them.
Phishing Scams
Criminals rely on "phishing" because it's one of their most effective ways to make money. Once they have your information, phishers can target you using email or text messages at any time of day.
Scammers may send crudely generated notes encouraging you to open links that install malware or craft professional-looking communications that mimic messages you may receive from legitimate businesses.
As one of the most common financial scams, we encourage you to learn about phishing attacks. The time you invest in reading the FTC's How to Recognize and Avoid Phishing Scams will be well worth your effort.
Social Media Scams
According to the FTC, consumers were scammed out of an alarming $117 million in the first six months of 2020 through social media scams.
Social "engineering" using social media also allows criminals to gain access to your data as hackers pose as friends or family members.
You may be asked to do something as simple as download apps or complete surveys, which end up giving criminals your login credentials and control over your accounts.
Read more about how scammers use social media and how to protect yourself in the FTC article called Scams that Start on Social Media.
Banking scams
Common banking scams include over-payment scams, unsolicited check fraud, and fraudulent automatic withdrawals. If someone asks you to cash a check and return part of the funds, you're likely being scammed.
Cashing a check you receive in the mail for no apparent reason is another big mistake. It may indicate you're "accepting" a loan with hefty fees or high-interest rates.
And should you ever be asked to provide financial account information in exchange for receiving a prize, the scammer is likely trying to gain access, allowing them to set up withdrawals from your account.
Follow these five tips from USA.gov:
Don't trust the appearance of checks or money orders. Scammers can make a fake check look legitimate and official.
Don't deposit checks or money orders from strangers or companies you don't have a relationship with.
Don't wire money to people or companies you don't know.
Don't give your bank account number to someone who calls you, even for verification purposes.
Don't click on links in an email to verify your bank account
Additionally, when you receive an unexpected email from your financial institution, avoid clicking on the links in the email. Instead, visit their secure website via your usual access route, i.e., bookmarked linked or legitimate search.
Census Scams
Scam artists may pretend to work for the Census Bureau and attempt to collect your personal information to steal your identity or use it for other fraudulent activity.
Imposters claiming to be from the Census Bureau or another legitimate sounding government agency may ask for your Social Security number, bank account numbers, or even for donations.
According to the FCC, follow-up calls for Census surveys are made from a single outbound phone number: 844-809-7717.
If you're concerned you've fallen for a Census scam, make a report to the Census Bureau by calling 844-330-2020 and to the FCC at consumercomplaints.fcc.gov.
Gift Card/Prepaid Card Scams
A person might ask you to put money on a prepaid Visa card or gift card to another business to get you to pay for something. Then, they'll ask you to give them the number on the back of the card and your PIN. If you get asked to do this, you're likely being scammed.
Legitimate businesses and government agencies won't insist that you pay for goods or services with a prepaid or gift card. 
Read this article on Gift Card Scams to learn more about strategies criminals use and what to do if you need to report a gift or prepaid card fraud.
Tech Support Scams
Tech support crooks want you to believe you have a problem with your computer. They may ask for remote access to your computer to provide services you don't need or fix issues that don't exist. And they'll ask you for payment in a form that's difficult to reverse or track.
If you want to hear what a phone call between a tech support scammer and an FTC investigator sounds like, listen to their conversation here on the FTC website.
More information on what to do if you're a victim of a tech support scam and how to report tech support fraud can be found in the FTC article, How to Spot, Avoid, and Report Tech Support Scams.
Charity and Disaster Scams
The money from charity fraud schemes goes to the fake charity's creator instead of being given to organizations that actually work to support people in need. 
While charity scams tend to happen during the holiday season, they're prevalent after large-scale weather events or other high-profile disasters. Scam artists use tragic events to exploit people who want to give financial gifts to help others.
According to the FBI, "charity fraud scams can come to you in many forms: emails, social media posts, crowdfunding platforms, cold calls, etc."
Make sure you don't let your emotions prevent you from researching organizations you plan to provide a gift of money.
There are plenty of legitimate organizations working to help people in need, but sadly, there are just as many (or more) ready to steal money from you at the same time too.
Fake Job Offer Scams
Fake job offers are a big problem, especially on social media platforms. While they may appear to be legitimate job opportunities, they're often designed to steal your personal information and sell it to other scammers.
A recent Wall Street Journal article explains that fake job offers are also showing up on LinkedIn, Indeed, and other job-search platforms, costing victims of this scam a lot of money.
If you're looking for a job or get contacted by someone through a social media profile offering you a job, make sure you know the contact, company, and site you're entering data into is legitimate. 
The FTC article Job Scams is full of great information on how to spot fake offers and what to do if your data is compromised when you think you're applying for a job that doesn't exist.
Related: Don't Fall for that Work-From-Home Job Scam!
Lottery, Sweepstakes, or Prize Scams
There are plenty of legitimate ways to win lotteries or sweepstakes. But scammers know there are people so excited about winning a big prize that they'll give up information – or even money – to land the jackpot.
According to the FTC, here are three "red flags" for lottery or sweepstakes scams.
You have to pay to get the prize
Paying increases your chance of winning the prize
You have to give out financial information to get the prize
Check out the FTC article Fake Prize, Sweepstakes, and Lottery Scams to learn more about prize scams.
While we'd all like to walk away as winners of a big prize, you may become a victim of a counterfeit check, banking fraud, or identity theft if you aren't careful.
Rental Car Scams
As travel ramps back up, rental car scams are becoming a much bigger issue. Fake customer service phone numbers, websites, and rental car companies fool travelers.
If you're making a reservation for a rental car and you're asked to prepay with a gift card or prepaid card, you're being scammed.
The FTC warns travelers to be on the lookout for companies trying to steal their money and ruin their vacation through a rental car scam.
If you aren't using a major chain, research the company and be sure to use a credit card to reserve and pay for your rental.
Internet Service Provider Scams
A government program called the Emergency Broadband Benefit Program gives people a discount to help them purchase technology equipment and monthly deals for internet service. 
While the government program is free to sign up for, scammers have set up websites with similar word copy and advertise free devices and internet services in exchange for linked financial accounts and personal information.
You can read more about the scams in the article impersonators of the FCC's Emergency Broadband Benefit Program. 
Home Loan Scams
According to Rocket Mortgage, common mortgage scams include mortgage wire fraud, foreclosure scams, reverse mortgage fraud, bait and switch scams, loan flipping, and fake real estate agent scams.
These types of fraud are lucrative for scam artists because home loans are such high-dollar transactions. And those in desperate financial situations may be even more tempted to choose fraudulent products and services.
To learn more about mortgage fraud schemes and how to avoid them, read this article on the FBI's website. 
Learning to Spot Financial Scams
While we've described many financial scams, keep in mind that criminals are always trying new ways to steal money and information.
That's why it is crucial to learn to spot different fraud techniques so you're less likely to fall for them.
According to the St. Cloud, MN Police Department, be on the lookout for these important "P's" that are indicators of a scam:
Scammers PRETENDING to be from an organization you know.
Scammers baiting you with a PRIZE or PROBLEM to get you to act.
Scammers PRESSURING you to act immediately.
Scammers forcing you to PAY in a specific way.
Actions You Need to Take
In response to the "P's above, here are actions you can take"
Always double-check the information from any organization reaching out to you for money or personal information. Call and confirm the organization is trying to contact you and ask them to mail correspondence if you owe money.
Trust your gut when it comes to winning prize money. There are very few legitimate organizations giving away large amounts of money. If you receive a call that a loved one is in jail and needs bail money (Grandparent Scam) or threatening texts or scam emails claiming you owe back taxes, stop and confirm the problems actually exist before you act.
Rarely is there a financial emergency that won't allow you the time to get more information. Don't let anyone pressure you into giving away your personal or financial details. Try to keep your emotions in check and call someone you trust for advice – or the non-emergency number of your local law enforcement agency.
Consumers generally have numerous ways to make payments for goods and services. If someone asks you to pay for something using one method (such as a prepaid debit card), there's a good chance it's a scam. Stop and verify why payment can't be made using a method that gives you some level of protection (i.e., credit cards) before providing a scammer with money.
Pausing and taking some time to think before acting can prevent you from falling victim to potential scams.
If You Fall Victim to a Financial Scam
The number one thing to remember if you're a victim of financial fraud is that you're not alone. Millions of people have been victimized using different scam techniques and identity theft. 
While you may not get your money or personal information back, don't assume nothing can be done. You need to take action to try to retrieve your funds and prevent any further financial loss.
Read the following articles describing the actions to take if you're a victim of financial fraud.
Final Thoughts on Preventing Fraud
Unfortunately, there are financial scams people fall for every day.
Even armed with information, you may inadvertently open a link in an email releasing malicious software into your computer. Or become a victim of a telephone scam by answering a call for financial help that doesn't go to someone genuinely in need.
Financial crimes are on the rise, and with the increasing sophistication of fraud tactics, we're all potential victims of financial scams and identity theft.
Stay on high alert when it comes to your financial accounts and any requests for personal information.
While fraud detection may alert you to an issue, you may not notice your credit card number has been stolen until you review your monthly statements from your credit card company.
Remember, no one cares more about keeping your money or identity safe than you do.
"Cleaning up" financial fraud is an emotional roller coaster that can take years. Be as proactive as you can to maintain your financial health.
Next: Tax Fraud – Are you unintentionally committing it?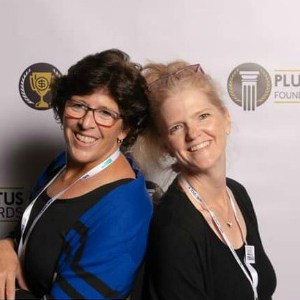 Amy and Vicki are the coauthors of Estate Planning 101, From Avoiding Probate and Assessing Assets to Establishing Directives and Understanding Taxes, Your Essential Primer to Estate Planning, from Adams Media.