Google's Project Fi Review: Is It as Good as They Say?
(This page may contain affiliate links and we may earn fees from qualifying purchases at no additional cost to you. See our Disclosure for more info.)
The Women Who Money Team and their family members use a variety of cell phone carriers.
We've researched and used MVNO's (Mobile Virtual Network Operators) and some of us still contract with the "Big 4" services (Verizon, AT&T, T-Mobile, and Sprint.)
There are so many MVNO's now and we've reviewed a couple – Total Wireless, Republic Wireless, and Tello Mobile, but our team hasn't used them all!
So we asked our friend "Busy Mom" from Countdown to Tranquility to provide us with a Google Project Fi review sharing her two-year experience with them.
Project Fi Review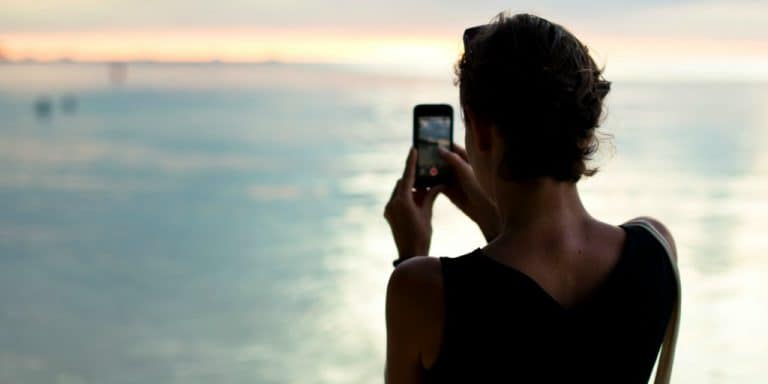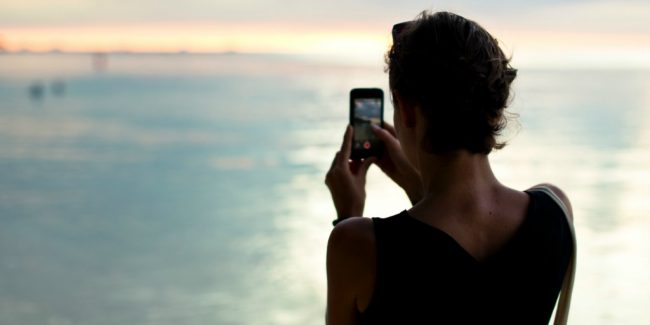 I was interested in Project Fi from the moment I heard it launched. The selling point? I only had to pay for the data I actually used!
I spent most of my time at home, the office, or at a place with free Wi-Fi (the doctor's, indoor soccer place, coffee shops, hotels,… ) and I didn't use much of my data.
What is Project Fi?
Project Fi is a cell phone plan from Google. However, they do not have their own network. They use a combination of Sprint, T-Mobile, and U.S. Cellular. They also try and use available WiFi over these different carriers. Switching from WiFi to cellular and back is seamless.
We just pay Google and let them do their magic.
Our Story
When Project Fi launched, we were using an AT&T connection. The bills came up to $117 for two connections. I had a Nexus 6 phone and asked for an invite (it was by invitation only at that point), and got one. There were not many reviews, and BusyDad didn't have a compatible phone. So I put it off.
A year later, BusyDad's phone stopped working. It became the perfect time! We got a Project Fi connection mid-2016, and have loved it ever since. And the best part? Our phone plan costs are just half now.
We also have connectivity when we are on international trips. Before switching, we would opt not to use a phone, or get a local sim whenever we traveled. We didn't want to waste money on international plans. Not anymore! It doesn't cost a lot to use the Fi phone abroad. I have billing details later in this post.
Low Costs
Right now, we have a group plan. The plan owner (BusyDad) pays $20 a month, and the rest of them (just me, here) pays $15 a month for unlimited talk and text. For each GB of data used, we pay $10. No rounding off – if you use 214 MB, you pay $2.14. And it is as simple as that.
With Project Fi, you get to decide how much you would typically use, and pay for it in advance. If you use less, you get it refunded. If you use more, you pay for it – no penalties. Here's my screenshot for the past few months.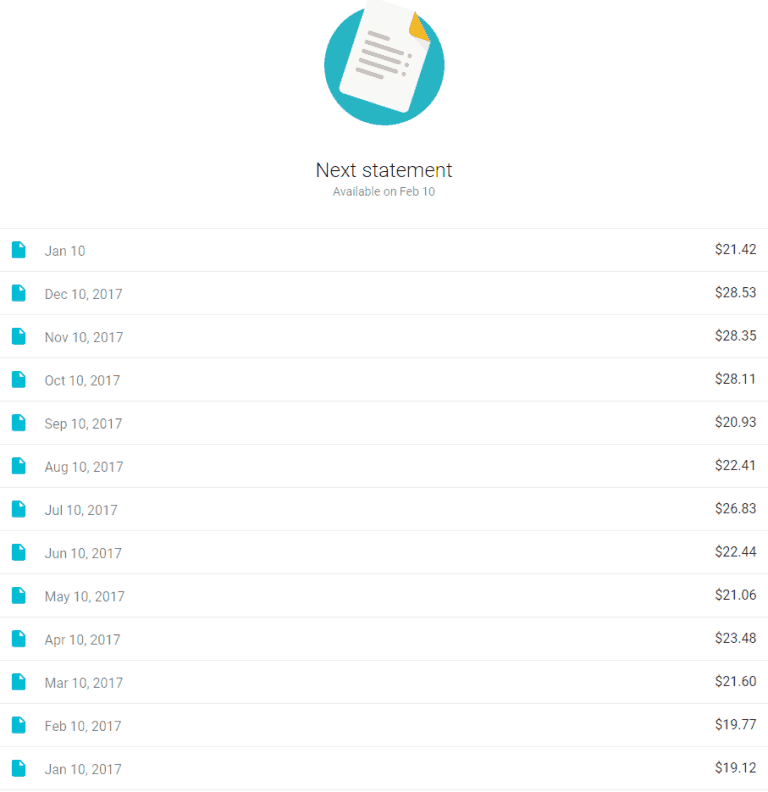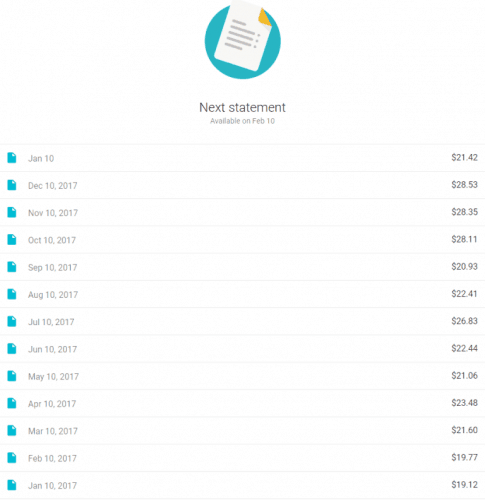 The rates vary depending on how much data you use. All of those months it went to $28+, I can explain. My son needed a bunch of physical therapy sessions, and I spent an hour (or sometimes more) per week just browsing on my data plan. In July, we drove cross country – east to west coast – and I did a lot of browsing on the way.
Free Data-Only Sim
We also got an extra sim card from them to use in my old Nexus 6 phone. I cannot make a call from it, and it is mainly used for GBoy to play Pokemon Go, and occasionally for Google Maps.
I do not pay for the connection itself – I just pay for any data used on the sim card. Many find it useful to have a tablet that takes sim cards.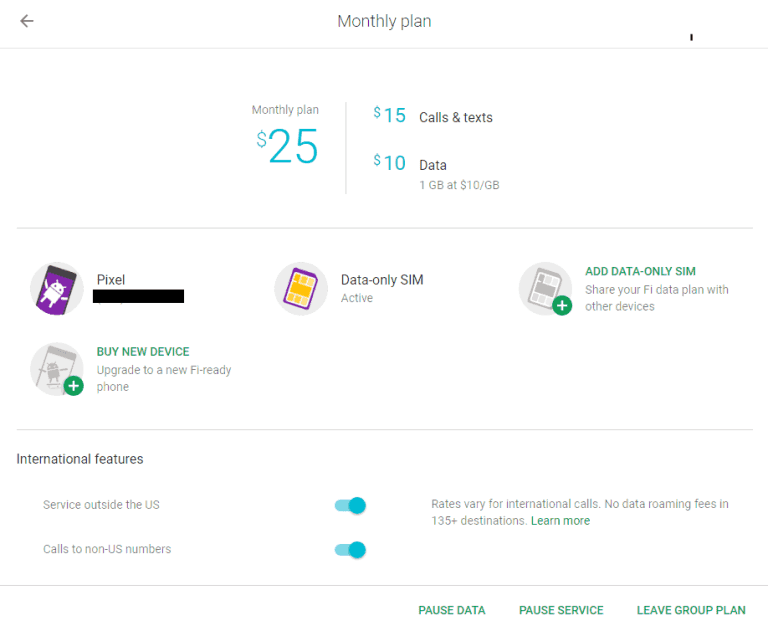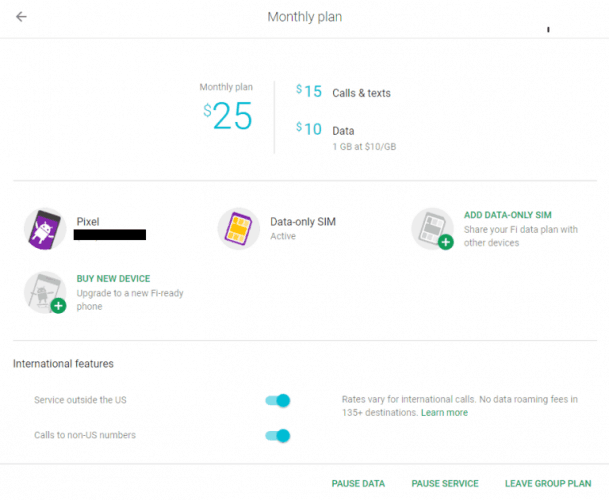 Easy To Understand Charges
There are times when I am trying to reduce the cost of something and try to understand what to do. With Project Fi, it is easy. No hidden charges and everything is adequately explained.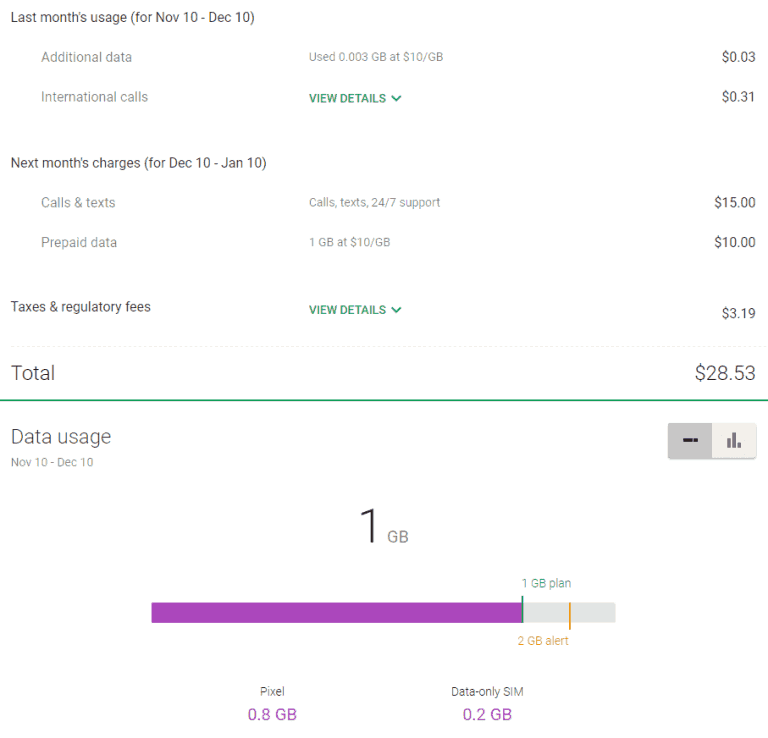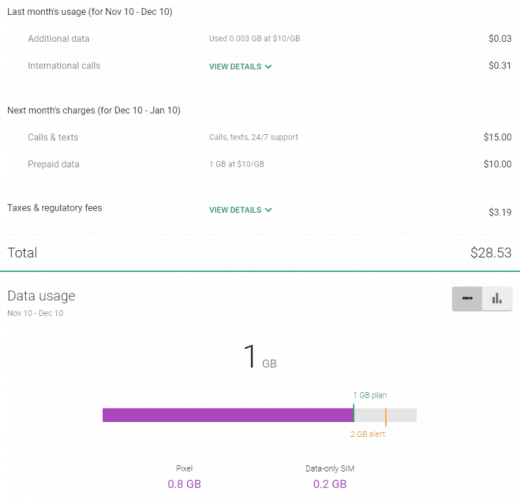 International Roaming
Data costs are the same on Project Fi, wherever you are. And texts are free. I have not sent an international text ever – I am not really sure about that part. What I do know is that you can send a text to a US number for free even when you are traveling.
As to the calls – if you are on WiFi, you don't get charged for a call to the US. If you are not connected to WiFi, you are charged 20 cents for each minute.
We have used it in India, Dubai, and the UK and it worked perfectly fine. Anyone calling us when we were traveling. wouldn't know we were traveling. It is just a regular call.
International Calls
I stopped getting a Skype subscription. The call rates are low enough with Project Fi that I now just directly call from my phone. To make calls to India or UK, it now costs me $0.01 a minute. See the screenshots below.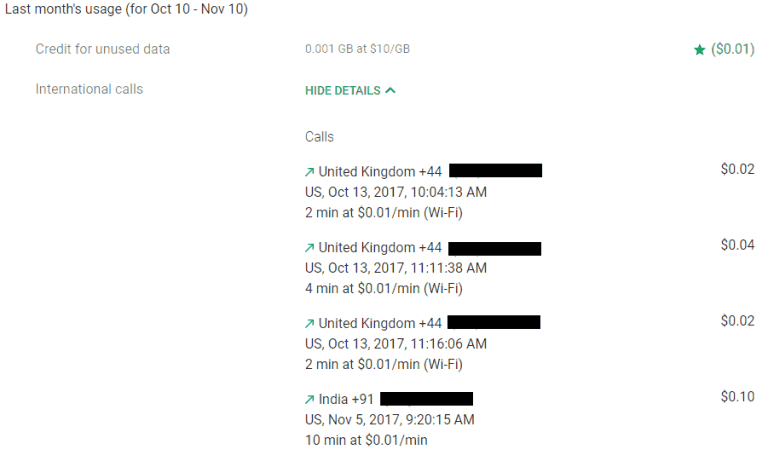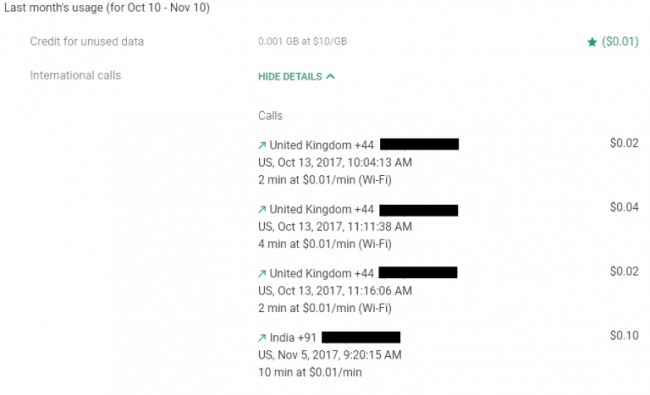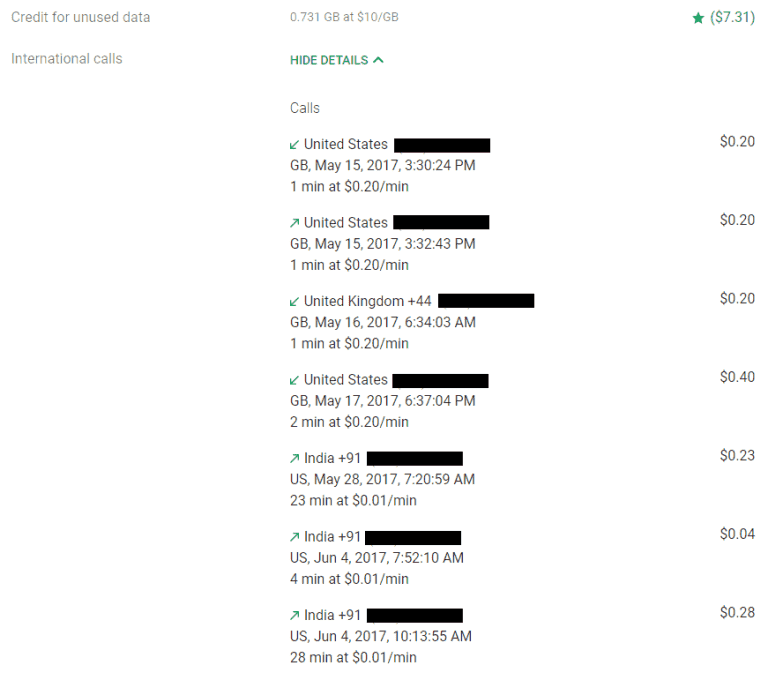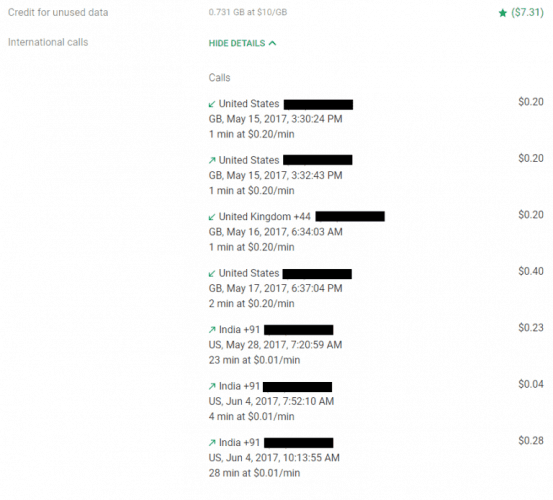 I had traveled to the UK during both of those months above. All those black rectangles – that was just me trying to black out the numbers I called/got a call from. I wanted to point out a few things I explained above.
On Oct 13, at 10:04 am, I was in the UK. I called a UK number, but I was connected to a WiFi network. It cost me a $0.01 per minute.
On Nov 5, at 9:20 am, I was in the USA. I called a number in India, and it cost me $0.01 per minute.
On May 15, at 3:30 pm, I was in the UK, and not connected to WiFi. I was charged $0.20 per minute for a call from the USA.
Coverage within USA
We have good coverage where we live. I have not had any issue with Project Fi. Last summer we drove from Boston to San Francisco and were happy with how well it worked.
We did find some parts of the country – somewhere around Utah/Nebraska/South Dakota/… where the coverage was spotty – but not enough to bother us. There was plenty to look at too, so I wasn't looking at the phone all the time!
Here's a coverage map. Be sure you check the areas important to you. However, even if you do not have coverage at a particular location, you can still make calls and get text messages if you are connected to WiFi.
When we were with AT&T, we had slightly lousy reception in certain rooms of our house/ That problem was fixed when we moved to Project Fi, thanks to our home WiFi.
Major Drawback
We have found one major issue with using Project Fi. You cannot just get a sim card and pop it into any phone. It only works with certain phones – Pixel 2, Pixel 2 XL, Pixel, Pixel XL, Nexus 6p, Nexus 5x, Nexus 6 and Android One Moto X4.
I have read reports on the internet about people using it in other phones, and it works pretty well – just not as exceptional as ours.
However, if you are going to get a new phone, you should consider moving to Project Fi. If you buy the phone directly from Project Fi, you have the option of paying for it over two years. We opted for that when we purchased BusyDad's phone. It was zero percent interest, and we had nothing to lose by buying it that way.
In retrospect, I think we could have moved to Project Fi even before BusyDad's old phone was not working. The cost of the new phone was more than offset by the difference in phone plan charges from when we delayed making that decision.
If you are considering Project Fi, I would suggest you do the calculations and see whether you should do it now, or when you change your phone next.
Is Project Fi for you?
It depends. If you spend a lot of time where you have access to WiFi anyway, it is probably for you. However, if you do not have access to WiFi most of the time, this may not be a great choice.
It really depends on how much data you use. If your data usage is over 3 GB or so per month, you may be better off getting it from a different provider.
Google recently introduced a bill protection plan where you do not have to pay for more than a certain limit. For one user, if you use 6 GB of data, you do not have to pay for additional data usage. For two, the limit is 10 GB. However, we have never used over 1.5 GB for both of us together, and have no use for the bill protection plan. It is good to have, though – in case we accidentally start downloading and streaming movies and go through data quickly.
Overall, if you review all Project Fi has to offer – I think you'd really enjoy it!
We'd like to thank BusyMom for stopping by and sharing her experience with Project Fi. It sounds like it works well for her family and it saves them a lot of money!
Related: Is Cell Phone Insurance Really Worth The Money?