Tello Mobile Review: A good (and frugal) cellular option
(This page may contain affiliate links and we may earn fees from qualifying purchases at no additional cost to you. See our Disclosure for more info.)
Low-cost cellular options that are flexible and reliable can save people hundreds (even thousands!) of dollars a year.
Tello Mobile is one such option that seems to fit the bill, providing flexibility, reliability, and savings – savings you can put toward important financial goals.
The Women Who Money Team and their family members use a variety of cell phone carriers. We've researched and used MVNO's (Mobile Virtual Network Operators) to save money while some of us still contract with the "Big 4" services (Verizon, AT&T, T-Mobile, and Sprint.)
Tello Mobile reached out to us to see if we would be interested in giving their cell phone service a try. For the sake of transparency, they gave us one of their older model phones to use with one month of cellular service. All opinions are our own.
A Review of Tello Mobile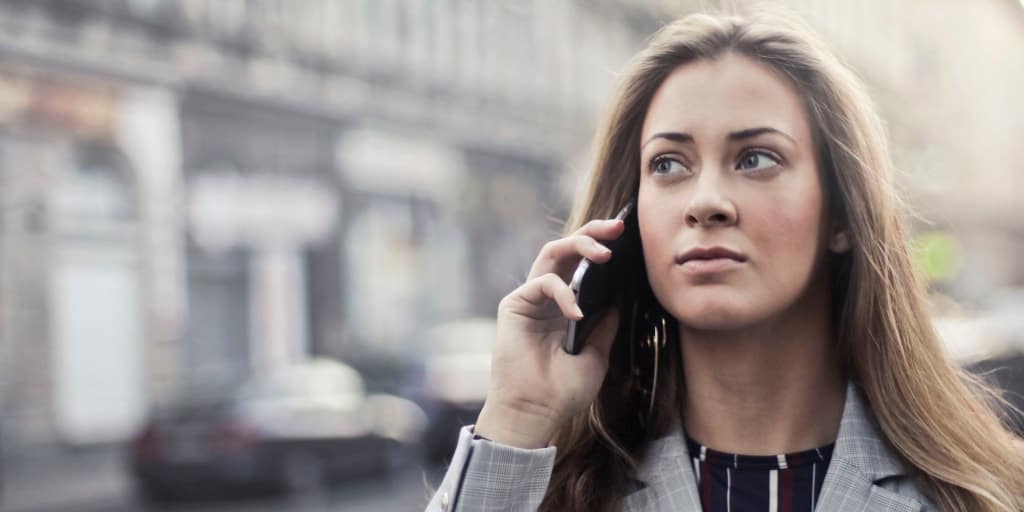 I'm always excited to give a new MVNO cell phone service a try. I've spent many hours learning about MVNO's and I've tried a number of them over the last decade.
Why do I keep trying out new cell carriers when I'm happy with my own? I want to check out every option there is and share my findings with our Women Who Money readers.
About Tello
Tello Mobile has been around for more than 3 years and their parent company has been in business since 2002. They provide inexpensive coast-to-coast cellular coverage on Sprint's 4G LTE Network.
To save you time and frustration, if you don't get good coverage on Sprint – Tello isn't a good option for you. But don't assume your coverage is poor if you haven't checked in a while!
Service is always being upgraded. (I get better Sprint coverage in some big cities than Verizon or AT&T!)
You can check your coverage by clicking on the link.
Tello Service Plans
Before I tell you more about my experience with Tello or what else they have to offer, let's look at how much you could save by switching to Tello.
One awesome feature of Tello is that they have customized service plans. They claim to be the "most flexible carrier in the US" and from what I've seen, I would agree.
This means that you get to build a plan that meets your needs. (You can always choose a popular plan Tello has already designed too!)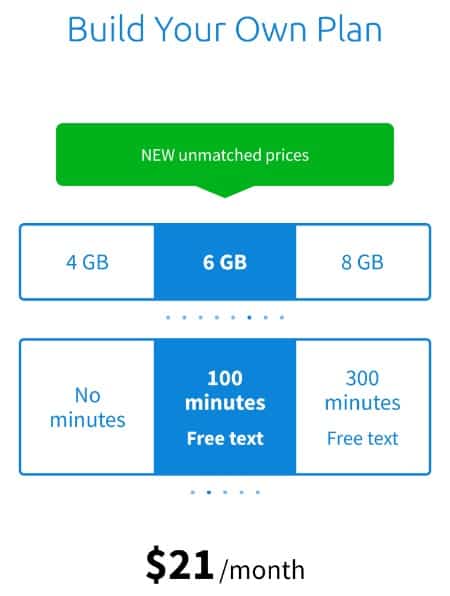 What if the plan you build doesn't have enough data or if you have way too many talk minutes? Just log in to your account and instantly change your plan.
Tello has an interactive "slider" that allows you to change talk minutes, text, and data amounts and it shows what you'll pay for each choice you make.
Here are five examples of popular plans Tello users choose.
Unlimited talk & text, 1 GB of 4G LTE data for $10/month
Unlimited talk & text, 2 GB of 4G LTE data for $14/month
100 minutes talk, free text, 6 GB of 4G LTE data for $21/month
300 minutes talk, free text, 1 GB of 4G LTE data for $8/month
Unlimited talk & text, 12 GB of 4G LTE data for $39/month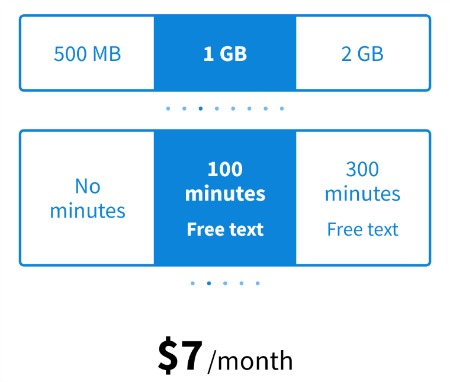 Tello plans all come with unlimited texting and prepaid plans also have unlimited 2G data when you've reached your plan's limit. But you can also change your data plan if you need faster data and yours runs out!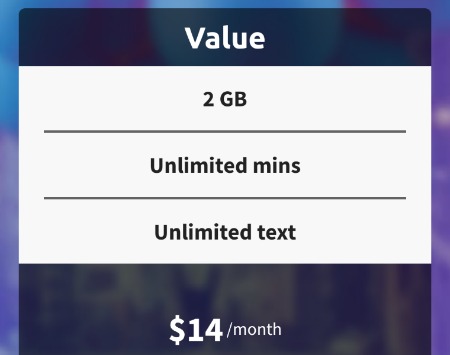 If you want unlimited 4G LTE data, Tello probably isn't a good option for you. But check your data usage before you assume you need it to be unlimited.
You can also check out Sprint's unlimited (and other) plans for comparison. Just be sure to read the terms and conditions and don't forget to include taxes, fees, and surcharges that might not be included in advertised prices.
(Note: Tello does have to charge mandated taxes and fees. But they don't charge any fees that are typical for many carriers including maintenance, line, upgrade/downgrade, or late fees.)
Recommended: Is Cell Phone Insurance Really Worth The Money?
More That Tello Offers
Tello is a no-contract cell service provider. If you aren't happy with Tello, you can end your service and move to another carrier whenever you choose.
Many MVNO's don't allow or support tethering. With Tello, you can turn your phone into a hotspot for free. This allows you to connect multiple devices or share your data with friends.
If you have unused minutes or data, they'll be lost when your prepaid plan is automatically renewed.
They do a rollover if you manually renew or change your plan before the end of your current billing cycle. You'll have to ensure the new plan contains the services that you previously had though.
You can buy phones from Tello (generally older and more inexpensive models) or BYOP (bring your own phone) if it's compatible. Check to see if your phone will work with Tello.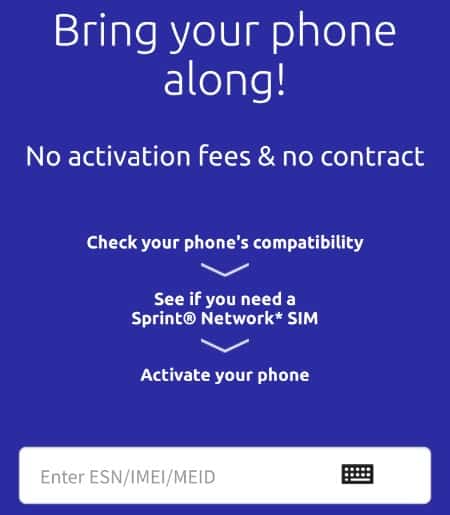 Tello also has a referral program where you can earn Tello Dollars if your friends and family sign-up for Tello service.
The Tello website and dashboard are easy to understand and use. And the My Tello app helps you keep track of your cell service from your phone.
If you need international calling, the minutes included in a cell plan are available for the US, Canada, Mexico, and China. If you need to call other countries, you can use Pay As You Go – available for both international calls and texts.
At this time, Tello doesn't offer international roaming. However, while abroad, you can use the My Tello app to make outgoing calls over WiFi using your plan balance.
You won't be able to receive incoming calls, however. Some customers appreciate this feature as they get to keep the US number when they are abroad for long periods of time for as little as $5/mo.
My Experience With Tello
I used my Tello phone and service for a month and I traveled through 5 states during that time. I checked my coverage in the cities I was staying in and as we drove between NY, PA, OH, IL, and WI.
In every city we stayed in, I had great service with Tello (full bars whenever I checked). We also had very good service on all of the major routes we traveled.
At no point when I checked my phone during the month was I totally without service.
But obviously, your service may vary based on where you are and Sprint's coverage in that area.
I used the phone to make calls and I texted with it a number of times. They both worked with no issues at all. I used data and websites always loaded fast.
Unfortunately, I can't comment on Tello's customer service because I never needed it!
But you'll read plenty of positives about their customer service in Tello reviews. When you go to their Contact page, you can reach Tello 24/7 by phone, email, chat, and you can always send them a letter!
You can also check them out and connect on Facebook and Twitter, or subscribe on Youtube.
In my opinion, Tello is a low-cost, reliable, and flexible cell service option if the Sprint Network meets your needs.
Unfortunately for me, we don't get great Sprint coverage in our home – so I can't switch to Tello right now. But it is definitely a plan I will keep my eye on overtime and when we move to a new area.
Update:
I had the chance to use Tello more during the summer of 2020 when we lived in a different city.
Instead of getting an internet connection, I opted to use a second phone and ordered Tello service, and got an unlimited data plan with no minutes.
For $39/month, I was able to use my phone as a hot spot for my laptop and I didn't have any issues at all. I used the service for four months and was very happy not having to deal with getting the internet!
Just make sure that you always double-check your service in a given area. Tello doesn't work well in my hometown, but where we were staying – I had full service and no issues at all!
Final Thoughts on Tello Mobile
While Tello has plenty of competition from other MVNO's, it is certainly an option to consider if you get good Sprint coverage and want to save money.
With service plans from $5/mo to $39/mo, Tello has plenty of customers singing their praises.
Tello plans may also be a great choice for your kids' first phone because you can buy a plan starting from just $5 for 100 Min + Free Text + No Data.
One thing we really like about Tello is how it strives to be fair and transparent to every customer. In June of 2019, Tello decreased rates, but not just for new customers.
According to our contact at Tello:
"85% of Tello's existing customers got a plan upgrade (more minutes, more gigs or both added to their current phone plan). For example, for unlimited talk & text +1GB data, all of our clients didn't pay $14 anymore, they started paying $10 for the same plan."
We appreciate that Tello is trying to take care of their current customers too!
If you're a Tello customer or if you've used Tello in the past, feel free to share in the comments. If you have questions about Tello or other MVNO cell service providers, we're happy to work to find answers to your questions.
This Tello Mobile review comes from Vicki, co-founder of Women Who Money and founder of Make Smarter Decisions. She currently has four phones on Total Wireless. In the past, she's used Republic Wireless, Project FI, and AirVoice Wireless.