Tiller Money Review: A better way to manage money in 2021
If I had to name just two things that have helped my family more than anything else with our money management and financial plans, it would be tracking our spending transaction data and automation.
When we first set out to take charge of our financial life and pay off our debt, we needed to find ways to slash spending and expenses. To do this, we tracked every single penny that went in and out of our lives.
At first, I tracked everything in a binder with paper and pen. Later, I created my own financial spreadsheets for spend tracking and net worth tracking.
We saved all of our receipts and bills, and each week I manually recorded all our daily transactions and other financial data in my budgeting spreadsheet.
This took some time. But we realized we spent less and saved more when we tracked everything, making it worth the time and effort to monitor our transactions and cash flow.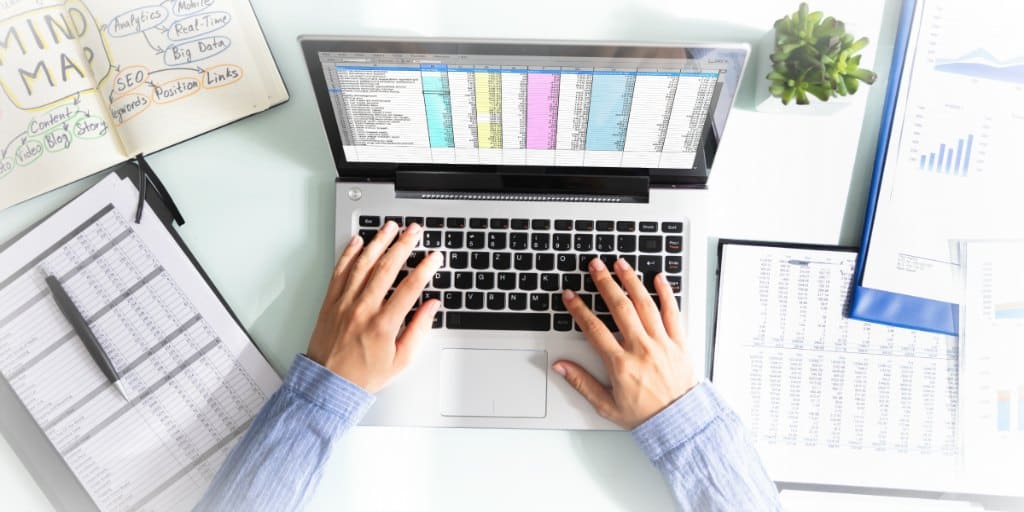 Enter Tiller Spreadsheets
A couple of years ago, I heard about Tiller, a spend-tracking financial service that utilized one of my favorite tools – spreadsheets.
I was already using Google Sheets, and since Tiller offered a simpler and faster way to track spending with a Google Sheet, I gave it a try.
Admittedly, at first, I wasn't sure this financial tool would work for me. I had my spend tracking routine down and liked the financial spreadsheet I'd created.
But once I got all my bank accounts synced with Tiller and started using it, I was sold. Not only did it save me a ton of time (hello automatically categorized transactions!), but I could customize it to my needs.
Also, Tiller's monthly budget template helps me keep tabs on our spending each month (not to mention the ability to analyze annual spending).
Also, a funny thing happened the first couple of months I used Tiller. It suddenly seemed like our spending was higher than it was when I was tracking on my old spreadsheet.
After a little digging, I discovered that, since Tiller was automatically pulling all my transactions from not only my checking account and savings account but from my credit card accounts too, it was picking up spending that had gotten lost when I did it manually.
Online spending was (mostly) to blame for the missing expenditures. Since I didn't have physical receipts, this spending often got overlooked before.
What is Tiller Money?
Tiller Money is a service that connects to your online financial accounts and, each day, it automatically puts all your financial transactions and account balances into a Google or Excel spreadsheet (your choice).
Just don't make the mistake of thinking Tiller is only an automated budgeting software.
Creating your spreadsheets from the finance templates within Tiller can help you hone in on discretionary spending habits, track your side gig income, establish and monitor your debt payoff strategy, and keep tabs on your net worth.
Inside Tiller Money
Account setup with the Tiller personal finance app is easy. You can quickly sync to your bank accounts, credit cards, investments, and loans.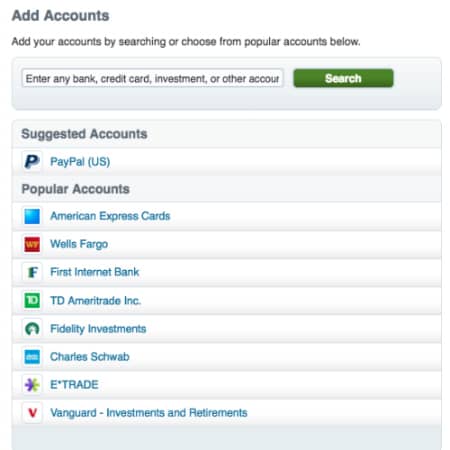 Categorization
Once your financial feeds are connected, you can categorize the financial transactions yourself, or set up Tiller to automatically classify the bank data for you.
If you're like me and want to be more hands-on with your budget and categories, you can set up your own budget categories and categorize transactions yourself.
Tiller even offers a Tiller Splitter Add-On allowing you to split one transaction into different categories.
So if you buy household items and groceries at the same time, you can split them out into separate categories.
If you don't want to spend time categorizing each financial transaction, the AutoCat Add-On will categorize your transactions as they come in.
This feature allows you to set up your own "rules" for categories and is especially helpful for recurring expenses.
Budget and Net Worth Templates
Tiller provides a variety of Excel and Google Sheet templates for different financial tracking needs.
They offer free templates for budgeting, debt payoff, business and freelancing, net worth tracking, weekly expense trackers, and more.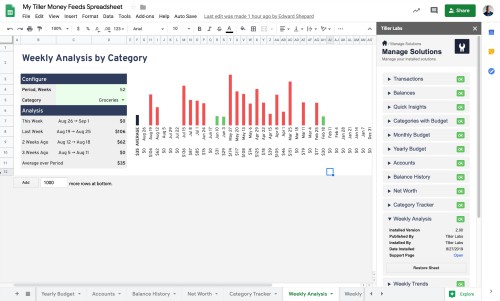 Create Your Own Customized Sheets
If you'd rather make your own Excel spreadsheet or Google Sheet, Tiller has a Build Your Own feature.
Not only can you customize your categories, but you can create your own templates, financial reports, or other spreadsheets.
The nice thing is, you can play around with it and figure out what works best for you.
Daily Email
Tiller will email you every day with the updated transactions from your synced accounts.
This budgeting tool is an excellent way to keep up-to-date on your spending and account balances daily in just a few seconds.
Shareable
If you share your finances with your partner (or even your CPA), it's easy to share your financial information with Tiller.
The nice thing is, you can decide what specific information you want to share from your linked accounts. And also how you want to share it.
You can control whether or not the other person can edit your net worth tracker, budget spreadsheet, or other financial transactions and sheets and how long they have access to the information you share.
Security
Your Tiller data is fully encrypted just like your bank or credit union. Also, you are the only person who can see what's in your Tiller sheets (unless you share your information, of course).
Estate Planning 101 launches on Aug. 3rd - Preorder today to nab these valuable Early-Bird Bonuses – details here!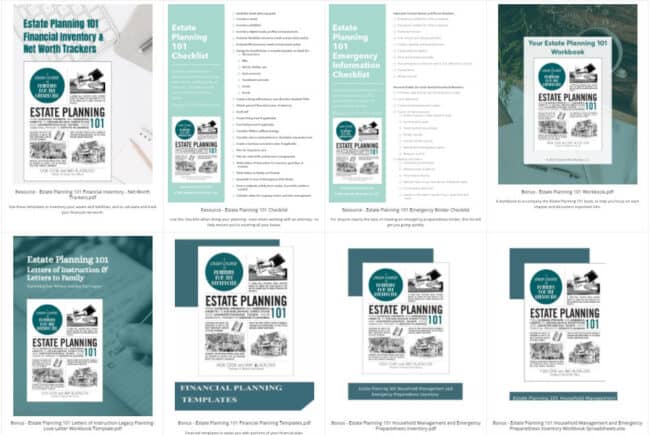 Tiller's access to your savings and checking accounts, credit card spending, and other financial account transactions, is limited to read-only, and no one from Tiller can see your financial data.
Price
Tiller offers a free 30-day trial. After the first 30 days, Tiller will charge your credit card if you don't cancel. Tiller costs $79/year (less than $7/month). You can cancel at any time.
Tutorials
Tiller has a series of tutorials that take you through the setup process (which only took me a few minutes). There are also many articles on their site to help you learn to use the templates or sheets.
Tiller has a team available to answer any questions or provide troubleshooting help.
Access from Anywhere
Another thing I like about Tiller is the ability to access the information from my phone through my Google Sheets app.
So, when I'm out and about, I can check in on where we stand for the month or categorize my transactions while waiting for an appointment.
Community
The Tiller Money Community is a place for users (and the Tiller team) to share and seek inspiration, tips, and input from other personal finance enthusiasts on using the Tiller system and spreadsheets.
You can collaborate with other spreadsheet and money nerds to learn and share as you progress on your financial journey.
Is Tiller for You?
For me, Tiller is the perfect personal finance app for combining the two best ways to keep my family on the right financial track: tracking spending and automation.
It allows me to easily track our cash flow and see every penny going in and out of our accounts, saving me a ton of time. And I love how easy it is to check the annual budget sheet to see where our spending is for the month and year.
I'm not the only one that's fallen in love with Tiller. They won the 2018 "Best Wealth Management Tool" Fintech Breakthrough Award.
Reasons you'll love Tiller Money too:
Your transactions import automatically from your bank/financial institutions' data feeds
You have complete control of the settings to categorize your transactions automatically
Tiller supports Google Sheets and Microsoft Excel
You can add, delete, and rename transaction categories to create your own budgeting system
Utilize multiple spreadsheets and link different accounts to individual sheets to separate your financial goals or keep your side hustle income out of the family budget
Templates to get you started – Foundation Template + Tiller Money Labs
Daily email notification of account balances and activity to easily keep tabs on cash flow
US-based customer support team and live weekly webinars
Committed to your privacy and security
Tiller is a powerful tool to help you create a financial plan, monitor savings goals, understand spending behaviors, track your debt snowball payoff strategy, monitor your yearly budget, and so much more!
The beauty of Tiller is in its simplicity and flexibility.
If you like spreadsheets, you'll love Tiller to help you stay in control of your money, no matter your financial situation.
But, even if you've never used a budget spreadsheet or budgeting software before, it's super easy to learn how with Tiller's tutorials and Foundation template.
For a quick and easy way to get an up-to-date, comprehensive picture of your cash flow and manage your money with the ability to customize your financial information, Tiller could be an excellent tool for you. Check it out today!
If spreadsheet software isn't your thing, check out our review of Personal Capital – another powerful financial tool to help you easily monitor your finances – or these other budgeting methods.
Review written by Amanda
Updated Dec 2020
Find our other product reviews here