Find the Budget Method That's Best for You
(This page may contain affiliate links and we may earn fees from qualifying purchases at no additional cost to you. See our Disclosure for more info.)
It doesn't matter how you do it, in a notebook, on a computer, online, or in an app, as long as you're doing it! Budgeting is an important part of adult life.
If you're wondering why you need a budget or spending plan, according to Experian, Americans ended 2019 with consumer credit card debt at a record high of $829 billion.
Having a personal budget will help ensure you aren't doling out more money than you have.
A good spending plan can help you avoid taking on debt and reach financial goals – like becoming debt-free or saving for retirement.
This means you can pay cash for that trip to Greece you've been dreaming of, save the downpayment for a house, or even pay off your car.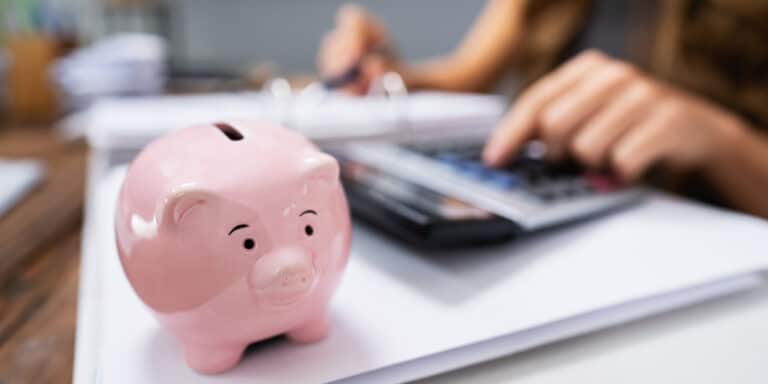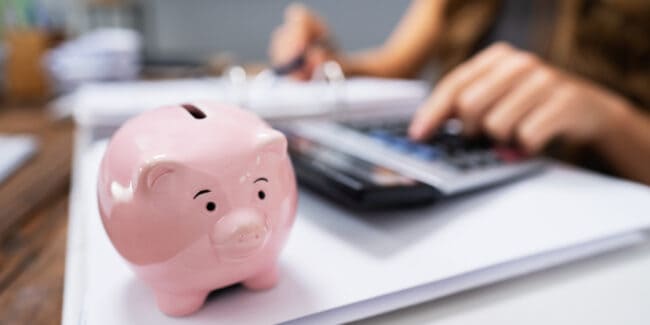 It also means you don't have to go into debt for that handbag you've had your eye on and can't stop thinking about.
So what budget method is right for you? The one you'll use!
You may need to try a few different types of budgets to discover the one that suits your lifestyle.
The important thing is that you find a method of budgeting that works and stick with it.
Types of Budgeting Methods
Because we all have different incomes, expenses, and priorities, there is no one-size-fits-all budget system.
So take a look at the following personal budgeting options to explore what will work best for your financial situation.
Line Item Tracking (Traditional Budget Method)
When you first get started with budgeting we recommend you track your monthly income and expenses for a period of time so you understand how money is flowing in and out of your household.
From there you can create a line item budget for future spending and saving.
The initial tracking can be time-consuming, but it's an important part of the budgeting process.
You won't know how much money you have to allocate to your various spending and saving categories if you don't identify all your household income, expenses, and spending patterns.
Some of your monthly spendings are "fixed" – mortgage or rent, insurance premiums, and loan payments. Others are "variable" – groceries, utilities, fuel, or "discretionary" – gifts, travel, and entertainment.
You may need to track both kinds of spending for a few months to develop a solid working budget.
But don't give up! The information you gain will help you create a budget and make progress toward accomplishing your financial goals.
You can track your purchases and build your line-item budget in a notebook or use a spreadsheet. You can also go digital and use an app (we review a variety of options below).
Cash Envelope System
The cash envelope method is an old way of budgeting that's been around for years – because it works! This system is great for visual and/or tactile learners since you're dealing with actual cash.
To use this system you budget your larger expenses and put them on auto-pay like your rent or mortgage, gas bill, the electric bill, cell phone bill, and savings.
From your remaining funds, you withdraw cash and put it into different envelopes. You label the envelopes and add money for groceries, dining, fuel, or entertainment.
The one rule is you then can only spend what you have in each envelope.
For example, you budgeted $250 to spend on groceries and put two $100 bills and a $50 bill in your grocery envelope. When checking out at the store, the total comes to $255.
In this situation, you would need to put something back since you do not have the money available to spend.
Using this personal budgeting method takes a lot of discipline and self-control and there's always the risk of misplacing an envelope full of cash!
But when utilized properly, the cash envelope system is very effective in helping you learn to stay on budget and to curb overspending.
Another bonus to the envelope budget system? No start-up fees or apps to purchase. Just grab a few plain envelopes and you're good to go.
Zero Based Budgeting Method
With zero-based budgeting, you allocate every single dollar you have in your account into different expense and savings categories.
This budgeting technique takes line-item budgeting a step further because it gives every dollar a "job" whether it's paying your rent, going toward your cell phone bill, or building an Emergency Fund.
You shouldn't have a penny sitting in the "to be budgeted" pile. Every cent has a job to do from taking care of your housing and transportation needs, to building your nest egg for retirement.
For example, if you have $250 in your grocery category and you spend $255 – you can easily take an extra $5 from your dining out category, bringing that down from $100 to $95.
That way, you aren't going over budget in one expense category but learning to balance your budget holistically and decide what categories and expenditures are important to you.
If keeping your spending limit for dining out at $100 is important to you, then you may decide to put something back at the grocery store so you stay under your $250 grocery budget.
It's easy to be flexible with this system. With that being said, this system may work best for those with a regular income as opposed to someone budgeting with a variable income.
Needs-Wants-Savings Method (50-30-20 Budget)
This system puts a focus on savings.
To follow this method, take your after-tax income and split it into 50% (or less) for needs, 20% (or more) for savings/debt repayment and 30% (or less) for wants.
Each person needs to define their wants vs. needs.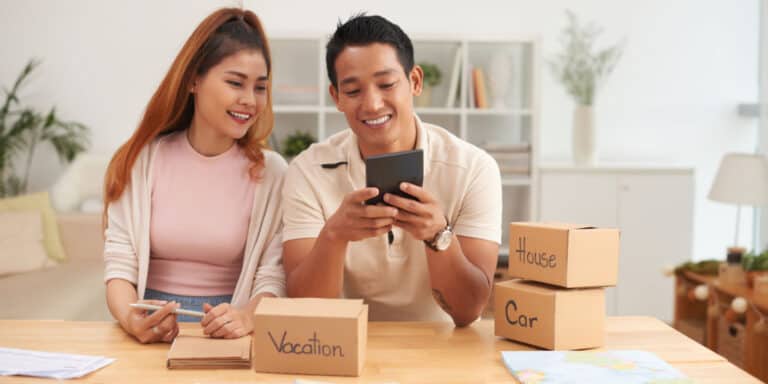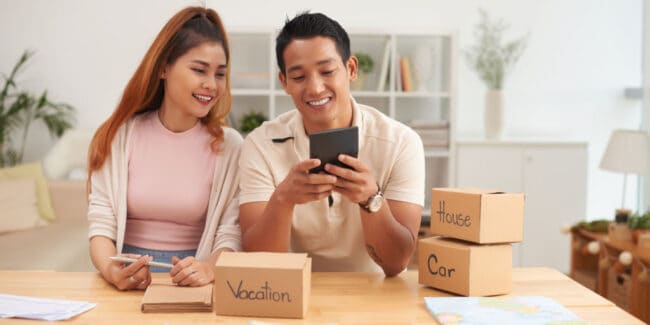 For example, for those who work from home: the internet will be a need. Someone who's out working in an office all day and has great cellphone reception at home may consider the internet a want.
But you'll have to be honest with yourself when defining your wants and needs.
To start using this method you need to analyze your spending habits and see where you can reasonably cut costs.
This is where your earlier tracking comes in. You could also review your bank and credit card statements over the last few months and see if you can find common trends.
Are you going out to eat 4-5 times a week? Can you make dinner at home or have a potluck with friends instead of going out to eat?
Are you paying for 6 different streaming services? Maybe you can cut half of those out.
Additionally, this method is also great to use in conjunction with the cash envelope system and the zero-based budgeting system. You can easily calculate how much should be going into each category or envelope.
Savings First Method (80-20 Budget)
While the 50-20-30 Budgeting Method puts a focus on savings, the savings first method stresses it even more.
With this system you save 20-30% of your income first, then the remaining 70-80% can be spent on your needs and then some of your wants.
This system is great for those looking to supercharge their savings efforts. You can pursue one savings goal at a time or several at once.
The savings first method is one many people use when they're behind on their retirement savings or are pursuing financial independence.
Budgeting Software and Apps
There are many budgeting software programs and financial apps that will help you budget at home and on the go.
Quicken
The most popular budgeting software is Quicken. It has been around since 1983 and is still popular for good reason. Although it's a bit old-fashioned, it provides an excellent overview of all of your financial information.
It will help you track your banking, investments, retirement, and even credit card debt.
There are three different levels for Mac users (ranging from $35.99 – $77.99 a year). There are four levels available for PC users. The extra PC option allows for business and personal finances to be managed in one place (ranging from $35.99 – $103.99 a year).
MoneyDance
MoneyDance is an alternative to Quicken that also provides a free app. It is available on Mac, Windows, Linux, iOS, and Android.
Moneydance can automatically download your transactions from your online banking. It also, over time, learns how to categorize your transactions.
Additionally, it provides an overview of all your finances, keeps track of any investments you may have, can handle multiple currencies, and creates detailed graphs and charts.
Moneydance may not be the best for budgeting beginners. It does have a lot to offer those who are more experienced and want to track their net worth monthly. MoneyDance is available for a one-time fee of $49.99
Mint
Mint is a free web-based software that comes with an app (budgeting win!) The free plan includes all your accounts in one place, bill payment tracking, budget alerts, and more.
Avoid the option to upgrade for credit monitoring. There are plenty of free options for that so save your money!
Tiller Money
If you like spreadsheets (and even if you don't), you'll love Tiller Money.
Tiller has Excel and Google Sheets templates for budgeting, debt payoff, tracking expenses or savings goals, calculating net worth, and more.
You can also build your own or use a template from the Tiller Money Community.
Tiller offers a free 30-day trial. After the first 30 days, Tiller costs $79/year (less than $7/month). You can cancel at any time.
You Need A Budget
Another popular zero-based budgeting app is You Need A Budget.
YNAB offers free live workshops and free video courses to help you get started! (YNAB is free for 34 days and then $11.99/month or $84/annually)
Other notable budgeting apps:
Conclusion
No matter what budgeting system you choose, you'll need to put in the time and effort to get it set up and keep it updated on a daily, weekly, or monthly basis.
No software, no matter how much you spend on it, is going to do the work for you.
Work on overcoming any budgeting obstacles you currently have or discover. And once you get a monthly budget system in place, it will become easier and the benefits will outweigh the time spent doing it.
Having a budget that works for you will help you save for a rainy day, avoid going into debt, get out of any debt you may already have, identify any bad spending habits, and build a solid financial house.
Article written by Jessica Strull, a freelance writer who works with leaders looking to drive employee engagement and increase customer satisfaction. Jessica holds a bachelor's degree in Human Resource Management. When she's not writing you can find her binging bad movies, reading great books, or hanging out at Walt Disney World. Find Jessica on jessicastrullwrites.com or LinkedIn.