AAA Membership: Is it worth the cost?
(This page may contain affiliate links and we may earn fees from qualifying purchases at no additional cost to you. See our Disclosure for more info.)
Whether you own a new or used vehicle, there's always a chance of having car trouble.
It could be a dead battery preventing you from getting to work or a flat tire on your way home. You might lock your keys in the car, run out of gas in a traffic jam, or slide off an icy road.
You'll probably be able to handle some vehicle issues on your own, but there are definitely some car problems requiring extra help.
People who purchase new cars may have roadside assistance included for a set period.
But if you drive an older car, you may have to decide whether it's worth it to buy a roadside assistance plan from your insurance company or purchase coverage through a program like the American Automobile Association (AAA).
While AAA memberships offer more benefits than just roadside help, it also costs a lot more.
Let's take a look at whether a Triple-A membership is worth the cost or whether a less costly option will meet your needs.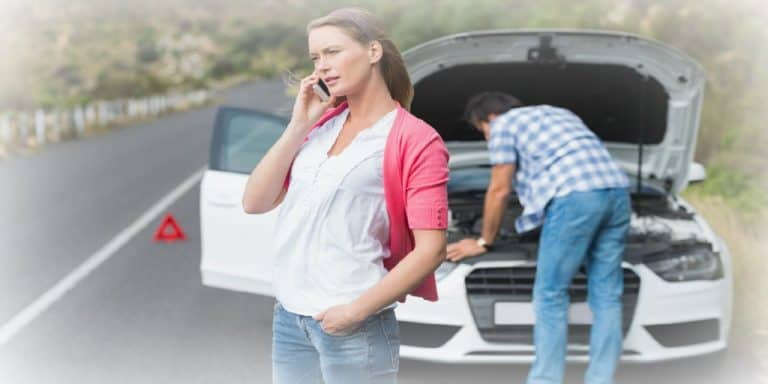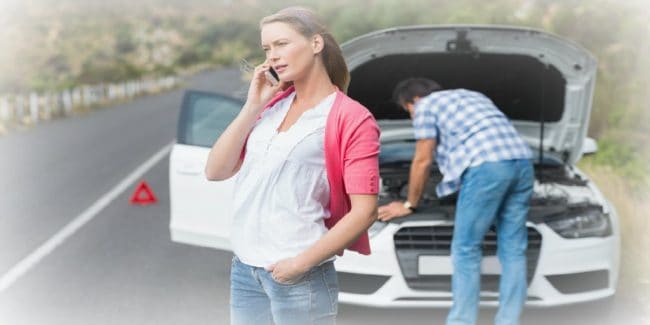 Some Background on AAA
AAA has been around for over a century! Back in 1902, nine motor clubs with about 1500 members came together to focus on personal mobility, improving highways, and concentrate on public safety.
The non-profit federation of motor clubs now boasts more than 40 clubs with over 59 million members in the US and Canada (CAA).
Triple-A focuses on advancing knowledge and raising awareness about distracted driving, transportation and infrastructure safety, environmental responsibility, and air travel safety.
Membership Levels, Benefits, and Costs
I'm a member of the Western/Central NY AAA motor club, and the information below is from my club's website. Rates can vary depending on where you live.
Click on this link and enter your zip code to see what you would pay for membership through your local club.
One of the most significant benefits of a AAA membership is coverage for roadside assistance – whether you are the driver or a passenger!
Here are the three levels of membership you can choose from and some of the key benefits at each level. Membership fees are annual.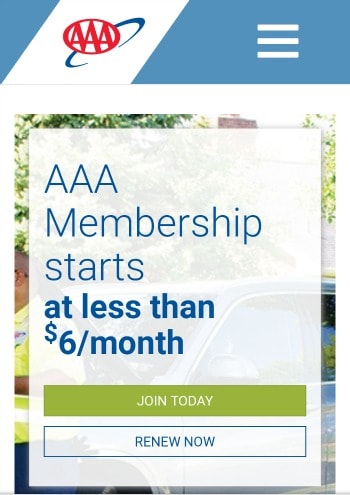 AAA Basic (Classic)
Primary Member – $57, Additional family members, $41
Annual Service Calls – 4
Miles of Free Towing Per Call – 5 miles
Fuel Delivery – Free Delivery (fuel cost extra)
Locksmith Service for Car – $50
Tire Change
Emergency Extraction/Winching
Bicycle Assistance
AAA Discounts and Rewards
Travel Planning
TripTiks, TourBooks, Maps
*AAA Plus (my membership level)
Primary Member – $90, Additional family members, $62
Similar to Basic Membership w/ Following Changes/Additions:
Miles of Free Towing Per Call – 100 miles
Fuel Delivery – Free Fuel and Delivery
Locksmith Service for Car – $100
Motorcycle/RV Coverage – Optional $35 rider
Trip Interruption Protection – $350/member
AAA Premier Membership
Primary Member – $118, Additional family members, $80
Similar to Plus Membership w/ Following Changes/Additions:
Miles of Free Towing Per Call – 200 miles (1 of 4), 100 miles (3 of 4)
Fuel Delivery – Free Fuel and Delivery
Locksmith Service for Car and Home – $100 for each
Trip Interruption Protection – $1500/member
Free Travel Booking
Free Rental Car (1-day) with Tow
Annual Carfax Report
Other Benefits
AAA provides more than roadside assistance to its members. Each club offers different discounts and rewards, and they all offer reduced prices to local attractions.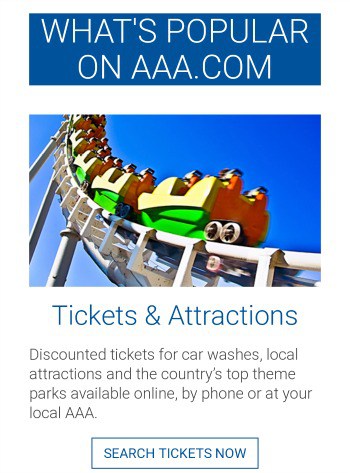 In addition to discounted tickets, you can save on hotels, rental cars, food, prescriptions, sports, electronics, car washes, movie tickets, and more.
Click on this link to see all of the different ways you can save by having a AAA membership.
Triple-A also offers an online Defensive Driving course that you (and your teen driver if you have one) can take to save you money on insurance premiums.
Call your insurance agent to see how much money you can save if you complete this course successfully.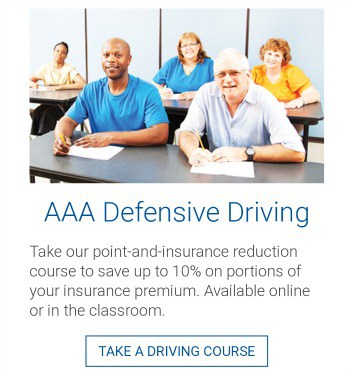 Other Roadside Assistance Options
A Triple-A membership isn't your only option for roadside assistance. For less than $25/year, many insurance companies offer it in addition to car insurance policies.
It's important you check with your insurer to find out the cost of roadside assistance, the benefits provided, and their specific requirements.
While it might seem crazy not to use the cheaper roadside assistance offered by your insurance carrier, personal finance expert Clark Howard says there's more to consider.
Some auto-insurers treat roadside assistance calls as claims which become part of your C.L.U.E. report (Comprehensive Loss Underwriting Exchange). This is a shared database insurers use to determine insurance rates.
If you use roadside assistance too often, these claims may end up affecting your insurance rates.
Your insurance agent should be able to answer questions about this. Unlike with the AAA service, these insurance plans usually cover the vehicle and not the driver.
Some premium credit cards also offer roadside assistance as a benefit. Check to see if you hold a card that could take the place of paying for a AAA membership or adding to your car insurance coverage.
Self-insuring is another option for those who prefer to save money over paying for a membership they might not use and discounts they're not likely to take advantage of.
Some may choose to use an emergency fund for unexpected car troubles.
But if your vehicle is older or you've already had mechanical problems, you might save money as a AAA member for car problems instead.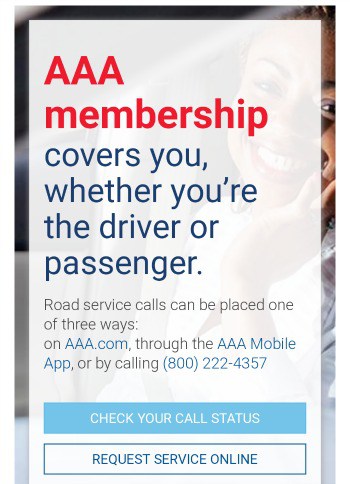 Is AAA Worth It?
This year, we paid $152 for our AAA Plus memberships (for primary + one additional family member.) And at this point, we haven't used AAA's roadside assistance once.
We're happy about that because it means our older, high-mileage cars are running well, and we haven't run out of gas or locked our keys in the car!
While we've not used roadside assistance we don't feel we've wasted money. We've saved some money using AAA discounts at hotels, for rental cars, and airport parking.
The discounts don't add up to what we paid for our memberships, but we still think it was a smart move for our family.
With three high mileage cars, thousands of miles of travel, and our child with a car in a different state, being a AAA member helps us sleep better at night.
We may not renew it every year, but for the next few years – you'll probably find a card for Triple-A in my purse and in my son's wallet!
This review was completed by Vicki, one of the co-founders of Women Who Money and Women's Money Talk. She's held a AAA membership on and off during the last 30 years. She's currently a Plus-level member with an add-on for her son who has a car at college six hours away from home.