Acorns Review 2023: A great app to begin investing
(This page may contain affiliate links and we may earn fees from qualifying purchases at no additional cost to you. See our Disclosure for more info.)
Among the various popular investment apps, one of the buzziest is surely Acorns.
Through the Acorns app, you can bank, save, and start investing with just your spare change or more.
With celebrity backers such as Ashton Kutcher, Dwayne Johnson, and Kevin Durant (plus a host of well-known corporate names), Acorns' website reports it has grown to 9 million subscribers.
Should you be one of them?
Using Acorns to Invest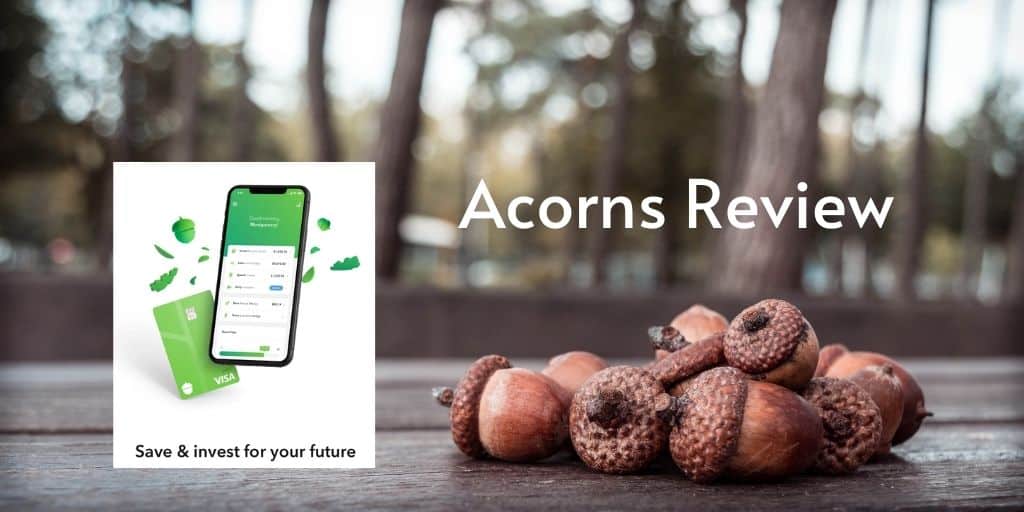 Like its competitors, such as Fidelity, Vanguard, Betterment, E*TRADE, and newer rivals like Robinhood and M1 Finance, Acorns simplifies the path to investing by offering a user-friendly interface.
And in Acorns' case, extremely low barriers to entry.
Through Acorns, one can invest in a range of low-fee ETFs (Exchange Traded Funds), representing both equities and bonds.
Most recently, their investment options have broadened to include an ESG (environment, social, governance)-themed ETF option.
After downloading the investing app and setting up a user account, you'll be directed to complete a short survey to gauge your investment risk preferences and financial goals.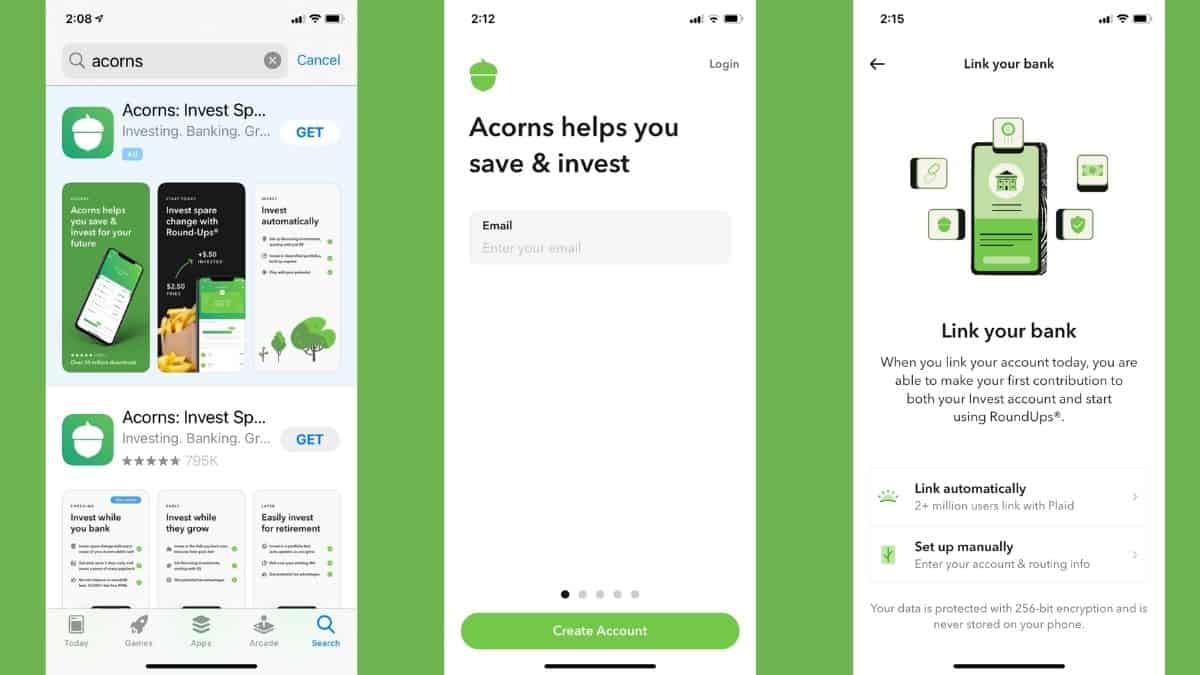 Based on your response, the Acorns computer algorithm proposes a diversified portfolio that mixes a variety of ETFs holding the securities suited to your parameters, from aggressive (mostly stocks) to conservative (primarily bonds).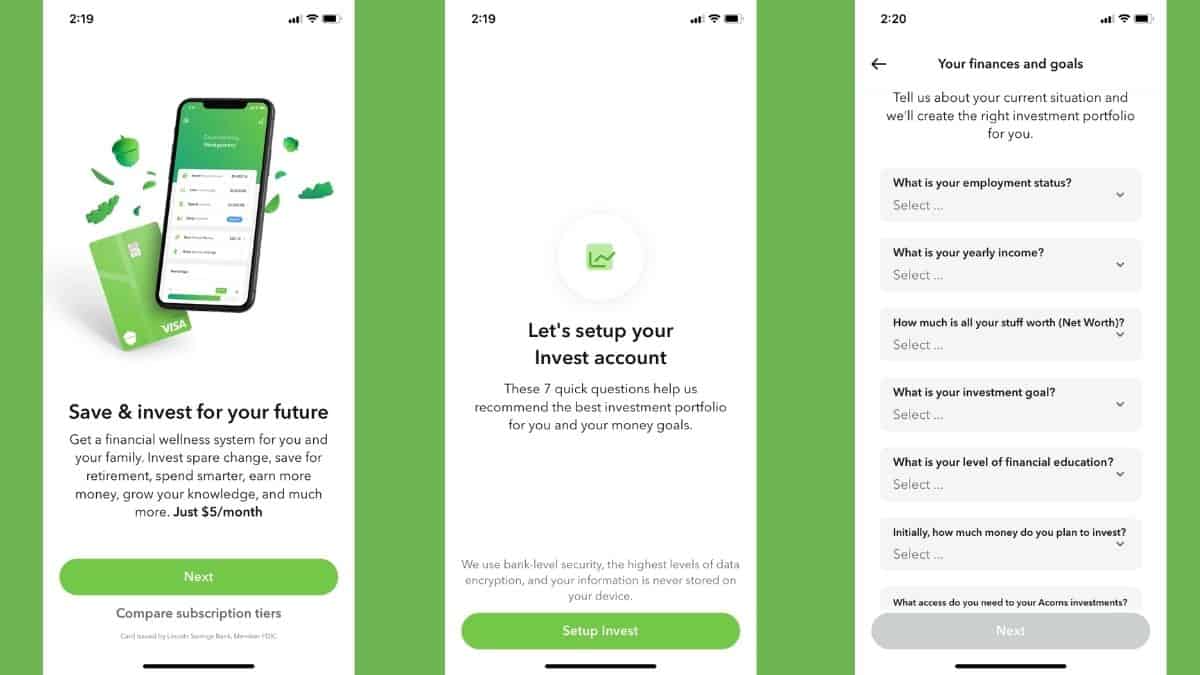 Unlike a purely DIY approach, the Acorns investment app will automatically rebalance your portfolio as market prices fluctuate, ensuring that your investment portfolio retains your desired asset class allocation in line with your overall investment strategy.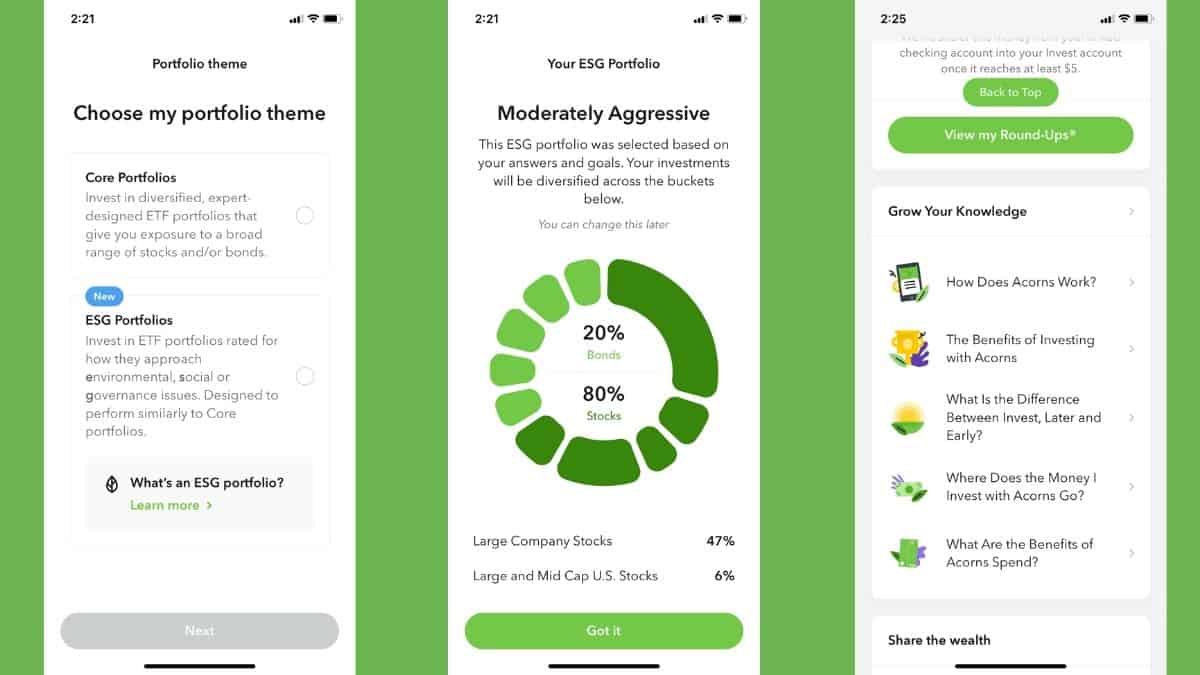 Investing for Your Future
So far, it's much the same as you might have experienced with other robo-advisor services.
Where Acorns Invest diverges is in the various ways you can send money to your Acorns account for investment.
In addition to one-off transfers, mobile check deposits, and regularly scheduled direct deposit or recurring transfers from your bank to Acorns, you can link your Acorns Invest account to your debit card and credit card.
Doing so enables every spending transaction you make to be rounded up to the nearest dollar, with the "excess" deposited in your Acorns account.
For example, your $78.56 total at the grocery store checkout results in a deposit of $.44 in your Acorns account from your linked bank account.
(As a practical matter, round-up transfers are grouped into batches of not less than $5.00. You can also add an automatic multiplier to increase your round-up amounts.)
There's also the ability to earn extra investment through merchants allied with the Acorns platform who deposit a set amount or percentage of your purchase into your Acorns account.
You'll earn bonus investments from retailers including:
Apple
Groupon
Kohl's
Nike
Old Navy
Sam's Club
Sephora
Walgreens
and 350 more
To be clear, the round-up feature will probably not be how you reach your dream of financial independence.
But it's (1) kind of fun and (2) may be the extra kicker that motivates someone to become interested in investing who was not really into the idea before.
As an Acorns subscriber, I amassed about $500 in my Acorns account exclusively through round-ups over 11 months.
There is no minimum balance to get started with an Acorns account. You can use Acorns to invest in a taxable (i.e., non-retirement) account or open an IRA through Acorns.
There's also a selection of financial literacy-themed blogs on the site, albeit somewhat limited.
Is There a Cost to Using Acorns?
But, of course, everything has its price, and so does Acorns. Perhaps this is where Acorns falls short.
While it launched with a monthly fee of just $1, the subscription price rose to $3 per month last year for the basic plan.
This fee includes the ability to set up a non-retirement taxable investment account, a retirement account (IRA), and banking products, including a checking account and debit card, should you wish.
There's also a $5 per month Acorns Family plan option that allows you to have multiple separate accounts.
Plus, the ability to open investment accounts for kids (UTMA/UGMA custodial accounts).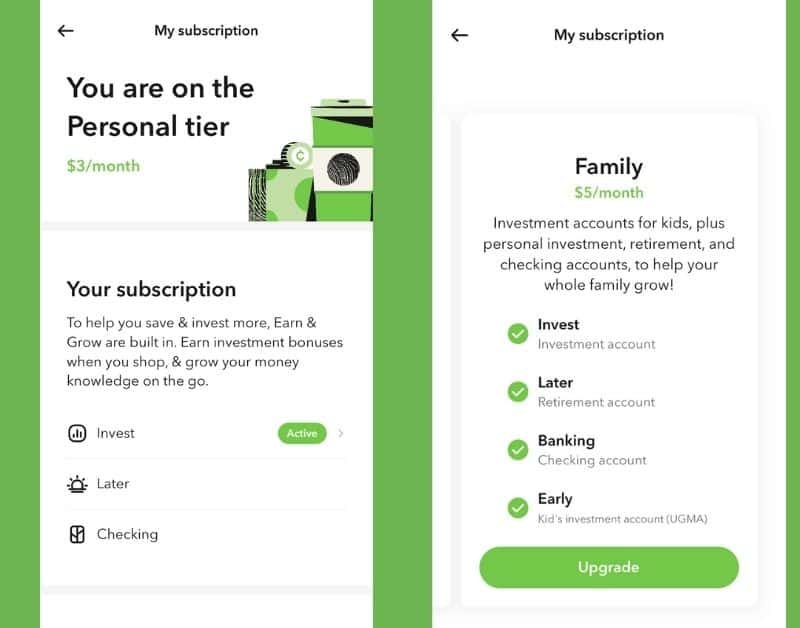 One obvious question: How does a $3 per month fee compare to what you might pay for a robo-advisor investment account at a competitor? Here are a few examples:
At Vanguard, the robo-advisor service requires a $3000 investment to get started and an annual advisory fee of .20% ($2.00 per $1,000 invested).
Betterment has no minimum investment amount and charges a .25% annual fee for its robo-advisor option.
Another comparator is E*TRADE. Their robo-advisor option requires only $500 to begin and levies a .30% annual advisory fee.
If we take these three examples as our metric, only after amassing a balance of at least $12,000 at Acorns would your $3 per month fee be as low as the costliest other robo-advisor option.
Or, to state it another way, for low balance accounts, the monthly subscription for Acorn translates to a relatively high account service fee.
The monthly fee is only competitive when your balance has grown to five figures.
Speaking with a human financial advisor or receiving investment advice is not an option with Acorns, whereas other companies may offer that option.
Crypto Curious? Invest in a Bitcoin ETF with Acorns!
Should you go with the Acorns anyway, despite the cost?
It's important to contextualize the $36 annual fee.
Only 53% of Americans own stock. And crucially, ownership is very highly concentrated in the highest income brackets.
If you're uncomfortable with investing, Acorns is as friendly as it gets. Its interface screams comfort food with none of the "bro-ness" of some other platforms.
Acorns is a safe space to introduce newbies to thoughtful, long-term investment for those fearful of the securities markets or intimidated by the lingo.
And on that note, it's concerning that, perhaps inevitably, Acorns has announced plans to introduce the ability to trade individual stocks on its platform.
According to the Financial Industry Regulatory Authority (FINRA),
"While trading has tremendous potential for immediate rewards, it also involves a fair share of risk because a stock may not recover from a downswing within the time frame you'd like—and may in fact drop further in price. In addition, frequent trading can be expensive, since every time you buy and sell, you may pay broker's fees for the transaction. Also, if you sell a stock that you haven't held for a year or more, any profits you make are taxed at the same rate as your regular income, not at your lower tax rate for long-term capital gains."
When taking everything into consideration, $36 may be a very reasonable price to pay if it brings someone to the investing table who otherwise would not have participated.
And with the ability to earn extra money through shopping and referrals, you could pretty easily cover at least some cost of the app.
If you're commitment-shy when it comes to investing or have a low risk tolerance, the round-up feature may be the inducement you need. Not just to start but to keep going—adding to your investment account regularly and automatically.
Investing $500 in a year exclusively through round-ups isn't a lot…but it is so much more than zero.
Closing Thoughts
I'm no longer an Acorns subscriber, and perhaps therein lay a lesson. I joined Acorns in late 2020 (at $1 per month) to engage in a bit of market research.
However, as I have a brokerage account elsewhere, there was no value-add to having an Acorns account additionally. And their investment offerings were not different enough to make me want to move my account from its current home over to Acorns.
I suspect that mine is not a unique experience; if you have a low-cost investment account elsewhere with which you are satisfied, you're probably unlikely to switch over to Acorns.
But if you (or someone in your life) are seeking their first investment account experience, Acorns – even with its fee – is an attractive way for beginner investors to get started without having to know everything about the stock market.
Next: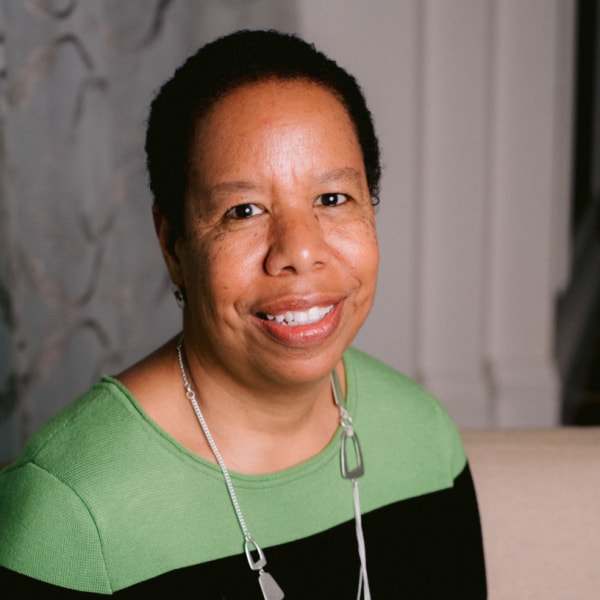 Article written by Lisa Whitley, AFC®, CRPC®.
Lisa enjoys having money conversations every day with people from all backgrounds. After a long career in international development, she brings a cross-cultural dynamic to her current work to help individuals and families achieve financial wellness.