What Are Social Responsible Investments?
(This page may contain affiliate links and we may earn fees from qualifying purchases at no additional cost to you. See our Disclosure for more info.)
Socially responsible investing (SRI), social investing, or sustainable investing, is an investing style where you make sure what you invest in matches up with your values and beliefs.
When you invest in socially responsible stocks, bonds, or mutual funds, you take into account the financial health of an organization and its impact on the local community, the environment, and the people that make it up.
By investing in companies that positively impact the community, the environment, and the world, you can make sure that your investments do more than make money for you; they can also change society for the better.
The socially responsible investment strategy has become more and more popular in recent years.
The most recent investing trend report of the total amount of sustainable investments in the US in 2020 from the well-respected trade organization Forum for Sustainable and Responsible Investing (better known as US SIF) notes 16.6 trillion dollars of sustainable assets in the US, more than a 40% increase since 2018. (Report is completed every two years.)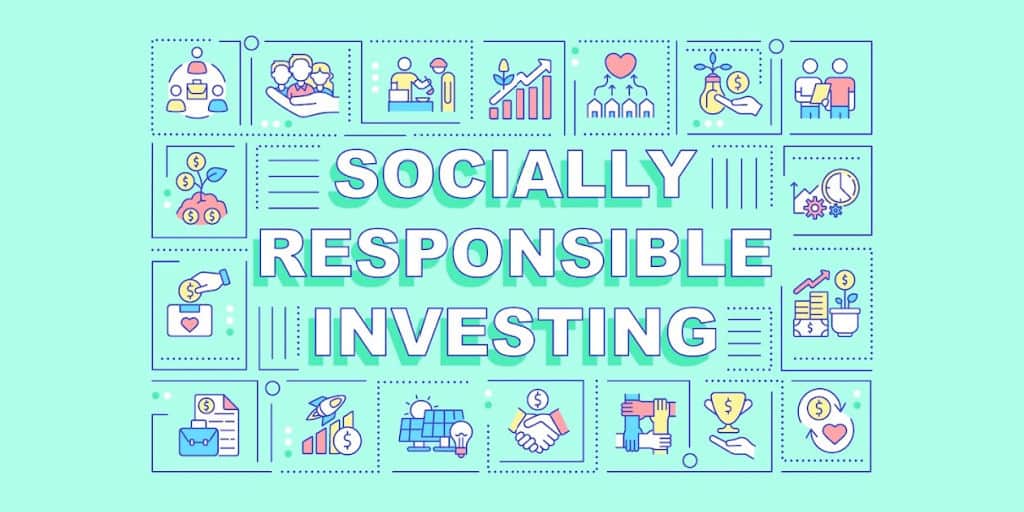 Sustainable Investing Strategy
One of the key ways these investments are analyzed is by using filters that analyze companies' environmental, social, and corporate governance (ESG) impact.
According to Forbes, "ESG standards rate how a company supports environmental sustainability, how it promotes ethical management practices, leadership, executive pay, audits, internal controls, and shareholder rights. Investors can use ESG criteria to screen potential investments."
In other words, ESG is a grading system for how sustainable companies are in environmental, social, and governance issues. That grade is then used to assess that company against other companies in its industry.
Common standards in the area of environment include recycling and waste removal, greenhouse gas emissions, climate change policies, and green products or technologies.
Typical standards for social ratings include employee training, compensation, safety, diversity and inclusion, and consumer protection activities.
Under the corporate governance factor, ratings look at business practices and how well a company is run, specifically by looking at areas such as executive compensation, board and management diversity, and how board votes are decided.
Many of the areas that ESG standard rates are areas that can improve society and the environment. Although, ESG standards don't commonly rank criteria that may be important to you, such as religious affiliation.
But just because a company has a high ESG rating doesn't mean it aligns with your particular values or social justice, religious, and environmental beliefs.
For example, some ESG funds don't exclude companies like tobacco or firearms; they just include companies in those sectors who rate higher on ESG standards.
You may decide not to invest in companies that do business in these areas.
When considering your values, you may want to focus your responsible investment on local companies within your specific community. Or, you may invest in making a more positive environmental and social impact globally.
By putting money behind socially responsible companies or funds, you're combining a desire for strong financial returns in your investing with a desire to make a positive impact and change in society.
When choosing what to invest in, you might decide you want to avoid funds that invest in specific industries, like defense or Big Tobacco, or actively seek out funds that invest in areas like cleantech or diversity, equity, and inclusion.
Why People Are Putting Money in More Ethical Investments
Sustainable and responsible investments are important to investors. There are several reasons an investor chooses to invest their dollars in socially responsible investments.
Some investors may have moral or ethical qualms about investing in specific sectors. Others may want to support investments that improve or strengthen local communities or provide positive environmental impact and other social benefits.
Many responsible investors have found that ESG criteria can identify companies with strong leadership better prepared to withstand challenges. In other words, these companies can last longer or pivot more quickly than others with weaker rankings.
There are also financial reasons to consider ESG companies when making investment decisions.
According to the US SIF, "a growing body of academic research shows a strong link between ESG and financial performance."
As a result, those embracing socially conscious investment options range from individual retail investors to investment professionals, venture capitalists, and institutional investors.
The number of investment funds considering ESG criteria is compounding as well.
Almost 2000 mutual funds, exchange-traded funds (ETFs), real estate investment trusts (REITs), hedge funds, venture capital funds, private equity funds, and community investing institutions hold ESG assets.
Women are more likely to invest in socially responsible companies than men.
According to a 2020 survey by Money Crashers, 81% of women would refuse to invest in brands that produce cigarettes, while less than half of men felt that way.
A poll conducted by RBC Wealth Management found "female clients are almost twice as likely as their male counterparts to say it's important the companies they invest in are integrating ESG factors into their policies and decisions."
The poll found that ethical investing in companies that pay their workers a livable wage and in companies with environmentally responsible practices were important to women investors.
Morningstar found 24 of 26 ESG-tilted index funds have performed better than conventional funds since Covid, probably because they had policies in place for better treatment of employees and more careful and efficient use of energy than their lower-ranked counterparts did.
But how do you know which companies or funds match your values? And how do you add those that do to your investment portfolio?
Where Do I Find Socially Responsible Investments?
Most socially responsible companies and funds identified by organizations like US SIF use environmental, social, and corporate governance filters to rank companies or funds.
ESG ratings can provide a more analytical approach to determining socially responsible investing.
While these filters aren't infallible and are largely determined by the values of the companies performing the ratings, they offer a good starting place to find companies or funds that are in line with your own beliefs and values.
US SIF has a list of socially responsible investments that notes their financial performance, screening and advocacy for various issues, and minimum assets required to begin investing in a fund.
Funds may include companies that avoid investing in fossil fuels, for example, or will not invest in companies promoting gambling or tobacco use.
Companies like Vanguard and Fidelity offer their own socially responsible funds.
Vanguard's ESG US Stock Fund eliminates companies in a broad range of categories, including adult entertainment, nuclear power, known human rights violations, and fossil fuels. Fidelity has a US Sustainability Index with companies with high ESG performance.
Robo-advisors such as Wealthsimple also have socially responsible portfolios available that you can tailor towards your individual preferences.
While these are great starting places for socially responsible or sustainable investments, they have some limitations.
First of all, when you choose investments ranked using ESG or other criteria, you're letting someone else determine what's important in an investment.
That might be fine if you're generally looking to place investments in companies strong in the three ESG areas.
US SIF even offers a free, 30-minute course to individual investors on the basics of socially responsible investing focused on ESG-rated funds.
But, if you have specific values or goals you want to make sure you're highlighting or supporting with your investments, you'll need to do your own research on what to invest in.
If you want to explore the idea of values-based spending further and impact investing, personal finance blogger Tanja Hester just released Wallet Activism, a book (and podcast with the same name) exploring ways to use the money we invest and spend as a force for good
In addition to investing with social responsibility, she gives actionable steps you can take to discover if your spending and investing are in line with your values.
Final Thoughts
Women need to invest. And many online financial advisors and platforms now make investing and choosing socially responsible investments more effortless than ever.
Empower offers online investing with a $100,000 investment minimum.
Vanguard Personal Advisor Services offers online advisors with a $50,000 investment minimum.
Many other robo-advisors, such as Betterment and Wealthsimple require a much lower minimum to access advice.
With the M1 Finance Platform, choosing the Sustainable Business Community Pie invests you in companies committed to sustainable policies and practices.
(M1 also offers Community Pies focusing on publicly traded companies led by executives in minority groups, including Asian American and Pacific Islander, Black, Latine, LGBTQ+, and Women.)
Where your investment dollars go does matter. And you have more choice than you think in what companies you support through your investments.
You might also consider investing in Worthy Bonds, which provides capital loans to small businesses in need, thereby "supporting Main Street instead of Wall Street".
Even by taking a few small steps to make your investment portfolio more sustainable, you'll be better aligning your values and your dollars and potentially making your world a better place to live.
Next: Why and How You Diversify an Investment Portfolio