Worthy Bonds Review: Earn 5% Fixed Interest from Day 1
(This page may contain affiliate links and we may earn fees from qualifying purchases at no additional cost to you. See our Disclosure for more info.)
In order to build wealth, you want your money to make more money.
Keeping your savings in a traditional bank provides less buying power over time due to low-interest rates and inflation.
High-interest online savings accounts and Certificates of Deposit (CDs) can help. But the interest rate they pay hovers near the inflation rate.
That's why it's crucial for you to invest and not just save.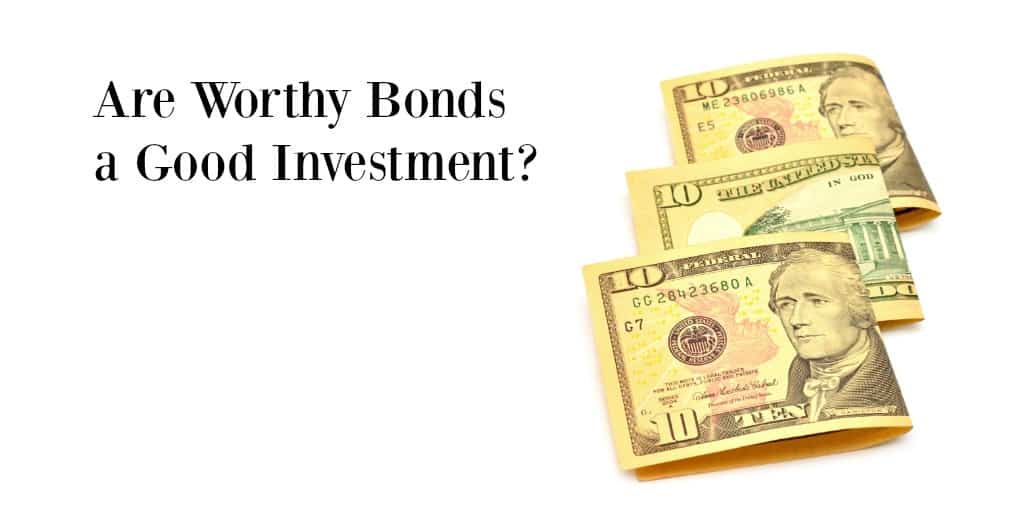 Investing with Worthy Bonds
Anyone in the United States can easily diversify their portfolio and grow their nest egg with Worthy Bonds by investing as little as $10.
Worthy Bonds are a legitimate alternative investment earning a fixed 5% interest on every $10 Worthy Bond you purchase.
Investing in Worthy supports small American businesses without you having to invest in the stock market.
Worthy Peer Capital uses bond proceeds to fund fully secured, asset-backed small business loans. Businesses then repay loans to Worthy with interest.
Are Worthy Bonds Legit?
To help you decide if investing in Worthy Bonds is the right financial product for you, this review dives into who's behind Worthy, how investing in Worthy works, and the pros and cons of private bonds as an investment vehicle.
About Worthy Peer Capital
Initial operations for Worthy, including registration with the Securities and Exchange Commission (SEC), were funded with $600,000 of seed capital raised in July 2017.
As part of Worthy Financial Company based in Boca Raton, Florida, Worthy Peer Capital, Inc., Worthy Peer Capital II, Inc., and now Worthy Community Bonds issue their SEC qualified, 36-month maturity, 5% interest-bearing, Worthy Bonds.
The CEO and Co-founder of Worthy is Sally Outlaw. She's a crowd finance strategist with decades of experience in media, real estate, and business development.
Sally holds a Series 65 license as a Registered Investment Advisor and is a licensed real estate broker. Prior to Worthy, she was the CEO of Peerbackers.
Worthy's mission is to change the face of finance by helping everyday investors (even beginning investors) meet their financial goals while supporting small businesses and their need for capital.
They consider investing in Worthy a win-win for anyone who wants to grow their wealth "by supporting Main Street instead of Wall Street."
How Does Worthy Bonds Work?
In this crowdfunded investing platform, you don't have to decide which specific loans to invest in.
Instead, when you invest $10 in a Worthy Bond, you're investing in a small part of every small business loan in the Worthy portfolio.
Worthy charges small businesses an interest rate higher than 5% so they can offer investors a 5% annual yield, credited daily.
Investing in small parts of many loans reduces your risk of a small company defaulting on a particular loan you may have chosen to invest in.
An investment in Worthy Bonds is considered a higher risk than keeping your money in an FDIC-insured online savings account or a CD. But the trade-off for taking on more risk is the higher return Worthy offers on their unrated bonds.
Investments through Worthy can be safer than investing in the stock market. Where assets are subject to more volatility without a guarantee on potential returns.
To help mitigate risk, Worthy Bond small business loans are backed with secure assets.
A small company borrowing from Worthy has an inventory worth more than the loan, which they could sell off to help recover the amount of the loan.
Additionally, a small number of bond sale proceeds are also directed to other investments, such as U.S. Treasury securities, CDs, and real estate, for additional risk mitigation.
How to Invest
Upon signing up and then logging into Worthy, you'll select an account type.
The majority of Worthy users choose an individual account. But you also have the option of using an existing Trust or IRA account for tax advantages.
When you have a non-profit or business, you can also use those to invest in Worthy Bonds.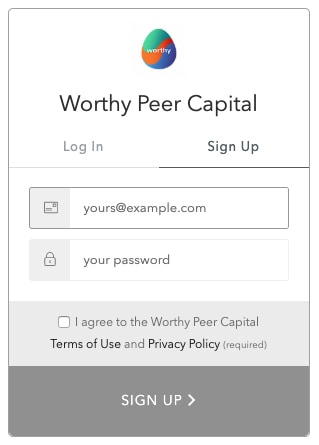 To fund your purchasing account, you link your bank or credit union account to your Worthy investment account.
After a short approval process, you'll buy bonds in $10 increments, with only a $10 minimum investment requirement.
You have a choice of making one-time purchases or making recurring monthly contributions.
Worthy also gives you the "spare change" option that rounds up your credit card and debit card purchases to the nearest dollar. When those round-up savings reach $10, a Worthy Bond is purchased automatically.
Bondholders can also activate automatic reinvesting in your account settings to maximize your earnings. When you reach $10 in earned interest, a new Worthy Bond is purchased in your account.
If you are a nonaccredited investor, you can invest up to 10% of your net worth or annual income.
While Accredited investors have no limits on how much they can invest in Worthy Bonds, there is a maximum online purchase amount of $50,000.
An individual accredited investor is someone who's made at least $200,000 in income ($300,00 with a spouse) on an annual basis for the prior two years and is likely to make the same amount or more in the current year. Or someone who has more than $1,000,000 in net worth (alone or jointly with a spouse) excluding the value of their primary home.
Worthy Bonds have a 36-month repayment term, but you can early withdraw your money at any point in time without penalty.
If you're withdrawing small amounts, your funds are deposited instantly. With larger sums (over $50,000), it may take a few weeks to see your bank account deposits.
You can also keep track of your Bonds and their activity, ask questions, find answers, or share feedback on your smartphone using the Worthy app.
Pros and Cons Of Investing In Worthy Bonds
Advantages Of Worthy Bonds
5% Fixed Interest
No Fees
Round-up Feature
Supporting Small Businesses
Worthy Causes Program
Obviously, the biggest benefit of investing in Worthy is earning 5% interest on the money you invest.
You may earn more money in the stock market, bond investments, real estate investing, or with other alternative investments. But those investments may come with more risk too.
While your funds are without FDIC insurance, Worthy Bonds are registered with the U.S. Securities and Exchange Commission (SEC).
You don't have to be an accredited investor. Any 18-year-old in the US can invest in them for just $10.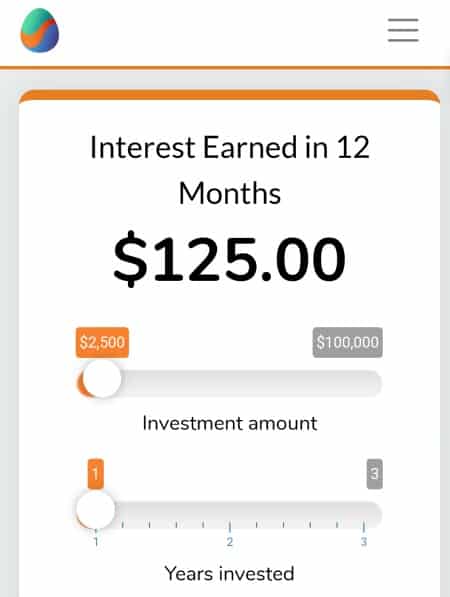 Worthy only invests in asset-backed loans that can't exceed ⅔ of the business's net worth. This way, the borrower's collateral can be used to recover loan balances in case of default.
To diversify its portfolio and minimize risk, Worthy invests in a number of small business loans.
You don't pay any fees to buy Worthy Bonds or to withdraw your money.
The simple interest you earn is converted to compound interest if you reinvest the interest into new bonds.
The "round-up" feature option helps you invest more money without even noticing it.
Finally, Worthy's mission is to support small businesses while helping you earn a 5% fixed return on your investment. It's a community-focused approach, helping entrepreneurs succeed in growing their businesses.
The Worthy Causes Program
You can become a donor in the Worthy Causes program by simply purchasing Bonds and giving them to a non-profit of your choice that's part of the program.
Or you can link a debit card or credit card within the Worthy app and have your transactions rounded up to the next dollar.
When your "spare change" from round-ups equals $10, a 5% interest-bearing Worthy Bond is purchased that you can donate to your favorite cause in the Worthy program.
According to Worthy Peer Capital, the round-up program averages about $30 in bonds per month per donor.
WorthyBonds donated to non-profit organizations earn 5% interest per year, credited weekly, and bond purchases still help support small businesses.
Drawbacks to Worthy Bonds
One of the biggest concerns about putting money into Worthy Bonds is that the model hasn't been tested in a struggling economy.
When there's a recession, will small businesses with loans survive? And will the asset-backed model still support 5% fixed interest returns on Worthy Bonds?
Worthy does have cash reserves in case they can't recover loan balances. But this may still be a concern to some investors.
Since Worthy Bonds aren't FDIC-insured, investing your emergency fund or any money you can't afford to lose in an online bond purchase could be a risky move.
Lastly, interest earned on Worthy Bonds is taxed as interest income, not as capital gains. You will receive a 1099-INT tax form from Worthy Financial if your earnings exceed $10.
Are Worthy Bonds a Safe and Good Investment?
When you're looking for a way to generate passive income and diversify your investment portfolio, investing in Worthy Bonds is worth considering.
With a fixed 5% interest rate of return, you earn more money investing in asset backed bonds with Worthy Financial than you would by keeping your money in a bank.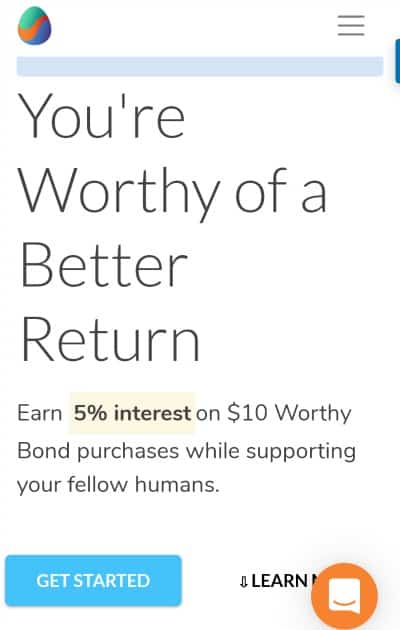 You won't have the volatility of the stock market to worry about, either.
Even though the loans have 36-month terms from the initial investment, you are free to take out your money at any time without a withdrawal penalty.
Keep in mind that Worthy is SEC-registered, but it isn't a bank. Your funds are not FDIC-insured, so there is some risk involved.
Worthy Bonds may not be as risky as many alternative investments because they invest in fully secured small business loans with assets and inventory-backing.
Yet loan defaults can happen. Bond holders could lose their investment if too many small business borrowers stop paying on their loans.
To maintain financial security, you shouldn't put all of your money into any investment, and that includes Worthy Bonds.
Begin Investing with just $10!
You can start safe and small by investing in Worthy Bonds with as little as $10 – and you won't pay any fees. Plus, you'll earn 5% fixed interest from day one.
You can also take your money out at any time without paying penalties.
As always, if you have questions or concerns – we suggest you talk to a financial professional when it comes to your investment portfolio, especially inexperienced investors.
Next: Protect Your Retirement Savings from Inflation
[We've both been investing in Worthy's 5% interest earning bonds for a couple years now, including using the round-up feature.]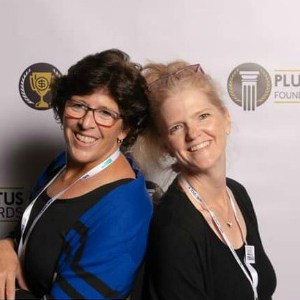 Amy and Vicki are the coauthors of Estate Planning 101, From Avoiding Probate and Assessing Assets to Establishing Directives and Understanding Taxes, Your Essential Primer to Estate Planning, from Adams Media.