Buying a Car, Post-Pandemic
(This page may contain affiliate links and we may earn fees from qualifying purchases at no additional cost to you. See our Disclosure for more info.)
For decades, buying a car has involved a trip to the dealership, high-pressure sales associates, and lots of negotiation.
If you haven't purchased a new or used vehicle recently, though, prepare to be surprised.
From car vending machines to seven-day free trials to buybacks at your house, car shopping has changed radically these days.
And most of the changes affecting this major purchase are benefiting you, the consumer.
Online shopping has been steadily changing the traditional auto-buying model for decades, but the pandemic has more quickly accelerated these changes.
In March 2020, when the Coronavirus hit, many dealerships had to utterly shift how they sold cars.
Very few people felt safe test-driving cars in close proximity to salespeople or sitting in a stuffy office with the finance manager for several hours signing paperwork.
At the same time, the pandemic increased the demand for cars, especially for millennials.
Fewer people wanted to take public transportation, and many younger buyers needed a new vehicle.
The pandemic pushed the burgeoning online industry into high gear.
Now, many vehicle sellers offer 24-hour test drives, where you can try out a car at home or take it to a mechanic for inspection without a salesman along for the ride.
Online sales and direct pricing models are also becoming more common, so it's easier for you to negotiate the purchase price of your vehicle with more transparency in pricing.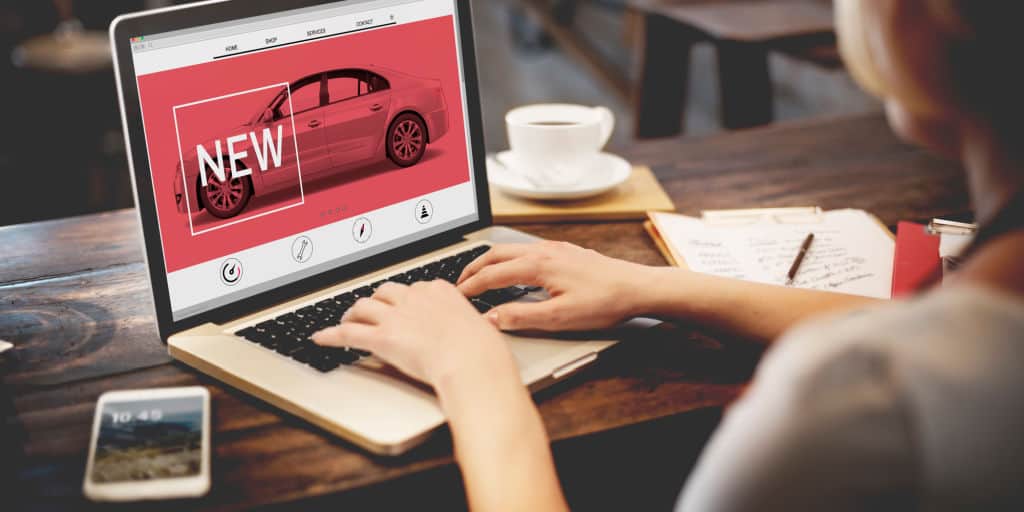 At the same time, the pandemic has created some negatives.
Because fewer people are leasing cars, and there are major supply-chain issues, fewer automobiles are available on the market, driving up prices by hundreds or thousands of dollars and decreasing online inventory.
There's also a higher demand for cars, especially used vehicles, so it may be harder to find a reliable used car option. Expect less selection and a higher price range than there was pre-pandemic.
Still, used autos can be found, and because there are so many new online sites for buying vehicles, they're easier to track down than ever.
Buying a Car In Today's Market
Here's a rundown of some of the newer features of post-pandemic car shopping. 
Online Sales
While automobile dealerships have had websites for years, getting a salesperson to return your email or negotiate with you over email has often been challenging.
Dealers have historically pushed you to come in to test drive their inventory of vehicles.
Now, however, many dealerships are offering the option of complete online sales, so you're not required to come into the dealership to haggle about a vehicle's price.
You can sign and finance cars entirely online without ever going into a dealership.
Often, you have up to a week to try the vehicle out and make sure you like it before the sale is final if you prefer not to go into the dealership for a test drive.
Volvo is now transitioning to selling all of its cars online.
Other companies, such as AutoTrader, Cars.com, and Truecar.com, allow you to search for a wide variety of new and used automobiles on their online portals.
24-Hour Test Drives and Money-Back Guarantees
The largest used-car dealership in the US, CarMax now offers a 24-hour test drive of its vehicles.
You can take a car home from the dealership and test it out for a day, then bring it back once you've decided how you like it.
If you do decide to purchase the car, they offer a 30-day money-back guarantee. If you change your mind about your purchase, you can return the auto to the dealership for a full refund.
It's not the only company to do so.
GMC's Cadillac and Buick offer a 24-hour test drive at many of their dealerships, some BMW models allow for 24-hour test drives, and select dealerships across the country are now offering this feature.
Money-back guarantees are also becoming more popular. In addition to CarMax, many other used car sellers, such as CarHop and AutoNation, offer a 7-day money-back guarantee.
While most new vehicles do not have money-back guarantees, as they lose significant value after having left the dealership, a 24-hour test drive should give you the time you need to try out the car.
Online Financing
It is easier than ever to get an online loan for your car.
Some auto companies offer them in conjunction with the online vehicle sale process, such as Vroom and Carvana, and other lenders provide financing as a separate transaction.
Make sure to do your homework if you opt for online financing to ensure you get a competitive interest rate.
To apply for a loan, you'll need to show proof of residence and get your credit checked, then fill out online forms for your loan.
Home Delivery
Since the pandemic, companies are rapidly adapting to offer home car delivery, especially for the purchase of new cars.
Many luxury automakers, including Tesla, Audi, Lexus, Genesis, and Acura, offer home delivery.
For used cars, CarMax and Carvana offer home delivery, as well as newer companies like Shift and Vroom.
Home delivery is just like it sounds: you purchase your vehicle online, complete your financing, decide on a trade-in offer, and then the company you bought from brings your new car to you.
Prepare to be patient–usually, it takes companies from a couple of days up to a couple of weeks to get your car to you.
But after that, you'll have several days to try out the vehicle before deciding if you'd like to keep it. If not, the company will come back to your home and pick the car up.
Trade-Ins
These days, it's possible to sell your current vehicle trade-in online. Joel and Kerri Mills, car buyers in the Charlotte, NC, area, sold their trade-in through Carvana.
When they contacted Carvana through their online portal, they received a quote to purchase it $2,000 higher than at the dealership. "You do it all online; you don't even have to talk to anybody."
"What they quoted us was what we got. We put in the vehicle details online, and they gave us a quote, site unseen. We put in the VIN (vehicle identification number) and any dents or imperfections, and they incorporated that into the quote," Joel explained.
"After a day, they scheduled a pickup. A representative showed up and looked over the car. I pressed a button on the iPad that said ACCEPT, and she left. Then a tow truck came and took the car. It was too easy."
Many online retailers have lower stock because of a decrease in the number of automobile leases and rental cars on the market, so shop around for a trade-in price to get the most for your old car.
Fixed Price Model
While Tesla is famous for its fixed price model, other automobile sellers, like CarMax, have used it for years. Instead of haggling at the dealership, you pay the sticker price for your car.
For people who do not like to negotiate, the fixed price model can be very straightforward.
Certain dealerships have begun to offer a no-haggle guarantee, so prospective buyers know the advertised retail price of a car is the sale price they'll pay.
Just remember, a fixed price may not be the lowest price out there; you're paying for the convenience of not having to negotiate.
How Can I Buy?
Many people use the internet to research and compare costs, compare car features and factory warranty information, and narrow down choices.
Nowadays, you can use the internet for as much or as little of the car buying process as you'd like.
You may want to research cars online, then go to a dealership to test drive your favorites.
You might decide to start your financing paperwork online, then visit the auto dealer to complete the purchase. Or, you may opt to buy completely online and have your new car delivered to you.
In the past, most states did not allow e-signing for new vehicles, but that has changed since the pandemic, starting with Volkswagen.
Here are some popular options for online or hybrid purchases.
Carvana
Carvana is a very different car-buying model from a traditional dealership. Carvana employees don't work on commission, so there are no hard-sell tactics.
If you want to buy a vehicle from Carvana, go to their website and start your search for cars for sale.
You need to create an account, then let them know if you're trading in a car and paying cash or financing your new vehicle.
They will deliver the auto to you, or you can also pick up a car from any one of Carvana's 24 vending machines around the US (they will subsidize your plane ticket if there isn't one within driving distance).
Carvana offers a 7-day, money-back guarantee on any car you buy.
When you purchase a car, Carvana delivers it to your door. If you're trading in or selling your vehicle, you'll get a fair price offer valid for 7 days, and a representative will then pick up your car and send an overnight check with your money.
CarMax
CarMax, the largest used-car seller in the US, has improved its consumer policies since the pandemic.
In addition to its 24-hour test drives and 30-day money-back guarantee at its used-car dealerships, it has now added curbside pick-up of trade-ins and home delivery for purchases.
CarMax uses a fixed price model to sell cars, so the price you see on the vehicle is what you'll pay.
CarMax also offers an online quote for your auto trade-in, good for seven days. You're not required to purchase a new car from CarMax for them to buy your old one.
You can complete your purchasing and auto loan information entirely online, or you can head into one of their 200 automobile dealerships in the US.
Shift
Shift is a San-Francisco-based online seller that's been around since 2013. Shift has a broader inventory of used cars on its site, with autos up to ten years old available for purchase.
At Shift, an assigned concierge will help you schedule test drives of any vehicles you're interested in, and you can even put down a deposit on the car if you're afraid it will be sold before you get to test it out.
Nissan@Home
Nissan now offers a potential buyer the possibility of entirely purchasing a new car remotely.
Once you find the vehicle you want from a participating dealer, you can complete financing and trade-in options online, then schedule delivery of your new car.
If you'd like to test drive the vehicle first, you can schedule a test drive at your home before you commit.
GMC Shop. Click. Drive.
GMC lets you complete most or all of the transaction for a vehicle sale online with their "Shop. Click. Drive." Program.
You simply go online, select the vehicle you're interested in, estimate your trade-in, decide on loan terms and payment options, then get your brand new car delivered or schedule a pick-up at the dealership.
Bottom Line
The automobile buying process has changed post-pandemic.
Car manufacturers are being forced to adapt their technologies to continue attracting customers remotely while also dealing with a vehicle shortage.
While the average price of vehicles is higher than pre-pandemic levels, especially for used cars, you have more ways than ever to find a vehicle online, compare prices, and even test drive remotely nowadays.
Dealerships still factor heavily into the process, especially with new cars, yet buying a vehicle is more consumer-friendly than ever.
Next: