Unique, Affordable Wedding Gift Ideas
(This page may contain affiliate links and we may earn fees from qualifying purchases at no additional cost to you. See our Disclosure for more info.)
As wedding traditions change and take on modern twists, so do wedding gift customs.
You may have heard of the rule of thumb to give enough money to cover your dinner, but most couples don't expect to have their wedding expenses reimbursed by guests, and the rule of thumb remains regional.
Some budget savvy couples are even opting out of the formal catering and sit down dinner in exchange for a wedding that reflects them, rather than tradition.
That means you can create and give unique, affordable wedding gift ideas brides and grooms will love, without looking cheap. Or, if you prefer, give one alongside a small amount of cash.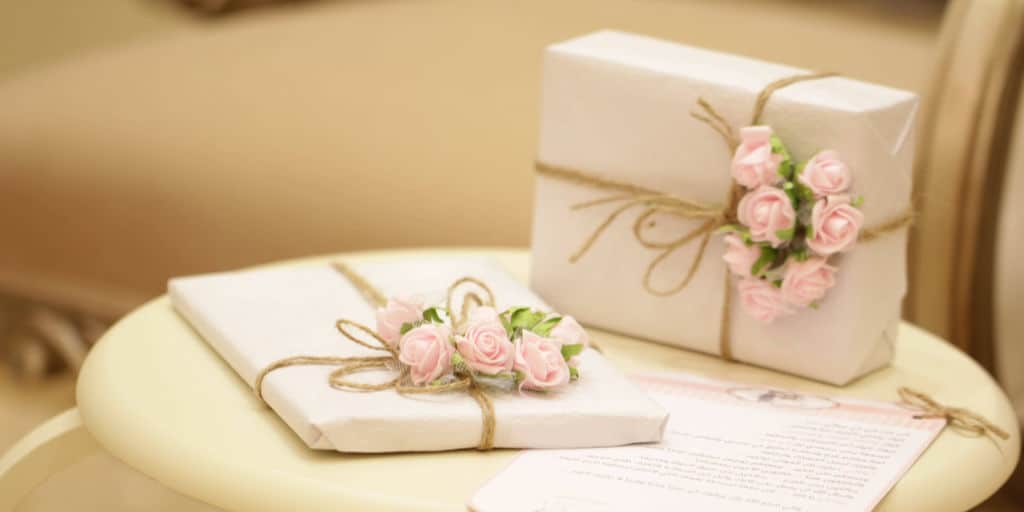 What are Some Unique, Affordable Wedding Gift Ideas?
How you approach your wedding gift giving really depends on how well you know the couple to be. If you're close, it will probably be easier to come up with something special.
You can go with a gift that sparks memories (especially if you're a childhood friend or family member). Or give them something you know they'll love, like something related to a favorite fandom, hobby, or sports team.
Giving to people you aren't close to is a little bit tricker. Especially if you want unique, affordable wedding gift ideas. You'll have to get creative and think outside the box to give great wedding gifts on a budget.
Why Give a Unique Wedding Gift?
Remember, couples are breaking tradition, but it doesn't just start at their wedding. Compared to the past, more couples live together prior to marriage or at the very least have been living on their own.
Traditional wedding gifts, like small kitchen appliances and tools, are necessary for someone just moving out which is rare nowadays.
Another traditional wedding gift, china, has fallen by the wayside. Millennials especially aren't as interested as their parents were in having a set of 'good china' around the house.
Crystal, specific serving dishes (like pickle dishes), elaborate tea sets, and other 'fancy' serving pieces are also a 'no' for most young couples.
Antiques and Hand-Me-Downs
Although young people aren't putting those fancy dishes on their wedding registries it doesn't mean you can't include your grandmother's china as part of a wedding gift.
Family heirlooms and other sentimental hand-me-downs are show-stopping wedding gift ideas that don't cost a thing.
If you don't have anything to pass on (or aren't ready to), antiques and second-hand items are still appropriate wedding gifts for most couples. This doesn't mean a questionable toaster from the thrift store, though!
You have to be thoughtful. Think of things like an antique camera for a photographer, an old steamer trunk filled with towels, or a vintage decanter the couple will love.
Handmade Wedding Gifts
People pay hundreds of dollars for handmade quilts. If you have a talent for craft projects, use that to give an amazing, yet affordable wedding gift.
You're only out your supplies and the time, but the couple will enjoy the end result for years to come. Even though your cost is smaller*, the value of a handmade item doesn't change.
*sometimes. Crafting can get expensive!
Other ideas might be a handmade, personalized sign for their bedroom, a painting to hang in their home, or an upcycled piece of furniture.
Even if it's not the entire gift, something small like a stack of hand-knit dishcloths can be included in a gift basket.
Volunteer Your Time or Skills
If you can't afford to give a wedding gift and aren't otherwise involved with the wedding, see if you can give your time or skills instead.
Volunteering to perform photography, cake baking, bartending, or even babysitting services can potentially save the couple a large amount of money.
Even if you aren't a wedding service professional (or the couple would rather hire someone else) you can still help out with things like set up and clean up, being a designated driver, or running errands.
It doesn't take money to help make the wedding day a little easier.
Create a Gift Basket
Gift baskets are great for giving 'a lot' without spending a ton of money. Because of the way they're packaged (and the number of things inside) they have a wow factor that you don't always get with even more costly gift ideas.
Themed gift baskets make things a bit more fun:
If the couple is heading on a tropical vacation, fill it up with useful supplies like sunscreen or a beach towel
Put together a kitchen basket with kitchen tools and dish towels
Make a baking gift basket that has a cake mix, bowls, pan, and spoons
Give a cozy movie night gift basket with his and her slippers, a blanket, snacks, and a DVD/Bluray of a classic that's not available on the popular streaming services
Plan a date night gift basket with candles, take-out gift card, paper plates, utensils, etc
Or give an interest-based gift basket that's themed to something the couple loves (reading, travel, etc)
The easiest way to package a gift basket is to get a nice decorative basket (or even one from the dollar store) and wrap the whole thing up with clear cellophane.
Collection of Date Ideas
You can buy ready-made versions of these but DIYing is a lot more fun. You can do it in the form of a date night jar with the ideas written on popsicle sticks. Alternatively, seal 12 great ideas in envelopes or boxes for them to open once a month over the next year.
If you're only doing 12, keep them at home or choose dates that require little to no money. It can be as simple as "Netflix and chill" with a bag of microwave popcorn inside. For the jar, color code the sticks based on cost and location (out vs in).
Even though it doesn't cost a lot, the couple will appreciate someone doing the thinking for them. With this gift, they can just enjoy the date without having to make plans.
A Family Cookbook
Create your own or purchase a cookbook that's ready to be filled in. Then, check in with family members and close friends to fill the pages with favorite recipes. Just make sure you leave space for the couple to add their own!
To make this extra special, try and get anecdotes about the recipes to include. For example, "this is the potato salad we'd make every 4th of July" or "Great-grandma brought this recipe over when she immigrated". That way it can serve as a memory book too.
Something That Makes Everyday Life Better
Many couples put practical or decorative household things on their wedding registries. That's why kitchen accessories, small appliances, cleaning supplies, and linens are the most requested wedding gifts.
But lots of couples overlook adding small ideas that would make every day a little bit nicer.
This can be a broad category but some things to consider are matching coffee mugs, really nice plush bathrobes, screwdrivers and toolsets, cell phone chargers, travel mugs, and stationery.
Think about what little things improve your life and pass that on to the happy couple.
Remember What's Important
What's great about these affordable wedding gift ideas is that in many cases they might even be more special than something you just pull off the registry, especially if the couple is already established. But sometimes even that's more than some can afford.
You weren't invited to the wedding just to bring a gift. Brides and grooms choose guests they want present for one of the most important moments of their lives.
If money is truly tight for you, the best gift you can bring is yourself. Just don't come empty-handed – a thoughtful card, maybe with some marriage advice kindly tucked inside, is perfect on its own.
Article written by guest contributor, Anne, who loves finding the perfect gift idea that's on budget. She has been writing about gift-giving and personal finance online since 2012, as owner of UniqueGifter.com. Her favourite beverage is champagne, and she loves figure skating, even if it's harder now that she's not 20! Find her on Twitter @ugifter.