Save Money Attending Weddings (w/o being a cheapskate)
(This page may contain affiliate links and we may earn fees from qualifying purchases at no additional cost to you. See our Disclosure for more info.)
As the daffodils bloom and the trees are budding, wedding bells are a chiming.
Sweet, sounds that can also note upcoming hits to our budgets as another wedding season gets in full swing.
The truth is, the cost of attending weddings can be huge. If you're also a bridesmaid, the expenses can be astronomical.
Is there any way to save money when attending weddings of a friend or family member without coming off as a cheapskate?
According to a 2018 Bankrate survey, the average nationwide (US) cost of attending a wedding was:
$371.60 for a distant friend or family member,
$627.72 for a close friend or family member, and
$728.19 for a member of the wedding party.
That total includes gifts, showers, travel, and hotel.
While it's not always easy to spend less on weddings, planning is critical. Read on for money-saving tips for the wedding season.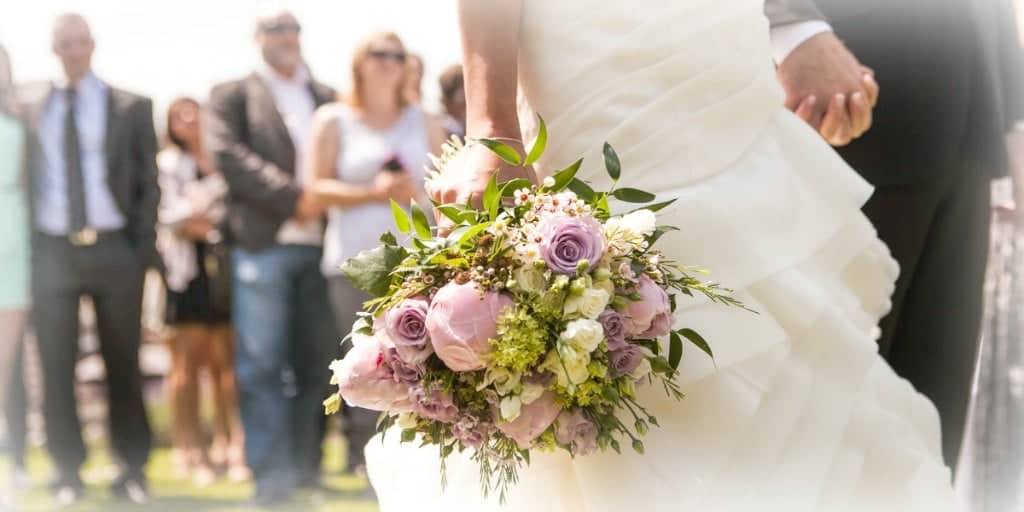 Just Say No
Tip #1 is undoubtedly the hardest, but the most cost-effective. Is it necessary or even expected for you to attend every wedding to which you receive an invite?
First off, when you receive an invitation to a friend or family member's wedding, try your best to separate yourself from the emotion of the moment.
Is this person someone with whom you expect to have a close relationship in the future?
Often, we feel the need to say yes to past friends' invitations for sentimental reasons having little to do with our current reality.
Is it essential to fly 2,000 miles to your freshman roommate's wedding when you haven't even seen her in five years?
It's probably acceptable to skip your second cousin's wedding whom you haven't seen since childhood.
If you're unsure as to whether it would be declasse to skip the big event, consult with other friends or family members who are more emotionally removed from the situation.
Your mom may be able to help you navigate how necessary it is to attend your cousin's nuptials, or other college friends may be able to cast light on whether your sorority sister wants you to be at her wedding or was inviting you to be polite.
If you decide to forgo the wedding, decline in-person, if possible, or over the phone. Then, send a generous gift, since you've saved yourself hundreds in airfare and hotel expenses.
Speaking of gifts, how much should you be spending on a wedding gift?
Ranges vary widely, but according to a 2018 Nerdwallet survey, the average amount spent for a wedding gift nationwide is $128, with Millennials spending the most ($151) and Baby Boomers spending the least ($113).
However, your spending will vary widely based on your relationship with the bride and groom. And your budget of course.
You'll undoubtedly spend more on a sibling or close friend than a cousin or friend you haven't seen in decades.
Even if you don't attend the wedding, you should almost always send a gift (unless the invitation is from someone you haven't been in contact with for years).
For ways to purchase a wedding gift without spending a fortune, keep reading.
What happens if you're asked to be a part of the wedding?
Again, take time to think it through, and get outside input. It's okay to say no to someone's request to be a part of the wedding party, especially if a lot is going on in your life or you simply can't afford it.
If you're a new mom, just moved, just got married yourself, or would need to go in debt to commit, it is okay to decline.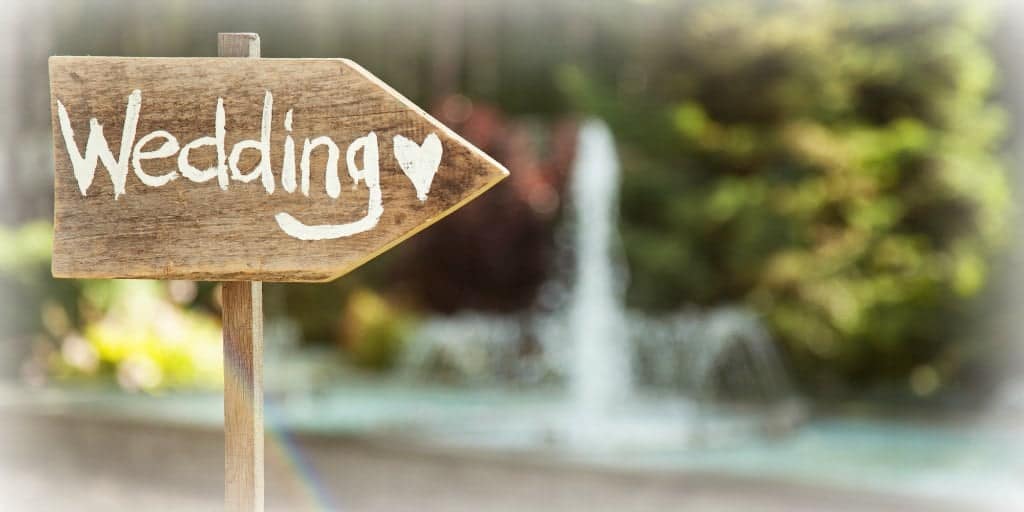 Save Money as a Wedding Attendant
If you don't want to-or can't-say no to being a part of the wedding party, there are ways to save on the costs of being an attendant.
First of all, consider your budget for the wedding and consider sharing how much you can spend with the bride.
(Although it may seem awkward to bring up your budget, it might save problems and hard feelings in the end.)
Then, do your best to stay as close to your budget as you can.
Sticking to your budget may mean not going to all of the showers or skipping out on the bachelorette party if you live out-of-town.
Or if the bride chooses a dress too expensive, asking her to consider a similar style costing less.
Related: What are the Best Budget-Friendly Party Planning Tips?
Plan on wearing shoes and jewelry you already own.
Skip having your hair and makeup done by a professional, and do them yourself or ask a family member or friend to help.
Often, a simple upsweep and simple makeup look as elegant or more so than a professional bouffant.
Talk to your fellow bridesmaids to see if there are ways you can save on other costs, such as sharing rooms, purchasing a group gift for the bride, or carpooling to the wedding.
Save on Wedding Gifts
While it's helpful for a new couple to get gifts from the wedding registry, it is not obligatory to buy a gift from one. Especially if most or all of the offerings are more than you planned to spend.
It's possible to put together a meaningful gift and not spend a fortune or sacrifice your own savings goals.
As the Washington Post wisely advises, "Each guest should decide how much to spend based on their own budget, not the budget of the couple getting married."
You might consider getting the bride a basket of your favorite kitchen gadgets from a restaurant supply store. Buying several nice products for under $50 is possible. Consult Mark Bittman's Kitchen Essentials article for more ideas on what to buy.
Consider a special memento. You might gift the couple a beautiful Christmas ornament with the year of their wedding on it for their first Christmas tree, or an engraved picture frame or album with their wedding date.
Purchase a group gift. If you're part of a group of friends or family, consider a group gift to stretch your budget farther. You and several other givers will be able to provide a much nicer gift if you combine your dollars.
If you're purchasing from the registry, buy early. That way, you'll have the most selection.
If you're traveling a long way to be at or in the wedding, a significant gift, if any, is not always expected. In this case, your presence is your gift.
Save on Travel to Attend the Wedding
If you receive an invitation to a wedding taking place across the country, you probably won't be able to drive instead of flying.
But if you're asked to attend a wedding within driving distance, consider making the trip via car.
Yes, you may have to take more time off, but you'll not only save money on flights to the wedding location, but you'll also save by not having to rent a car.
If you must fly, use frequent flier miles to buy your ticket if possible, or try arriving on a Thursday and staying through Monday.
Traveling on Fridays and Sundays is most expensive as the majority of people come and depart on those days. But also be mindful of the extra cost you may incur for additional lodging nights.
When it comes to lodging, brides and grooms often reserve blocks of rooms in the hotel where the event will take place, but these rooms can often be pricey.
Consider staying at a nearby hotel or Airbnb to save money on lodging. You might also consider sharing a space you rent with friends.
Spending for Happiness
In the end, most weddings are events where you'll be spending lots of time with friends or families. You'll be making memories, and eating and drinking well.
Consider the money you spend attending weddings or showers investments in your relationship with the bride or groom.
You may not always be able to save money when you participate in the weddings of your friends and family, but you are spending money on a new experience when you attend.
And research shows spending on experiences is some of the most rewarding spending we can do.