How to Write a Self-Evaluation that Shines
(This page may contain affiliate links and we may earn fees from qualifying purchases at no additional cost to you. See our Disclosure for more info.)
Chances are, you sit down with your supervisor once a year for a short, scripted conversation to go over how you're doing in your job since you took on the role or since your last performance appraisal.
This time you've also been asked to submit a self-assessment as part of the process. Not sure where to start?
Don't worry — we'll show you how to write a winning self-evaluation.
What is a Self-Appraisal?
Before we get into strategy, let's define the term. A self-appraisal is a performance rating you do on yourself.
It requires you to self-reflect on the previous year (or term being reviewed) and provide an honest account of your professional successes and shortcomings.
It also allows you to establish a personal goal for professional growth and create a plan for continued development.
For your manager, it alerts them to all your individual accomplishments and contributions to your team and the organization. It gives them the necessary information and opportunity to acknowledge your professional skills and efforts, while also providing a chance to dole out praise or constructive feedback.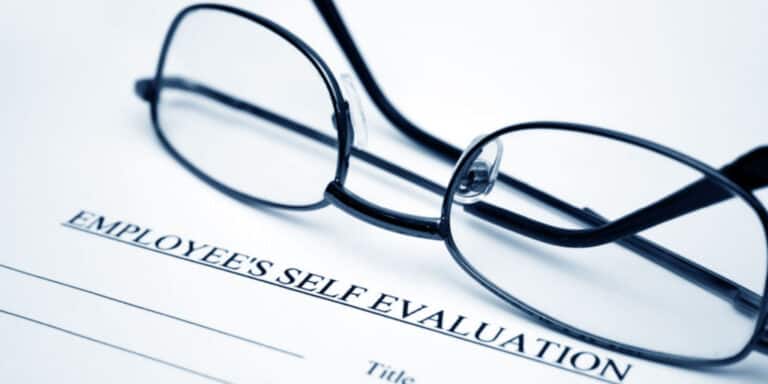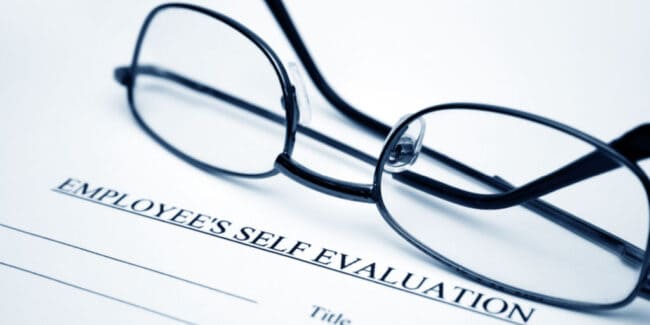 Preparing to Write
Writing your self-evaluation could feel boring, tedious, or downright nerve-wracking. Talking about yourself may be challenging.
You don't want to come across as too arrogant, but you also don't want to downplay any significant contributions.
After all, a raise or promotion may be riding on this, so you want to get it right.
Here's how to prepare to write your self-appraisal:
Ask for guidelines on length, what to include, what format to use, etc.
Learn exactly how the appraisal will be used
Review your job description and current company goals for benchmarks
Do a brain dump of your accomplishments, struggles, and insights
With this information, you can write an assessment that meets business parameters, is tailored for the occasion and company culture, and aligns your best work with the firm's objectives.
What to Include
Your self-evaluation should include:
Progress towards previously established goals
Major accomplishments
Opportunities for improvement
Plans for professional development
New or revised goals
Feedback for and from your supervisor
Let's take a closer look at each.
Progress Towards Goals
Review the professional goals you set during your last performance evaluation and honestly assess your progress. Did you complete additional training, acquire a new certification or improve upon soft skills?
If you achieved an objective, congratulate yourself – and clearly say so in your appraisal. Be sure to include if you accomplished this feat ahead of schedule or under budget.
If you didn't hit the mark, state where the project currently stands. Then, offer your plan for getting it done within a given timeframe.
Don't dwell on why you didn't reach the goal – and definitely don't point fingers at anyone else. Your boss wants to hear solutions, not griping or whining.
Example: Let's say you didn't finish a major report for your manager. You could say something like: The report is 60% complete. I had trouble making time for it due to the new product launch. For the next month, I'll block off at least 30 minutes per day to finish it up.
Major Accomplishments
Think about everything you've done in the last year, but don't write about all of it.
Choose the most notable achievements when writing your self-appraisal, quantifying each milestone when possible.
Adding numbers to your accolades makes them more concrete and helps you stand out.
For example, if you increased customer satisfaction, include by what percentage.
Not sure what to discuss here? If you've done any of the following, it may be noteworthy:
Spearheaded or participated on a committee or task force
Invented a new procedure that increased efficiency
Saved money by refining a process or finding a new supplier
Mentored a new employee
Increased the size of your team
Took on a new role or a larger job responsibility
Gained new skills
Completed a training program or degree
These are just a few examples. The bottom line? Include anything that stretched your role or broadened your capabilities.
Opportunities for Improvement
Unfortunately, writing a self-evaluation can't just include a highlight reel.
Your manager is looking for a keen sense of self-awareness.
That means you need to be forthcoming about any time management skill shortcomings or areas of opportunity you encountered during the year.
But – this isn't a place to beat yourself up. Rather, it's a space to acknowledge where you can and intend to improve on your job performance.
Your willingness to get better will impress your manager, and they'll be more likely to have patience as you make progress.
For example: Let's pretend your desk is a disorganized wreck and causes you to misplace important documents.
You could say something like: I know my disorganization has impacted my productivity. I'm committed to improving in this area. I'll clean up my desk this week. Then, I'll clear it every afternoon before I go home.
Professional Development Plan
You've spent a lot of time looking back on last year. Now, it's time to look forward to the year ahead.
Consider what you want to accomplish and learn. Where do you want to be at your next performance appraisal?
With that in mind, sketch out a professional development plan that targets the opportunities for growth most important to you, that would also benefit your organization.
It may include starting a degree program, earning a certification, improving communication skills, shadowing another employee, or getting a mentor.
Be sure to clearly state how following this plan will benefit the company. If you make a solid case, you're more likely to get the resources and assistance you need.
New or Revised Goals
As you gain new knowledge and skills, you'll be able to pursue different career goals.
Set and share a small handful of specific objectives and growth oppoortunities you'd like to go after.
For best results, explain how achieving these performance goals tie into the firm's success – and make your supervisor look good.
As you establish goals, make sure that they're S.M.A.R.T.:
Specific – quantifiable
Measurable – verifiable
Achievable – should stretch you, but be possible
Realistic – relevant to the company's mission
Time-bound – deadline required
Example of a S.M.A.R.T. goal: As a sales representative for X, Y, Z Company, I'll close 24 new deals this year. The average rep closes 20 new deals a year. This goal is clearly spelled out, trackable, aggressive, but possible, directly tied to the company's success, and has a deadline.
Feedback
Your self-appraisal should facilitate a dialogue between you and your manager.
Take some time to solicit their opinion on your insights and proposed goals. Also, consider sharing your impression of working for the company.
Have something negative to say? Think carefully about how best to broach it. Consider the interpersonal skills of your boss as well as your own.
If your supervisor is quick to anger or doesn't listen, it may make sense to leave this out – or take the discussion higher up the chain.
But, if your boss is usually pretty receptive, share your concerns.
Use "I" statements to describe how you're affected. If possible, offer some suggested solutions. Try to frame things as positively and constructively as possible.
Example: I noticed that it can get pretty loud in the cubicle area, making it hard to have phone conversations with clients. Could we spread the cubicles further apart or have a designated office we could use for important calls?
Best Practices
To write a winning self-appraisal, follow these best practices:
Take your time – don't wait until the last minute to get it done
Write concisely – make content scannable and easy to digest
Be strategic about what you say – demonstrate your value, commitment, and growth mindset
Ensure your spelling and grammar are flawless
Include testimonials from others if applicable
Have another pair of eyes review it before submission
Keep a running log of achievements – the writing process for your next self-evaluation will be a breeze
Pro Tip: No matter what happens as a result of your annual review, those achievements and personal growth are yours. Be sure to update your resume and professional profile – you never know when career growth opportunities will present themselves.
Final Thoughts
Employee appraisals, especially self-performance reviews, are rarely something we look forward to. Still, adding a self-evaluation to the mix doesn't have to make things worse.
Instead, consider company performance evaluations for what they are – an opportunity for employees to show how they uniquely benefit the company.
Remember, a well-crafted self-assessment could earn you positive feedback, respect, recognition, a raise, or even a promotion. So, follow these steps to write a winning employee self-evaluation and reap the benefits.
Next: Are There Still Benefits to Being a Loyal Employee?