What Are Some Drawbacks of Working from Home?
(This page may contain affiliate links and we may earn fees from qualifying purchases at no additional cost to you. See our Disclosure for more info.)
Ahh, the dream of working from home. The freedom, the flexibility, the ability to work in your pajamas. What's not to love?
Increasingly, more Americans are working all or at least part of the workweek remotely.
Working from home makes life easier for many people – you eliminate your commute, reduce the need for a separate work wardrobe, and you spend less on gas, clothes, and dining out.
But there are some disadvantages to setting up your office in the spare bedroom.
Drawbacks of Working from Home and What To Do About Them
Before you decide to make the switch and become a 100% remote worker, it's important to think through how working from home can impact you and your entire family.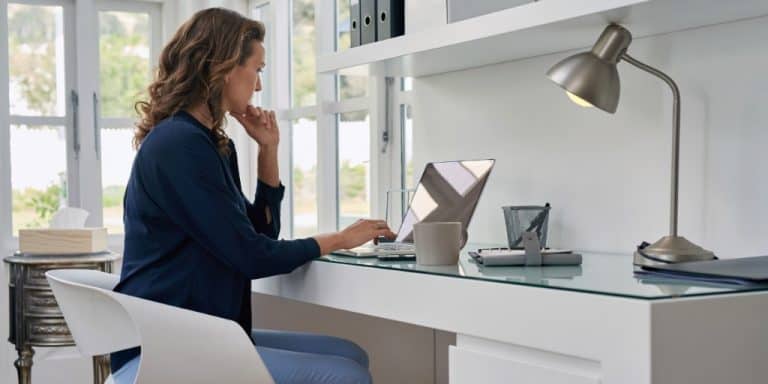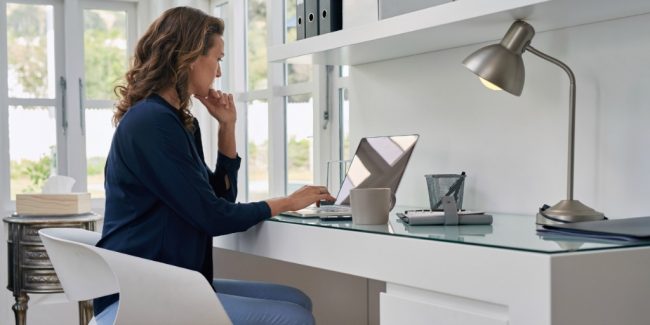 While it can be great, consider these drawbacks before committing to it full-time.
1. It gets lonely
Gone are the impromptu coffee breaks with colleagues, afternoon walks around the building, or lunches out.
When working remotely, your access to coworkers is drastically reduced. While this may improve your productivity, as it decreases interruptions, it can also make for monotonous days.
Some ways to combat your increased isolation include scheduling lunch dates with colleagues or friends, joining social groups like book clubs or supper clubs, taking one day a week to work in a public space like a coffee shop, or by utilizing a co-working space.
2. You still need childcare
Many people assume that when you work from home, you eliminate the need for childcare, especially if your kids are older.
Unfortunately, when you're working, you can't expect to divide your attention between your job and home duties and hope to be successful at both.
If you work from home, it's just as important to plan for childcare as it is if your office was outside the home.
While you do have more flexibility when you don't need to drive to an office – you can start work earlier, take an hour or so to check in with the kids after school, then return to work later in the evening – it's imperative to have reliable childcare for your kids, especially your younger kids when working from home.
If you are realistic about the need for childcare and set up appropriate help for your kids, then you'll be able to focus entirely on your work.
3. You need a designated space
If you work from home, you need a home office. While working remotely may reduce many other expenses, you will need to dedicate part of your home as office space.
Ideally, this is a space exclusively used for work, which the IRS requires when you write off home office expenses anyway.
Everyone in the house should know the area is your office and it is not to be disturbed for any reason.
If others are at home while you're working, make it clear they are not to disturb you during the workday; when you're working, you're not available to answer questions, find lost socks, or otherwise problem-solve for your family.
4. Boundaries are essential
One of the benefits of a home office is that it creates specific boundaries for where you conduct business at home.
It can be too easy to fall into a trap of working around the clock, especially if you're prone to overworking anyway.
It's imperative for your mental health and your productivity to set specific work hours and stick to them. If not, you may find yourself answering emails and texts at any time of day, and never giving yourself time to "sharpen your saw," which can only happen when you take a mental break from work.
Close your laptop, plug in your phone, and close your office door, signaling to yourself and your family that work is over for the day.
5. You feel out of the loop
If you work remotely but other colleagues all report to the office, you may feel slightly out of the loop about things going on in the workplace.
You may be left out of informal meetings about projects or even training sessions if remote workers aren't specifically included in everyday office life.
You may decide heading to the office one or two days per week, if possible, helps you feel more connected.
Or, you may choose to have lunch or regular meetings with colleagues or your boss in-person, to feel more a part of things at your company.
6. Distractions are everywhere
It might not be your chatty cubicle mate or the throat-clearing co-worker down the hall, but the distractions are there – pets, family members, laundry, a fridge full of food, neighbors, and of course the Internet.
To stay productive try a few of these tips below (Editor's note – #2 and #5 work well for me!) The full list of 10 tips and details can be found here.
Take frequent breaks
Reward yourself
Turn off social media
Get some exercise
Feel the pressure
Get out of the house
Put clothes on
If you're careful to think through the possible drawbacks of working from home and make sure to set aside a specific space and schedule, then a remote job can match the dream you've had in your head.
The benefits of working remotely—the flexibility, short commute, and expanded wardrobe choices (sweatpants!)—are worth navigating the drawbacks of being remote.
And if things are difficult at first, just remember: remote workers are happier overall than non-remote workers. So hang in there!
Related: I Hate My 9-5 Should I Quit To Freelance? [Yes & No]
Article written by Laurie