Is Joining a Coworking Space Worth the Expense?
(This page may contain affiliate links and we may earn fees from qualifying purchases at no additional cost to you. See our Disclosure for more info.)
If you work remotely or have a home-based business, you may question whether working from home affects your productivity.
While you thought it would be great to work in sweat pants and prep for dinner during a quick work break, maybe even throw in some laundry between client calls, you're realizing it isn't easy to multi-task.
Working from home has drawbacks.
You distract easily, or the kids want your attention because they know you're in the next room.
You're lonely and miss chatting with office colleagues over coffee. There's no one to bounce ideas off of either.
You want to land a new client but don't have a space to meet for a short presentation.
If you're ready to consider different options for your workspace, one strong possibility could be a coworking space.
What Are Coworking Spaces?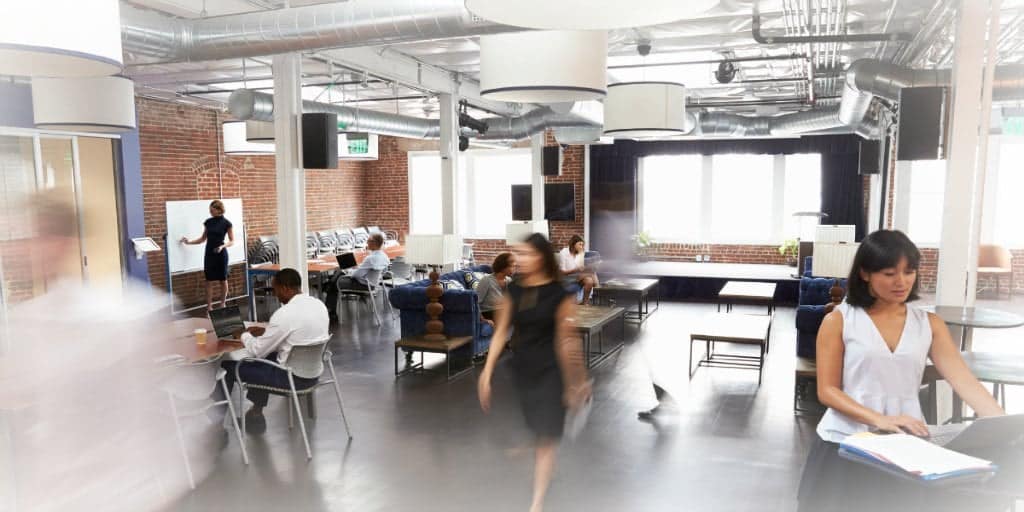 Coworking involves people working independently or collaboratively in a shared office space.
Some coworking spaces are niche-oriented while others welcome anyone looking for a place to work.
The mission and vision of coworking spaces vary too.
Owners of coworking spaces provide equipment and other amenities typically found in an office.
Facilities usually include:
shared workspaces with "hot" desks you can rent by the day
work tables
conference rooms
kitchen
lounge areas
restrooms
You may be able to rent a dedicated desk or small private office in a coworking space or rent out larger rooms as you need them.
Some larger locations also have attendants available during working hours to answer questions and schedule rooms.
Members usually have access to printers, copiers, and fax machines along with high-speed internet connections.
Many locations have advanced technology for members to use including video-conferencing capabilities, interactive whiteboards, and large screen TVs.
Coworking members may be limited to using the space during specific hours of operation. But many coworking spaces offer 24/7 secure key card access.
Every coworking space has its own unique features, so it's important to read what the particular space you are interested in, offers its members.
Benefits Of Coworking Locations
Coworking offices wouldn't be growing in number if they weren't meeting the needs of their members.
Here are some of the benefits of joining a coworking space rather than working from your home or heading to a coffee shop to complete work each day.
Furnished and ready to go. You don't need to pick out a desk, find an office chair, paint or decorate. There's no need to call about internet issues or make sure the coffee is ordered. Everything you need is taken care of.

When you rent a coworking space, you come and go without worrying about paying for utilities or any of the other expenses related to having a traditional office space.
A collaborative community. People who join these spaces are usually willing to talk with others about their ideas or share resources to help one another. Coworking spaces are upbeat and productive places to generate exciting ideas and tackle new projects.

If you have skills others need, you may find side work, or you might be able to barter work from others in areas where you need support.
Low-cost and short commitment. Remote workers, freelancers, and entrepreneurs like using coworking spaces because they're more affordable than traditional office space.

If needs change, coworking members can usually go back to working at home or consider other options without waiting out and paying for a long-term lease.
Other fun amenities. Some coworking spots include coffee, snacks, and even happy hours as part of their membership fee. You might see people playing ping pong or darts while others enjoy a gas fireplace as they work.

After realizing all the extras a coworking space provides, people often ditch the local coffee shop they've been frequenting and even save money.
Networking opportunities. Many local businesses support and collaborate with members of coworking spaces.

Special events, workshops, and conferences are additional benefits members can participate in to learn and help grow their businesses.
Downsides Of Coworking Spaces
Even though coworking spaces are a great alternative to traditional office space for many people, they still don't meet everyone's needs.
Here are things to consider before leaving your home office to get work done.
Loud and crowded. If you prefer to work in a quiet place and are not interested in working with others, co-working spots might not fit your needs.
An additional expense. If you're just getting started with your business or if you're trying to build an emergency fund or quit living paycheck to paycheck, spending money on a coworking space might not make sense.

Removing distractions or giving up on multi-tasking while you're trying to work at home could help you get more done while minimizing business expenses.
Don't forget you'll probably have some commute to the coworking space and that could include paying for gas, parking, or public transportation.
Time limitations. Some coworking spots are open for limited hours which may not align with what works best for you or your family. Lower cost memberships may also limit your access.

If you can't use the space when you need to work, it doesn't make sense to pay for it.
If you travel a lot for your work, joining a coworking space might not be worth the money either.
Privacy and storage concerns. If you have frequent client meetings or a need to have private discussions about your business, co-working locations may not meet your needs, and they can even limit the growth of your business.

Unless you rent a private desk and file space, you'll also need to bring everything you need to get work done back and forth from home each day.
Examples Of Coworking Offices
According to Statista, the projected number of coworking spaces in the United States is going to climb to over 6,200 by 2022. You can find coworking spots all over the world!
Although many spaces are in larger cities, you might be surprised to find one in your area. To locate the nearest space to you, do an online search of your city + coworking spaces.
Some big cities have over 100 coworking offices. Other major cities may have 10 or less. Here are a few examples to check out:
Should You Join A Coworking Space?
Before you decide you can't be effective at your job while working at home, do your homework and see what coworking spaces and other office options are available to you.
The best office space is the one meeting your needs and the needs of your clients. Limiting the cost of the office space may be a crucial factor.
If you're considering a coworking space, take a tour and talk with some members. Many coworking spaces have day passes available so you can try out the office space before making any commitment.
Keeping your focus on work and finding inspiration are important reasons to consider a coworking space. But there may be other available spaces in your community – library, community center, etc. – more affordable, while still meeting your needs.
Next: Handling Office Gifting and Soliciting [to not go broke!]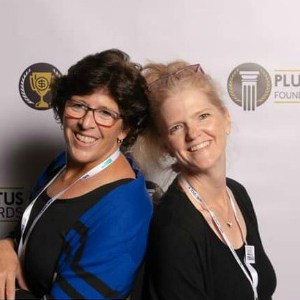 Amy and Vicki are the coauthors of Estate Planning 101, From Avoiding Probate and Assessing Assets to Establishing Directives and Understanding Taxes, Your Essential Primer to Estate Planning, from Adams Media.