What Investing Terms Do I Need to Know Starting Out?
(This page may contain affiliate links and we may earn fees from qualifying purchases at no additional cost to you. See our Disclosure for more info.)
At first, investing can seem confusing, but it doesn't have to be complicated. The great thing about it is, you don't need to know everything there is to know about investing to begin.
As long as you understand some basic investing terminology, you'll have what you need to start.
Though this isn't a comprehensive list of investment terms, it's enough to get you going. And, with investing, starting is the most important thing you can do!
Investing Terminology to Know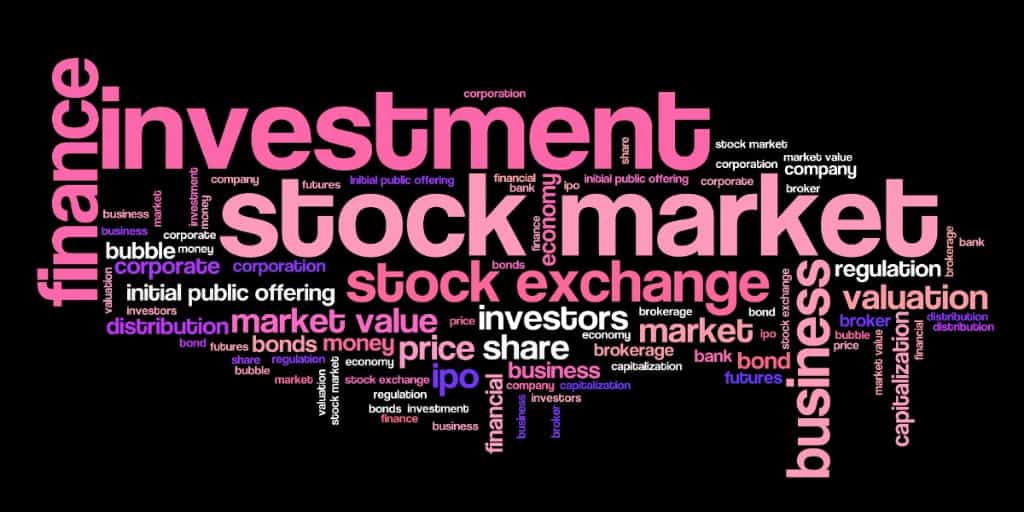 What to Invest in?
Stocks: Investing money in a company's stock means you're buying a small portion of the company.
When a company in which you own stock grows and makes money, the value of your stock generally goes up. The opposite is true as well. If a business isn't doing well, the value of your stock will go down.
Bonds: Investing your money in a bond means you're essentially loaning money to a business or government entity in return for collecting interest. Individual bonds have maturity dates.
Bonds are generally considered relatively low-risk investments. However, there's always the chance a business or government will falter and/or file bankruptcy.
Cash: In investing, cash doesn't just mean the dollars you carry in your wallet. In this case, "cash" generally means a low-risk investment, such as a Certificate of Deposit (CD), money market, or treasury bill.
Though these investments are typically low-risk, they offer lower returns as well.
Investing Strategy Terms
Investment portfolio: An investment portfolio is simply the group of financial investments a person owns. It comprises all of a person's stocks, bonds, funds, cash, and/or real estate they invest in to build their wealth.
Risk Tolerance: A person's capacity for how much risk they are willing or able to withstand for a possibly larger reward.
The timeline and the amount of money a person has to invest often have an impact on risk tolerance. That being said, risk tolerance is individual and depends on each person's feelings, attitude, and circumstances.
Asset Allocation: In investing, asset allocation is an individual's investment strategy. It's the way they divide investments up among stocks, bonds, and cash in their portfolio.
A person's risk tolerance and timeline are considerations when deciding on asset allocation.
Cash is regarded as the least risky type of investment and stocks are often thought of as most risky. Bonds fall somewhere in the middle.
The idea is to balance the risks and rewards of the investments to meet a person's needs and goals.
Diversification: You know the saying "You shouldn't put all your eggs in one basket?". That's the purpose of diversification.
Diversification means spreading out your investments into different "baskets", or assets, to lower risk.
That way if one asset decreases in value (or loses altogether), the other assets will keep gaining value, hedging against a total loss.
Mutual fund: A mutual fund is where many investors pool their money to buy a group of stocks, bonds, and other investments. Each mutual fund has its own investment "portfolio".
Mutual funds have portfolio managers (and researchers) who make decisions on which investments should be part of the fund.
Individual investors aren't investing in the individual stocks or bonds within the fund but in a portion (or share) of the mutual fund itself.
The cost of the mutual fund depends upon the value of the investments within the fund.
Index fund: An index fund is a type of mutual fund that merely replicates a specific market index (like the S&P 500).
The goal of index funds is to provide investors with broader market diversification, along with lower costs.
The costs and fees associated with an index fund are lower since they don't require research or active management.
As an example, if you were to invest in an index fund tracking the S&P 500, you would essentially be investing in a portion of all 500 companies that are part of the S&P 500 market index.
Target-Date Fund: A target-date fund is a type of mutual fund with a specific time goal, based on when an investor needs access to the money in the fund.
Since there is a definitive timeline, the fund becomes more conservative, and has less risk, as you get closer to the target date.
For example, if you plan to retire at the age of 60, and you turn 60 in 2040, you would invest in a 2040 target-date fund.
Keep in mind, that just because there is a specific target date doesn't mean you have to start withdrawing funds at that time.
Pre-tax vs After-tax Investments Terminology
Pre-tax Contribution: A contribution to a retirement account, pension plan, college savings, or other account designated as a tax-deferred investment tool.
When you contribute to one of these qualified accounts, you do not pay taxes on the money. Keep in mind, you will pay taxes on the money when it comes out of the account.
Each account has a limit on how much can be tax-deferred every year, and some have income restrictions as well.
Some examples of accounts where you can make pre-tax contributions are 401ks, 403bs, 457s, along with traditional IRAs, 529s, and pensions too.
After-tax Contribution: After-tax contributions are deposits, or contributions, you make to an account with money you have earned and paid taxes on.
For example, contributions to savings accounts, Roth IRAs, money market accounts, and brokerage accounts you would consider after-tax contributions.
Other Important Investing Terms
Compounding: In investing, compounding means your earnings get reinvested. The reinvested earnings raise the principal amount, which then earns more money. The cycle keeps going.
Your earnings generate earnings that generate more profits, and so on. As you can imagine, the longer you invest, the more time compounding has to work its magic.
Dividend: When you buy stock in a company, you essentially own a part of that company. As part owner of the company, you have a right to a share of the profits of the company.
These are often paid in the form of a dividend. Of course, each company is different, and it's generally up to the company's board of directors to decide if/when they will pay dividends.
Exchange: A place, such as an institution, organization, or association, for trading investments. Buyers and sellers come together in person or electronically to trade assets such as stocks, bonds, and commodities.
Expense Ratio: From management and research fees to administrative expenses, every fund has its costs. The expense ratio is calculated by dividing the fund's expenses by the average value of the fund's assets.
For example, if a fund has an expense ratio of 1%, that means it costs 1% of the value of the fund to keep it running for a year.
P/E Ratio: Short for price/earnings ratio, this calculates how much money an investor needs to invest in a company to earn one dollar.
While the P/E ratio is one way to evaluate if an investment might be a good one, many factors should be weighed. Not all aspects of an investment can be reliably predicted.
Bear Market: A bear market is a widely used term to describe the fall of stock prices (generally 20% or more) over some time.
When values drop, investors start to lose confidence, and sell their stocks, continuing the downward trend.
Bull Market: The opposite of a bear market, a bull market is when stock prices are trending up over an extended period.
A bull market generally means investors are more confident and buying more, continuing the upward trend.
Start Investing!
As a new investor, the financial world might seem full of unfamiliar jargon. As with anything, experience is always the best teacher.
Don't be afraid to dip your toes in the investing waters. Once you get the investment basics down and get going, your confidence will grow.
Becoming a successful investor takes time. But the sooner you start, the sooner you'll be well on your way to building wealth.
Article written by Amanda