Paying Off Debt? Be Wary of this Advice
(This page may contain affiliate links and we may earn fees from qualifying purchases at no additional cost to you. See our Disclosure for more info.)
If you're in debt, it can feel overwhelming.
You may feel like you'll always be indebted and that things will never get better.
However, plenty of people have been where you are and have successfully gotten out of debt, and you can too.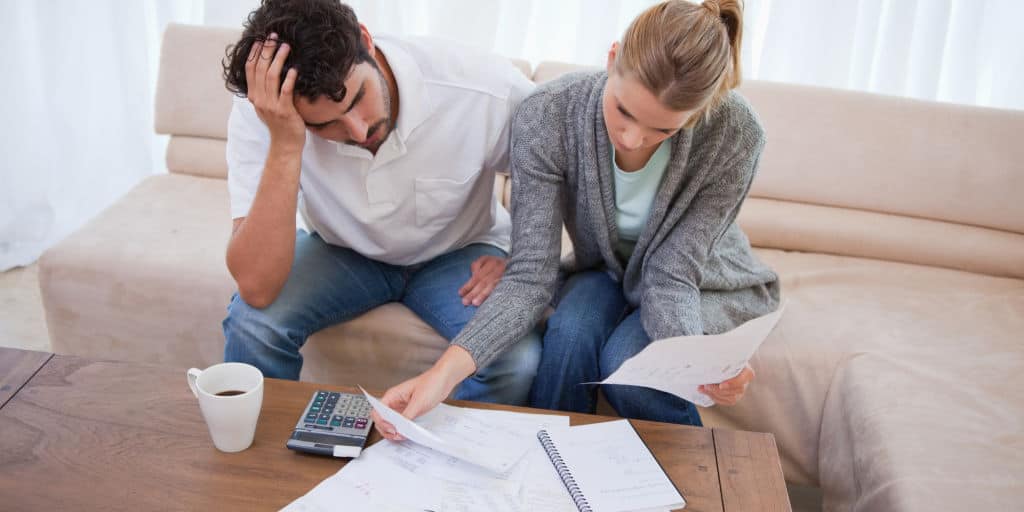 First, though, you have to stop digging the debt hole and stop adding on to your debt. And if you're going to stop digging, you need to know the difference between the right and wrong ways to get out of debt.
Many agencies, websites, and spokespeople claim to know the best way to get out of debt, but that isn't always the case.
To make sure someone has your best interests in mind, ask yourself, "Is this person trying to make money off of my debt?" If so, you probably want to avoid them.
Or, you can just take a look at the following list of the worst advice to listen to when you're getting out of debt:
Questionable Advice for Eliminating Your Debt
1. Pay Your Minimums
Maybe the best way to make sure you'll stay in debt forever is to run up a high balance on your credit card and pay only the minimum balance on it each month.
If you pay the minimum on your credit card balance, which might be 3% or less of your balance total, you won't pay late fees, but you also won't pay down much of your principal.
That's because your interest charges will continue to accrue on your card with a minimum payment, and you'll barely take a slice off of the balance.
Your credit card bill shows you how long it will take you to pay off your balance if you only pay the minimum, usually years.
Paying the minimum on your credit card debt is a good way to ensure you stay stuck in debt forever.
What to Do Instead:
If you want to pay off your debt quickly, the debt snowball method, popularized by Dave Ramsey, is a great way to get yourself motivated. List all your credit card balances, from smallest to greatest, and start with your smallest balance.
Throw as much extra money at it as you can. Instead of paying the minimum, try paying double, triple, quadruple the minimum to get the balance paid off as quickly as you can.
Once you've paid off the smallest balance (and start to see that you can do this!), use the money you were paying on it to pay off the balance on the second card.
Soon, all of those minimum payments will combine to form a giant snowball of money you can use to finally pay off your cards.
But remember–you have to stop charging things to your cards if you're ever going to get out of debt for good.
With the debt avalanche method, you focus on paying off your highest interest debt first rather than paying off your lowest balance first. Once you make all of your minimum monthly payments, any extra money goes toward the debt with the highest interest rate until it's paid off.
After eliminating that debt, you repeat the process with your next highest interest debt. The debt avalanche method may not be as motivating as the debt snowball method, but it'll likely save you more money.
Related Reading: How Can I Pay Off Credit Card Debt for Good?
2. Take Out a Payday Loan
Payday loans are short-term loans designed to "cover" you until your next payday.
These predatory loans usually have exorbitant interest rates (400% on average) and are so bad that they've been outlawed in several states. But, if you have horrible credit and can't get a loan anywhere else, you usually can get a payday loan.
The problem with these types of loans is that when you pay them back, they take such a big chunk of your money in interest that they don't leave you with enough money to cover your bills.
Then, you need to take out another loan, then another. This vicious cycle has sucked lots of people in and kept them paying back high-interest loans for years.
What to Do Instead:
If you have a short-term emergency, like a car repair, that you don't have the money for, consider applying for a bad credit loan, borrow from a local credit union, or consider help from a non-profit or charity in your area.
Many churches assist people with short-term challenges. Selling items you no longer need or use is another alternative. You could even try a pawnshop for a short-term loan.
Related Reading: What Are My Options if I Need to Borrow Money?
3. Wipe Out Your Retirement Account
If you have any retirement savings, it may be tempting to take out a loan against yourself, especially if you're trying to pay off debt. There are a couple of reasons why this is not a good idea.
First off, if you take out a loan against your 401k, you're required to pay it back. And if you change jobs or leave your job for some reason, then you're responsible for paying back the entire loan before you leave your employment.
If you don't pay it back, you have to pay a penalty–you have to give more of your money to the IRS if you don't pay yourself back.
When you pay your loan back, you're doing it with taxed income instead of the tax-free money you initially put into your retirement account.
And you're stealing yourself of valuable months or years of growth in the stock market, which you will need one day when you retire.
What to Do Instead:
Instead of taking out a loan against your 401k, consider a home equity loan. These loans have a similar interest rate and don't come with a penalty.
Most importantly, you won't be robbing your future self of years of stock market growth by taking your retirement savings out of the market.
But these loans aren't without some risk too. You'll need to pay your home equity loan off so you don't lose your home.
If you have no other option, then taking money out of a Roth IRA may be a better idea because you're usually not charged taxes or penalties for these loans.
Related Reading: Compound Interest: What it is and why you need to understand it
4. Use a Balance Transfer as an Excuse to Take on More Debt
You might be tempted to open a new credit card with a 0% promotional period to transfer some or all of your credit card debt onto a new card.
Many balance transfers have a 0% promotional period that lasts anywhere from 6 months to two years, so it's tempting to use the promotional period to spend more while just paying your minimums.
But if you go to the trouble of opening a new card, you have to have a plan in place to pay all of your debt before this period ends.
Otherwise, you'll just be facing a potentially higher interest rate than you had on your previous card. Opening a new credit card can also potentially affect your credit since it triggers a hard inquiry on your credit report.
What to Do Instead
If you're serious about paying your debt off and not adding any new debt to the mix, using a 0% promotional card can potentially help you.
By consolidating all of your credit card debt into one place and giving you a few months of no interest, your debt repayment money works harder.
Just make sure you have a strict plan to pay off as much of your debt as you can inside the promotional period. That means cutting up your cards, buckling down, and paying off as much debt as you can.
Related Reading: Best Ways to Use a 0% Credit Card Balance Transfer
Final Thoughts on Risky Advice to Follow for Paying Off Your Debt
If you're up to your neck in debt, especially high-interest credit card debt, you may feel like you have no options. Or that you'll always have this much debt.
But you can pay down what you owe, and one of the best ways to do that is to stop using your credit cards for new charges while you pay down the debt you've already accumulated.
It may be tempting to shove your credit card bills under your mattress and ignore all your liabilities, but that will only make the situation worse.
As scary as it is, you must take a hard look at how much you owe, write down your balances, and start paying as much extra as you can to your debt.
If you're facing a short-term emergency, like a car repair or medical bill, don't forget to ask for help. You may have a family member or friend who will let you borrow some money.
There may also be resources in your community that can offer assistance, and if you explain your situation to your mechanic or the hospital, most will work with you to form a payment plan.
Getting out of debt is possible, and you can do it. Make sure to work with people who will help, not hurt, you when you start your payoff plan.