Holiday Shopping Tips To Prevent Post Holiday Clutter
(This page may contain affiliate links and we may earn fees from qualifying purchases at no additional cost to you. See our Disclosure for more info.)
Our big spending season is here. According to the National Retail Federation, Americans will spend an average of $1,000 per household this holiday season.
Yet before you head off to do your holiday shopping, consider what you and your loved ones will do with all the stuff you buy.
It's no secret Americans have too much stuff. Evidence of this has been piling up for years in our homes, landfills, and storage units.
Data on the self-storage industry shows there are at least 1.9 billion square feet of self-storage space in America. The self-storage market value comes in at $48.02 billion (2020) with growth expectations reaching $64.71 billion by 2026.
While several people found the motivation to declutter over the last year, others are still dealing with closets, garages, basements, and attics full of stuff.
No matter which camp you fall into, you likely don't want or need more clutter taking up space in your home or occupying your thoughts.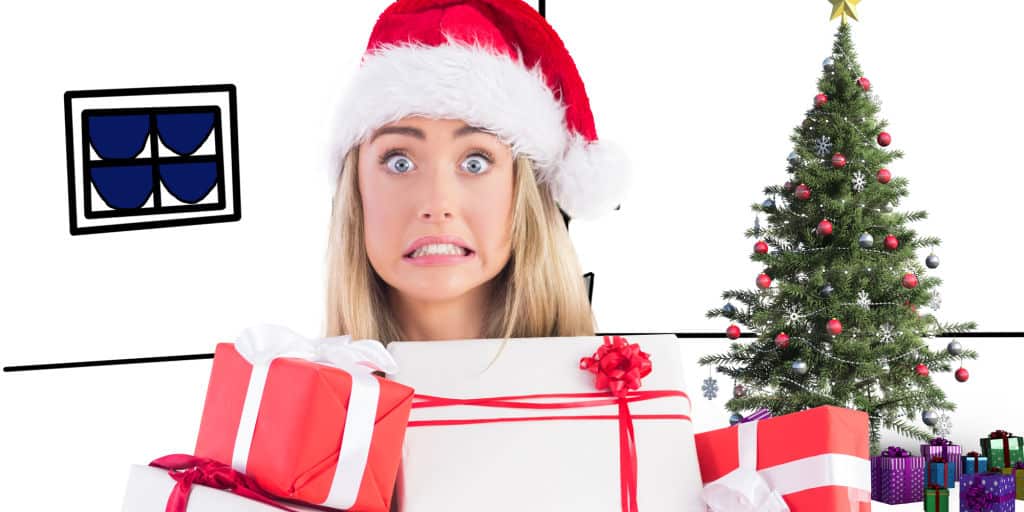 Spend More Thoughtfully This Year
Holiday shopping has the ability to cloud our judgment. We get caught up in the festivity, the pressure, and even the competition of buying presents, holiday decorations, and other things for hosting the perfect holiday events and activities.
Plus we're the perfect consumers. We have a basic need for novelty and new experiences. That's one of the reasons we love Christmas so much.
Unfortunately, many of the things we buy will wind up relegated to the closet, then the garage, and for far too many, eventually the storage unit.
When your gifts and holiday decor go unused, not only has your money been wasted, but you're also contributing to the stress of those who receive your gifts.
Clutter has a negative impact on mental health. It has been linked to depression and fatigue, overeating, and isolation.
Shopping Tips for the Winter Holiday Season
Here are a few tips to help avoid wasting money and contributing to your receiver's pile of stuff this holiday season.
Don't go shopping looking for inspiration. Know what you will buy before you go and have a budget for each person on your list.
Reuse gift wrap and decorations from prior holidays, or make your own from materials you already have.
Coordinate your gift giving with family members. Check in with others to get a good idea of what each person on your list needs or has really had their eye on.
Consider pairing at least adult family members, so each one is only buying and receiving one gift. 
Give experience gifts such as a membership to a zoo or museum, tickets to a sporting event, amusement park, concert, or an opera, musical, or theatrical show.
If you're at a loss for what to give, make it consumable. Home baked goodies rarely go to waste and won't be stored. Or gift your favorite luxury food item, coffee, wine, craft beer, or meal kit service. 
You can also consider giving your time. Perhaps you can gift your services to paint a room, declutter a basement or closet, run errands, or babysit some kids. The possibilities are endless.
Finally, rather than exchanging gifts with extended family or friends, perhaps this year you all make a donation or provide gifts to those less fortunate instead. 
Related: Items to Stop Buying to Save Money and Curb Clutter
Spend Mindfully this Holiday Season
We look forward to the holidays every year. But the buying frenzy that comes with them can be too much.
Often what we buy can wind up as stuff that needs storage when the excitement wears off.
So, this year, take a more thoughtful approach to gift buying to prevent post holiday clutter.
Buy fewer gifts and make them count. You'll save money, and others will truly value what you give.
Next: Year-End Financial Review and Planning Checklist
Article originally written by Julie Grandstaff and updated by Women Who Money Cofounders Vicki Cook and Amy Blacklock.
Julie is the author of "Save Yourself: Your Guide to Saving for Retirement and Building Financial Security." She's a twenty-five-year veteran of the financial services industry, where she managed billions of dollars for both individuals and institutions. Julie retired at the age of fifty-one. Her book, "Save Yourself," is a comprehensive guide to saving for retirement and shoring up your financial security so you can do whatever it is you want.