How Do I Save Money and Have a Happy Halloween?
(This page may contain affiliate links and we may earn fees from qualifying purchases at no additional cost to you. See our Disclosure for more info.)
Kids are back in school, leaves are changing colors, and the scent of pumpkin spice is in the air. Skeletons, ghosts, and spider webs decorate store aisles, and candy sales are popping up everywhere.
We're fast approaching the day that brings out the kid in all of us each year – Halloween!
If you're not careful though, spending on fall fun can wreak havoc on your budget. Finding ways to save money on Halloween is important if you want to stay out of debt before the real holiday shopping begins!
Halloween Spending
According to the National Retail Federation, over 9 billion dollars will be spent on Halloween shopping this year.
Even though many people budget and set aside money for the end of the year gift-giving and festivities, they may forget to budget for holidays like Halloween.
It might not be an issue if you're just buying a few bags of candy for treats for neighborhood kids.
But if you go all out decorating, host parties, buy costumes, or go out to bars to enjoy a night on the town – the trick might be on you when your November credit card comes due.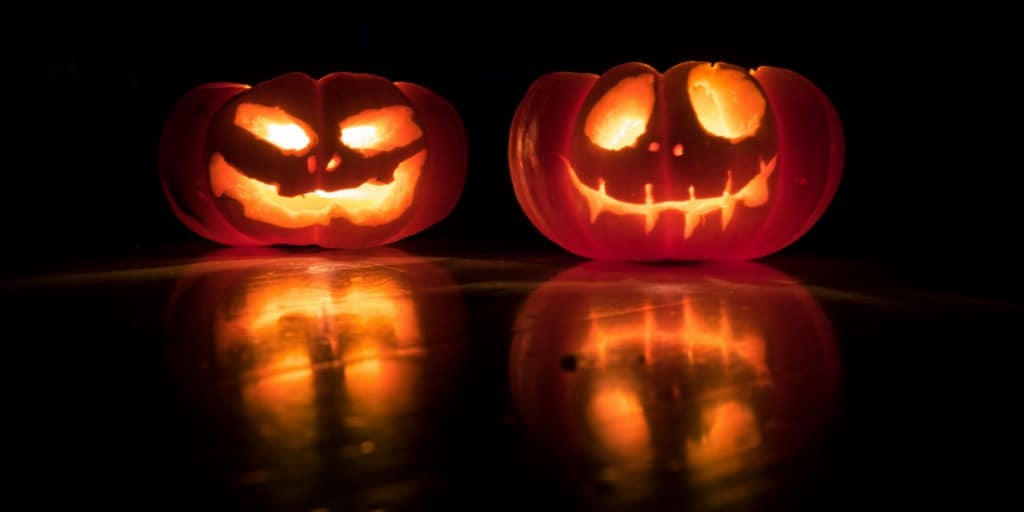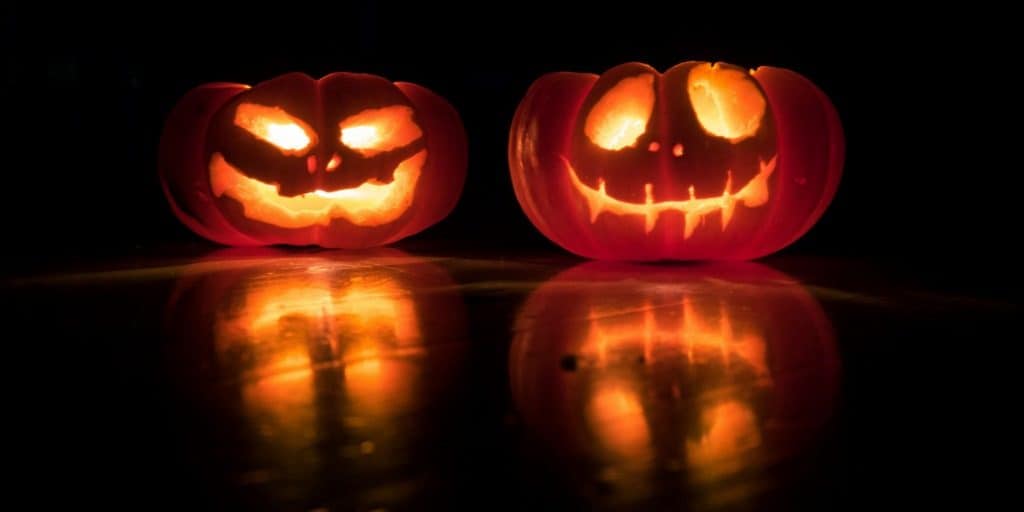 How can you still have a happy Halloween but save as much money as possible There are plenty of things you can do!
The key is to take time now to decide what you can afford to spend. Then, stick to it and don't give in to impulse buys. Staying in control of your expenses in October is good practice for the shopping season ahead.
Let's look at ways you can save on all the different Halloween expenses you might face. Making changes in how you shop in just a few of these categories will save you money without sacrificing much at all!
Save Money on Halloween Decorating
As Halloween approaches, you may be tempted to out-do your neighbor's lawn display or your kids may beg for the giant blow-up yard pumpkin at the big box store.
Unless you are a shoo-in to win a big cash prize for the scariest looking house in your town, cut back on how much you decorate – even if Halloween is your favorite holiday.
There are plenty of ways to "dress up" your yard, porch, and house for little money.
Instead of decorating each area, choose just one. If you decorate the yard – skip trimming your porch and in the house. It will save you time and money, and you'll still feel festive.
Get a bale of straw, an old broom, and some old clothes to make a stuffed witch or scarecrow. Some of the best decorations are made from things you already have at home, and your kids will love being involved.
If you choose to decorate the house, let your kids create decorations. Make construction paper pumpkins, tissue paper ghosts, and bake and decorate cookies to save money.
You also won't have to worry that rain will ruin all the work you put into yard decorations either.
If you do buy decorations, look for things you can reuse each year. Rather than picking up new decorations before Halloween, check out deeply discounted decorations the first week in November.
Pumpkins
Even though it might be easier to buy pumpkins in the grocery store if you have access to a farm market or roadside stand – you'll probably get them much cheaper. You'll also be helping support a local farmer!
Decide ahead if you'll be buying a big pumpkin for everyone in the family or if one big family pumpkin is enough. Younger kids may enjoy decorating smaller "pie" pumpkins saving money too.
It's a big treat for kids to go to the pumpkin patch and older kids might enjoy haunted hayrides, and corn maze walks. Just keep in mind these all come at a cost.
The more you think about it, the easier it is to see how you can really overspend preparing for Halloween.
You might consider purchasing some plastic pumpkins to decorate with if you have the room to store them. They're inexpensive, and you can use them year after year.
Costumes
Notice a "Halloween Store" has popped up in your community recently?
These seasonal operations open in vacant storefronts for a few months each year. If you aren't creative or if your schedule is crazy, you might be tempted to stop in and check out their inventory of costumes.
But think twice before you pull out your credit card.
Here are some other ideas to save money while still having fun dressing up to enjoy Halloween night.
Use some of your old clothes or dress clothes you'll never wear again to create a costume. Make a cheap outfit from an old bridesmaid dress or one of your teenager's practice jerseys without busting your budget. If you don't have any clothes that work, check with your friends or family to see what they might have in the back of their closets or drawers.
Most communities have consignment or thrift stores with used clothes you could make into costumes. Many even have donated costumes this time of year.
Borrow purchased costumes from friends, family, or neighbors. Send a group text, put up a Facebook post, or post in your Nextdoor group that you're looking for a costume for yourself or your kids. You might even consider hosting a costume exchange for little ones.
Wear the same costume you wore last year. Even though you might not surprise anyone by wearing that mask again, it'll keep money in your pocket!
Think about typical Halloween weather in your area too. Some people spend a lot of money on costumes only to cover them with heavy jackets or raincoats when severe weather hits on Halloween.
If you really need to go back to "Halloween shops" to find an accessory, look for something fun and unique and something you can hopefully use again.
Candy
Candy may be cheaper the week after Halloween, but no one wants stale, old candy the next year. Watch store ads for sales and if you have lots of trick-or-treaters, buy bigger bulk-size bags of candy.
You can also use cashback apps like Ibotta or manufacturer's coupons to save money.
Pick up some sparkly pencils, cool erasers, or bouncy balls for kids who have allergies or prefer toys over candy. You can put extras away and pull them out next year too.
Parties and Going Out
If you're hosting a big Halloween party, think about having a "pot-luck" or "bring your own" to keep it a budget-friendly event.
Rather than spending big bucks getting everything for the party, buy prizes and ask people to vote on the scariest and most creative dishes or the best "potions" someone can make.
You might be surprised at how creative people are if you make it a competition!
If you plan to go to a local bar for Halloween, consider eating dinner at home before you go. You can save money by buying appetizers rather than dinner too.
When you drink, substitute water or soda in between your adult beverages of choice. You'll save money and thank yourself the next day too.
Also, if you're drinking alcohol, don't skimp on spending money to get home safe.
Buy sodas for your designated driver or get a few friends to split the cost of a taxi, Uber, or Lyft. It's the most important money you'll ever spend.
Saving Money and Having a Happy Halloween
You can find some great decorating and costume ideas from sites like Pinterest, but be careful not to let "surfing" online and social media overdo your spending.
When you've set a spending limit and then see people post Halloween photos, you might start feeling bad that you're missing out or that your kids deserve more and better. But that's just a trap you don't need to fall into.
When you get that feeling, log off and try to enjoy what you have, within your budget.
It might be challenging, but spending a couple of hundred bucks for an evening of fun might not align with your money goals.
When your goals are to put up the most decorations on the street, win the pumpkin-carving and best costume contests, hand out full-size candy bars to trick or treaters, and throw a fabulous Halloween bash for all of your friends – it's going to cost you.
If you've planned for it and can afford it – go for it. But don't go in debt when there are so many ways you can save money and still have a great Halloween.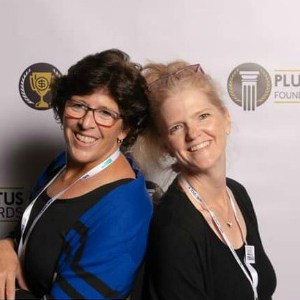 Amy and Vicki are the coauthors of Estate Planning 101, From Avoiding Probate and Assessing Assets to Establishing Directives and Understanding Taxes, Your Essential Primer to Estate Planning, from Adams Media.