Does Your Health Insurance Follow You When Traveling?
(This page may contain affiliate links and we may earn fees from qualifying purchases at no additional cost to you. See our Disclosure for more info.)
Have you ever taken a cross-country trip without a second thought about a potential health emergency?
What about when traveling abroad?
Most of us assume our health insurance fully covers an emergency when we are away from home, but medical coverage varies by provider.
If there's one thing we've learned the hard way about medical insurance, it's that insurance doesn't cover everything you might expect.
It's important to know whether your medical insurance will cover you if you're in a different county, state, or another country.
So, no matter if you're planning a staycation with day trips around your state or a worldwide adventure, protect your savings by reviewing what your major medical insurance covers and what it doesn't before you travel.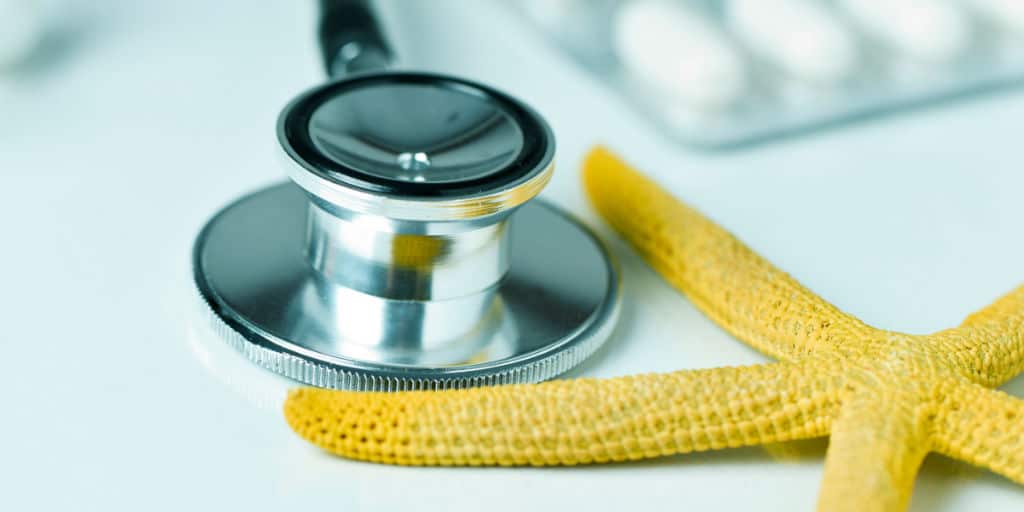 Your Type of Health Insurance Can Determine What It Covers
Different types of health insurance can cover different medical costs.
For example, if you're provided health insurance by your employer or the Affordable Care Act, you probably have a PPO or preferred provider network.
In that case, you likely pay both in-network and out-of-network rates.
However, some plans are HMOs or health maintenance organizations.
While PPOs use a network where you pay a portion of the medical bills, an HMO tends to be more restrictive about where you can receive care.
But HMOs may cover more of the costs for medical care.
Either way, your plan may restrict coverage if you travel to another part of the state, a different state, or even outside the U.S.
Major Medical Insurance Coverage is Different When You Travel
When traveling, an essential part of your major medical insurance coverage is the help you receive from your insurance company.
However, you will likely be required to see a specific provider chosen by your insurance company, and that provider may not be reachable if you're away from home.
Your health insurance may offer great coverage in your home area, but you might be surprised to learn that your benefits are different when you travel.
Typically, health insurance plans cover many of your medical expenses, but many insurers provide reduced coverage when you're vacationing or on business travel away from home.
Your insurer may charge higher copays or deductibles for seeking treatment outside of their coverage area.
This could leave you in the position of paying more for the same treatment simply because you need help in another part of your state or when you cross state lines.
If you're traveling outside of the country, your insurance may not cover anything at all.
It's rare that your healthcare provider would notify you before you embark on a trip.
So you'll want to spend time learning about your policy's travel coverage to know what it entails and how it works.
Major Medical Insurance May Not Cover You at All
Sometimes, your health insurance coverage might not cover you, or it might require pre-authorization before you can receive treatment.
If you have a more restrictive medical plan, you may not have any health benefits when traveling to another state. You could end up with substantial medical expenses if you get sick or hurt while uninsured.
In some cases, the insurer may require you to contact them for pre-authorization before an out-of-state provider begins your care.
Either way, it puts you between a rock and a hard place: you need urgent medical care, but your insurer makes you ask for permission.
And if you receive treatment without pre-authorization, the insurer may deny all of your claims later.
Note: If you own a second home or vacation property, check with your insurance provider to make sure if you'll have coverage when staying there too.
What Regular Medical Insurance Does Not Cover
Even if your health insurance pays a significant amount for medical bills you accrue out-of-state, it may not cover everything.
Let's say you had an injury while traveling that requires ongoing treatment. However, once you are medically stable, your insurer would rather treat you at one of their in-network facilities.
However, you're in a different state or country, miles away from the in-network providers.
In this case, the insurer won't pay to get you home so your doctor can treat you, and if you require a medical evacuation, it could devastate your finances.
Medical evacuation isn't cheap. For example, a nurse escort to monitor your condition can cost around $30,000.
You may also need to purchase up to eight seats on a commercial flight to accommodate the stretcher.
Your costs increase the further away you are from home. If you need an air ambulance, you could pay up to $50,000 or more.
Options for Health Insurance While Traveling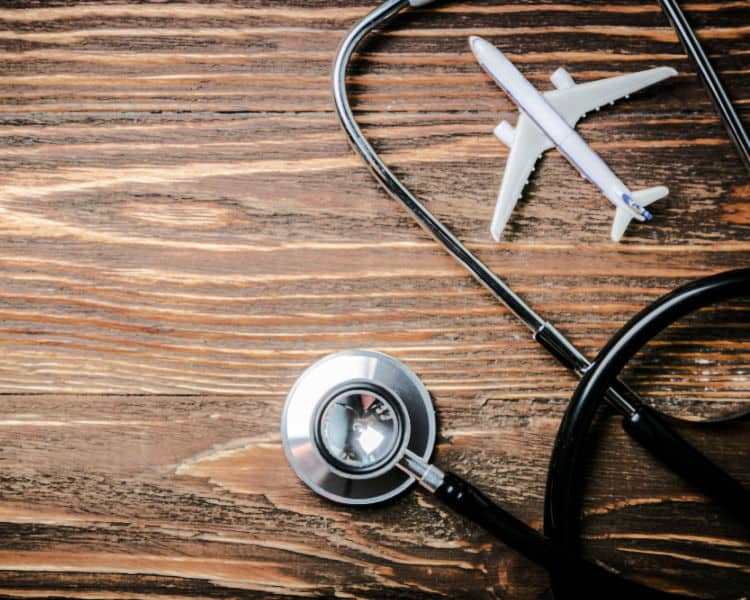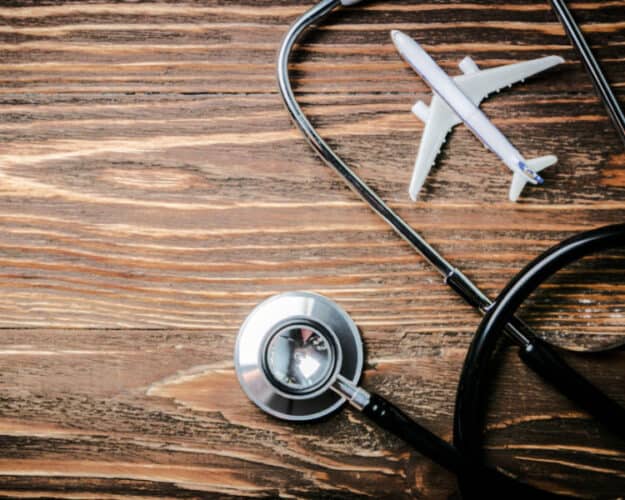 Modest fees at home could end up being a budget-busting amount of money for the same services if you're out of your state or country.
Many aspects are part of receiving a medical diagnosis or treatment; cross-border policies and how they can affect costs are just one.
Before you travel, take time to investigate your options to see if travel insurance is right for you.
Many types of travel medical insurance plans exist if your standard healthcare insurance won't cover you while you're away from home.
Some plans are annual medical plans suitable for many trips, and others may be comprehensive travel insurance plans best for a single trip.
Supplemental Health Plans
Plans like GeoBlue supplement your health insurance with additional protection, covering you when you're not at home. They work within the U.S. and internationally.
One drawback to GeoBlue is that it uses network providers.
You might consider other insurance plans like Seven Corners Liaison and IMG Patriot, both of which don't use network providers, giving you more options for medical treatment.
When shopping for these types of plans, look carefully at the deductible, as some programs let you choose your deductible.
A higher deductible usually means lower upfront costs.
Drawbacks of supplemental health plans:
Many plans do not cover pre-existing conditions. If you think you have one, carefully read the policy to discover how treatment works for pre-existing conditions.
Some plans have a medical history 'look back.' Essentially, any medical condition that's new or changed during a certain amount of time before purchasing the coverage could be excluded.
Some plans may not look back; however, that isn't necessarily a good thing. For example, an insurer that doesn't look back may not cover any pre-existing condition you've ever had.
Annual Travel Medical Plans
Annual travel medical insurance plans are convenient if you frequently travel every year.
They help cover the cost of treatment away from home, but they may limit the per-trip benefit you receive.
If your primary medical insurance is pretty good but leaves some coverage gaps, an annual plan could be a practical option.
However, annual travel medical plans can have more significant restrictions and exclusions than other alternatives. Review the policy carefully before buying.
You don't want to find out your policy doesn't cover what you need when you're in the throes of an emergency.
Multi-Trip vs. Single Trip Insurance Policies
Some programs, like annual travel medical plans, offer multi-trip coverage. It can be more convenient than buying single-trip policies, especially if you're a frequent traveler.
Make sure to know a plan's maximum trip length if you plan to travel for an extended period. Some policies limit your coverage to 30- or 45-day stays.
Single trip policies generally offer more benefits for the cost. They may also not require copays or deductibles for medical treatment.
Before you buy a policy, check to see if it pays as a primary or secondary insurer:
A secondary insurer will only pay after your main health insurance pays.
If it is a primary insurer, your other health insurance doesn't matter, as it will pay first.
If you have a particularly complicated health plan, you might have better coverage with a primary insurance policy.
Single Trip Travel Insurance Plans
Comprehensive travel insurance plans cover single trips and can include medical insurance and medical evacuation.
They can also reimburse you for the cost of the trip due to cancellation or interruption.
For example, if you had a health emergency before the trip, you may need to cancel your plans. As a result, you could lose several thousand dollars that you already invested in flights, hotels, and rentals.
If your coverage includes reimbursement of trip cost, it can reimburse you if you must cancel for a covered medical reason.
Drawbacks to single trip plans:
With full cancellation coverage, single trip plans can be costly.
Buying a new policy each time you travel is time-consuming and less convenient.
Plans aren't meant to cover extended stays. If you stay in another country for multiple months, you might find a standalone medical program more suitable.
Credit Card Medical Insurance
Many credit cards offer a travel insurance that can include rental car and trip cancellation coverage.
These plans rarely cover medical costs, but some travel credit cards can help pay for emergency evacuation and transportation.
Those protections might not be available in some countries. They could also have other limitations.
Be sure you read the fine print before relying on your credit card travel coverage.
Final Thoughts
No matter how you look at it, medical bills are expensive. It's always worth checking into your travel medical insurance options, especially when you're about to leave home.
If a medical insurance policy covers you while traveling in the U.S., make sure it covers the specific services you may need.
If it doesn't, you'll likely want to get a separate travel policy to cover unexpected medical events.
Some policies have more coverage than others.
If you're considering a trip to another country, ensure your policy includes benefits for emergency medical services at your destination.
Article written by contributor Amy Beardsley
Amy Beardsley is a Freelance Writer and Professional Ghostwriter, whose work has appeared in dozens of financial planning and real estate blogs and magazines. Amy has also ghostwritten content for hundreds of social media profiles. With a background in the legal field, she transforms complex ideas and information into engaging easy-to-understand stories.