What is Flood Insurance and Do I Need It?
(This page may contain affiliate links and we may earn fees from qualifying purchases at no additional cost to you. See our Disclosure for more info.)
Storms such as Hurricane Katrina, Hurricane Harvey, and Hurricane Imelda are happening with greater frequency and greater intensity every year.
The World Health Organization lists floods as the #1 natural disaster in the world.
The NOAA, the National Oceanic and Atmospheric Administration predicts that the rainfall and intensity of hurricanes will increase significantly in the coming years.
Thousands have lost their homes or have had severe damage due to hurricanes, severe storms, and associated flooding. Many people have lost not only their homes but their life savings also in these tragedies because their insurance didn't cover flood damage.
Do you live in a flood zone?
Will a hurricane hit your area?
Do you need to add flood insurance to your homeowner's policy, or is it a waste of money?
Read on to decide.
What is Flood Insurance?
Flood insurance is a type of coverage that protects your home and belongings in the event of flood damage. It can help pay to repair or rebuild your home when water causes significant destruction.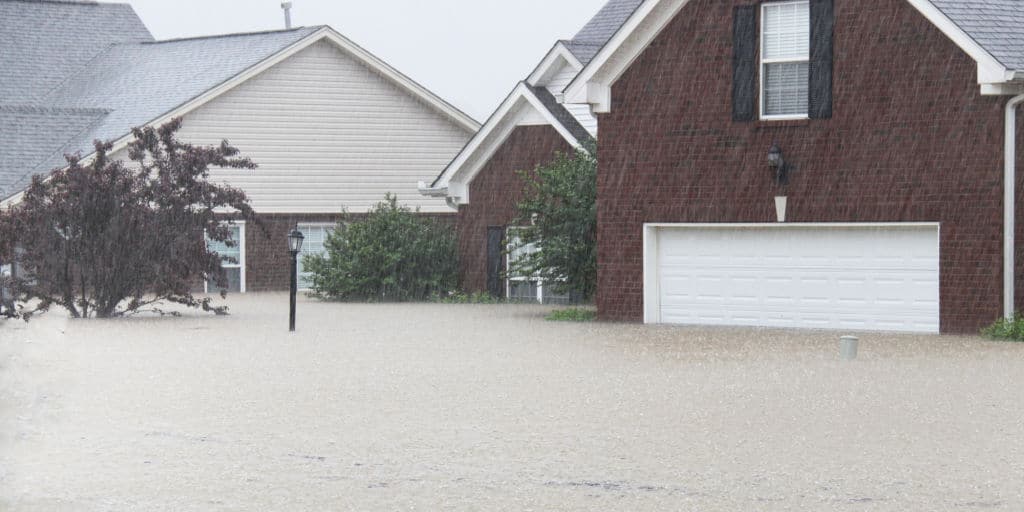 This insurance can even include a provision called Increased Cost of Compliance that provides up to an additional $30,000 in coverage to help with the cost of bringing your home up to new building codes.
Flood insurance is not typically part of your homeowner's insurance. It usually needs to be purchased as a separate policy.
It's sold through the National Flood Insurance Program (NFIP), run by FEMA, online at floodsmart.gov. Your local insurance agent may also offer policies from private insurance companies throughout the US and around the world.
While the government provides federal disaster assistance in the event of a major hurricane, aid is only given if a Presidential disaster is declared. Some federal disaster assistance also has to be paid back, including Small Business Administration loans.
Types of Flood Insurance
There are two main types of Flood Insurance.
Building property coverage covers structural damage to your home. It covers major systems such as HVAC, electrical, and plumbing, your foundation, and anything attached to your home, such as cabinets and built-in bookcases.
The maximum coverage limit is generally $250,000 for personal residences and $500,000 for commercial buildings.
Personal contents coverage covers the valuables inside your home, like furniture, electronics, appliances, and art. It covers the cost of replacing part or all of your belongings if a flood destroys them.
The maximum coverage limit is generally $100,000 for personal residences and $500,000 for commercial buildings.
If you're not a homeowner but are a renter, you can buy a renter's policy with personal contents coverage only, up to $100,000, to protect your belongings in case of a flood.
There are different deductibles available for flood insurance. A higher deductible will mean a lower premium, but you're also on the hook for more of the cost in the event of a claim.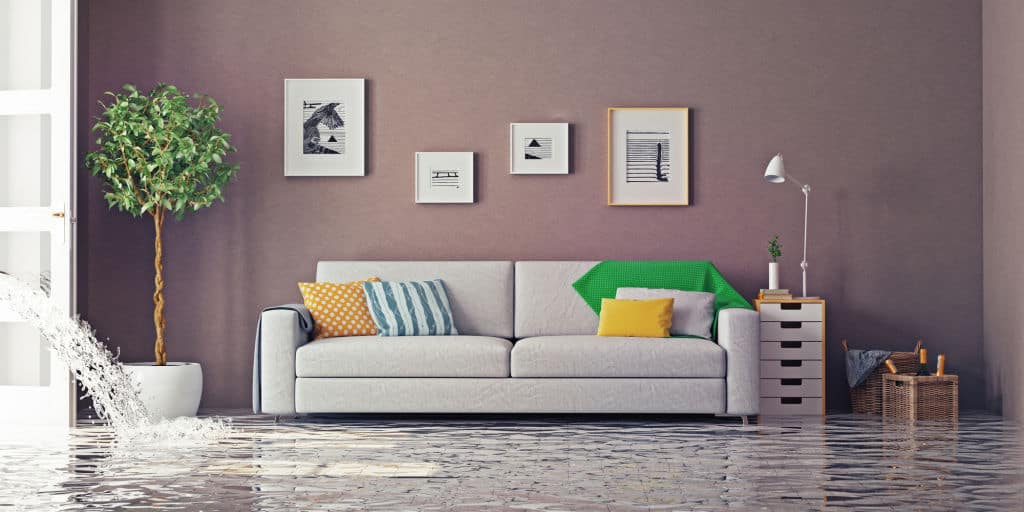 The average yearly premium for flood insurance varies by state and region. It's also determined by where your home lies on the floodplain, the age of your home, how close you are to the water, and your home's elevation.
Find out your state's average yearly policy price. While your costs are specific to your area, an average cost can give you a general idea of whether you'll pay more or less for a policy in your state. 
There is usually a 30-day waiting period on your policy before coverage begins. This waiting period is waived when you purchase coverage at the same time you are buying your home.
Private Flood Insurance
More and more insurance carriers are providing private flood insurance as either a supplement to federal policies or as a replacement flood policy.
These policies can offer higher coverage than federal policies ($250,000 for buildings and $100,000 for personal property). They may provide optional protection like money for living expenses while your home is repaired or rebuilt because of a flood.
Check with your home insurance agent to see if your insurance agency offers private flood insurance. It can sometimes, but not always, be offered at more competitive rates than federally-backed policies.
What Does Flood Insurance Not Cover?
While flood insurance covers damage to major systems (electrical, plumbing, etc.), appliances, carpet, built-ins, and personal property, it excludes damage to the following:
Living expenses while repair or rebuilding is underway
Financial losses accrued during repair or rebuilding
Property and belongings outside of the house, such as pools, hot tubs, fences, decks, trees, plants, wells, and septic systems
Currency, stock certificates, and/or precious metals like gold
Cars and other motor/electric vehicles
How Do I Know if I Need Flood Insurance?
Flooding does not just happen because of hurricanes. According to National Geographic, flooding can happen because of rapidly melting snow or ice, excessive rain, or ruptured dams or levees.
FEMA reports that one-third of insurance claims come from low- to moderate-risk areas.
If you live in a high-risk flood area (and you have a mortgage from Freddie Mac or Fannie Mae), you must have flood insurance.
According to Certified Floodplain Manager Josh Overmyer, a local official in Southwest Florida and current Chair of the Florida Floodplain Managers Association,
"a home in a high-risk flood area has a 26% chance of flooding to the Base Flood Elevation during the typical 30-year term of a mortgage. That's more than twice as likely as experiencing a home fire."
The Base Flood Elevation is the expected height of a 1% annual chance rainfall event, commonly referred to as the "100-year flood" elevation.
If you live in a low- to moderate-risk flood zone, you're eligible for a lower-cost policy through the NFIP.
FEMA has a Flood Map Service Center where you can check your home's risk. Input your address into the map.
If you see an A or V, you live in a high-risk flood zone. If you see a B, C, or X, you live in a moderate- to low-risk flood zone. If you live in one of these areas, you are eligible for flood insurance at a lower rate.
Where Can I Buy Flood Insurance?
Flood insurance isn't available in all areas, so check Floodsmart.gov to find out if it's available in your area.
Most insurance brokers who sell homeowners insurance also sell flood insurance, so check with your insurance agent to see if you can purchase a supplemental policy or even private insurance.
The Bottom Line
If you live in a low- to moderate- flood risk zone, you may never be the victim of a flood. Yet, in an era of climate change with increasing frequency and intensity of storm events, the flood risk may be higher than shown on the FEMA flood maps.
Since, according to Consumer Reports, the average annual policy is around $400 per year for homeowners in these zones, you may want to consider adding this coverage if only for the peace of mind it will provide.
Next: What is Umbrella Insurance and Who Really Needs it?