Warehouse Clubs: BJ's vs Costco vs Sam's
(This page may contain affiliate links and we may earn fees from qualifying purchases at no additional cost to you. See our Disclosure for more info.)
Food prices are expected to climb 5% in 2022 (after increasing almost 8% last year), making saving money on groceries more crucial than ever.
Warehouse club stores can offer hefty discounts on items from food to sundries to office products, but they also have membership costs.
It's confusing to know which wholesale club to join, with three major warehouse chains to choose from–Costco, Sam's Club, and BJ's.
While they all offer similar products-food, drug and beauty products, clothing, office supplies, etc., there are some essential differences and key perks between the three.
Read on to figure out which warehouse club membership is best for you.
Club Locations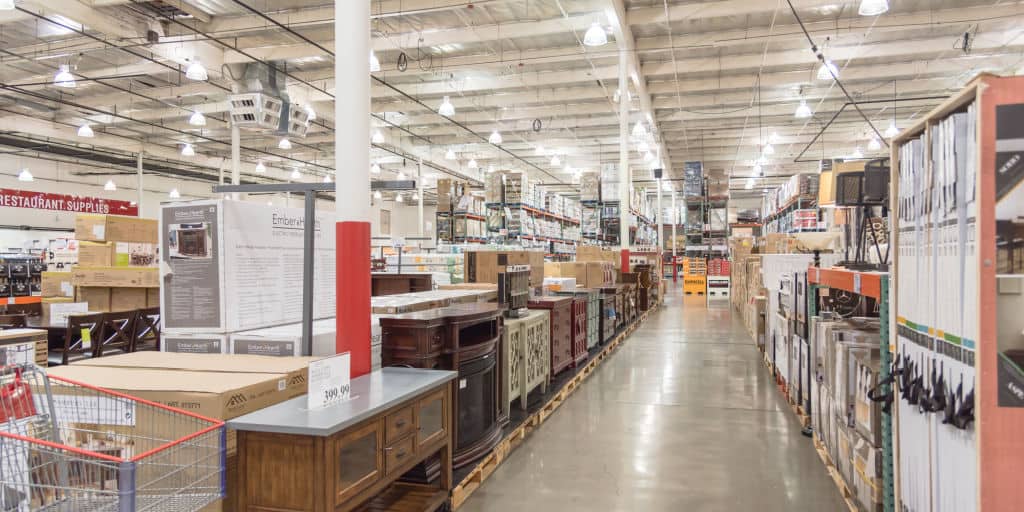 There are roughly an equal number of Costco Wholesale and Sam's Club locations in the US and Puerto Rico, about 600.
Costco also has around 200 international stores, primarily in Mexico and Canada (with some in Europe, Asia, and Australia).
In comparison, Sam's Club has approximately 200 international stores with locations in Mexico, China, and Brazil.
BJ's Wholesale Club has about 200 stores located primarily on the east coast of the United States.
While Costco and Sam's Club win on the number of stores overall, it's really only necessary that they have a location that's convenient to you.
When you have just one store to choose from, it usually makes sense to join that one, especially for certain everyday household items like paper goods, meats, and pantry staples like oil and syrup.
However, if you have two or three stores near you, then it pays to know which store makes the most sense for you to join.
Membership Costs
Before joining a warehouse club, you need to make sure you'll use it enough to get your money's worth.
While a club membership card gets you deep discounts on fresh food and gas prices, all three clubs have a hefty annual membership cost to enjoy their exclusive deals.
(Still, if you buy a lot of gas from a club, Consumer Reports says you'll cover most of your yearly membership fees in gas savings alone)
Standard Membership
Costco has the steepest annual membership fee at $60.
BJ's charges $55 for its basic membership, and the cost of membership at Sam's Club is $45.
You can often find a membership deal on a warehouse club's official website or sites like Groupon, so check there before purchasing.
Membership includes one additional complimentary household membership card, and you can add extra membership cards for a fee.
An annual warehouse membership provides you access to significant discounts on groceries, clothing, eye exams and prescription lenses (although Sam's Club requires an upgrade for that discount), gas, tires, batteries, and travel.
Additionally, you'll find exclusive travel deals at all three clubs, and they offer discounts and special incentives if you purchase flooring, HVAC, home improvement projects, and more.
Sam's Club offers Business Services like payroll processing, and Costco has a famous car-buying program.
If you're ever dissatisfied, each of the three buying clubs will refund the price of your membership.
Additional Membership Options
All three stores have higher tiers of membership that generally come with credit card rewards, additional discounts and other perks, and business memberships.
Costco's Executive Membership is $120, double its standard cost. The Executive Membership includes a 2% reward on all purchases in-store or online up to $1000 in rewards.
The Sam's Club Plus Membership costs $100, and you receive 2% back on all in-store (not online) purchases, with a cap of $500 in rewards per year.
Sam's Plus members also receive generic prescriptions for free, 30% off many other medications, and 20% off glasses. 
BJ's Perks Rewards is $110, and members earn 2 percent cash rewards for most purchases in the form of certificates issued in $10 increments every six months.
Costco provides the most significant cash rewards in its higher-level membership. So if you shop a lot in-store, Costco might be the way to go to get the biggest bang for your membership buck.
If you spend around $250 per month in warehouse stores, you hit the break-even cost of a higher-level membership, and if you spend more than that, the additional perks will have you coming out ahead.
Returns Policy
Costco's return policy allows you to return almost anything you purchase in the store at any point, even without a receipt.
Although they have a more limited return window, Sam's Club generally accepts returns without a receipt.
BJ's generally gives you a year to return your merchandise in new condition.
While Costco has the most generous return policy, all three stores provide customer service to make it easy to return items you buy online or in-store.
Size and Selection
All three stores offer discounts on a wide range of grocery items, including organic options, that they sell in larger quantities than you find in a traditional grocery store.
All the clubs offer brand name products and sell their private label items too.
Sam's, BJ's, and Costco sell most grocery items in bulk, with many goods mounted on pallets. Because clubs sell many product categories in a high quantity of goods, they can offer lower prices. 
Costco does sell items individually (such as books, software, and electronics) that can't be packaged on pallets because they would be damaged.
That means you'll find more individual items in Costco than at Sam's Club, but they may be priced slightly higher for individual units.
Sam's Club sources many of its products from its stores in China and Brazil, leading to a more diverse product line than Costco.
BJ's also offers more individually packaged goods like Costco does, so you can find slightly lower prices.
Services Provided
Warehouse clubs offer much more than discounts on fresh and frozen food items.
One way to take advantage of your membership is to use a warehouse club's services.
You can save hundreds or thousands of dollars depending on the service you buy or use.
And when combined with using one of the club's cobranded credit cards with cash back rewards (and paying it off each month), you can return money to your pocket.
Costco membership benefits include access to optical services, mortgages, securities, car insurance, and Costco Travel, among many other services.
Sam's Club membership offers travel services, home improvement, photo, auto services, car care and buying, business services, etc.
BJ's has tire service, appliances, AT&T services, home improvement, insurance, travel, and more.
If you have a large purchase to make, you should check with your warehouse club first.
Not only have these stores negotiated discount pricing for members on many large projects and home improvement services, but they've also vetted their contractors and will often guarantee their work for you. You'll often score gift cards as part of the service.
Delivery Options
Costco, BJ's, and Sam's Club offer delivery through the Instacart platform.
If you add your membership number, you'll receive the same in-store discount, although you will pay slightly higher prices and fees from Instacart itself.
You can shop at all three stores without a membership via Instacart, although you'll pay a higher price.
Deals You Can Find
At Costco
Costco has great deals on their private label Kirkland brand items and on food selections such as sheet cakes ($20 for a cake that feeds up to 48), alcohol, and rotisserie chicken (just $4.99 for an entire bird).
Their maple syrup is much cheaper than most grocery stores, and the Kirkland brand of batteries is made by a large brand name but costs way less.
Costco also has great deals on gift cards, often selling local restaurant gift cards of $100 for $80 or less.
At Sam's Club
Sam's Club offers a great deal on tires and 24-hour emergency roadside assistance with your tire purchase.
They have great savings on food and paper products like paper towels and toilet paper. And their laundry detergent is less expensive than other stores.
Sam's Club sells organic maple syrup for much less than grocery stores, and they also sell a rotisserie chicken for $4.98.
And while they don't sell discounted gift cards all the time, they routinely have one-day sales where they offer 25% off gift cards.
At BJ's
BJ's has great deals on furniture, electronics, private label Berkley Jensen and Wellsley Farms items and groceries such as deli meat, cheese (and vegan cheese), and yogurt.
And BJ's diapers are much cheaper than Costco's, its coffee prices are also low, and BJ's frequently offers a $5 off coupon on coffee.
BJ's accepts manufacturer coupons, making shopping even cheaper. Download the app to add digital coupons when you shop at a BJ's location. Veterans and active military save 25% on their BJ's memberships.
Which to Choose?
While Sam's Club has slightly lower prices, Consumer Reports says consumers generally rank Costco over Sam's Club in customer satisfaction surveys and a head-to-head comparison between the two.
And while BJ's isn't as widely available yet, it has earned many loyal customers.
However, your situation is unique, so use the information in this article to make the best decision for you and your family on which warehouse club you should join.
Note: Before paying a membership fee at a wholesale club, check out other grocery discount stores such as Aldi or Lidl for savings in the grocery aisles.
Next: Ways to Cut Monthly Expenses and Reduce Spending