Financial Impacts of Distance Learning
(This page may contain affiliate links and we may earn fees from qualifying purchases at no additional cost to you. See our Disclosure for more info.)
The coronavirus pandemic has wreaked havoc on the financial situation of this country and its people.
The effect is felt most by the economic impacts of shutdowns and other various restrictive measures. But another casualty of the pandemic quietly added another financial blow for many Americans.
Distance learning.
As cases continued to climb around the country, remote learning became necessary to keep kids, teachers, and families safe. And help curb the transmission of the virus.
Unfortunately, however, attempts to slow the spread via distance learning have become the lesser of two evils, with the other being the educational and financial impact on students and families.
Learning through a computer works well for some students, for many, though, it's not preferred.
So what are the adverse effects of learning online? What about the financial impacts of remote learning?
This article sums up the financial repercussions of distance learning for families in two primary ways: additional expenses and lost income. It also covers things parents can do to help mitigate the financial effects and resources available to help struggling families.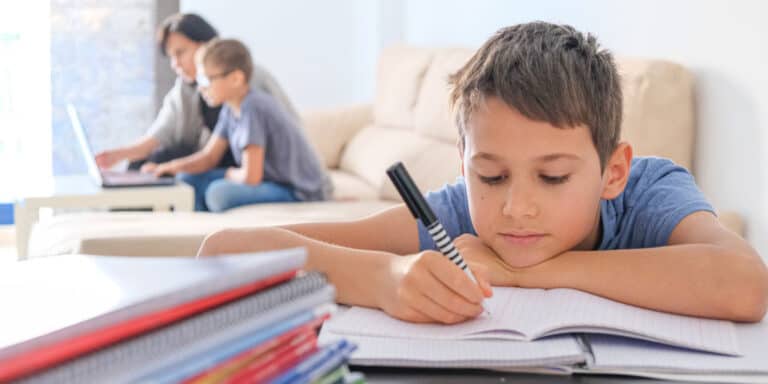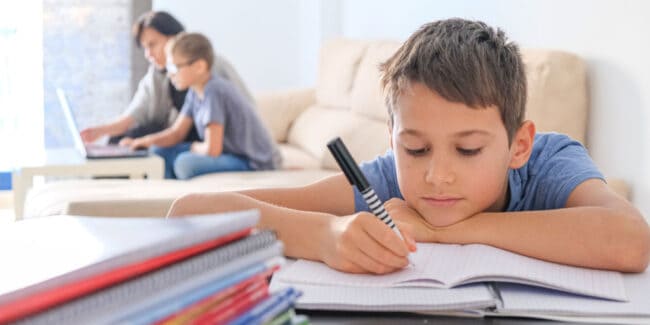 Financial Impact of Additional Expenses
The first way in which remote learning is financially impacting households is through additional expenses.
Back to school is already a costly time of year. The additional requirements for successful learning through distance are strapping parents of cash more than ever before, especially for low-income families.
School Supplies
Last year estimates claim families with children in K-12 schools spent roughly $26.2 billion on school supplies, or about $696.70 per family, to prepare for the school year.
This year estimates show parents have spent $33.9 billion or $789.49 per household.
Meaning, on average, parents spent about $100 more than they did last year, prepping their children for learning at home.
While $100 may not seem like a lot, it's a massive chunk for the 12.6 million Americans who remain unemployed. And for the roughly 1 in 6 Americans who lost their job at some point during the pandemic.
Lower-income families feel the pinch harder as they need to overcome more obstacles for their child to successfully access learning online.
You might be wondering where all this money is being spent?
Unlike in years past, parents are now spending more on supplies to set up a learning environment at home, including furniture and technology, along with the regular school supplies.
Roughly a third of parents expected to spend more on technology and workplace upgrades.
Most parents did not have a ready-made workspace set up for their children before distance learning. Additionally, in April 2020, around 9 million children were estimated not to have internet access at home.
Furthermore, many students lacked access to the technology they needed to access remote learning effectively. Again, these issues are felt more by families with lower incomes, who also can least afford these additional expenses.
The only positive is that around half of parents are also spending less on clothing, allowing some savings.
Tutoring/Childcare
Many parents have been able to stay home and assist their children during learning. For those that can't stay home or who may be working from home as well, another additional expense may be adding tutoring or childcare to their budgets.
Working parents who can afford it are turning to tutors or teaming up with others to create learning pods to help give their children needed support while learning from home. But this help comes at a steep price.
Pod prices range from $306 to $349 per week per student for a pod comprised of about eight kids. Prices go even higher for smaller pods ($825 a week for two students) or individual tutoring (about $1,500 a week for one student).
Working parents may also be facing a premium payment for childcare during distance learning if they cannot provide it themselves.
With many facilities forced to close and others limiting enrollment, parents are paying 47% more for center-based childcare and 70% more for home-based care than before the pandemic, on average.
Meals
The last major category of parents' added expenses during remote learning is food, which again hits low-income families the hardest.
Before the pandemic, around 30 million kids had most of their meals provided through schools.
With most parents qualifying for free or reduced-cost meals, they saved a good chunk of money on food for their children. Schools are striving to continue providing food for kids, but many parents are struggling to create meals at home.
A survey by Credit Karma even found that as many as one in four parents who have increased debt due to distance learning costs attribute it mostly to added food expenses.
Financial Effects from Lost Income
The other way in which remote learning has financially impacted parents is in lost income.
We've already mentioned the millions of Americans who lost jobs and continue to be unemployed due to the pandemic. But distance learning throughout the country has resulted in many being forced to quit or reduce their working hours to support learning.
Unfortunately, the burden for childcare and educational support has fallen on women, who are disproportionately being affected by lost income.
In fact, a recent report found that of the roughly 1.1 million Americans who dropped out of the workforce between August and September, 865,000 were women.
Furthermore, Black and Latina women are experiencing the highest unemployment rates, further exacerbating already existing inequities.
Not only does the loss of income due to children learning in the home impact the individual family unit, but it also adds another barrier for women in the workforce and continues to widen the economic gender gap.
Women continue to earn less than men and generally fall behind men in financial knowledge and key financial metrics like investing.
Now due to distance learning, women are falling even further behind.
What Can Parents Do?
Unfortunately, it doesn't look like the pandemic will be over any time soon. Remote learning is likely to continue for most of this school year.
But despite the financial challenges and significant impacts of distance learning, there are some things parents can do.
Take Advantage of District Resources
The first thing parents struggling with this new learning situation should do is take advantage of any resources available through their kids' school district.
Most districts doing distance learning have offered computers and other devices to students who need them. In some cases, they may even offer Wi-Fi hotspots. Additionally, many districts continue offering meals and possibly childcare options.
Services available and what they look like will vary from district to district. But it's worth checking out what supports are available if you're struggling due to the impact of your children not attending school in person.
Take Advantage of Other Resources
In addition to district resources, parents should also investigate any community resources available in their local area.
Working parents should also see if their employer is offering assistance to parents, such as childcare or technology support.
There are even large companies offering support. For instance, T-Mobile recently announced they were giving free internet to 10 million students.
Work with Service Providers and Lenders
Despite the resources described above, many parents are still struggling financially. If you're one of those families struggling to pay bills, it's critical you work with service providers and lenders early.
Most providers and lenders are very willing to offer relief to those impacted by the pandemic, especially right now.
Contact your providers and explain your situation. Try and work out a plan so you can continue to access necessities and meet your obligations without incurring the financial consequences of unpaid bills.
Reevaluate Your Budget and Work Situation
Many parents are feeling the pinch but are not yet in a desperate situation. If you're concerned you're heading toward financial struggles or are trying to balance work and school/childcare, it's probably time to reevaluate your budget and work situation.
See if there are expenses you can reduce or cut altogether. Maybe a budget shift will help you find the extra funds to cover childcare or some tutoring help.
While you're reevaluating your budget, you may also want to reconsider your work situation.
If you aren't already, is it possible to work some or all of the time from home? Can you afford to reduce your hours? Can you take a leave of absence?
These are all things parents who are struggling with their children learning at home, financially or otherwise, can consider for possible solutions.
Focus on the Now
Typically, we encourage people to think about finances in the long-term, but these aren't typical times.
We're dealing with a once-in-a-lifetime global event. Almost all of us have felt severe impacts in some way. When you're dealing with a crisis, you must do what you need to at the moment to survive.
If that's where you are as a parent trying to cope with these current learning challenges, know it's okay to do what's needed to make it through.
Final Thoughts
The pandemic has brutally hit the pockets of millions of Americans, with the latest punch being thrown by widespread distance learning this school year.
The financial impacts of schooling at home are vast. Parents are feeling the strain more than ever from increased costs of setting up the learning environment to the loss of income to support learning.
This impact is especially acute for women, who are disproportionately affected as the primary caregivers of children.
Luckily, there are many things parents can do to help the situation. Look into district, community, and other resources that may be available in your area.
Contact service providers and lenders and see what you can work out if you're struggling to pay bills. Reevaluate your budget and work situation and see if there's wiggle room there.
But most of all, do whatever you need to do to make it through the next several months. And know there are millions of teachers out there like me to help you.
We will survive this.
Article written by guest contributor Tawnya Redding, an elementary Special Education teacher in the eighth year of her career. Tawnya and her co-blogger, Sebastian, write at Money Saved is Money Earned, a personal finance blog. Tawnya and Sebastian seek to provide financial education and improve financial literacy for anyone hoping to save more, earn more, and live more. You can read more about Tawnya here and find her on Twitter.