Should I get a Seasonal Job to Earn Extra Money?
(This page may contain affiliate links and we may earn fees from qualifying purchases at no additional cost to you. See our Disclosure for more info.)
Breaking the paycheck to paycheck cycle. Paying down your credit card debt. Beefing up your emergency fund. Saving for an amazing vacation next summer. Paying for gifts in cash this year.
These are all great reasons to consider earning extra money. And accomplishing any of them might bring you the peace of mind you need for the upcoming holiday season.
Speaking of holiday seasons, you're now seeing help-wanted signs for seasonal help.
Would obtaining a seasonal job to make extra cash make any sense? You've heard there are other ways to earn extra money.
Driving for a ride-sharing service, delivering groceries or fast food, or walking dogs might make you extra money. Maybe selling some clothes you haven't worn or doing online surveys could earn you a few bucks.
Or, would a part-time or temporary position suit your needs better?
Let's take a look at seasonal jobs and whether obtaining one this fall is a smart move to help you meet your financial goals.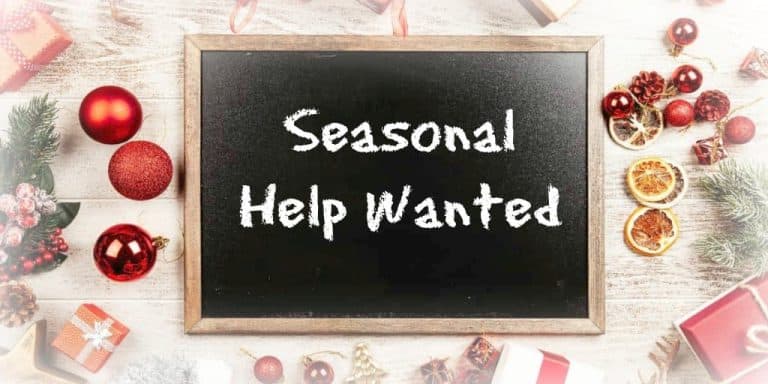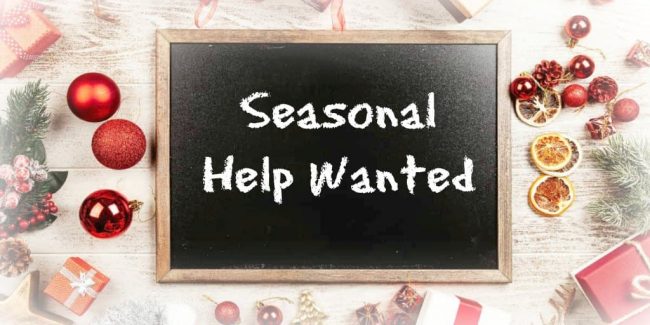 What Are Seasonal Jobs?
If you drive or walk around any shopping plaza or big box store you may be already seeing blinking lights, fake snow, decorated trees, and ornaments signaling the approaching holidays.
"Help Wanted" wanted signs are posted at the front of many stores and food establishments too. And this is even before the holiday shopping season.
The holiday rush of shoppers typically requires retailers to employ more staff because of a sharp increase in business.
Companies including Amazon, Target, Kohl's, and UPS are all preparing to hire hundreds of thousands of seasonal employees to support their business and customers during the holiday season.
Here are just a few examples of seasonal jobs companies are trying to fill:
Customer service agent
Cashier
Shelf stocker
Gift wrapper
Food industry worker
Security
Delivery
While you might not start your holiday shopping until Black Friday (or much later), holiday hiring often starts in late September and peaks in early October. Many holiday season workers are kept on the payroll until the first few weeks of the new year. Seasonal jobs generally last at least 8 -12 weeks.
Keep in mind that "seasonal" can mean other times of the year too. Many companies and businesses hire for short periods of time during the year.
Live in a big city or in a resort area? The summer tourist season might be the time for a seasonal job. In the mountains, winter seasonal work might be readily available.
What Are Your Financial Goals?
When you're looking at applying for a seasonal job to make extra money, take time to consider your financial goals.
Is $1,000 enough to meet your goal? Or do you need or want to earn three or four times that amount?
If you're working just to "pad" your budget, it might not matter how much you make. But if you want to make a serious dent in your debt or put away a month of expenses in your emergency fund, you'll want to get more serious about the numbers.
Look at your seasonal jobs options, the salary ranges for different positions, and the number of hours available. When you do the math, you might be surprised by what you could earn working a seasonal part-time job.
A quick back-of-the-envelope calculation shows a seasonal employee who works 20 hours a week for $12 – $14 per hour can make $2,000 – $3,000. If you land a higher-paying job or work more hours, you could make closer to $5,000 or more in just a few months' time.
Are Side Gigs A Better Option?
You can certainly make money with side hustles or by starting your own small business. But your financial goals should help drive the decision between choosing these options and taking a seasonal part-time job.
If you're simply trying to earn some additional income or if your schedule won't allow you to work a W-2 job, a side hustle could be a smart move. But there are some important points to consider:
If you have a goal of making thousands of dollars, are there gigs readily available to you?
Will you stay motivated to hustle on your own or are you a better employee?
Does the side gig have start-up costs?
Be realistic about side hustle options and their costs before you drop the idea of taking a seasonal part-time job to earn extra money. If you need to make money in just a few months, side hustles or small businesses requiring some cash to start might not be a smart decision.
Benefits of Seasonal Jobs
Obviously, one of the biggest benefits of working a seasonal job is earning additional income. Any improvement in your financial health provides benefits to other areas of your life as well.
Here are some other benefits of seasonal jobs to consider:
Limited in duration. If you know you're only going to work through the season, you might be more motivated to take on extra work.
Easy to find. If you've been to any mall or shopping plaza, you'll likely see help wanted signs everywhere. A quick online search of "seasonal jobs near me" will probably lead you to dozens of positions in your area.
Resume builders. If you haven't worked for many employers or if you're returning to the workforce, a seasonal job can add to your resume and set you up with recommendations for future positions.
Meet new people. At most seasonal jobs, you'll get to meet new people and interact with visitors or customers. The more people you meet, the more potential opportunities you'll have.
Meet other personal needs. If you're an extrovert but you work in a cubicle all day, working as a cashier might meet help you meet some social needs. And the opposite is true too! After being around people all day, stocking shelves late into the night might suit you.
Gain respect. You might be happy to leave your seasonal job, but you may spend time with people who work in those jobs year-round. Avoiding phone calls to customer service when you're angry and leaving tips during open bars are just a few examples of how your attitude might change after you work a seasonal job.
Drawbacks of Seasonal Employment
In addition to knowing your free time will be limited if you take on another job, there are some additional disadvantages to part-time seasonal work.
Some of the cons to seasonal positions include:
Low wages and no benefits. Seasonal employment often pays minimum wage or just a few dollars an hour more. And most employers won't offer benefits if you're only on the payroll for just a few months.
Not much training. When companies bring in seasonal workers, managers have to bring everyone up to speed fast. This can be a challenge when stores and businesses have more customers to serve too.
Long days and little flexibility. If you already have a full-time job, tacking on another shift at night or spending most of your weekend working can be rough. Seasonal jobs may not have flexible scheduling which could cause you to miss out on other things you want to do.
Upset customers. Long lines, coupons that don't work, items being out of stock or not what someone expected are a few things you might face. If you work with the public, you're bound to end up dealing with people who will challenge your patience.
Temptation to spend money. Some people take seasonal jobs but end up spending a good part of their take-home pay. You might eat out more because you're tired or on the run, or stop in stores and shop if you have a break at work.
Negative impact on your health. Adding more work to an already busy schedule creates more stress in your life. If you're always working, will you get to the gym to work out or cook healthy meals? The benefits of your seasonal job might be negated by how your wellness is impacted.
Final Thoughts on Seasonal Employment
Working a seasonal job can be a great way to make extra money. But remember that regardless of how long you work, you'll also be paying taxes on the additional money you earn.
Note: Make sure you carefully complete your W-4 form (Employee's Withholding Allowance Certificate) because making changes to withholdings can affect each paycheck in a larger way than employees who work year-round.
Committing to working a part-time job for just a few months works well for people who have specific financial goals they want to meet. Most people can "power through" long days knowing it's only a temporary situation.
If you're looking to earn some additional income in a short period of time, start applying for seasonal employment now. The earlier you start looking, the more options you'll have and the more money you'll make!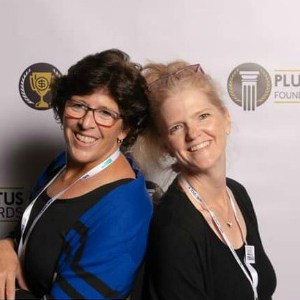 Amy and Vicki are the coauthors of Estate Planning 101, From Avoiding Probate and Assessing Assets to Establishing Directives and Understanding Taxes, Your Essential Primer to Estate Planning, from Adams Media.