What Do I Need to Be a Successful Social Media Manager?
(This page may contain affiliate links and we may earn fees from qualifying purchases at no additional cost to you. See our Disclosure for more info.)
If you're like most people, you spend quite a bit of time hanging out on social media.
Companies know this and take great care to cultivate an online presence that engages, delights, and supports their target market.
But, chances are, the firm's CEO isn't cranking out tweets, Instagram posts, and Facebook lives.
They hire a social media manager (and sometimes a team of them!) to handle that.
If you're a well-connected ninja on multiple platforms, this might be your calling.
Social Media Management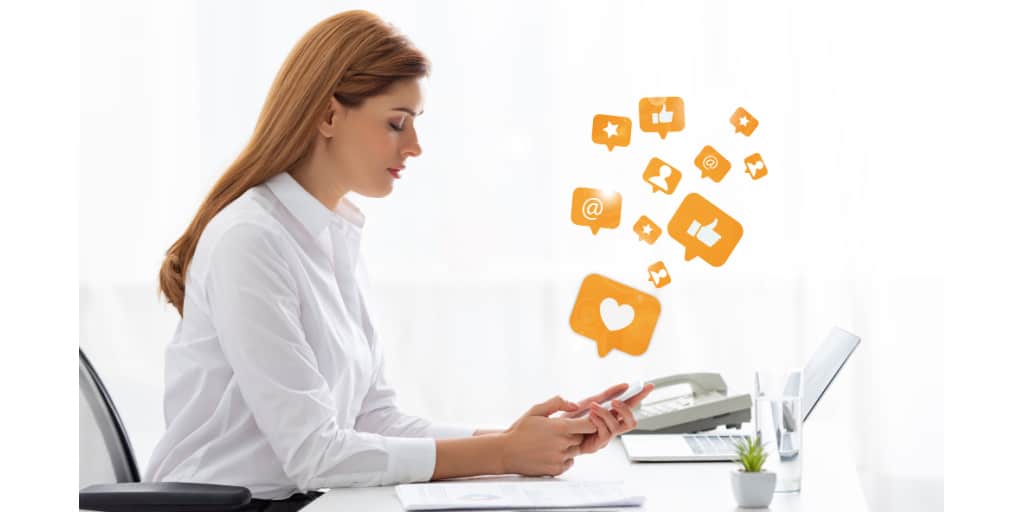 Here's what it takes to be a successful social media manager, broken down into four main sections:
Business skills
Technical skills
Soft skills
Other intangibles
Related Reading: You can fulfill this role as a full-time employee at a company or as a freelancer for multiple organizations. Here's what you need to do to go freelance.
Business Skills
Social media is an integral component of business, especially in marketing, sales, and customer service.
To enjoy success as a social media manager, you must have strong business acumen. You should focus on learning, practicing, or brushing up on:
Marketing
Marketing is understanding your current and prospective customers, building brand awareness, and promoting goods and services. You'll have to do continuous market research to stay on top of trends.
The social media posts you create should deeply resonate with existing and future buyers. You'll be putting the firm and its offerings in a positive light, and entice people to spend their money.
Sales
Once you've got people poised to buy, you need to close the sale.
Your social media posts should address common questions and objections to make prospects feel more comfortable.
Great social media managers understand buyer psychology and use it to boost revenue.
Strategic Thinking
Highly engaging social media posts don't mean much if you publish them willy-nilly.
You need a strategic plan that spells out what and when to post.
That way, you catch people's attention at appropriate times – and give them a large enough window to learn about your company and decide to make a purchase.
Goal Setting and Tracking
A part of the strategic planning process, goal setting is the practice of assessing where you are, comparing it to where you want to be, and then choosing a reasonable target to get you part or all of the way there.
A successful social media manager understands the company's overarching vision and how social media can help the organization achieve it.
They then set and track meaningful goals that advance the firm's agenda.
Data Analysis
To set meaningful goals, you need to be well-versed in data analysis.
The metrics from each social media platform show how well your posts perform and provide other valuable insights.
It's up to you to understand those insights and effectively apply them to your goal setting and broader strategic planning processes.
Customer Service
Social media isn't just used to market and sell – it's used to serve.
That means you must be a skilled customer service representative, able to answer questions, address concerns, and handle complaints.
The best social media managers take customer care very seriously and are level-headed, empathetic, knowledgeable, and kind.
Technical Skills
Being business savvy is critical, but it's just one piece of the puzzle. To win as a social media manager, you're going to need a deep bench of technical skills. Some of the most vital of those skills include:
Social Media Platforms
This might be the most obvious point in the whole article, but to be a successful social media manager, you must have a vast knowledge of one or more social media platforms.
This knowledge should include platform rules and regulations, best practices, key metrics to track, types of content to post, and more.
Your social media manager stock becomes increasingly valuable with each platform you master.
Social Media Management Tools
There's a growing number of tools on the market to make social media management more efficient and effective.
Online programs and apps can help you automatically post content on a set schedule, review engagement data, come up with content ideas, and more. It's your job to be aware of these tools and know how to use them.
Learn more about social media management tools and marketing.
Copywriting and Content Writing
To excel as a social media manager, your content needs to be on point. Solid copywriting and content writing skills are a big part of that.
When you can write effectively, you'll do a better job of communicating your company's message, helping customers, generating leads, and closing sales.
Related Reading: What Does it Take to Be a Successful Freelance Writer?
Graphic Design
Social media is a visual place. You can really get a leg up as a social media manager if you're able to create stunning graphics to accompany your compelling words.
Tools like Canva make it simple for those without a graphic design background to create images for social posts.
Pro Tip: Depending on your audience and message, emojis, GIFs, and memes can be your friend.
Audio and Video Content Creation
Social media is a busy place that clamors for user attention. To stand out, you'll want to create audio and video content for some of your posts.
Top-notch social media managers know that different platform users respond to different types of content, so they create and publish a variety of posts.
Pro Tip: It's essential to keep each platform in mind as you create content. Instagram, for example, is more visual than Twitter. LinkedIn and Facebook let you post longer-form written content. And the new platform, Clubhouse, is all about audio.
Soft Skills
Business acumen and technical skills can be taught. But, soft skills are more innate and must be nurtured.
The harder skills are what you do, but the softer skills are how you do it. Here are some that you should continuously hone:
Relationship Building
As a social media manager, your reason for being is to build and maintain relationships with current and future customers.
Your posts and online interactions cultivate that know, like, and trust factor your company needs to succeed. To keep this skill sharp, ask for feedback, and apply it to your work.
Communication
Communication is a huge part of relationship building. What you say and how you say it will determine whether the relationship you have with your audience and each individual consumer strengthens or deteriorates.
Great social media managers understand their market, listen to what people have to say and craft their messaging accordingly.
Emotional Intelligence (EI)
Emotional intelligence, or EI, is knowing how to keep your own emotions in check, empathize with others, and resolve tense situations (like a customer complaint or a public relations nightmare).
High EI can make your social media management career, but low EI can break it.
Your customer interactions and social posts should be understanding of both broader world conditions (i.e., a pandemic) and individual situations.
Collaboration
As a social media manager, you'll likely have to work with several other people within the company (particularly true in larger organizations).
That means you must be able to collaborate with the marketing team, sales representatives, management, and more to create and execute a winning social media strategy.
Collaboration also encompasses other soft skills like teamwork, patience, and empathy.
Self-Motivation
While you'll likely need to work closely with others from time to time, you'll spend much of your day solo.
Since no one will be breathing down your neck, you'll need to be self-motivated to get work done well and on time. If this isn't your forte, consider finding an accountability partner.
Organization and Time Management
Social media managers are jugglers!
On any given day, you could create multiple posts for five social platforms, respond to 100 customer inquiries, and strategize for an upcoming campaign.
You must organize your work so that all of your competing demands get handled on time.
Related Reading: What Do I Need to Be a Successful Virtual Assistant?
Creativity
Creativity is a must to cut through all of the existing noise on social media. You need to create content that grips platform users and has them coming back for more.
Every day, ask yourself: what can I do that's different?
Responsiveness
Social media moves fast, and as a social media manager, it's your responsibility to be responsive to constant change.
That could mean dropping a planned campaign due to a significant economic shift or altering language and graphics to be more empathetic and sensitive to world events.
No matter what, you need to be flexible and just roll with it.
Other Intangibles
There are a couple of other important items that didn't fit neatly into the categories above:
Compulsion to Learn
Since social media evolves at light speed, a successful social media manager can't rest on their laurels. You must be compelled to learn something new pretty much every day to keep up.
Read relevant articles, join mastermind groups, attend relevant conferences, network with other social media managers, and keep practicing your craft.
Solid Personal Social Media Presence
If you're trying to score a job as a social media manager, review your own social media presence.
Check for (and consider deleting) any content that could reflect poorly on you (i.e., those drunk party pictures). Ideally, your social media profiles demonstrate your ability to build a following and keep them engaged.
Final Thoughts
Social media managers do exciting and essential work. But, there's a lot more to the role than you might have realized.
To truly own the position, you need to be business-savvy and master various technical and soft skills.
Many companies, big and small, need someone to manage their social presence. Are you ready to help them do it?
Hone the skills you have, tackle the ones you don't, and add social media management to your virtual assistant services or find that perfect full-time role!